Easter traditions in Georgia
Easter traditions in Georgia

The Resurrection of the Lord is the most significant religious holiday in Georgia. Even not very religious families celebrate it with the observance of some well-established Easter traditions.
Heavy and raw: how a real Easter cake should be.

A week before Easter, social media are abuzz with Georgians trying to find a good Eastern cake, always followed by many question marks.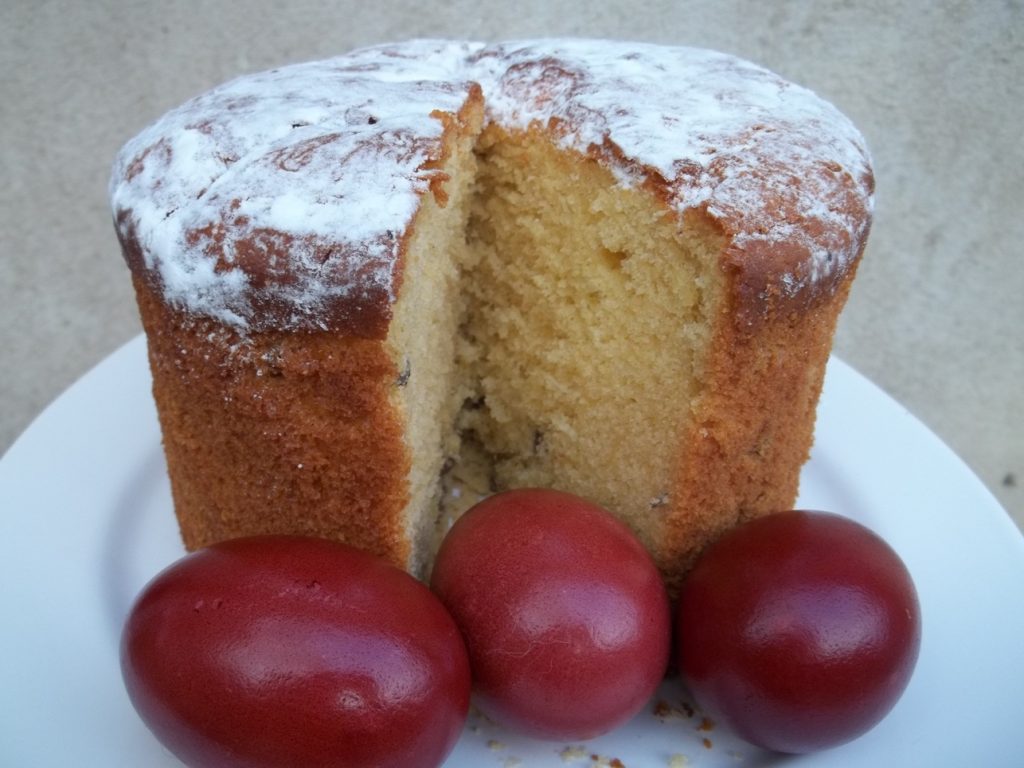 And they are very critical — one is not raw enough, this one not heavy enough, that one is not fragrant, the fourth has an even (or odd) amount of raisins …
Woe to the bakery that fails to live up to expectations and bakes poor Easter cakes. Though the workers stand on their heads all year long, their reptuation will not be saved. Winning the "Best Easter Cake of the Year" nomination is a confectionery Oscar a the bakery.
---
---
And yet, what is meant by a "good Easter cake" and how can one distinguish it from a bad one by eye? If the Easter cake is soft and airy, like a bun, then quickly apologize to the seller and leave.
In Georgia, even children know that a real Easter cake should be heavy and damp, yellow-orange and by no means white!
Although appearance is only half the battle. Easter cake should be moderately fatty, moderately sweet and, most importantly, have a special flavor.
In a good cake, flavors of nutmeg, cloves, saffron, cinnamon and other spices are gently mixed. It all depends on the skill of the baker.
And why the hype, hysteria, you ask? Can't you just take and bake a cake at home?
Of course you can. Moreover, it is better not to find a homemade cake. But we must take into account at the same time that it takes several days, a lot of work, skill … and strong nerves to prepare a good Easter cake. If all this is available, then you can proceed.
Another reason why Easter cakes are usually bought is the budget. It's cheaper to buy it than to bake it yourself.
Grass grown on cotton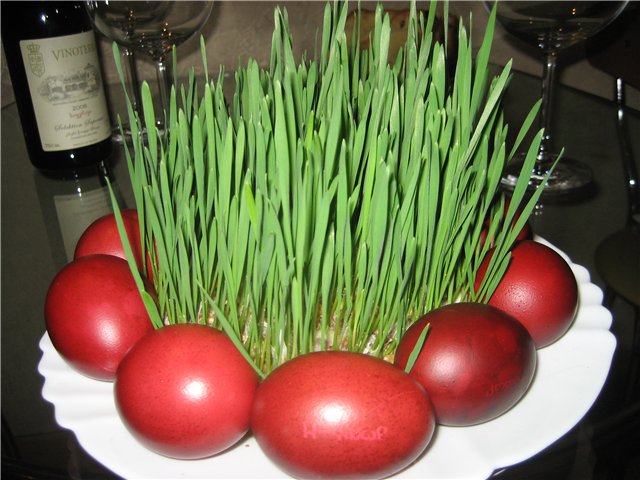 Another staple of the Georgian Easter table is sprouted grass, in Georgian "dzhedzhili". It is a symbol of new life and renewal.
Unlike Easter cake, it is quite easy to get. Usually the seeds are sprouted at home a couple weeks prior to Easter. To do that, one may use a plate and some paper.
In about a week,you will have green grass, in which Easter eggs are then laid, and all this beauty is put on the festive table.
Easter eggs in Georgia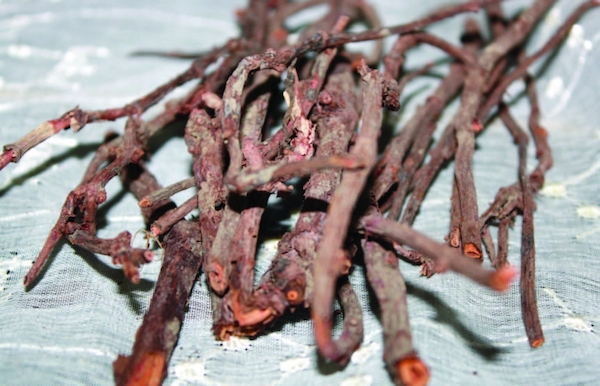 Easter eggs are painted on Good Friday. In Georgia they are dyed, as a rule, with the roots of a plant called Marena dyer, or in the local dialect "endro". During Holy Week, endro is sold everywhere.
The roots are thoroughly washed, finely cut, and steeped in water. Onion peel and salt are added, and all this is boiled for about twenty minutes. After that the liquid cools to room temperature and the eggs are immersed in it.
But the main thing is not to boil eggs in your favorite saucepan, because it will take on the red color. Experienced housewives for Easter eggs have a separate pan, which is removed from the pantry once a year.
The main tradition: visiting the dead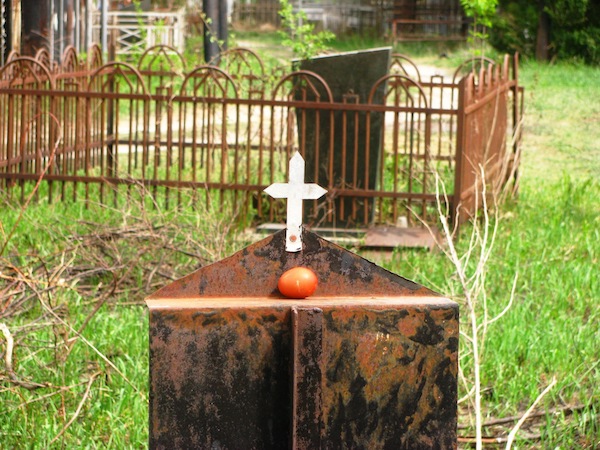 On the second day after the Feast of the Resurrection, on Monday the inhabitants of Georgia go to cemeteries, visit the graves of their loved ones, where they must definitely leave a red egg. Be sure to take Easter cake, eggs and wine with you. There are also those who arrange a feast at the cemetery with traditional Georgian dishes and drinks and even invite guests.
On Easter night, when believers return from the festive service, the metro traditionally always works free of charge. Also, the next day, travel to cemeteries by municipal transport remains free.
Easter traditions in Georgia

"Tbilisi is free"

There are no traffic jams on Easter days in Tbilisi, and people freely walk along the streets. This is a common thing, since the graves of relatives and friends are located outside the city, in the regions, so these days people leave the Georgian capital.
Every Easter on Facebook, someone will certainly write a joyful post that "finally the villagers have left Tbilisi, and only real Tbilisians remain in the city for a few days."
Jokes about this on Easter days have become as much a tradition as Easter cake and colored eggs.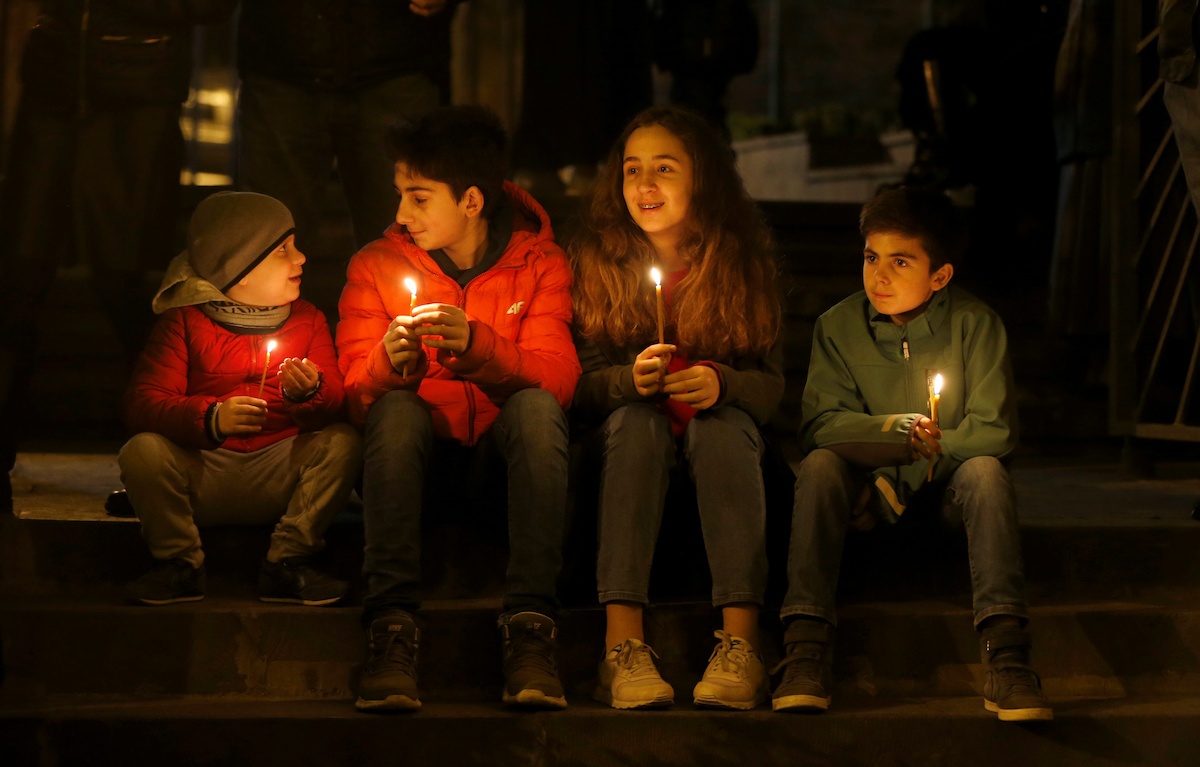 Easter traditions in Georgia