Georgian President violated the constitution - Constitutional Court's ruling
Conclusion in impeachment of Georgian President
The Constitutional Court of Georgia has ruled that Georgian President Salome Zurabishvili violated the country's constitution by traveling to the EU countries despite the government's ban.
This conclusion was announced today, October 16, by the plenum of the Constitutional Court.
Three of the nine members of the court – Irine Imerlishvili, Giorgi Kverenchkhiladze and Teimuraz Tugushi – had a different position.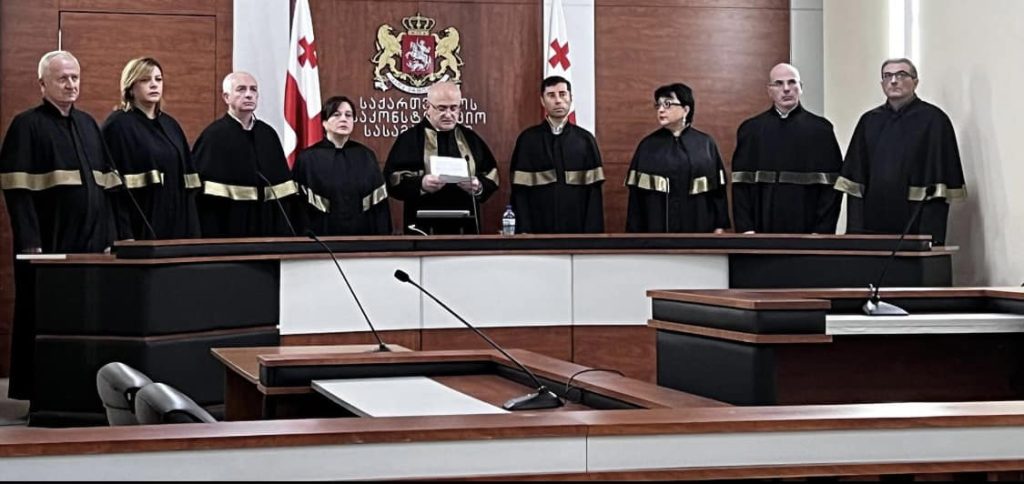 ---
---
What does this decision mean?
It means that the process will now move to the Parliament, which will be able to start the impeachment procedure against Salome Zurabishvili.
100 votes are needed to remove the president.
If the Constitutional Court confirms that the official has violated the constitution, the Parliament will discuss the issue and vote on the impeachment procedure of the official at a plenary session within two weeks after receiving the court's decision. This plenary session may be declared closed by a decision of Parliament.
Details
The Constitutional Court concluded its review of the president's impeachment application on October 5. The plenum heard the parties for three days.
President Salome Zurabishvili did not attend the hearings. She was defended in court by Tamar Chugoshvili, former Vice Speaker of Parliament and former member of Georgian Dream and Maya Kopaleishvili, former judge of the Constitutional Court.
Background
On September 1, the ruling Georgian Dream party launched impeachment proceedings, saying the president had grossly violated the constitution when she made several visits to foreign countries without authorization from the country's government.
These were three working visits — on August 31, 2023 there was a meeting with the German president, on September 1, 2023 with the president of the European Council and on September 6, 2023 with the French president.
According to Zurabishvili, she made the trips with her own funds while lobbying abroad for Georgia to be granted EU candidate status.
Context
In October, Georgia will face an important decision on granting the country candidate status for EU accession. The start of impeachment proceedings against the pro-European president will be a wake-up call for Georgia's European partners, political observers say.
Forecast
Georgian Dream does not have that number of votes to impeach. Inside the opposition it is not ruled out that Georgian Dream will manage to recruit some representatives and get the necessary number of votes needed for impeachment. Representatives of the opposition parties are making general statements and no one is specifically naming whom the ruling Georgian Dream party can attract to its side.