Azerbaijani gas on the way to Europe: The Trans-Anatolian pipeline launched
The opening of the Trans-Anatolian gas pipeline (TANAP) took place on 12 June in the Turkish city of Eskisheher. TANAP is built to transfer Azerbaijani gas from its offshore Shah Deniz-2 field to European markets.
The pipeline runs from the Georgian-Turkish border through the whole of Turkey to the border with Greece, continuing the already operating Baku-Tbilisi-Erzrum pipeline. Further along the Trans Adriatic gas pipeline, gas will also be supplied to Europe – from Greece to Italy. All three sections of the pipeline together with the Shahdeniz field comprise the Southern Gas Corridor project.
Gas will be supplied to Turkey starting this year, Europe connection set to flow in 2020.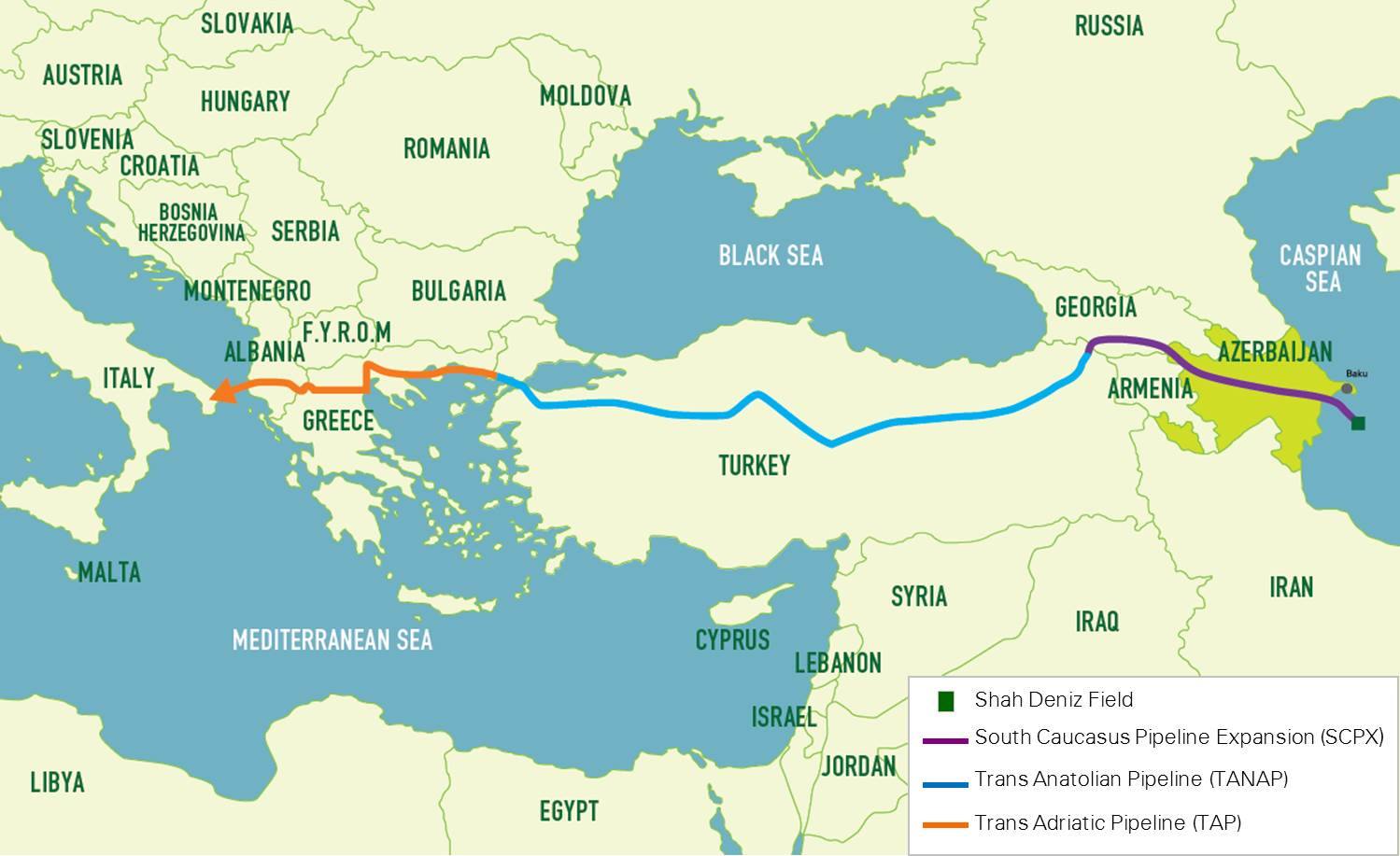 The opening ceremony was attended by Turkish President Recep Tayyip Erdoğan, Azerbaijani President Ilham Aliyev and Ukrainian President Petro Poroshenko. Georgian President Georgi Margvelashvili, although invited by the President of Turkey, did not attend the ceremony, and Georgia was represented by the Georgian Ambassador to Turkey, Irakli Koppladze.
The initial capacity of the pipeline is 16 billion cubic meters of gas per year, of which about 6 billion cubic meters will be consumed by Turkey, and the rest by Europe. In the future, the volume is expected to increase to 24 billion cubic meters, and then – and to 31 billion.
Who owns TANAP shares:
30% – the Turkish company Botaş;
58% – State Oil Company of Azerbaijan;
12% – British Petroleum.
The construction of TANAP cost USD 8.5 billion.
The southern gas corridor will allow the supply of Azerbaijani gas to Europe bypassing Russia. It is assumed that this will prevent Russia from using gas supply for political pressure.
It is also intended to strengthen economic ties with Europe.
The route of the pipeline will run through Georgia, Turkey, Greece, Bulgaria and Albania to Italy.
• The foundation of TANAP was laid in March 2015 in the Turkish province of Kars, but on the way to the implementation of the project, various problems arose, including financial ones – a sharp fall in oil prices, devaluation and economic recession in Azerbaijan.