Armenian President sees no reason not to sign EU Partnership Agreement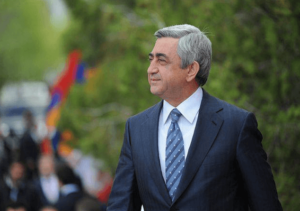 Armenia will sign the Comprehensive and Enhanced Partnership Agreement with the European Union. "There is no reason why we shouldn't sign this document," the Armenian President, Serzh Sargsyan, stated when he addressed the participants in the 'Baze' Pan-Armenian camp. According to the Armenian President, the document would be signed in autumn, as announced earlier. "Why am I so confident? Because this document has already been initialed. As far as I remember, we announced in March that the document had already been negotiated upon, and afterwards was initialed."
Some experts and politicians are rather skeptical about this process, noting that Armenia could repeat the same thing it did in 2013, i.e. refuse to sign the document at the very last moment, due to pressure from Russia.
Four years ago, on 3 September, President Sargsyan announced that Armenia wasn't going to sign the Association and Deep and Comprehensive Free Trade Area Agreements with the European Union. In his words, Armenia would follow a path towards integration into the Customs Union, with an aim to participate in the formation of the Eurasian Economic Union (EAEU). Armenia joined the EAEU in 2015.
The Eurasian Economic Union was set up under Russia's leadership in 2015. In addition to Russia, it currently includes four more members: Armenia, Belarus, Kazakhstan and Kyrgyzstan.
The EAEU's objective is to ensure regional economic integration. The EAEU has introduced free movement of goods, services, capital and people between the union member states. The union member states also should coordinate with each other on their domestic economic policies.
Commenting on the recent developments, President Sargsyan termed some foreign media outlets' attempts to portray Armenia's decision to join the EAEU as one made overnight, as 'groundless and ridiculous'.
"We were engaged in talks with both the Eurasian Economic Union and the European Union, as both sides stated from the very beginning that one wouldn't hinder  the other. But when the EU officials said that they were hindered by it, what else were we supposed to do?" Serzh Sargsyan explained.