Armenian President and OSCE Minsk group discuss possibly having a meeting with Azerbaijan's president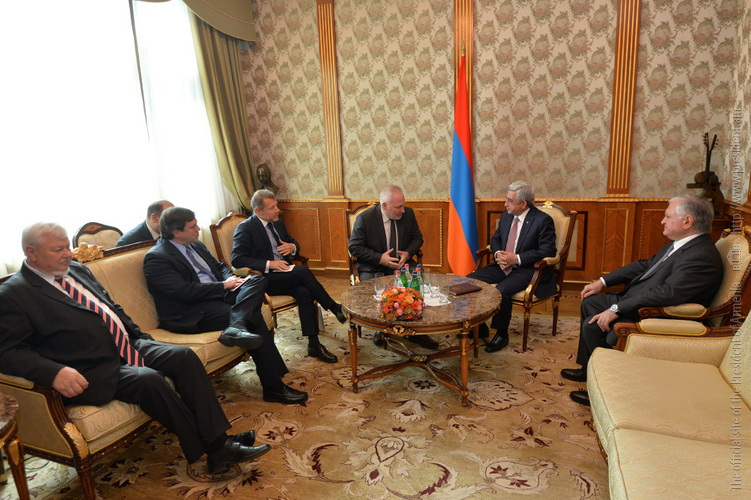 The OSCE Minsk Group Co-Chairs along with the Personal Representative of the OSCE Chairman-in-Office met today with the Armenian President, Serzh Sargsyan to discuss the possibility of organizing a meeting with the Azerbaijani President Ilham Aliyev.
However, the official statement that was released following the talks makes no mention of any agreement being reached by the parties.
It was just reported that during the meeting the situation in the Karabakh conflict zone and the prospects for advancing a peaceful settlement process was discussed. The participants in the meeting also stressed the need for the conflicting sides to comply with their commitment to a peaceful settlement of the conflict.
Experts and representatives of Armenian political circles expressed their opinions on the prospect of holding a Sargsyan-Aliyev meeting.
Migran Hakobyan, an MP from the ruling majority group, believes that:
"The presidential meeting is a good opportunity to offer new incentives to the negotiation process, but it would be naïve to think that the Armenian-Azerbaijani presidential meeting will be a step forward in the negotiations."
Artak Zeynalyan, an opposition MP, believes that a top-level bilateral meeting can contribute to further intensification of talks regardless of the extent to which the previously reached agreements have been implemented.
"It's highly desirable that this meeting be held. If we consider that there is no alternative to the peaceful settlement of conflict, then we need negotiations," said the opposition MP.
The possibility of holding the Armenian-Azerbaijani presidential meeting has been actively discussed since the end of September, when the Foreign Ministers of the two countries met in New York. The OSCE Minsk Group Co-chairs discussed with the Foreign Ministers the ongoing preparations for the meeting between the Presidents of Armenian and Azerbaijan.
Serzh Sargsyan and Ilham Aliyev haven't met since the negotiations which took place in St Petersburg last year on 20 June. Russian President Vladimir Putin also participated in the talks.
Toponyms and terminology used in the publication, as well as views, opinions and strategies they contain, do not necessarily reflect the opinions of JAMnews or any of employees thereof. JAMnews reserves the right to delete comments it considers to be offensive, inflammatory, threatening or otherwise ethically unacceptable.