Armenian PM Nikol Pashinyan reports on his first 100 days in office
"Armenia is entering a stage of economic victories," stated Armenian Prime Minister Nikol Pashinyan on 17 August in front of a crowd of thousands in downtown Yerevan, Republic Square.
On his hundredth day in office, the PM gathered tens of thousands of supporters to give a report on all the government's activities over this time.
• What is happening in Armenia? Main players, who wants what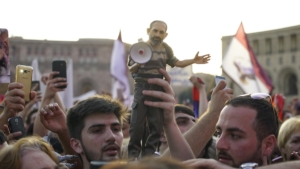 Economic revolution
The economy was among the most important topics of his speech.
Current growth indicators in Armenia are positive, Pashinyan said, but he added that he plans to create a 'new economic model' for the country.
"The current economic model doesn't work for us. We want to change it because in this model citizens do not feel economic growth. It will be exchanged for an inclusive system – meaning citizens will receive equal opportunities to engage in business and they will be equal before the law and tax bodies."
Experts noted earlier that, because of the revolution and the change of leadership, economic indicators may deteriorate. However, Pashinyan presented the latest reports on business activities in the country and asserted that the economy is developing at an active rate.
"Already in June of 2018, the first post-revolutionary month, a growth rate of 9.6 per cent was seen in economic activity. In Armenian banks, deposits and holdings increased by 116 billion drams, about 250 million dollars. This includes both judicial entities and private persons, which means that Armenian citizens and representatives of the diaspora have confidence in future economic growth."
No more corruption in Armenia
Pashinyan also commented on the high-profile corruption cases that have recently been launched, and that corruption is being eradicated from the country.
"This does not mean that there aren't individuals who take bribes in Armenia. But it means that among the high-ranking officials of the Armenian state, there will not be corruption. I personally guarantee you this."
The events of 1 March 2008
The PM also paid particular attention to the events of 1 March 2008, when ten people died while police tried to disperse crowds protesting the results of the February presidential elections.
According to Pashinyan, the case has been thoroughly investigated.
"I will repeat again, and I take the responsibility upon myself: it is impossible for the criminals and their leader to avoid taking responsibility [for this]. Absolutely impossible."
• What happened on 1 March 2008, and why has the former president of Armenia Robert Kocharyan been arrested?
Reduction of bureaucracy in the country
He also announced a reduction in the number of ministries, intended to improve the system of governance in the country.
"We believe that there shouldn't be 17 ministries in Armenia, and there should be a significant decrease in their number as in other state structures."
Emigration
These measures should help the emigration problem Armenia is currently facing. The PM said that today's figures is already a reason for hope:
"After the change in power, the number of people coming to Armenia outnumbered that of those leaving the country. According to official data, from 10 May to 14 August 2018, 29 986 more people came to Armenia than what had left. Last year, for the same period, the number of people that left Armenia was six thousand more than the number who came."
Karabakh
The PM of Armenia also included the Karabakh situation in his speech.
He placed special emphasis on the fact that Armenia does not want war, but that it is ready to respond to aggression.
"I have said that I am ready to have full negotiations concerning the Karabakh conflict for Armenia, but that the leadership of Artsakh [ed. Armenian name for Karabakh] must speak for itself. We truly do not want war; we are truly ready for peace negotiations, for a peaceful resolution."
Moreover, Pashinyan promised that a Karabakh peace agreement would not take place without the permission of the Armenian people.
"When I see that there is a possible solution around which we can have real discussion, I will come, stand here, and present it in all its details. And you will decide whether we will go along this path or not."
Armenia and Russia – things will remain as they were
Nikol Pashinyan spoke at length about Armenia's relations with Russia, and clearly stated that there will be no foreign policy reversals.
"During this period I met Vladimir Putin twice and called him three times. I can say unequivocally that Armenian-Russian relations are good and, contrary to the words of the Republican Party of Armenia and its satellites, will improve.
"Three months ago I promised that the relationship [between the two countries] would rise to a new level. I want to say that after all the relevant processes [have been finalised], you will know everything about a joint Armenian-Russian humanitarian project, which, after the collapse of the Soviet Union, is unprecedented in the history of Armenia."