Armenian Bavra customs checkpoint switches to European standards
The Armenian Bavra customs checkpoint, which is located on the border with Georgia, will now be operating in accordance with European standards. A new customs facility has been constructed, customs procedures for vehicles have been made easier and modern equipment (e-scales and special scanners) has been installed through EU funding. Specially trained sniffer dogs will also be deployed at the customs checkpoint.
The European Union and the European Investment Bank allocated about EUR 54 million for modernization of the Armenian-Georgian border. The UN Development Program (UNDP) also rendered financial assistance to the project.
The Armenian President, the Head of the EU Delegation to Armenia, as well as the UN Resident Coordinator in Armenia and the Vice-Premier of neighboring Georgia, attended the customs checkpoint opening ceremony.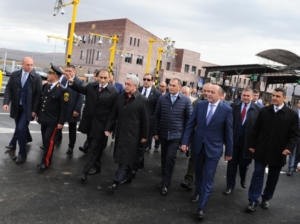 "Opening of the renewed customs checkpoint will contribute to the expansion of economic activities and the growth of tourism," said Piotr Świtalski, the Head of the EU Delegation to Armenia.
As the EU Ambassador pointed out, modernization of this customs checkpoint is a deliberate move. This road connects Armenia, which is a member of the Eurasian Economic Union, and Georgia, which has concluded the Association Agreement with the EU. "Therefore, we deem it appropriate that this border be open and transparent and thus facilitate tourism, economic ties and be beneficial in other respects."
According to Bradley Busetto, the UN Resident Coordinator in Armenia, the European Union showed generosity by financing the project:
"If you are a tourist or an investor, it's usually a customs checkpoint that gives you the first impression about the extent of the country's openness, its engagement and readiness for business," he said.
A more efficient service system which has been introduced here will considerably reduce the time that people have to spend at the border, and the modern equipment will allow us to effectively combat smuggling. Now the volume of cargo transport is going to increase at this customs checkpoint too."