Abkhaz opposition leader's guards end up in hospital
Two bodyguards of Abkhaz opposition leader Aslan Bzhania have joined him in hospital.
Bzhania fell ill and was taken to a hospital in Moscow in grave condition on 19 April.
Two of his bodyguards are now also in intensive care units.
Bzhania, a favorite of the presidential elections in Abkhazia scheduled for 21 July 2019, fell ill on a plane flying from Moscow to Sochi.
The plane landed, and Bzhania was immediately sent back to Moscow via another plane. He was then hospitalized and taken to the ICU.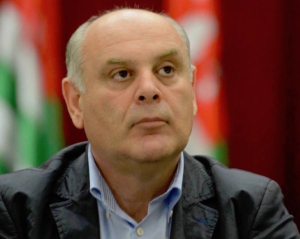 Social media users speculated at the time that he had been poisoned – it was later reported that he had an acute form of pneumonia. He is currently in a serious but stable condition.
Both of his bodyguards who went to the hospital on 23 April have the same symptoms. They are now being examined.
• Op-ed: why no new Abkhaz president will be able to change anything for the better
• Yet it was a coup in Abkhazia
Discussions are raging on social media, and many have questioned the official diagnosis, believing that the opposition leader and his bodyguards were victims of poisoning.
A few social media comments:
"If this was an attempt on his life, they could have gotten sick at different times due to the fact that they have different immune systems. Or the dosage was different."
"No matter how broken and scattered the opposition is, he is still its leader. And, accordingly, he could disrupt both the opposition, and both local officials and Kremlin authorities. I could name three people who could compete [with him] in some matters."
Bzhania intends to participate in the presidential elections scheduled for 21 July 2019.
In the previous presidential elections in 2014, he received 32 per cent of the vote and took second place after Raul Khajimba, the current president of Abkhazia.
Toponyms and terminology used in the article, and views, opinions and strategies expressed in it do not necessarily reflect the views and opinions of JAMnews or any employees thereof. JAMnews reserves the right to remove comments it considers to be offensive, inflammatory, threatening, or otherwise unacceptable.