Be like Ahmed – do not write anything about snow
Winter is in the order of things for other cities, but not for Baku. A dry subtropical climate of the Apsheron Peninsula does not imply a snowy winter. If in the northern regions of Azerbaijan snow may lie, as is right and proper, the snowfall in the capital is an emergency situation for a couple of days.
It is emergency, because neither the citizens nor the executive government are accustomed to 'dealing' with snow. No one here has any 'winter' tires, thus after the snowfall the vehicle traffic either immediately stops or is seriously hampered. The municipal authorities apparently need some time to think before they could start spilling sand on the roadway. They usually start doing that when the snow has already melted, while the fist snowy evening turns into a real challenge for drivers
This time the media space becomes 'snowy' too. 'It is snowing' is quite a normal title for our media outlets. Moreover, it's a 'clickable' news.
Hajibala Abutalybov, the head of Baku executive government, is the one who catches it bad in the Facebook. After all, the citizens believe, it is he who should be blamed for the lack of holes through which water could drain into a sewage system. In two days the snow will start melting and Bakuvians will walk ankle-deep in muddy guck, which, in fact, has no place to go. So, along with some pathetic comments, one could also see many angry ones.
'We live in a country, where at the very first snow the power supply is cut off, there is no water and the cars turn into the yard furniture … what the f***ing economic reforms and 'everything gonna be fine' you are talking about.'
'Well, it is a common knowledge that our economy (especially the agriculture) has always had four main enemies: winter, spring, summer and autumn …'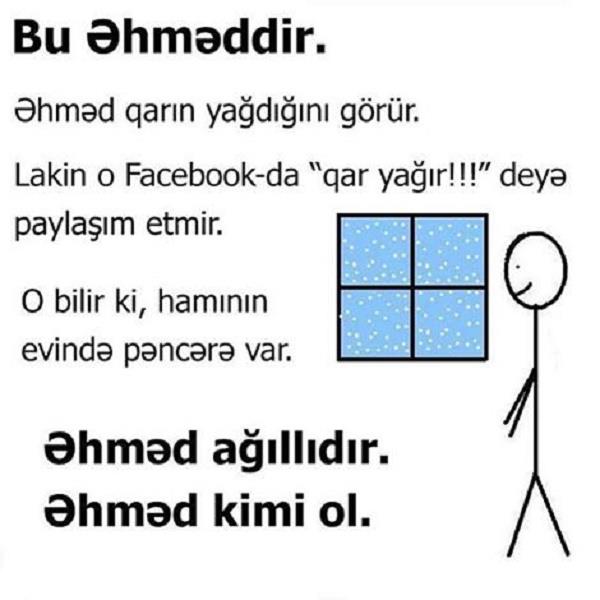 'On seeing that it is snowing, Ahmed never writes in his profile – 'It is snowing '. Ahmed is aware that others have the windows too. Ahmed is clever. Be like Ahmed.