Apricots as a source of employment for middle-aged women in Armenia
Nazik Hakobyan masterfully places golden apricots in wooden boxes with the skillful movement of her fingers. She strictly observes packaging rules so that Armenian apricots can get to clients in Moscow in a week in perfect condition.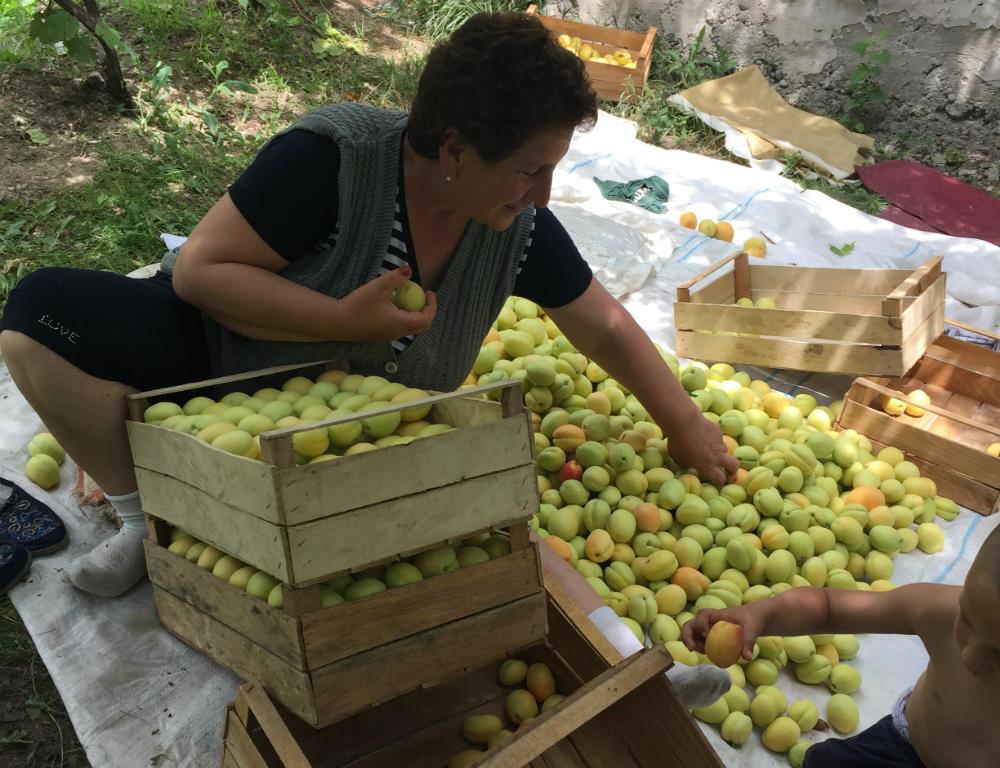 "The first row of apricots is arranged in a vertical position, whereas the second and the third ones are placed on their side, so that they are 'lying.' They should be packaged so that there is a space left between the fruits and the apricots can 'breathe.' One box can hold 11 kg of apricots, no matter how they are placed inside," says the 60-year-old woman, who has been harvesting apricots for quite a long time.
Women of different ages from Etchmiadzin, Metsamor and Armavir also masterfully lay the fruits side-by-side with Naira. Naira Arakelyan, their foreman, says the new 'profession' has appeared in recent years and women, who have been left jobless and do not receive pension yet, gladly tackle the new task.
"We start working as soon as the crops ripen and is harvested from trees. The year begins with the harvest of apricots and cherries. Then the time comes to gather plums, peaches, grapes, apples and pears. There are 20-25 people on my team. Cherries and apricots are harvested currently in Kaghtsrashen village, in the province of Ararat. We work on apricot orchards in the Jrashen village.
"When the work here is done, we start harvesting the crop in the Kotayk province, where the fruits only ripen later. Then we move on towards the Voghjaberd and Garni villages. After that, we continue on to Gndevaz village, in the province of Vayots Dzor. The climate in Armenia is interesting in this sense – the provinces are located at different altitudes, so the fruits become ripe at different times," explains Naira.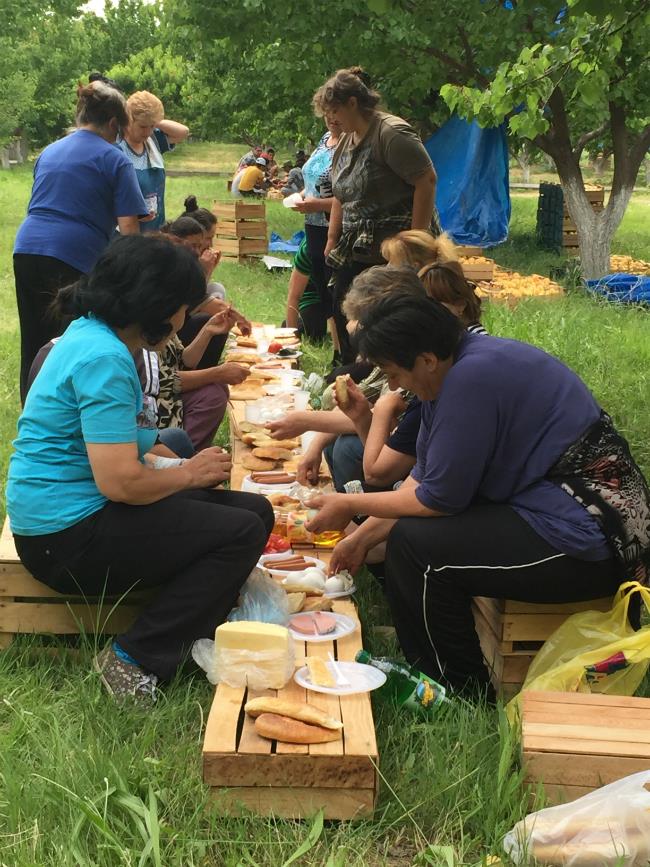 Gulnara Avetisyan, 52, a native of the town of Metsamor, says that most of the men from Armenia's regions, as well as from her town, go to work in Russia, whereas the women take up this kind of seasonal work.
"We leave early in the morning, return home late at night, but it's still better than doing nothing. Wherever you apply for a job nowadays, you are told that they need young employees with a presentable appearance and knowledge of English. What are we supposed to do? This work has become a salvation for all of us. Among the people who are working together with us, there are women from the remote Shirak region and from Gyumri and Maralik," says the former accountant, placing one more rosy apricot into the box.
Knarik Sargsyan, who has been involved in this work for three years, says it's not an easy job, but it allows her to bring home some money and a few kilos of fruit.
"Sometimes we are paid more than we usually are for good performance. Sometimes we are requested to work in winter, too. That is when we handle apples and mint. The hardest thing to do is to package cherries. We tie up the stems and place them in one by one, so that the berries remain at the top," says Knarik from Echmiadzin.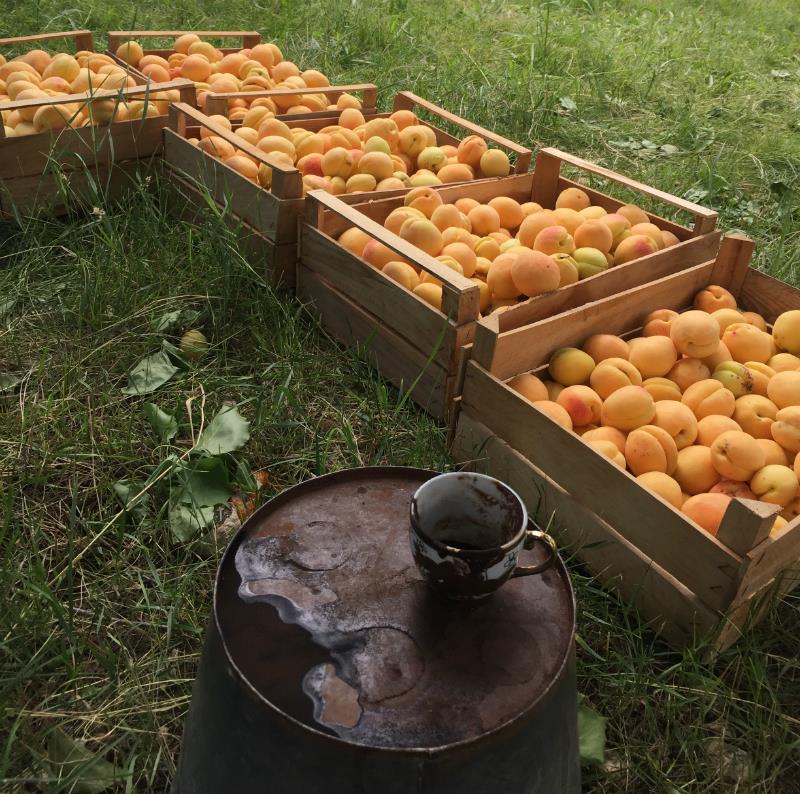 Each woman earns AMD 6,000 (USD 12) per day. They are paid by either the orchard owners or the exporting companies.
About 120 women work in the privatized orchards of Jrashen village, in the Ararat province.
A 7-hectare apricot orchard that belongs to Sergey Mkhitaryan, 57, has become a temporary workplace for men who are harvesting apricots and women who are packaging them. 
"There are 60 people employed here now. I can't say that we make a lot of money. If there had been a higher yield, we would have earned more. However, if we subtract the expenses, there is almost no profit left. If it had not been for the exporters, we would have probably gone back in ruin. What would we have done without them? There is no sense transporting these fruits to Yerevan, since nobody would want them there even as a gift. The people who make dried apricot halves or make jams usually buy them, and we would be able to sell 100 kg of apricots at best," says Sergey Mkhitaryan.
Zaven Vardanyan, a native of Jrashen, planted trees on his land plot some 20 years ago. He allotted a 5 000 m area for apricots and 3 000 m for his vineyard. His whole family – his wife, two sons and daughters-in-law, keep the trees in good condition.
"An apricot tree bears fruit starting in its fifth year of life. About 90% of the villagers make a living from apricots. Some of them even manage to spend the money they earn from them before the apricots are picked from the trees. They take the money in advance to cover interests on loans, to settle their loans or pay off their debts.
"One year, an exporter gave money to people early in spring, then there was frost and we had no crops for two years. However, the farmers were not treated badly. They were told: "Don't worry, you can pay when you yield crops. We yielded crops only during the third year and managed to pay them off," says Vardanyan.
His wife and one of his daughter-in-laws are packaging apricots in the orchard, and he pays money to his family members for their work.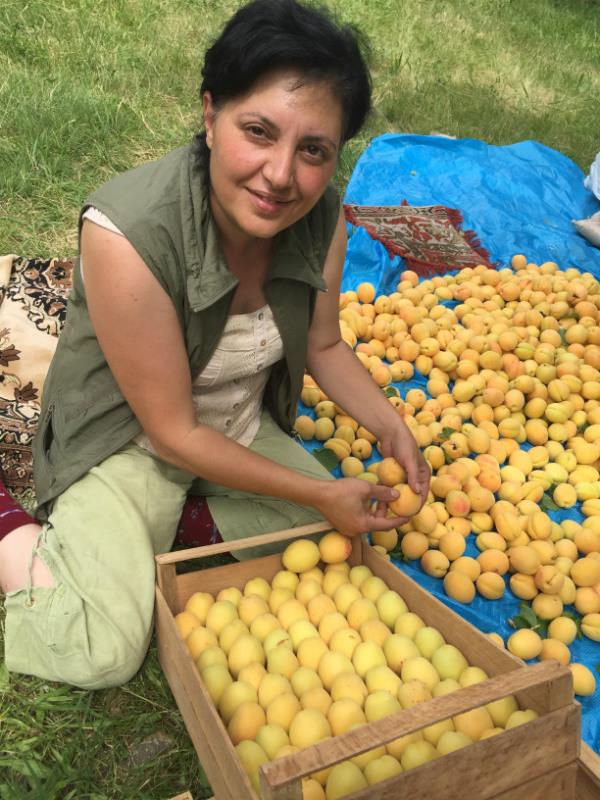 "We have stony ground and vegetables do not grow here. Apricots, grapes, melons and watermelons are the only things we can cultivate. Our grapes are sweeter when compared to those in neighboring villages. Throughout the year we live on what we earn from apricot and grapes sales. Of course, that's not enough, but we try to minimize our costs, to deny ourselves certain things," says Melanya Arosyan, 52, a native of the Jrashen village.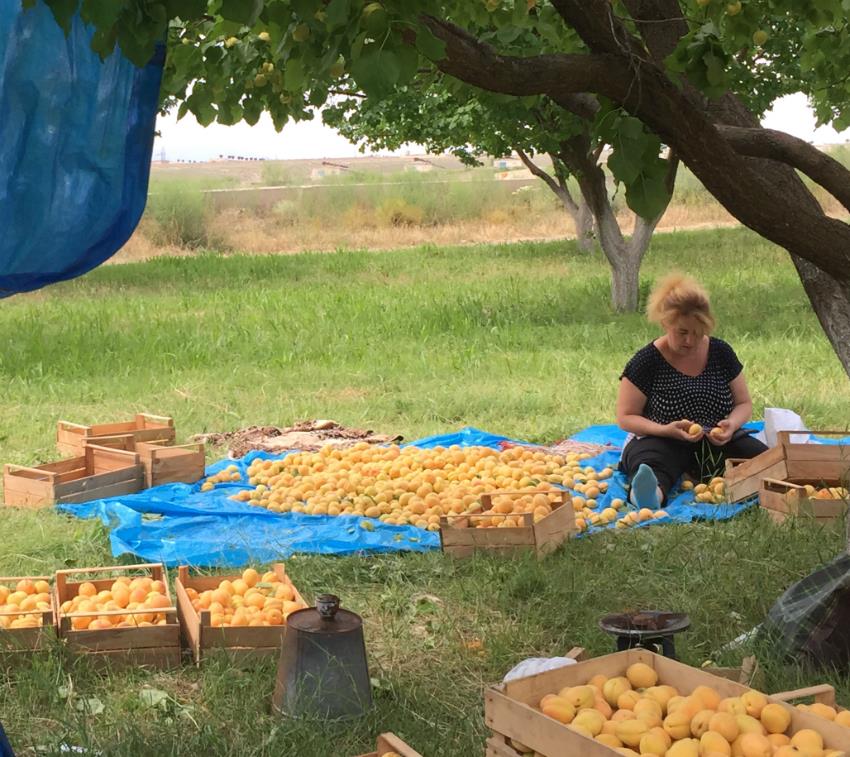 All the villagers here say this year is a fruitful one. By contrast, due to the -10C frost in Spring last year they did not expect even part of the harvest.
"It was freezing, the apricots were covered with frost, but a miracle happened. During these days of bitter cold, a co-owner of our orchard, an Armenian national from France, who has recently bought a plot of land, began to turn on some sacred music and prayers for the trees for several hours in the morning and evening, and, at the same time, he would make a fire.
"The loudspeakers are still there between the trees. The sounds of sacred music echoed all around the orchard, and that was wonderful. I had never seen anything like that. You live and learn. Maybe it really helped," says Vardanyan.