News, reports, media on combat in Karabakh. November, 2, 2020
Since September 27, the Azerbaijani and Armenian armies have been conducting fierce battles in the Karabakh conflict zone using armored vehicles, artillery and drones. Several thousand people have already died among the military and civilians on both sides.
An armistice was declared three times during this time – on October 10, 18 and 26, but each time it was violated immediately. The parties accuse each other of non-compliance with the ceasefire.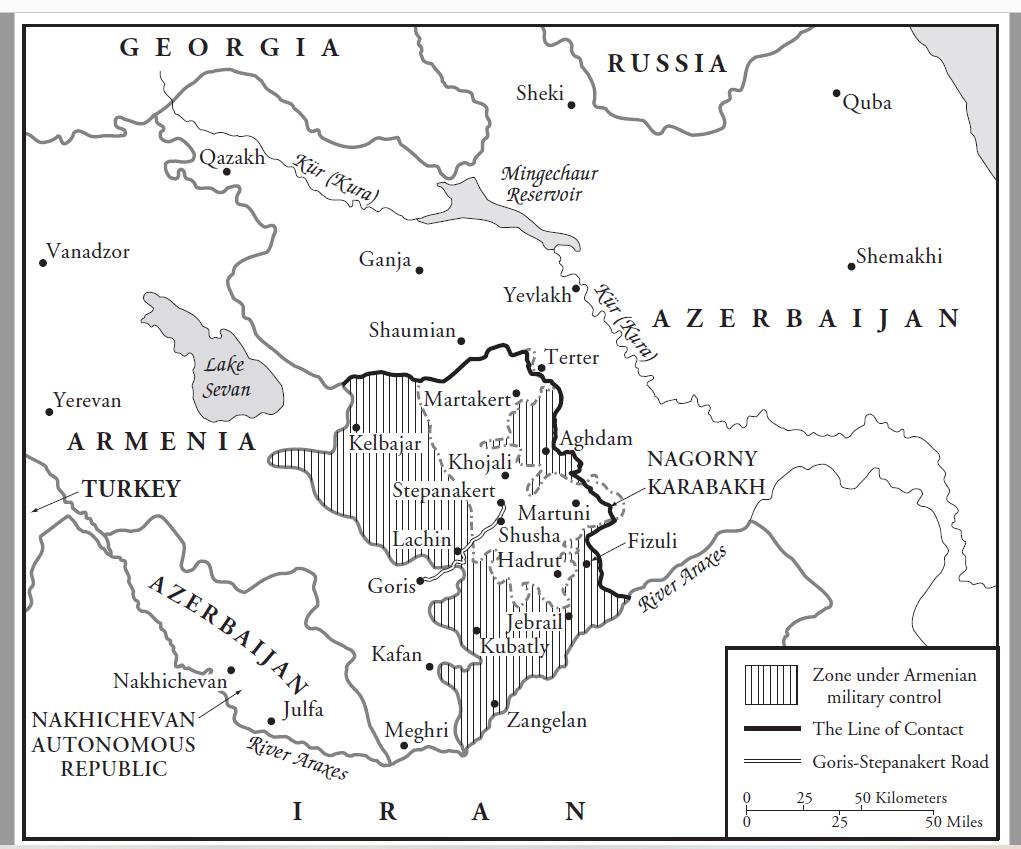 Forests are burning in Karabakh - State Emergency Service of Karabakh

The agency reports that the Azerbaijani Armed Forces use incendiary shells in almost all forest zones of Karabakh. In areas where there is access to fire, firefighters try to extinguish the fires caused by this.

"The enemy is trying to add an ecological catastrophe to the humanitarian crisis, harming the flora and fauna of Artsakh," the state service said.

On October 31st, the first forest fires were reported. The press service of the Karabakh Defense Army said then that Azerbaijan used phosphorus weapons containing elements of chemical weapons in the Karabakh conflict zone, which is a violation of international humanitarian law. In general, the area of ​​fires has already exceeded 150 hectares.

One civilian killed, another wounded as a result of shelling in Karabakh - Ombudsman

The Office of the Ombudsman of Karabakh reports that the shelling of the Azerbaijani armed forces of peaceful settlements continues, despite the agreement reached on October 30 by the foreign ministers of the parties to the conflict in Geneva not to deliberately strike the civilian population. The message says that now two villages of Karabakh have undergone shelling:

"In the village of Khnushinak, Martuni region, one civilian, 53-year-old Armo Avetisyan was killed, and as a result of a shell explosion in the village of Arajadzor, Martakert region, 67-year-old Seryozha Tsatryan was wounded."

In general, since the beginning of hostilities, at least 46 civilians have been killed, and at least 142 have been wounded, said the Ombudsman of Karabakh Artak Beglaryan.

As a result of the shelling of the territory of Armenia, one civilian was killed, two were wounded - Ministry of Defense

This is the second time that the Azerbaijani Armed Forces have fired at the village of David Bek, Syunik region, in the south of Armenia. This time, as a result of the shelling, a person died, two were wounded. The combat positions of the Armenian Armed Forces were also subjected to artillery fire, reports the press secretary of the Defense Ministry Shushan Stepanyan.

The same village was under fire from Azerbaijan on October 30. Then it was reported that there were wounded and destruction.

Azerbaijani Defense Ministry: "The enemy again fires Gubadli from the territory of Armenia"

"Starting from noon on November 2, the Armenian armed forces are shelling Gubadli and the villages of the region. At present, the territory of the Gubadli region is being intensively fired from the direction of the David Bek village of the Gafan region of Armenia, "the press service of the Azerbaijani Defense Ministry reported.

Action of women from Nagorno-Karabakh in front of the US Embassy

Several hundred women, together with their children, held a rally near the US Embassy in Yerevan demanding to stop the war and recognize the independence of Nagorno-Karabakh. This is not the first such action by women who moved to Armenia after the outbreak of hostilities in Karabakh.

The protesters demanded that US Ambassador Lynn Tracy meet with them. They even stated that they were ready to pitch tents in front of the embassy, ​​if no one came out to them and listened to their demands. In their hands were posters "Recognize Artsakh", "Stop Erdogan and Aliyev".

Eight more settlements passed under the control of the Azerbaijani army - Ilham Aliyev

President of Azerbaijan Ilham Aliyev on his Twitter listed eight settlements that came under the control of the Azerbaijani army:

Jebrail region: Chaprand, Haji Isagly, Gosha Bulag villages;

Zangilan region: villages of Dere Gilyatag, Boyuk Gilyatag;

Gubadli region: villages of Ishygly, Muradkhanly and Milanly.

Victorious Armed Forces of Azerbaijan have liberated Chaprand, Haji Isagli and Gosha Bulag villages of Jabrayil, Dere Giletag and Boyuk Giletag villages of Zangilan, Ishigli, Muradkhanli and Milanli villages of Gubadli. Long live Azerbaijan's Armed Forces! Karabakh is Azerbaijan!

— Ilham Aliyev (@presidentaz) November 2, 2020

Enemy conducts intensive shelling of two regions - Azerbaijani Defense Ministry

"The Shikharkh settlement and the Gazian and Gapanli villages of the Tartar region, as well as the Yenikend village of the Goranboy region are under intense fire from the Armenian armed forces," the press service of the Azerbaijani Defense Ministry said.

Turkish journalist: Ilham Aliyev will deliver good news today

Kursad Zorlu, a professor at Bozok University in Turkey and columnist for HaberTürk, tweeted:

"Today I met with the respected President of Azerbaijan Ilham Aliyev … His morale is at a high level. I said hello to everyone. He said that today "he will give another good news." I told about very important details. Tomorrow I will write to HaberTürk in detail".

Azerbaijan continues shelling of peaceful settlements - State Emergency Service of Karabakh

The situation is especially turbulent in the cities of Martuni and Martakert, where the Azerbaijani Armed Forces use MLRS Grad and Smerch, as well as aviation. The civil service emphasizes that, violating the Geneva agreements of October 30, these territories were fired upon at night. There are no casualties.

Armenian expert's opinion on Azerbaijan's use of phosphorus weapons

The Armenian media published the opinion of the military expert Karen Hovhannisyan on the use of phosphorus weapons by Azerbaijan in the conflict zone:
"Weapons that pose a threat to humanity are not sold through […] military cooperation. It is usually purchased on the black market. This suggests that Azerbaijan and Turkey are using not only the human resources of terrorist groups, but also the weapons and ammunition they have. "
The expert believes that the Azerbaijani authorities planned to occupy the entire Nagorno-Karabakh within hours after the start of the war, but they did not succeed, despite the involvement of terrorist groups in the hostilities and the use of the latest military equipment. And this, according to Hovhannisyan, was a desperate attempt to save his authority.
"The first goal is to force the civilian population to leave these places [forest areas where they hid from shelling], everyone knows about the danger of chemical weapons. The second goal is to sow panic in the Armenian society. I can say that in this case we did not achieve the result. The civilians who were hiding in the forest changed their shelter. […] Definitely, it was an extreme measure, moreover, in my deep conviction, this weapon was used at the direction of Turkey․ According to her instructions, terrorists used phosphorus-containing weapons in Syria. "

"Armenia violated the ceasefire on the state border" - Azerbaijani Defense Ministry

"Units of the Armenian armed forces fired at the positions of our units on the Armenian-Azerbaijani state border from mortars and small arms.

On the night of November 2, at different times, from the territory of Noyemberyan, Berd and Vardenis regions of Armenia, the enemy fired at the positions of our units located in Gazakh, Tovuz and Dashkesan regions of Azerbaijan," the press service of the Azerbaijani Defense Ministry said.

Report from the conflict zone from the Ministry of Defense of Karabakh

It is reported that on the night of November 2, battles of varying intensity took place on the front line. In the southeast direction, the Azerbaijani Armed Forces unsuccessfully tried to bring armored vehicles closer to the front line. The shelling of peaceful settlements also continued.

Azerbaijani Defense Ministry: "The adversary is firing on the territory of two regions"

An urgent message from the press service of the Ministry of Defense of Azerbaijan notes: "From 06:00 on November 2, the Armenian armed forces are shelling the villages of Aghdam and Agjabedi regions."

Combat operations continued in different directions of the front - Azerbaijan Defense Ministry

"During the day on November 1 and on the night of November 2, subdivisions of the armed forces of Armenia fired from various types of weapons, including missiles and artillery, at the positions of subdivisions of the Azerbaijan Army and settlements in different directions of the front.

Combat operations continued mainly on the Aghdam, Khojavend and Gubadli directions of the front," reads the morning report of the Azerbaijani Defense Ministry.

Armenian Foreign Ministry decalres the use of foreign terrorist fighters by Turkey and Azerbaijan

The ministry reports that the fact of recruitment, transfer and deployment of foreign terrorist and jihadist fighters in the region from the Middle East hot spots by Turkey "is not merely confirmed by the intelligence services of the OSCE Minsk Group Co-Chair countries, a number of our partners and international community, but also by the direct testimonies of the terrorists."

The statement says that on November 1, during the hostilities, the Armenian military captured the second foreign terrorist fighter, attracted by Azerbaijan for military operations against Karabakh. The first was captured on October 30:

"The transfer of jihadists to the Nagorno-Karabakh conflict zone reveals the intentions of the Turkish-Azerbaijani leadership to give the conflict an inter-religious character. […] Armenia will continue to undertake consistent steps in the fight against international terrorism, in that regard cooperating with all interested partners."

What happened in the Karabakh conflict zone on November 1 – overview