Vysotsky and Abkhazia
Eleonora Giloyan, the author of this story, didn't know Vysotsky personally, but he is a cult figure for her and therefore, today, on his anniversary, she is going to tell her story about him. 
The beginning  
It was the 1st grade and I was 7. Our teacher gave us each an assignment to find a poem about the Great Patriotic War ahead of May 9 (V-Day) and learn it by heart. I decided to ask my mother to help me. My mom told me to go to the local library and look for Vysotsky. And I did indeed find literature by him. I found a poem about May 9, as well as about his life purpose and the man himself. I found everything.
My relationship with Vysotsky developed rapidly. I read, learnt, listened and read some more. I even intended to enroll in the theatre institute just to be able to recite poems by him at the entrance exam. Vysotsky should be read; that's when the magic happens. And when that magic happened to me, I began to investigate. I was interested in everything related to Vysotsky, his friends, women and children.
Finding Abkhazia
I'm trying like a maniac to find remnants of Abkhazia in all outstanding things and people. It seems to me that as a talented person, my country cannot disappear without leaving a trace. 
For example, Chekhov, my favorite Russian classic writer, loved our homeland. 'The nature that surprises to the point of craziness and despair, wrote Anton Pavlovich. "If I had lived in Abkhazia for at least a month, I think I would have written about 50 alluring tales. Thousands of plots are beckoning you from each bush, from all the shadows and half-shadows on the mountains, as well as from the sky and the sea.     
Konstantin Simonov used to visit Abkhazia quite often and he made friends with our writers.
Of course, I wished Vysotsky had been at least somehow linked to Abkhazia and I was looking for some proof of the this, which I did find a lot of.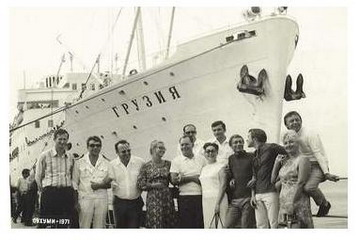 A clear thought process
Most of Vysotsky's visits to Sukhum were connected with the cruises on board Adjara, Georgia, and Shota Rustaveli cruise liners. From 1968 on, almost every year Vysotsky had been hosted by captains Alexander Nazarenko and Anatoly Garaguli, whose ships navigated from Crimean to the Caucasus and regularly entered Sukhum.   
Lev Levitas, a Sukhum resident, recalls:
"It was the summer of 1971. Volodya Dobrodeyev, a friend of mine, work as captain Nazarenko's passenger assistant on board the Shota Rustaveli liner.  Once he called to me and said: 'There is some lady on the liner. Could you show her around the city?' Why not, I thought. We like guests.
I arrived and entered Dobrodeyev's cabin. He dialed the intercom: "Marinochka, could you, please, come here. 
A pretty and slim woman, who very much resembled someone he knew, entered the cabin.   Volodya introduced us to each other and told me: "Marina likes khachapuri very much, take her out to a café.
Taking her to a café was not a problem, but I couldn't understand what was going on. When Volodya and I were alone, I asked him: "Why did you ask me? Wasn't there anyone else who could have taken her to the café? He laughed: "You fool, she is Marina Vlady. Didn't you recognized her? I almost fell down when I heard him say it! 
When we got to the café, Marina ordered khachapuri, a watermelon and 50 grams of brandy. We were sitting and waiting for the order. Marina said, "Now the whole group will come. Then the waitress brought everything she ordered. Upon recognizing who was sitting in front of her, she nearly dropped a tray. Sukhum is a small city and Marina Vlady was there in the flesh!      
Afterwards, Vysotsky, Dobrodeyev, Nazarenko and some other persons came. We sat down, became acquainted and started ordering. Vysotsky said: "I won't drink, not even one sip. I'm dry.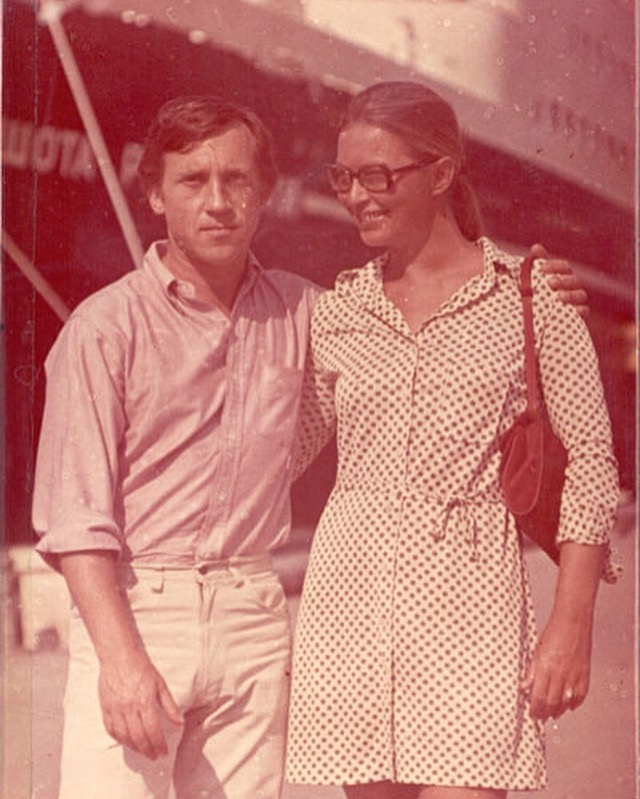 His one official concert
Not only did Vysotsky travel to Sukhum in transit, but he also gave a concert there in 1972 (in memoires it has also been recorded as taking place in 1973).     
"The Bad Good Man was filmed then in the surroundings of the Gegi waterfall. As far as we know, Vysotsky was also one of the actors in the film. At the end of one day of shooting, he took a guitar and gave an improvised concert. Employees of the Sukhum-based Physical-Technical Institute accompanied him and were among the spectators of this random concert. They convinced Vysotski to hold a concert in Sumkhum.
People were waiting for Vysotsky at the institute's cultural center for over an hour. Nobody was sure he was going to come. At last, Vysotsky arrived after the day of shooting ended, hungry and tired. The organizers quickly prepared something to eat for the artist, but he drank just a glass of wine and ate something from the refreshments. He picked up the guitar and went on the stage.    
Vysotsky immediately asked not to interrupt him and warned that he would not sing an encore. Somebody in the hall decided to record the concert. Upon noticing this, Vysotskly asked him not to interrupt him if he failed to record the concert. The next day the recording was circulated throughout the city.
I remember your kindness
Almost everyone, who witnessed Vysotsky's visit to Abkhazia, talk about Gagra in their stories, though no one is able to specify, where the artist stayed exactly.
Several years ago, I found a reference to Chepia's family, where Vysotsky once stayed. This summer I became acquainted with Iren, one of the granddaughters of Grigory Chepia, whose house Vysotsky stayed at every time he visited Gagra. 
Iren told me many interesting things. Her grandfather, Grigory Chepia, knew the director of the film The Bad Good Man. When the film crew arrived, it turned out that Gagripsh was busy with other actors starring in another film, The Moon Abduction. Then, Grigory Chepia suggested putting the actors up in his home. Anatoly Papanov and Lyudmila Maksakova were also among those who stayed there. 
After this, Vysotsky paid several visits to Marina Vlady. In his book entitled Well, Hello, It's Me!, Valery Perevozchikov mentions Chepia's family and cites Vysotsky's letters, which she had sent to Gagra. 
"Dear uncle Grisha and aunt Lyuba! It's your fifth son writing to you! I have been completely engaged in my work: I have been to Tashkent and Alma-Ata. Marina is in France. She sends her best regards to you. Please, accommodate Seva Abdulov's mother in your home, whom uncle Grisha hosted with chacha. She would like to spend a holiday there. Her name is Yelizaveta Moiseyevna. She is a wonderful person, and she's like a mother to me. I would be very glad if she feels in good spirits at your place. I think you will love her, too. Best regards to the children! Hugs. I always remember your kindness.  So long, Volodya Vysotsky.     
A bottle, wives and a storm 
Vysotsky visited Chepia's family in August 1973. Marina and he, accompanied by Vsevolod Abdulov and Brezhnev's personal interpreter, Viktor Sukhodrev and his spouse, spent their vacation in Pitsunda.   
Sukhodrev left a memoire of the vacation with Vysotsky in Pitsunda. According to him, they came to Chepia's house to get some good wine for Sukhodrev's wedding anniversary. The host of the house gave them a really huge bottle and didn't take money for it. Instead, they have had to 'do time at the Caucasian feast.'  
"Everything ended as it was supposed to- Volodya loaded a bottle into his Renault, along with Seva and me, and we got home by evening (our wives were anxious). Volodya brought us out of the car in turn – starting with Seva, then me, then the bottle. He also helped us to get to our rooms, Sukhodrev writes. 
Another one of Sukhodrev's memories is far more important. 
"One time (again in Pitsunda) Volodya wrote a song about a storm which occurred right before our eyes. The day was such: it was stormy, it was impossible to take a bath, the weather was unstable, there was rain mixed with a sunshine…The next day the sea calmed down and during breakfast Volodya said: "Guys, I have written a song about the storm. And he recited it to us. Yes, he recited to not us. He didn't read it. In the song about the storm from the previous night, he compared the waves to horses' necks, and then he began describing himself: "I am also breaking my head. The song went like this, "There's been a storm the whole night long.
The Chepias still have the guitar that Vysotsky played when he was visiting them, but they weren't able to preserve a shawl that Marina Vlady had presented to aunt Lyuba.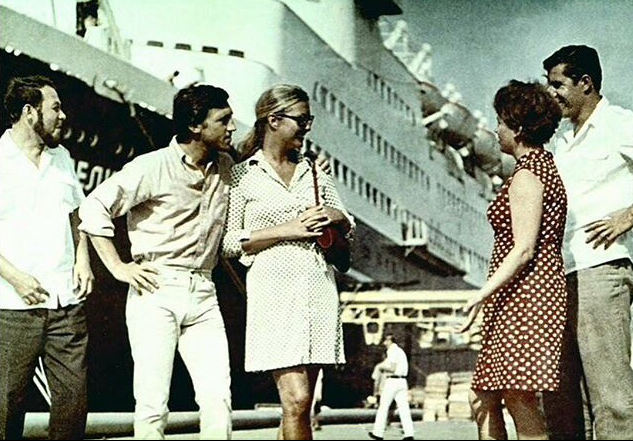 The sea and the mountains
I live with the confidence that Abkhazia helped inspire Vysotsky to do many things. It seems to me that most of the marine motives in his works are of Abkhazian origin. When reading these lines, I solely imagine our sea, though I am familiar with other seas, too.     
Vysotsky often visited the Caucasus, be it filming The Vertical or for guest performances in Dagestan, Kabardino-Balkaria, South Ossetia and Chechnya. It was there that he came across major mountains in his life, not far from our mountains. Who knows which passes our hero walked over? And finally, what could be better than the mountains? 
If Vysotsky were still alive
I often try to imagine the present-day Vysotsky. Who would he have been and where? What would he write about? And I realize that I don't want him to live in modern times, where there is the commercialized falsehood, "Thank you for being alive." I urged myself to watch it to the end to have the right to advise you not to watch it. In One's Own Track, Vysotsky has been turned into a pseudo-patriotic absurdist. 
I love the Vysotsky of the 60s. I feel comfortable at Bolshoy Karetny. I find truths in Taganka's gardens. And now, when I visit his capital, with a confident gait, I go to the right of the central gates of Vaganskovskoye (cemetery) to the most extravagant monuments in the universe, where there are always people who know his poems by heart and who sing them. Here, in Sukhum, we drink coffee every morning on the pier, where he often used to come.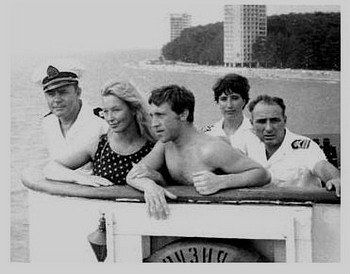 The opinions expressed in this article convey the author's views and the terminology used do not necessarily reflect the views or opinions of the editorial staff