Ten years since the August War: stories of two young women from both sides of the conflict
It has been two years since the 2008 August War between Georgia and Russia over South Ossetia.
Journalists from Tbilisi and Tskhinval(i) spoke with people who were most affected by the war. Our interviewees spoke about the most difficult days of their lives, and how they have lived in the past 10 years and what they think the future will be like.
____________
Pikria Shvelidze, 42, Georgian – left her home village of Kekhvi in South Ossetia in August 2008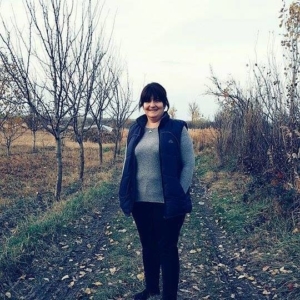 "War? Nobody was thinking about it back then. That summer we had been making plans to repair and renovate our home and to buy new clothing for the children.
"On 5 August I sent the kids to my mom in Western Georgia. My son was 11, and my daughter was three.
"The children were never able to return to their home. My daughter doesn't even remember it, and my son and I often reminisce about our old home, our neighbours and our street. I am glad that they did not see the grief that came down on our heads a couple of days later.
"On 7 August our village was already being bombed so intensively that we had to hide out at the neighbors' house in the basement. There was fear on their faces, but they tried to support one another. Still, despite this, they even tried to tell jokes and entertain one another.
"The men assured us that we were two metres below ground and that nothing could harm us. We didn't even go out for food, we sat without water or food for two whole days.
"We didn't know anything about what was happening around us and the phones didn't work. On 8 August they started bombing us with planes. And on that day, the Georgian soldiers came and told us something horrible: that people were fleeing the area and it was time for us to leave as well.
"I only understood then that my life was changing and that a calamity had descended upon us.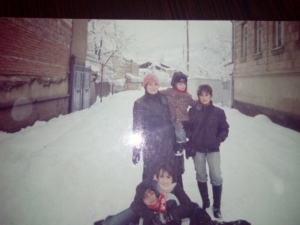 "We left our village at about 8 o'clock in the evening on 8 August. A relative took us out of the village in his car. When we had left the village behind, I understood that I hadn't taken any of my things. And it was only later that I discovered several photographs of my children in my purse. I don't even remember when had I put them there.
"We went through other villages, and nobody was about, the doors were blown open everywhere. And we left our door open too when we ran out to the car. Then we thought that we'd return soon.
"Today, I live in a settlement for IDPs in Karaleti [not far from Gori and the conflict zone -ed]. The children have grown up, but they still need so much. All these years have passed while trying to get used to our new reality. The worst were the first two or three years. I felt as if I was living in someone else's home, and I didn't even want to buy new things for the home. I thought it's temporary. Why should I set up house here? And it was only later I acknowledged that my entire life could pass by while I waited [to return].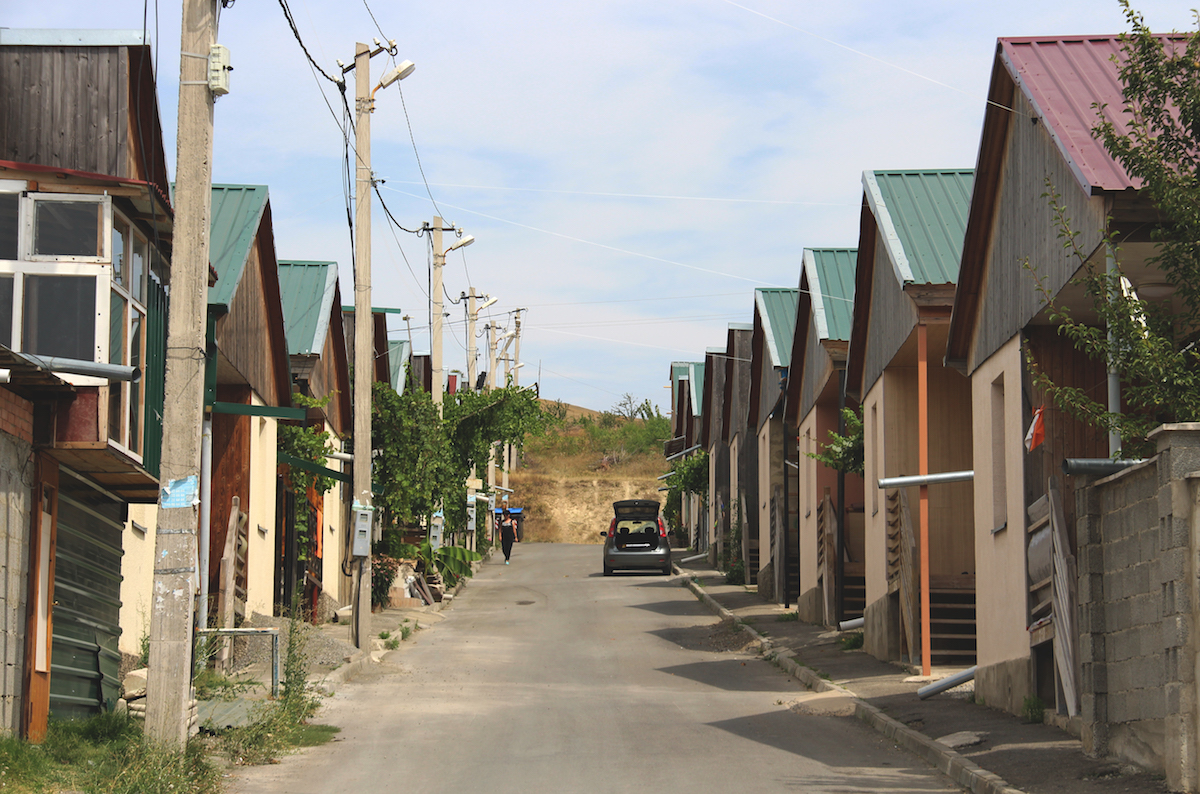 "Now my husband and I are trying to get used to things again, and we're trying to educate our children. The oldest is already a junior in university, and is trying to help us by working as well. We want to expand our home – as it is now, there are four of us in this shack. Maybe by next summer we'll be able to add another room.
"But we will probably never again have the same kind of house that we had in Kekhvi. It was enormous – enough for two families. And the garden was large, too – we lived off of our harvest.
"But our house is gone. I found out about this shortly after the war. It burnt down. I saw photos of it on the internet. It was crushing news. Sometimes it seems that this isn't happening to me but to someone else.
"My husband has a disability and receives a pension in addition to a handout for IDPs, but it doesn't even add up to 400 lari. The war has turned our lives upside down.
"I wouldn't wish this on anyone. And deep in my heart, I still harbor the hope that some day, I will be able to go home, to the place where I was born and lived the majority of my life. I know that my home burnt down, but the yard is still there. You can't burn down a yard.
"We used to have a holiday in Kekhvi, on 20 May, the day of the village. It was fun, all the neighbours would come together. Maybe this holiday is now being celebrated by others who live there now, in our village?"
________
Anjela Guchmazova, 39, Ossetian, lives in Sarabuk village in South Ossetia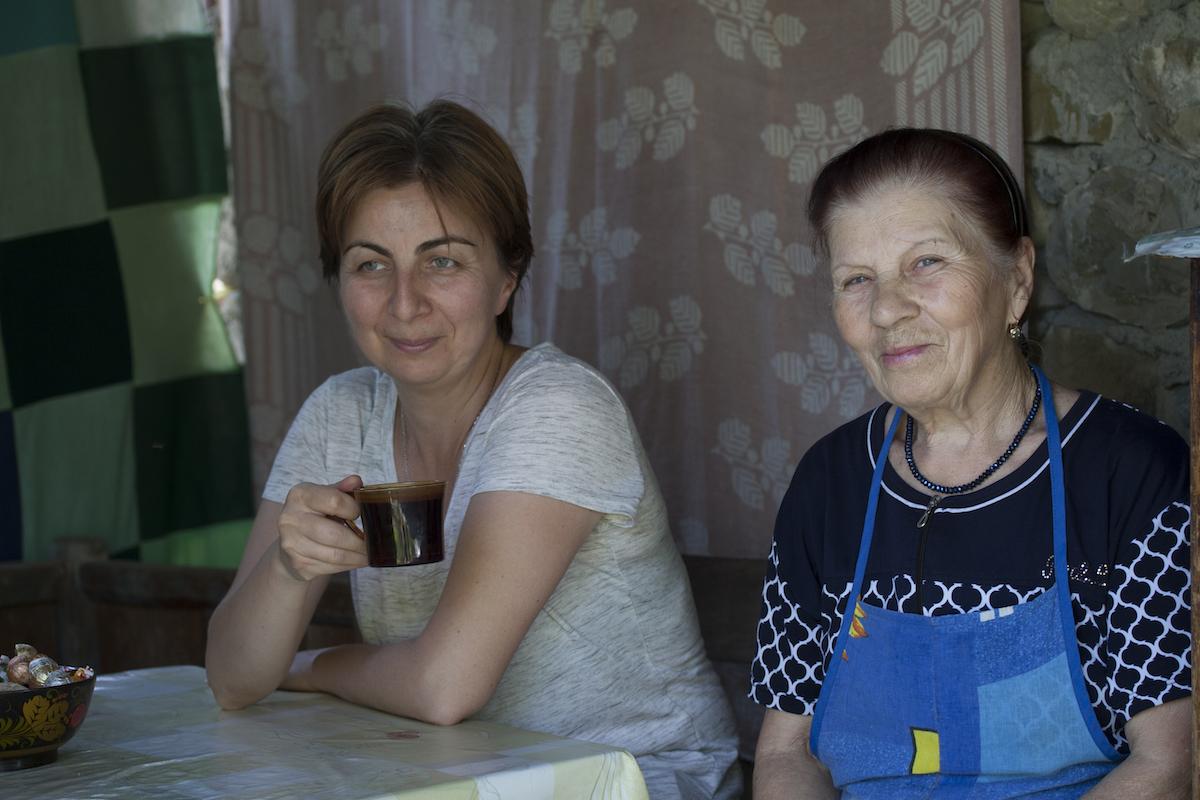 "Our village was in the line already a month before the horrible events of August 2008. I had to leave my mother there, under fire, and I myself fled from the shooting with my one-year-old son and my four young nephews to North Ossetia."
Anjela Guchmazova says that her hometown of Sarabuk is special because it is elevated above others in the Tskhinval region. That's why peacekeeping troops were based there during a particularly violent phase of the Georgian-Ossetian conflict. During the 2008 war, an Ossetian militia battalion was here as well. And that's why in 2008 the village was shot up and bombed more than others.
They had to stop the family tradition of drinking tea on the veranda after 15 July, as that night there was intense shelling.
"We had all been asleep. Me, my son, my four nephews and nieces and my mother. The bullets whistled by, one of them got lodged in the wall above my bed. It's there even now. I told everyone to calmly get onto the floor. One of my nieces didn't listen to me and she ran across the entire room and through herself on me out of fear," Anjela recalls.
The shooting followed for a number of days.
"On 3 August the women and children were evacuated. I understood that to remain in Sarabuk with so many children was dangerous. I asked our neighbour to take us early in the morning to the Russian border where we'd be met by my brother in law, the father of my nephews and nieces.
"On 6 August we went by the old bypass road through the mountains. We drove through the Georgian village of Vanat. it was terrible, but we had no choice. Wherever we passed, there were empty abandoned houses and many abandoned animals – dogs, pigs and cows.
"Somewhere along the way, we saw an entire family on the street. They were Ossetians, and they stopped us and begged us to take them, or at least their children. But we couldn't help them, our small car was already filled to the very roof."
Anjela's mother and brother stayed in South Ossetia.
"My mother said that she wouldn't leave – that she would stay to protect the house. And then we had no connection with them. It was only in the very beginning that my brother wrote me an SMS from a basement in Tskhinvali, where they were hiding out from the fighting. He said they were alive, and that was it."
Anjela's mother, 73-year-old Zareta Kokoeva:
"On the evening of the 7th, I was in my brother's home. It's lower than ours, and thus it seemed safer. A missile fell right next to our home. I saw how the shock wave blew out the front door to our home. I went to retrieve it and set it back up. My brother ran after me.
"At this moment, Georgian tanks and soldiers entered the village from Eredvi. They started yelling at us that we needed to hide. We threw down the door and hurried back. All three of us hid in the basement. Me, my brother and his wife. Georgian soldiers found us there. All of us know Georgian, and we raised our hands into the air to show that we did not have weapons and we started loudly yelling: "We are civilians, don't touch us!" The soldiers said that they are looking for Ossetian fighters. We answered that there were no fighters there, and they let us go."
Fortunately, nobody from this family lost their lives. But their acquaintances and distant relatives did.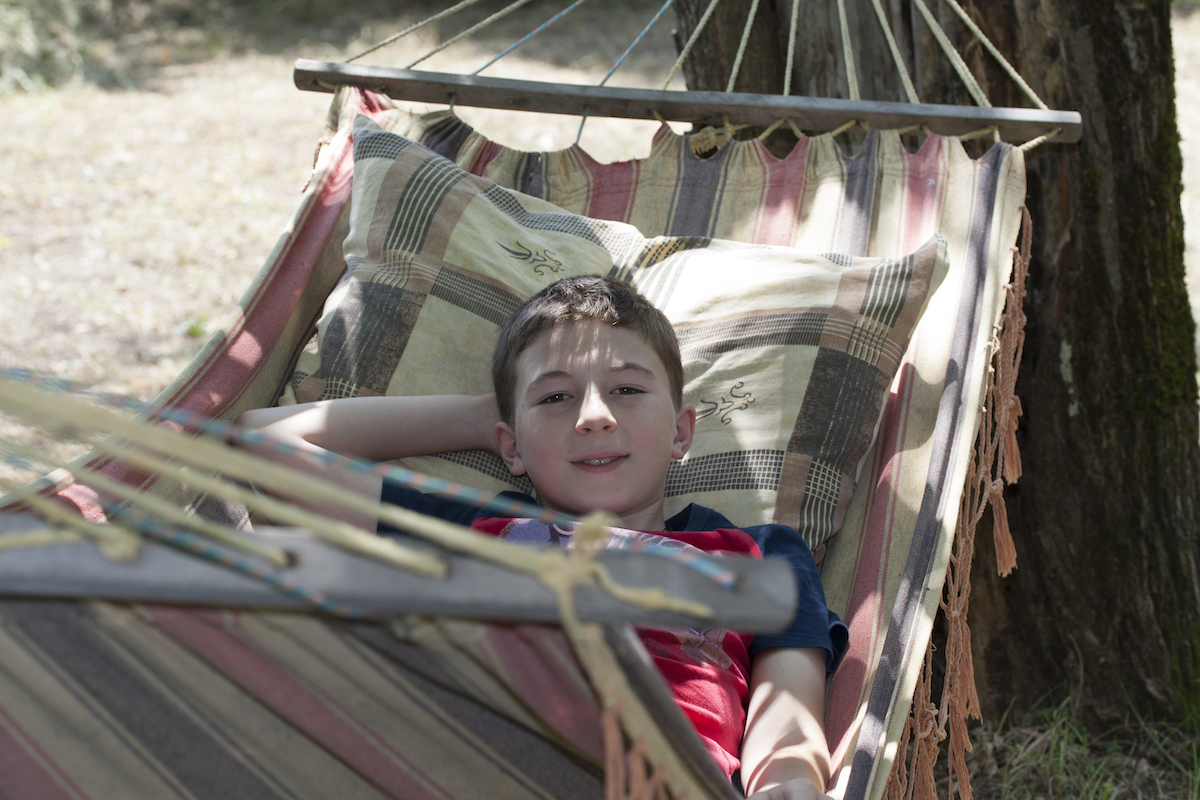 "We have been struggling all these years, my mother and I. She receives a pension, I receive my salary, and we are slowly rebuilding our home. Us women are doing it by ourselves. My son is only 11 years old, I have no husband – he has already died.
"Sometimes I go up to his photo and speak with him. But recently mom took down his picture because she doesn't like the fact that he's always looking at us. She says that you can't keep a large portrait at home after the funeral. We had a fight because of that issue," Anjela recalls.
Seven years after the war, a dog came to Sarabuk. Anjela thinks that it is from the neighbouring village of Vanat, where Ossetians and Georgians lived together.
"Georgian families were evacuated several days before the war, and this dog, in all likelihood, stayed behind and all these years is waiting for the return of her owners.
"When she first came, she was in bad shape. We thought she was going to die. But we took her in and called her Pompora. Since then, she's given birth to three pups, one every year. The neighbours take them in. They think that they bring peace and success to the home."
Toponyms and terminology used in this article, and the views, opinions and strategies it contains don't necessarily reflect the opinions of JAMnews or any employees thereof. JAMnews reserves the right to delete comments it considers to be offensive, inflammatory, threatening, or otherwise unacceptable.