Russian children in Georgian schools - where they study and what problems the state has faced
Russian children in Georgian schools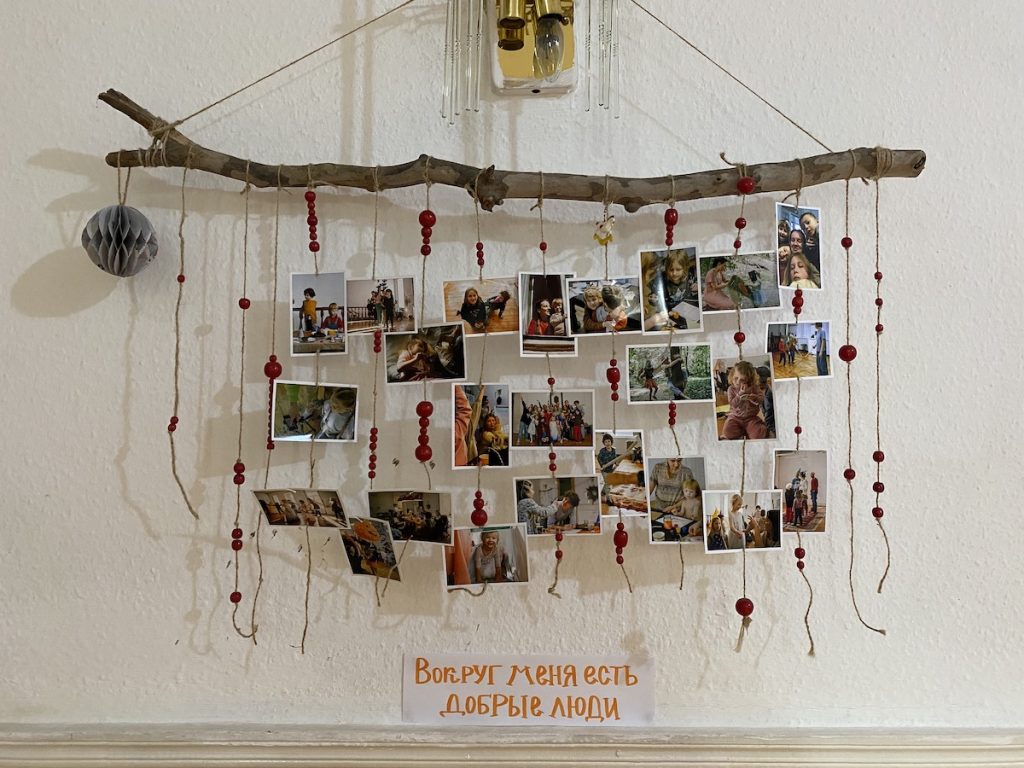 After the Russian invasion of Ukraine, more than a million Russian citizens crossed the Georgian border. About 12,000 of them remain in Georgia. This wave of migration has also led to an increase in the need for Russian- and English-language schools.
There are 54 schools in Georgia where you can study in Russian. Eleven of these schools are completely Russian-speaking; in the remaining 43 schools, along with the Georgian-language department, there is also a Russian-language one. Of these 36 schools are public, seven are private. 80 percent of all these schools are distributed in cities, and 45 percent are concentrated in Tbilisi.
According to the Ministry of Education and Science of Georgia, in the 2022-2023 academic year, 16,228 children studied in Russian throughout Georgia (both in private and public schools). This is 15 percent more than in 2020.
"Since the beginning of the war in Ukraine, there have not yet been any fundamental changes in public and officially registered private schools. Of course, there is growth, but it is insignificant. And this growth is observed almost only in Tbilisi and Batumi," Shalva Tabatadze, head of the Center for Civic Integration and Interethnic Relations, says.
Russian children in Georgian schools
Public schools and the issue of funding

46-year-old Russian Natalya is a journalist by profession, she writes about the environment and the needs of the city. Because of her activities, she faced problems in her homeland and, together with her youngest daughter Anfisa, moved to Georgia even before the start of the war. The older, already grown-up children stayed with their father, Natalya's ex-husband, who does not share her position and supports the Russian government.
Natalia and Anfisa chose to live in the village of Chakvi on the Black Sea coast, not far from Batumi.
Now Anfisa is 11 years old, she studies at the Russian-language department of a public school in Chakvi. According to Natalya, the class is multinational, Armenian, English, Russian, Chechen, Belarusian and Ukrainian children study in it.
Natalya recalls that after the start of the war in Ukraine, when a split occurred between Russians, Belarusians and Ukrainians in Georgia, a large rally was organized at their school and announced that within the walls of the school all children would be equal, regardless of nationality.
"I will never forget those words. Perhaps the school has many problems – for example, it needs repairs. But the main thing for me is the attitude towards children. The most important thing is that my daughter should not sit in a Russian school now and sing war songs."
---
---
At public school No. 1 in Chakvi, where Anfisa studies, the Russian-language classes are overcrowded.
"Three years ago in our Russian-speaking department there were no more than 10 children in a class, and now there are 25 students in all Russian-speaking classes. I had to refuse new applicants, because the Russian-language department was completely overloaded this year," the director of the school, Tariel Katamadze, says.
Russian children in Georgian schools
▇Along with the increase in the number of students in the school in Chakvi, it was necessary to hire teachers.
"Finding teachers of different subjects for Russian-speaking classes is problematic, so we had to add teachers from Batumi and a few other schools. They teach there on the first shift, and on the second shift they come to us. Even if we were the first shift, it would be very difficult for us to find staff," the school principal says.
According to education specialist Lela Chakhaya, the base voucher funding per child in Georgia is 300 lari per year [about $116]. This is the minimum amount allocated for education, which is received by absolutely all children, including students of private schools.
However, in the case of public school students, one more amount is added to the minimum package. Which one depends on various circumstances – where the school is located, what size it is, how many children study, whether it is Georgian-speaking or not, whether it is located in a mountainous area or in a city, etc. For example, students in small mining schools receive more money on top of the basic 300 lari voucher than students in large urban schools.
"It is difficult to say exactly how much budget money is allocated for each student. However, with a very rough estimate, it can be assumed that the state funding allocated for each public school student in Georgia ranges from 700-1000 lari [about $272-388]," Chakhaya says.
The same rule applies to citizens of any foreign state. According to the legislation of Georgia, any citizen of a foreign state has the right to study at a public school, and the amount of the voucher for them is allocated according to the same principle as for a citizen of Georgia.
▇Accordingly, the increased number of Russian children in Georgian schools has increased the burden on the state budget.
After the arrival of a large number of Russian citizens, many wondered if there were funds in the Georgian budget to finance their education in public schools. This issue is all the more relevant against the background of the fact that parents and specialists have long been demanding free meals for students in general education schools, but there was not enough money in the budget for this.
Every child has the right to education, regardless of nationality, and it is unacceptable for Georgia to take this right away from any child, Simon Janashia, a researcher and education specialist, believes:
"This corresponds not only to Georgian, but also to international legislation. Therefore, it is right that Georgia educates all children," he says.
In his opinion, in order to solve the problem, it is necessary not to limit the right to education for Russian children, but to develop the correct migration policy:
"The question is, do we have the resources? Therefore, immigration policy should be developed taking into account what resources we have. Migration should not be uncontrolled, otherwise no children should be deprived of the right to education. However, I doubt that our government is thinking about it."
Education specialist Revaz Abkhazava takes a more radical position. He does not consider it appropriate for the state to allocate additional funds for the citizens of the occupying country, while funding in the field of education is already critically insufficient:
"The money that finances public schools is money for subsistence, not development. Georgia's education system cannot finance meals, excursions, or non-formal education, and at the same time, we are wasting our resources from our taxes on citizens of other countries."
"Educational policy is also part of the state policy," Abkhazava says.
Private schools

Denis, 13, comes from Siberia and has been studying at the Intellect Plus private school in Tbilisi for a year now.
This Russian-language school has existed in Georgia for many years. The curriculum is Georgian, but teaching is conducted in Russian. The monthly tuition fee is ₾470 [$182], but will rise to ₾550 [$214] next year.
"Demand has grown a lot," says school principal Nikoloz Chkhartishvili.
"At the beginning of February 2022, we had 70 vacancies. Now all the places are filled, and we can no longer accept new students.
The school, which now has 450 children, is international. There are Russians, Belarusians, Ukrainians, Kazakhs here. There are also students from Italy and Cameroon. All of them also study the Georgian language, which is a compulsory subject.
---
---
Liza, 10, and Varya, 7, from Moscow, who moved to Georgia in March 2022, also attend a private school. But their parents chose an English-speaking school.
"First, we sent to a Russian-language school, which recently opened in Georgia. But then we realized that we won't be able to go to Russia for a long time and it makes no sense for children to study in Russian, but it's better to learn an international language," says the girls' father, 33-year-old Anton Zakharov.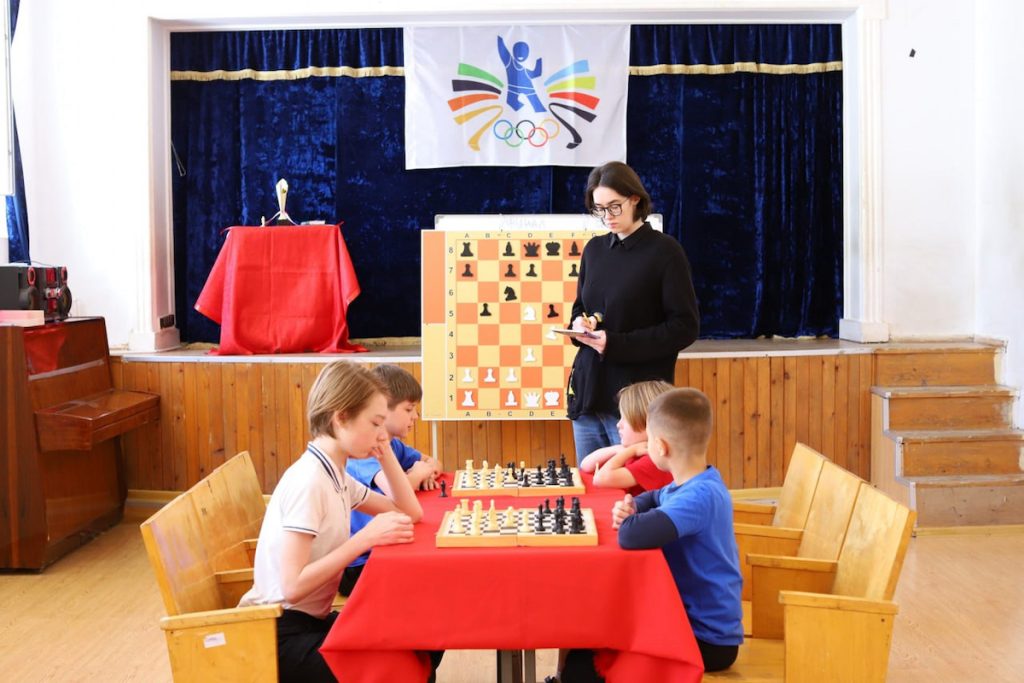 The family chose a Georgian-American school, where the annual tuition fee is 1,250 lari per month [about $485].
"We didn't even think about a public school, so as not to take up the places that Ukrainian children need."
Liza and Varya study in international classes, mostly with other Russian-speaking children. Vari also has classmates from Iran, China, Indonesia and Egypt. Most of Lisa's classmates are from Russia and Ukraine.
"It was easy for them to get used to. The eldest has changed schools many times in Moscow. The most important thing for us is that they learn English as well as Georgian. The program also includes the history of Georgia."
"Unofficial" schools – why are they dangerous?

Along with public and private schools where Russian citizens can study in Russian and English, new Russian schools are also being opened in Georgia that are not under the jurisdiction of the Ministry of Education and Science of Georgia.
Such schools do not issue certificates and other documents accredited by the state of Georgia and are not subject to the Georgian education system.
The Ministry of Education confirms that not a single Russian-language school of this type is authorized, which means that their activities are illegal from the point of view of the Georgian education system.
But these schools also do not belong to the official education system of the Russian Federation.
"Officially, these institutions are not positioned as schools at all. These are, so to speak, educational centers, something like language courses. But in fact, children go through the school curriculum there," says Shalva Tabatadze, head of the Center for Civic Integration and Interethnic Relations.
"During the pandemic, the Russian education system has become much more flexible, new mechanisms have appeared: you can study wherever you want, and then, if you pass the exams, you will receive a certificate. Therefore, after studying in such schools, Russian citizens will still be able to formalize their education." says Tabatadze.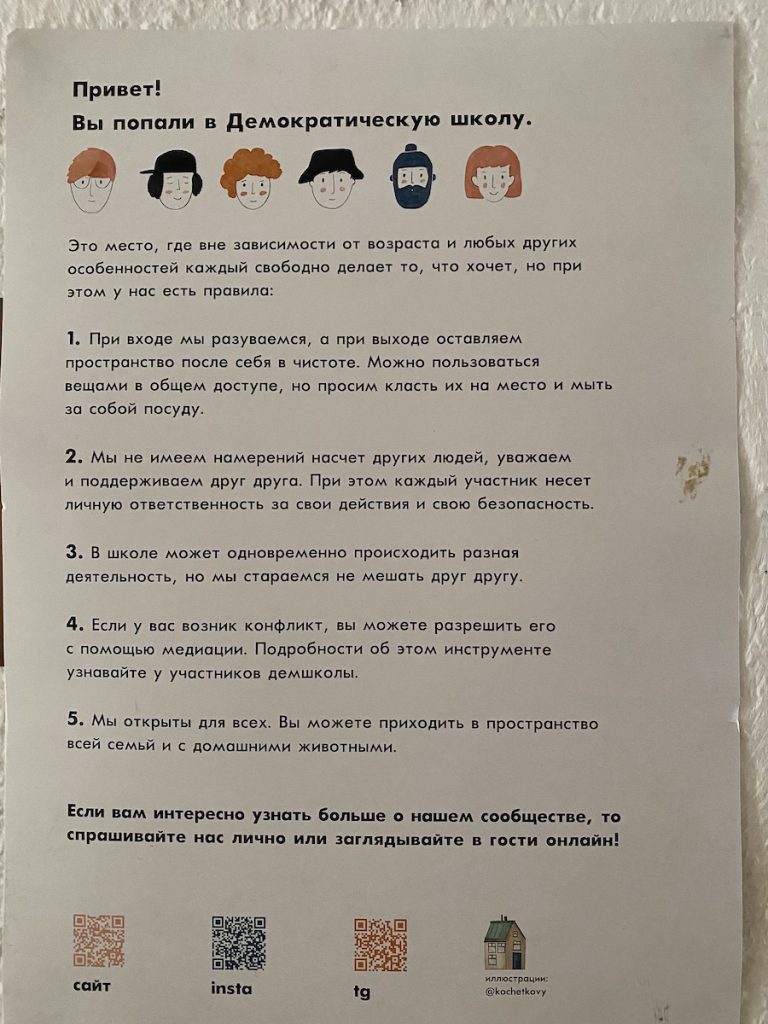 One of these schools is the Democratic School in Tbilisi.
It is a space where children and parents spend the day together and share their knowledge with each other.
For example, on the morning when we arrived at the Democratic School, parents were doing yoga, some children were painting or sculpting, others were playing with kittens.
According to the representative of the school, 27-year-old Ksenia Bogdan, this is not a school, but a place where people do what they are interested in. If someone is interested in learning to juggle, juggling teachers are invited for them. If group members want to learn Georgian, they call a neighbor who teaches them Georgian. If one of the parents himself knows mathematics well, he teaches children mathematics.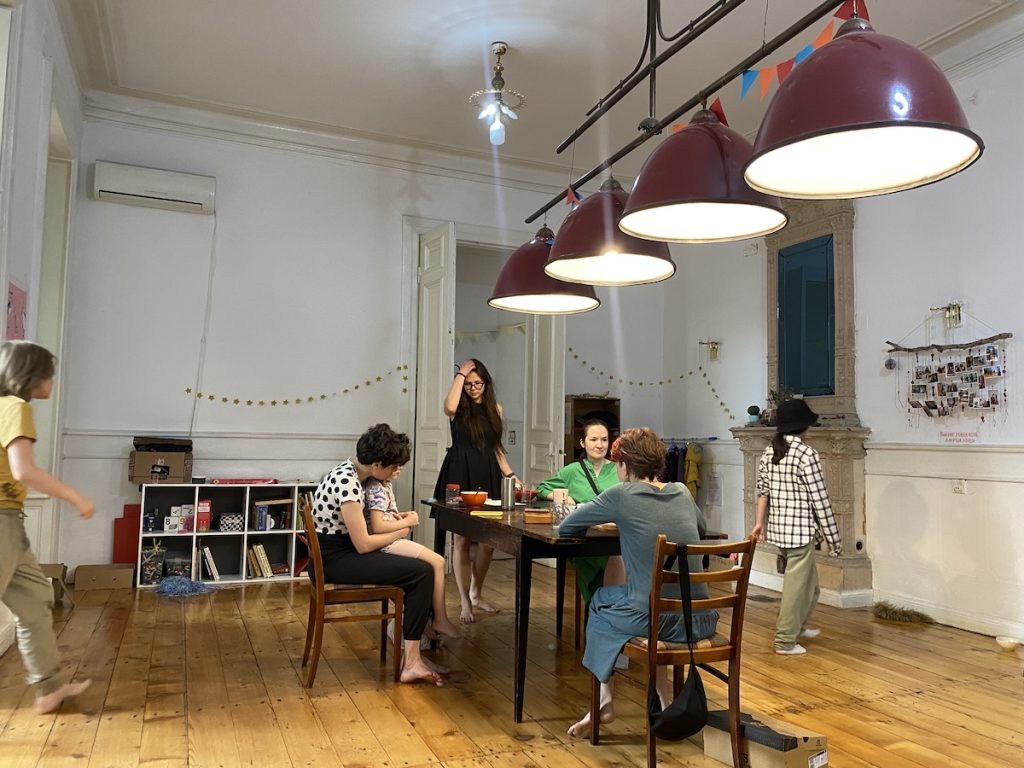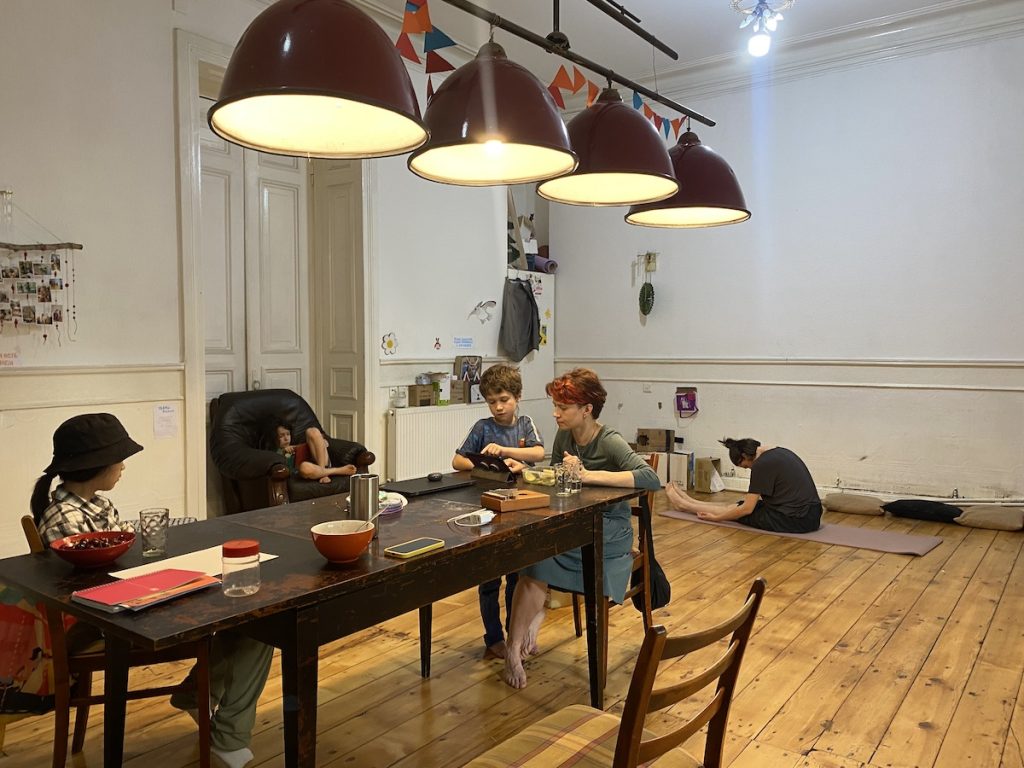 "This is a completely democratic and free environment where people help each other and share knowledge. Many Russian children today study online, and when they do not have lessons, they come to us and study here too," Ksenia Bogdan says.
The Democratic School, which opened after the start of the war not only in Tbilisi, but also in Yerevan, is a non-profit organization and exists solely on donations.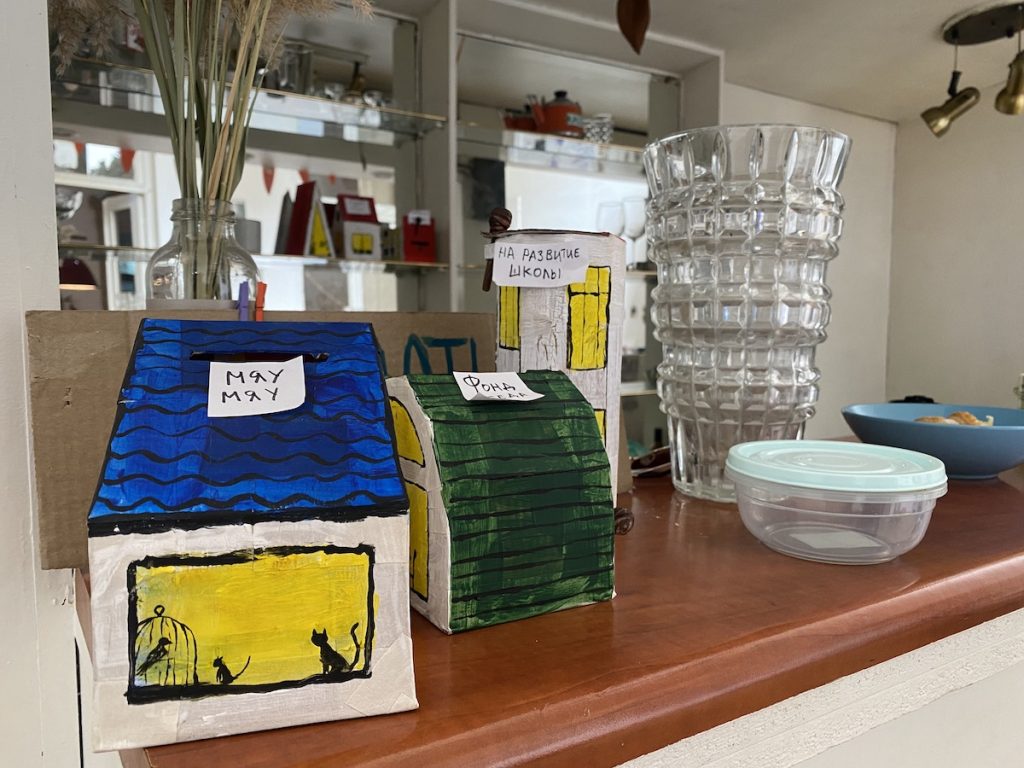 There are about 40 people in the community united around the school, most of them Russian citizens. According to Xenia, the community is unstable: mostly people attend school temporarily before leaving for other countries. Then other newly arrived immigrants take their place.
The Projector school, where 5-year-old Krylia studies, is of the same type. Her family came to Georgia for vacation in September 2022. While they were resting, a partial mobilization was announced in Russia and the family decided not to return.
Krylia was supposed to go to the first grade, and her parents, who spontaneously ended up in a foreign country, started looking for a school.
"The child does not know Georgian, so we were looking for a Russian-language school. There were no places in public schools, and finally we found this school," says the girl's father, 41-year-old Dmitry Udovik.
The annual tuition fee for the Projector School is $6,600.
"As far as I know, this school has been in existence for a year. She did not pass authorization, but the child can take the exam at another school and thus receive a certificate. For us, the main thing is that the school awakens a love for knowledge and that this process is interesting. It's a very good environment and a non-standard system, so we really like the school."
▇ Unlicensed schools do not seem to be a problem at first glance, but if the state does not control them, they may pose a threat in the future.

"Such schools open completely uncontrollably – we have no statistics, and we know nothing about them. This is a serious problem. When many children gather together, regardless of which country they are citizens of, the state must be aware of what is happening there, what are the conditions. And these schools are completely off the radar and we have no idea what's going on inside. This is very risky. In this way, informal city-states can be formed," Revaz Abkhazava believes.
Simon Janashia also believes that such schools should not remain outside the control of the Georgian education system:
"According to the rules, the state must send social workers to such schools and monitor the process – how is the training going, whether the right of children to receive education is limited. Without such supervision, there is a risk that a parallel education system will emerge, which may later be chosen by the citizens of Georgia as the official system, and if the state turns a blind eye to all this, it will be very difficult to recognize education and integrate it into civil society."