Runners appear in Tbilisi's streets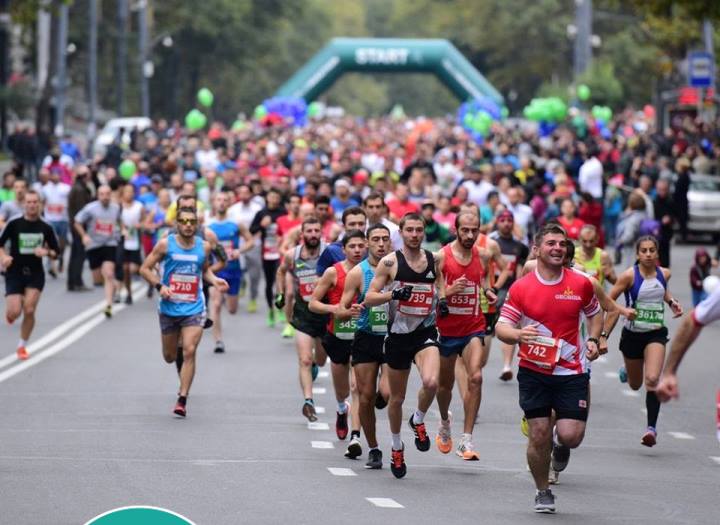 The Tbilisi Marathon is being held in the Georgian capital for the sixth time and has attracted the attention of both tourists and local residents alike.
Organized by Heidelberg Cement, the race started on 22 October at 8:30 am on Rustaveli street.
The participants of the marathon arrived at the starting point in a great mood – something that can't be said about Tbilisi's residents themselves. Social media users have expressed their dissatisfaction with the fact that main streets have been closed because of the marathon.
The trail of the Tbilisi marathon follows along central neighborhoods in the capital. In order to hold the race, authorities had to close a number of streets to vehicle traffic in the historic part of Tbilisi. In order to maintain public order, patrol police were stationed across the city.
The Tbilisi marathon was held for the first time in 2012. Last year, a team relay aspect was added to the race. Runners pay to participate  in the marathon, 15 lari for 10 kilometers or 20 lari for 21 kilometers. Children from six to eleven years old were offered the chance to compete in a 50-meter race, and 11-15 year olds in a 1 kilometer race free of charge.
The organizers of the marathon, Heidelberg Cement, match the amount of money received from runners and then spend it on charity.
For example, in 2016, 23 000 lari was collected, and 46 000 lari was spent on child hospice care.
From 2015, the Tbilisi marathon has been included in the registry of the International Association of Marathoners and Long Distance Runners. Accordingly, the event is held to international standards and serves to popularize a healthy lifestyle, charity and the development of tourism in the Georgian capital.