Azerbaijan's 'pay or get lost' beaches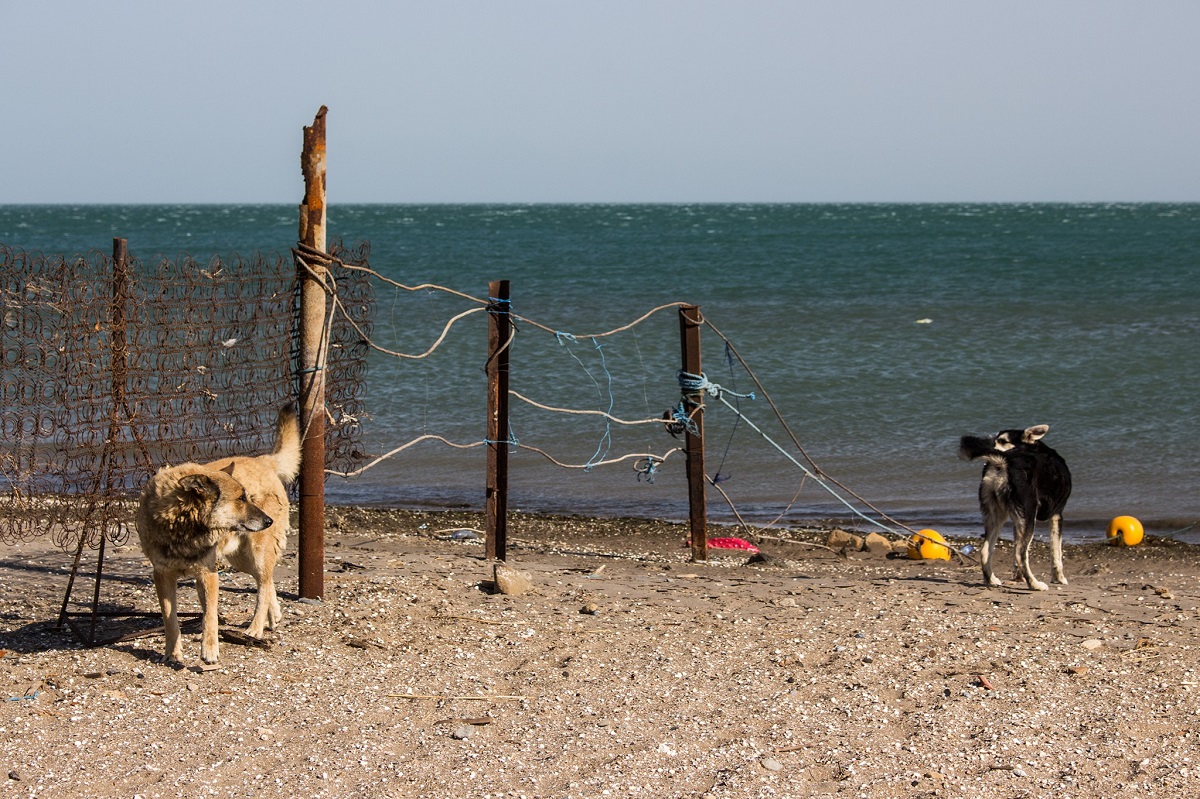 The presence of the sea does not necessarily mean that you will have beaches. However, Baku is lucky to be surrounded by flat shores that extend for more than a hundred kilometres. By very rough estimates, more than half of the territory has beaches which are suitable for swimming and are not covered with cockleshells and pebbles, but golden sand. This area is 15 times larger than that of the famous Copacabana beach. The coast should be something that people in Baku look at with pride, but for some reason it is not.
Buzovna is one of Baku's "beach settlements" with currant, fig, grape and occasionally, saffron, growing behind the stone hedges of summer houses typically found on the Absheron peninsula. The last bus stop is by the mosque, after which a fifteen-minute walk past piles of debris from construction will bring you to the beach.
On the left, there is some beach infrastructure. There is a restaurant – a simplistic construction with cabins made of reed and tables with beach umbrellas. To rent a table will cost you the equivalent of 3-7 dollars, or you can choose to lay somewhere on your own on the 5 meters of coast at your disposal. If we look at this in terms of price and quality, this is the best option you have for beaches in Baku. 
After turning to the right you will discover the so-called "wild beach" – a territory covered by layers of garbage. Occasionally, volunteers from Facebook groups clean it up a bit, but the garbage immediately returns.
The third option is private beaches – plush oases with pools, dressing rooms, cafes, bars and restaurants. First you pay the entrance fee (about 10 dollars) and get a free lounge chair! Then buy pizza and water.  
There are also hotels which have beaches of their own and villas of local oligarchs which block access to the sea.




What people have to say
Kyamran Aliev from Sumgait said: "For decades my family has been frequenting the beach at Novkhany where we used to own a summer house. Now we can no longer go on this portion of land for free. I have made several attempts to talk the guards about letting me in for free, but with no success. I threatened to complain to the authorities. "Feel free to complain to whoever you like. Now either pay or get lost," they replied."
Vacationer Leyla Suleimanova: "In Pirshagi where we live, you can walk to the beach for free but you have to pay if you want to drive there. Restaurant owners have established a parking lot at the sea side and there is no way around going to the beach by car."
Lyela Suleimanova says guards demand the entry fee ignoring any arguments. "They laughed at me when I said I will complain to the authorities."
Sevil Gasanova, a Baku resident: "We have no dacha, but, to be honest, I prefer spending my vacation abroad. The service is better there, it's cleaner and, at the end of the day, a lot cheaper than here."
What officials have to say
Aliabbas Bagirov, the head of the Baku Department of Trade and Services press service, claims that these entry fees are not legal. "Renting swimming equipment is the only legal way they can make an income. Accessing the beaches by car should also be free. Establishing barriers is illegal, even on private beaches."
He says that those who have been forced to pay should report to the trade and service department's hotline: (012) 566-83-71.
What the law says
Back in 2003 former President Heydar Aliyev signed a law forbidding any construction in the 130-meter coastal zone. On January 15 2016, President Ilham Aliev signed amendments to the Administrative code establishing fines for illegally impeding access to beaches: 4,000 manats for individuals, 8,000 for officials and 40,000 for legal entities.
Officials also may be sentenced to a minimum of two years in prison for selling state property (which includes beaches) to a private person.
This means that the Azerbaijanian law is on the side of vacationers.
Every year, the Republican Center for Hygiene and Epidemiology declares the beach in the village of Shikhovo (about 10 kilometers south of Baku center) unfit for bathing. A similar statement was issued on 15 June, on the first day of the beach season. Ecologists have warned citizens that the water contains Escherichia coli (E. coli).
This, however, hasn't obstructed the Shikhov beach owners and the beaches keep operating anyway.
Water is much cleaner on the northern coast of the city, on the beaches in the Mardakan and Bilgah settlements, which is due to treatment facilities.
Usually, you can get to Shikhovo beach by bus, but today the road is closed due to the preparations for 'Formula-1'. A taxi driver asked whether he should take us to a paid or a free-of-charge beach. We said that we would go to the free one for a start.
The road ascended along the seacoast, bending round the Bayil hill, where large-scale construction works were underway. Swirls of dust were driven by the wind from the hill. There were hotels and restaurants, lined up on the left, near the sea. The paid beaches were also located right there. When asked about the amount of an entrance fee, the taxi driver fearfully shook his head – he obviously had never been there. Eventually, a low stone fencing started, from which 'a nude beach' could be seen.







Any time one attempted to cross into the next 'section' beyond the fencing, the rescue service staff, sitting in the shade of their tower, would start shouting that it was a restricted area. An aqua-belle, already sunburned to dark brown, explained that there was a dog on another beach that was going to start whelping any time soon. Therefore, it wasn't advisable to cross into that areas, since the dog was aggressive. An ESM (Emergency Situations Ministry) official came up to us and explained, in turn, that even if the dogs did no harm us, we wouldn't be able to walk along the seashore down to the private beaches, because there was fencing there.
We took the road to get to the next beach in a 'legal' way. Farther, we came across the 'Dolphin' restaurant, that didn't have any beach, but it was located right on the seashore, enclosed with that very fence that we, according to the ESM staff, were supposed to bump into.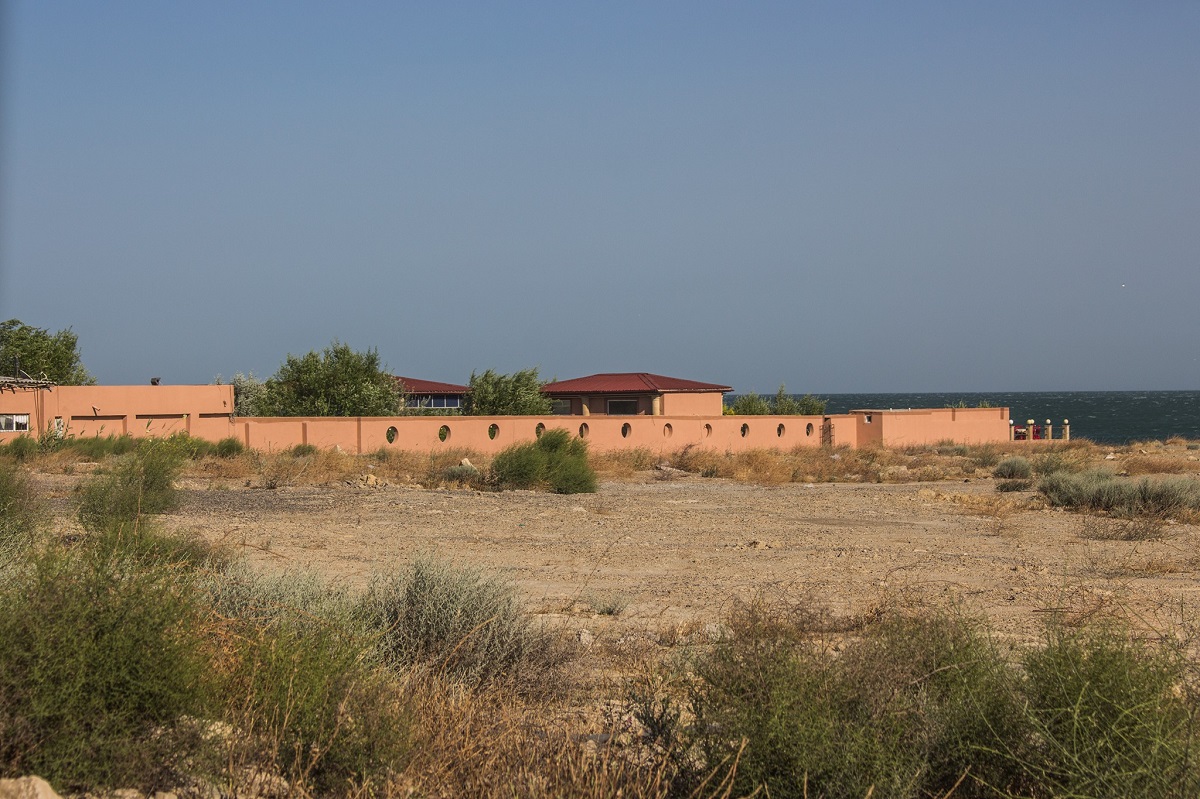 Then, there was the 'Eldorado' restaurant, where you could get a pot of tea and some jam for AZN 6 (approximately USD 3.5). As far as the beach is concerned, it's a separate 'enterprise', where you are charged AZN 10 (USD 6) for a table rental.
A waiter regarded our keen interest in prices as meanness and obviously disapproved of it. He asked us strictly: 'Where are you from?' The wind was so strong that a white tablecloth, more resembling a bedspread, was literally blown off the table.
There was no point going to the rest of the beaches, since we found out two major things empirically: the presence of E. coli in the local water doesn't prevent either the beach goers or the premise outlet owners; the shore is unavailable until you pay.




What's new?
Abulfaz Garayev, the Azerbaijani Culture and Tourism Minister, stated that 21 new beaches will be opened in Azerbaijan this year. There will be twelve new beaches in Baku, and the rest will be available in various regions across Azerbaijan. Six out of the total number of new beaches will be private, six more will be public. It is unknown so far to what extent this novelty will 'meet' the requirements of the Azerbaijani coastal access law.