Old chum Tbilisi: about tourism in Georgia
Originally published by Caucasian Knot
"Tourist interest in Georgia and its capital has seen an increase in the past couple of years. Nowadays, tourists outnumber Georgians themselves: about 6 million tourists visited the country in 2016, which is populated by 3,7 million people – and that's just the beginning!" Georgian authorities believe. The local government projected that there will be a twofold increase in tourist arrivals within a decade. Under Georgia's tourism development strategy, the number of tourists is expected to reach 8 million by 2020, and 11 million by 2025. By that time, the Georgian authorities pledge to provide all-year-round world-class services. But how realistic are such pledges for Tbilisi and other tourist destinations in Georgia? What are the challenges on the path of development of the government's tourism strategy and how can ordinary Tbilisi residents help to implement it? The Caucasian Knot asked Eka Minasyan, a JAMnews correspondent, to explore the inside of Tbilisi's tourist center.

Tourism inner-workings: how 'tourist traps' are prepared
When attracting tourists, the authorities mostly focus on marketing campaigns. The amount allocated for awareness-raising campaigns, for promotion of Georgia as a tourist destination, has been increasing year after year.
"The government has spent GEL 25 million this year," Rusudan Mamatsashvili, the Deputy Head of the Georgian National Tourism Administration, told the Caucasian Knot. In comparison, GEL 22,5 million was allocated for marketing campaigns in 2016.
"600 journalists from various countries visited Georgia last year," said Mamatsashvili.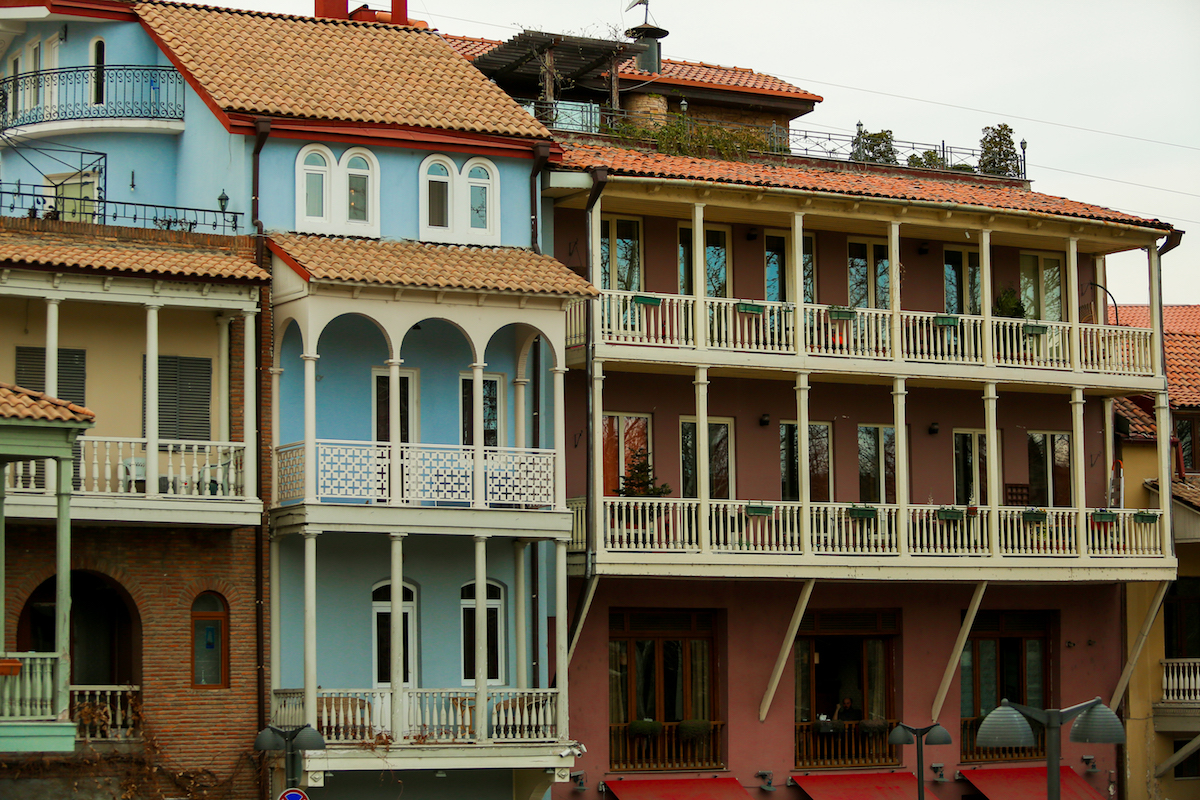 As she reported, a summer marketing campaign was launched in March and it would last until 30 June. People in 14 countries, including Russia, Germany, Italy, Ukraine, Belarus and Kazakhstan will learn about Georgia's tourist potential as part of this campaign.
"The Google corporation assists the Georgian government in implementing the marketing policy," said Mamatsashvili. It implies development of joint summer marketing campaigns, as well as planning, analysis and consulting by Google experts.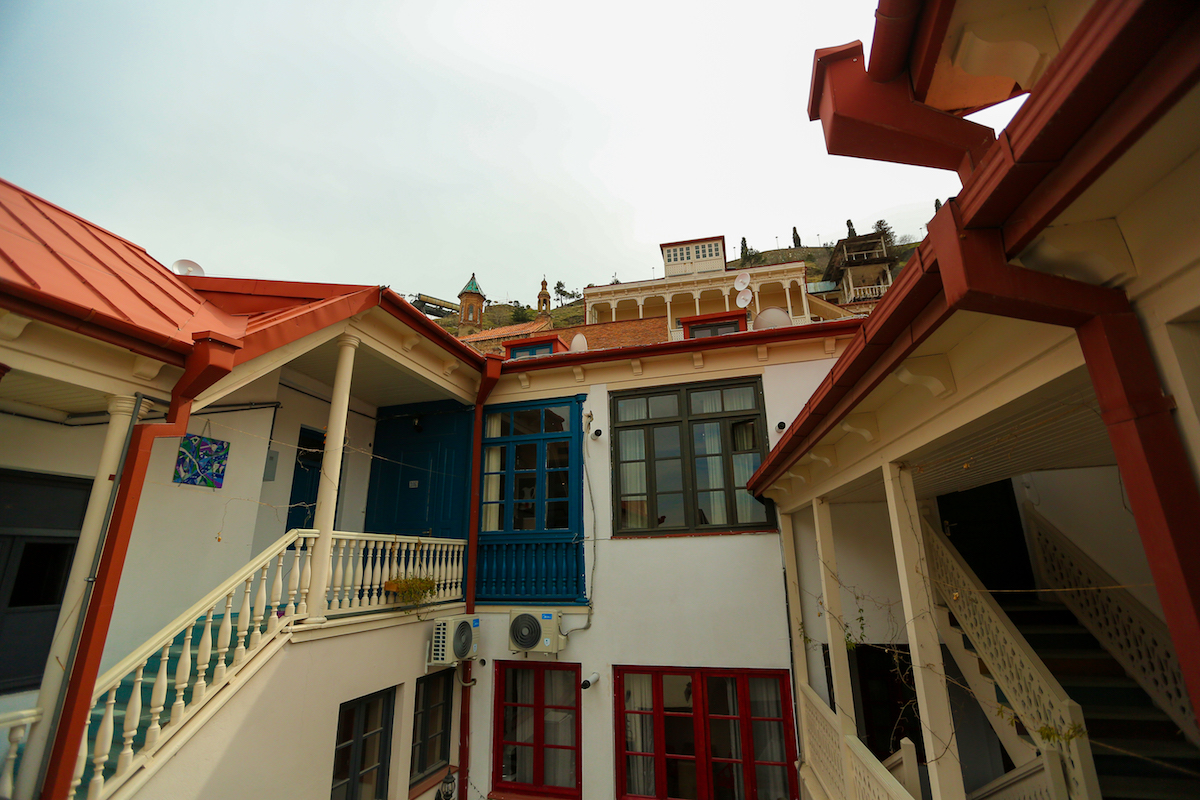 A 'Winter in Georgia' promo clip won recognition from 3 international tourism film festivals: the clip visibly demonstrates how Georgia's unique climate allows one to relax at ski resorts, visit the highlands and sunbathe on the Black Sea shore without leaving the country.  However, despite the diversity of nature and abundance of Georgia's traditions, most of the tourists rightly start exploring the country from its capital.
Old chum Tbilisi
It is said that you can't understand Tbilisi, but rather sense it. And for that purpose you should settle in some old district and make hikes along its narrow and bumpy streets. Betlemi (Bethlehem) street is one such area in the old part of the city. The street was named after Betlemi neighborhood, aka Kldisubani, which is translated as 'rocky area'.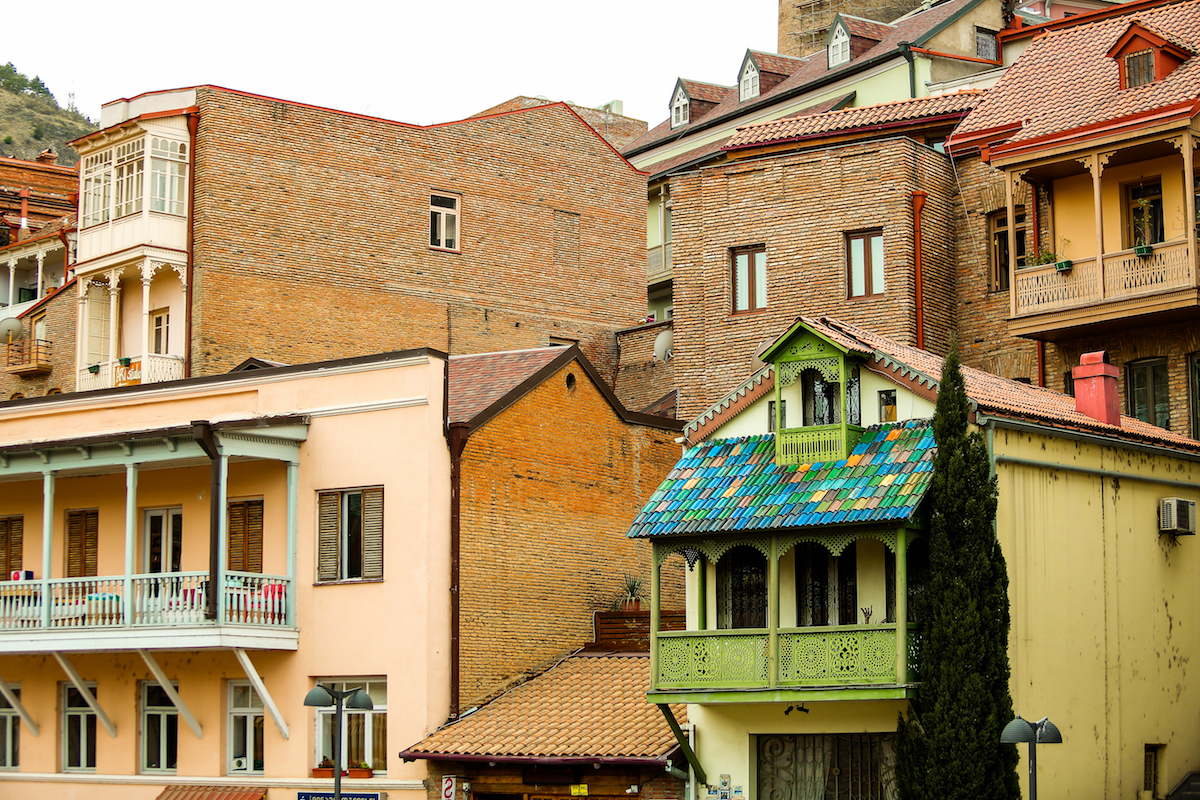 This picturesque street really seems to have been carved in the rock. If you follow it from where it starts, from Bread Square (Geo. Puris Moedani), you will find the most famous landmark, Narikala Fortress, stretched high above your head, on the right side, and there will be an impressive panoramic view of the city on your left hand.
After 25-years of urban decay, a wide-scale rehabilitation of Tbilisi's ancient neighborhoods was finally launched during President Mikheil Saakashvili's ruling. The most dangerous buildings and neighborhoods in the central part of Tbilisi, in Sololaki, Kalaubani and Chugureti districts, were reconstructed as part of the 'New Life of the Old City' project, which was launched in 2007.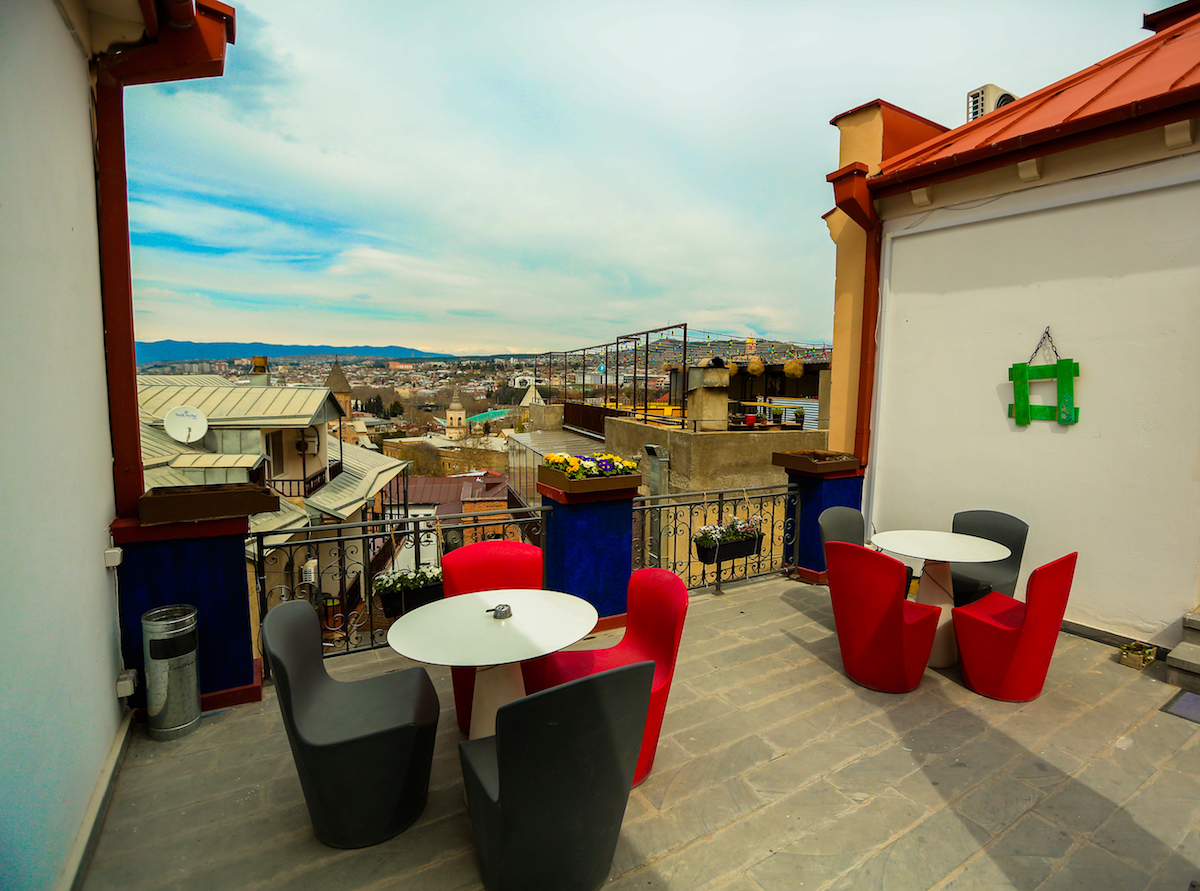 The quality of the renovation work was called into question by the political opponents of President Saakashvili's team. Having come into power, they've continued the Tbilisi renovation campaign, though so far it has been lesser in scale. The incumbent political team's major achievement throughout their five years in power has been the 'New Tiflis' project that provided for the reconstruction of half of David Aghmashenebeli (David the Builder) Avenue. In this part of the city the conservators discovered and managed to restore pre-revolution signboards, pictures and inscriptions.  
Each courtyards has its own Tbilisi
The rehabilitation of the house at 17 Betmeli street, where Marina Meskhi was born, started in 2011. By that time it was already a ramshackle, dilapidated house. Marina doesn't know exactly how old the house is, but she says it's an ancient house.
At first, Marina's family didn't even think of opening a hostel. They had no money for that and they didn't actually want to take a bank loan. But then a relative from St. Petersburg helped out. Marina and her husband bought out the rest of the rooms from their neighbors and started working on the design. It was prohibited to alter the building façade, since the house was put on the cultural heritage list. But it was quite acceptable to decorate it from the outside. Marina's son, Giga, who is a makeup artist, took over the task of decorating the hostel.
Giga worked on the design of their hostel with due account for its location, living space and conditions. There is a brick wall separating a small courtyard from their neighbors. So, the hosts hung there some small lanterns and put some flowerpots and frames with plaster cats. Unlike the hostel courtyard, which is decorated in a European style, the house interior features more Georgian motifs: there is a composition from Pirosmani's artwork right above a wooden staircase leading to the second floor, and there are small tables with chairs on the second-floor veranda.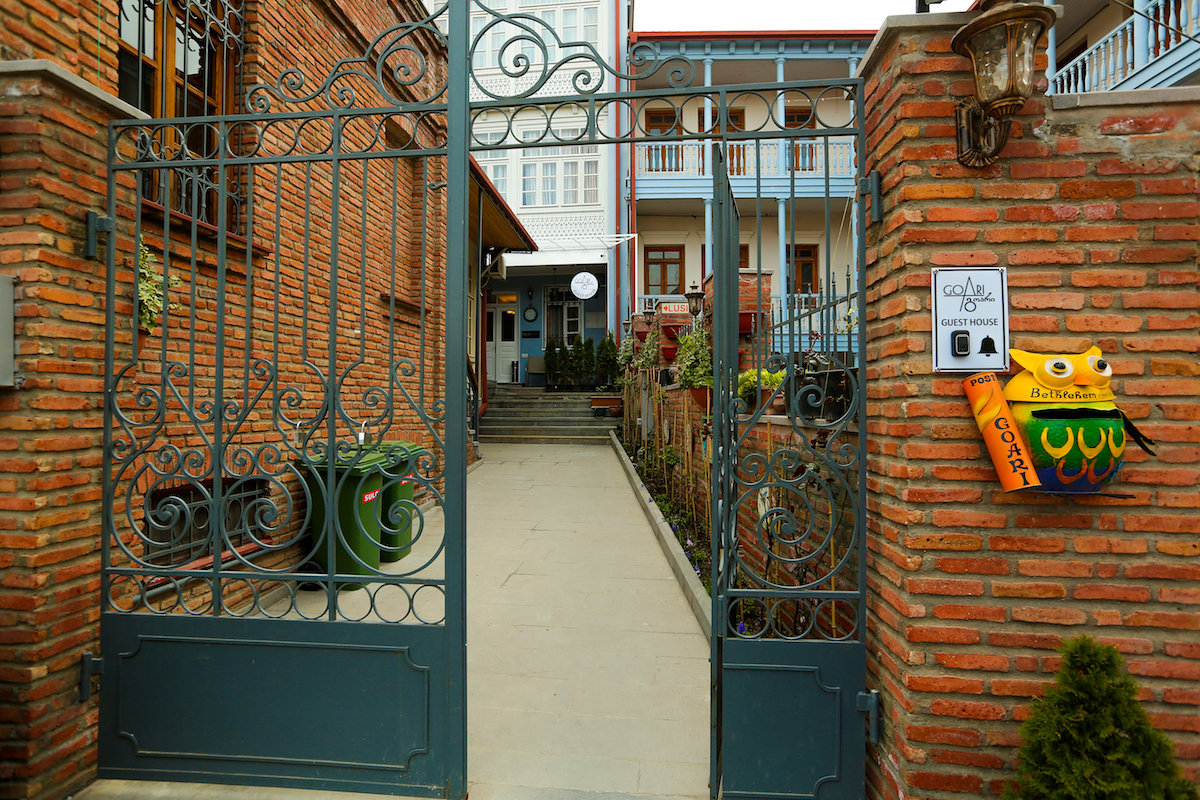 The house has been shaped into a cozy, 9-room hostel, where the most modest double bed costs GEL 120 (approximately USD 50). Breakfast is included. Marina doesn't charge money for wine, it is presented to the visitors upon checkout. Besides, a visitor, upon his/her wish, can have unlimited access to it while staying at the hostel.
"I don't offer lunch and dinner, since it is related to some extra costs, a chef should be invited, but we are just getting off the ground. We've been engaged in this business only for 1,5 years."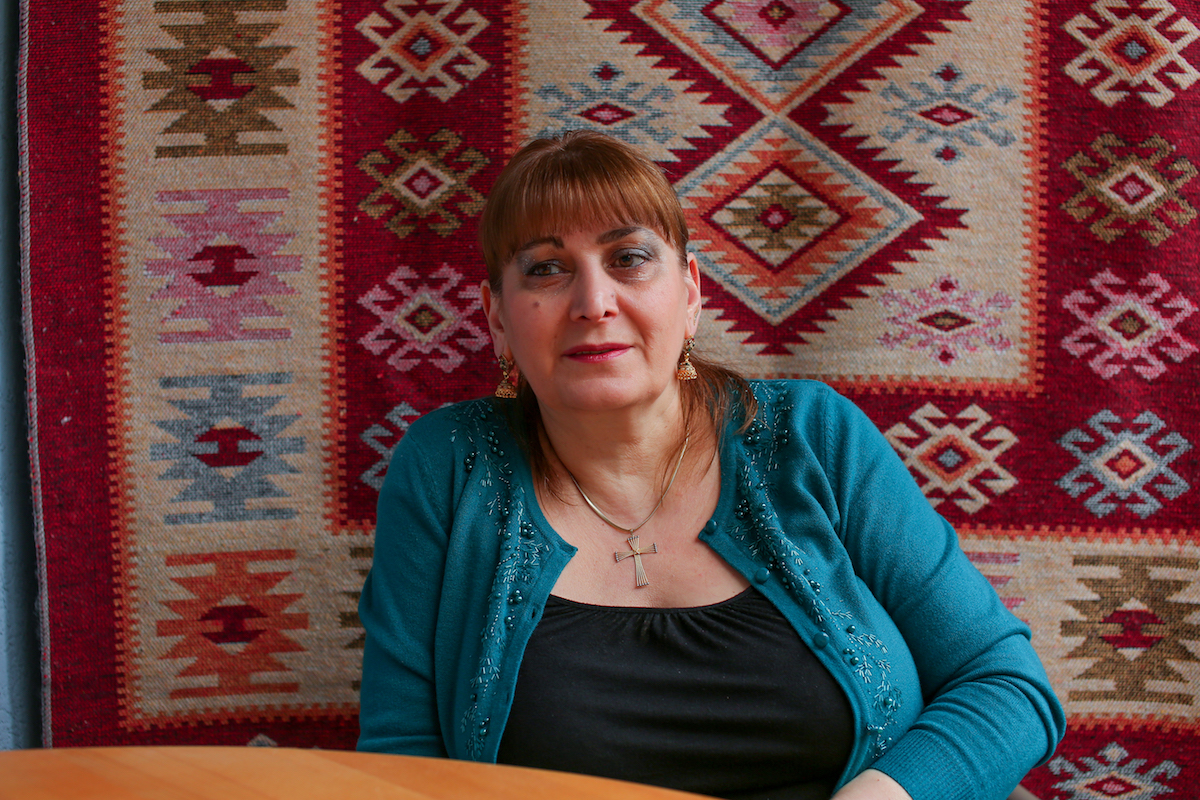 Although staying at a hostel is cheaper, but the service there may be no inferior to that offered in a star-rated hotel. "Many people stay at our place, because they seek home comfort and Tbilisi atmosphere. They want to live in a traditional Georgian house with a typical courtyard. Pretty much the same as this one," says Marina.
A substantial advantage of the hostels and smaller hotels lies in the unique atmosphere created by the Tbilisian courtyards. How can you walk past an apartment hotel, where Frida herself looks at you through the gratings of a beautiful gate?!
Mariam Saponyan, an apartment hotel owner, migrated from Georgia 25 years ago. She visited Tbilisi last summer. She wasn't going to stay here long. Her family was in Moscow and she was running a business there. Mariam was planning to repair her aunt's apartment and leave. However, as is sometimes the case in Tbilisi, her plans dramatically changed. The house, where she was born and raised up, was renovated along with most of the houses in this old and unique street. Mariam says that the house is at least 200 years old.

"Once, after the repairs, I was standing on the veranda, looking at the city. I was thinking, how beautiful the scenery was and how picturesque our yard was," she said. "The apartment was newly renovated. Besides, two neighbors came to me one after another, both offering to sell their rooms cheap…"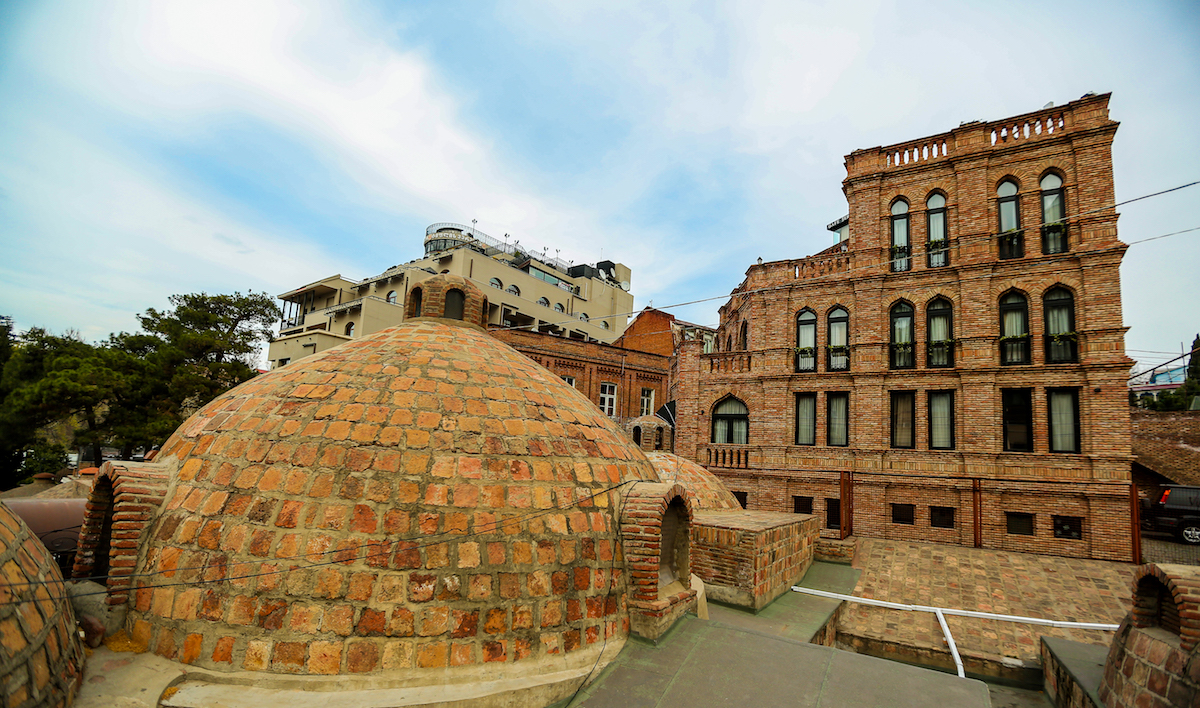 So, Mariam agreed. Many advised her to decorate it in the traditional, national style.  But she decided to go off the beaten path, since the national color could be found almost in each and every courtyard in this street. She has chosen eclecticism instead. So, the elements of Spain, Italy and even Cambodia are present in this cartoon-size Tbilisi courtyard. A low-cost twin room here starts at GEL 120, and a duplex apartment that can accommodate 7 people is rented out for GEL 240 per day. The apartment hotel is designed for 40 people. Though it's true that 40 visitors simultaneously stay there only in summer. A veranda smothered in flowers is the most popular place in this apartment hotel. It offers a spectacular view of the city. Therefore, the visitors spend time on the veranda in the evening.  
Mariam eventually left for Moscow, but before that she'd registered her business in Tbilisi, appointed a manager and received her first tenants.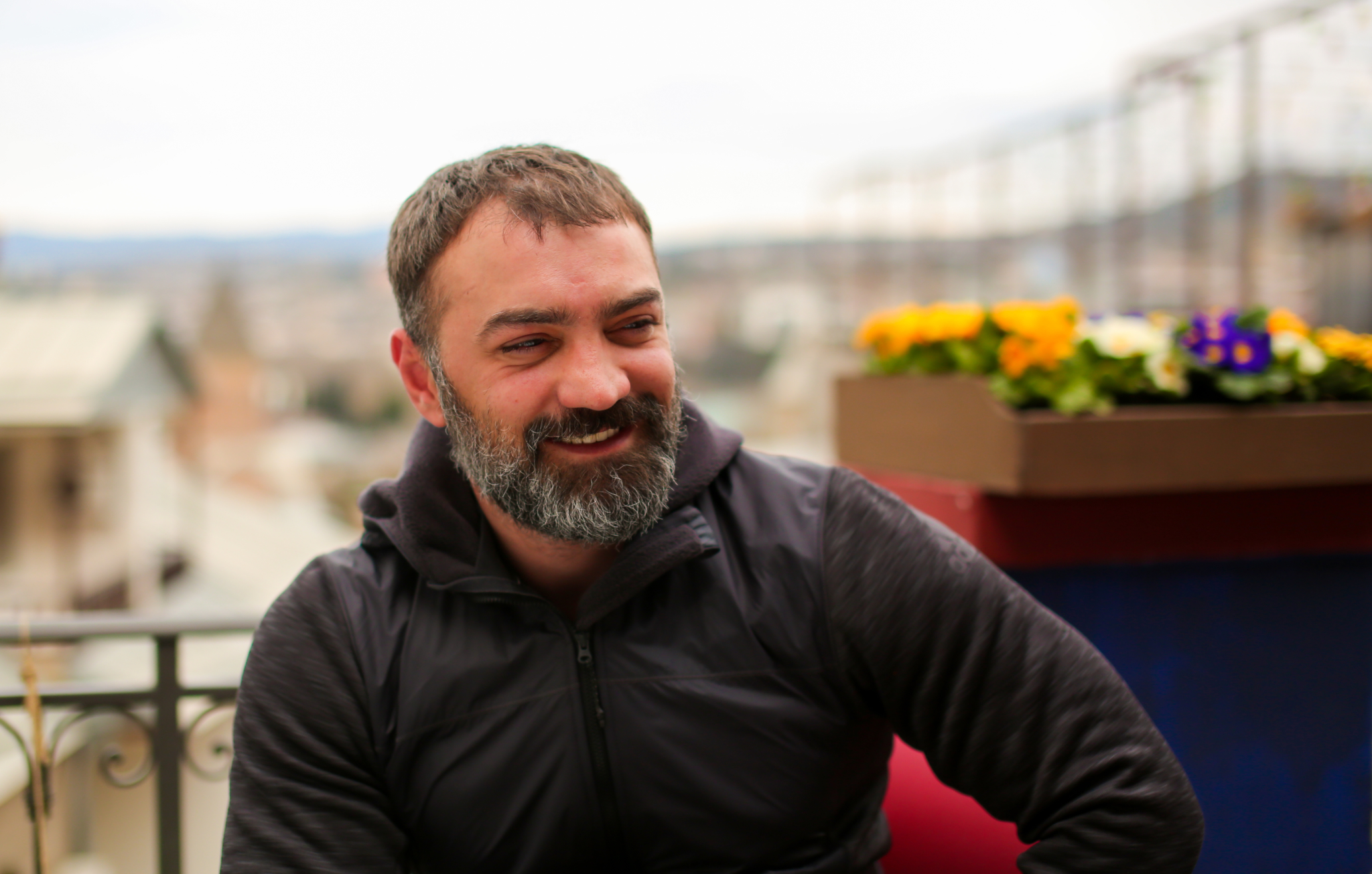 "At first, I found it rather hard to come to terms with the Tbilisi mindset which I had become estranged from over the years spent in Moscow. For example, once the apartment hotel manager got so hurt by my quite innocent remark about fixing the sewage system that he immediately quit the job."
"Probably the major challenge is that the regulation on observance of silence in the evening hours doesn't work in Georgia," a new manager, David, is prompting.
He told about a neighboring hotel, where visitors were making a ruckus almost every night. "A patrol police car would arrive, stop there for a while and then drive away till the next complaint." David explained. It sometimes happened that Mariam's tenants moved out in search of a quieter place, which led to a drop in the apartment hotel's rating.
In terms of figures
According to the data provided by the Georgian National Tourism Administration, Georgia hosted 6,350,800 international visitors in 2016, which is 7.6% more than in 2015. A record number of tourists (387,000 visitors; 19.8% growth) visited Georgia in January 2017. The number of tourists slightly decreased in February this year (over 368,000 visitors; 2.1% growth), but there was another tourist boom in March – over 511,000 visitors (13.1% growth), which is 59,300 people more than last year.
As of March 2017, most of the visitors arrived from Azerbaijan (11.1% growth); then visitors from Armenia (11.2%), Turkey (the rate of tourist arrivals dropped by 17.1%); Russia (16.5% growth) and Iran (194.8% growth). The figures speak for themselves.
There has been a steady, annual increase in tourist arrivals in the country. The first time international visitors outnumbered Georgia's population was in 2013, when over 5 million people visited the country. In comparison, Georgia reported 4,428,200 tourist arrivals in 2012, which is 56.9% more than in 2011.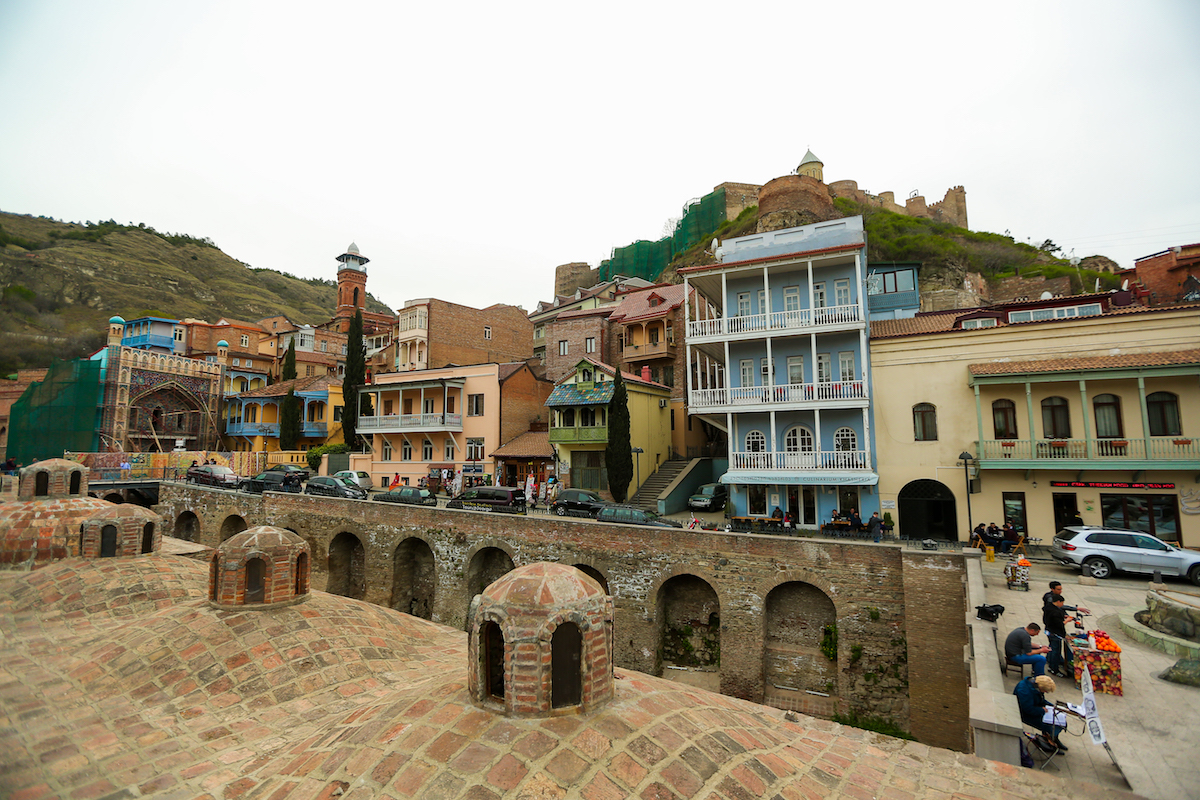 An abundance of tour guides…
The number of people engaged in the tourism industry in Georgia is increasing parallel to the growing number of tourists. Tourism industry workers can be roughly split into those who have become tour guides out of despair and inability to do anything else, and the skilled specialists who put resources into their professional development, as well as into searching for new and interesting routes.
Apart from the local human resources, Georgia's tourist potential has recently attracted a lot of visiting workers, mostly representatives of post-soviet republics. An appealing business environment, coupled with an opportunity to register individual business in Georgia within half an hour, without possessing either real estate or citizenship, attracts both professionals and amateurs alike. As a result, foreign citizens open travel agencies, while contact with their native country ensures an influx of customers and allow them to stay afloat. The visiting guides' success oftentimes irritates their local colleagues.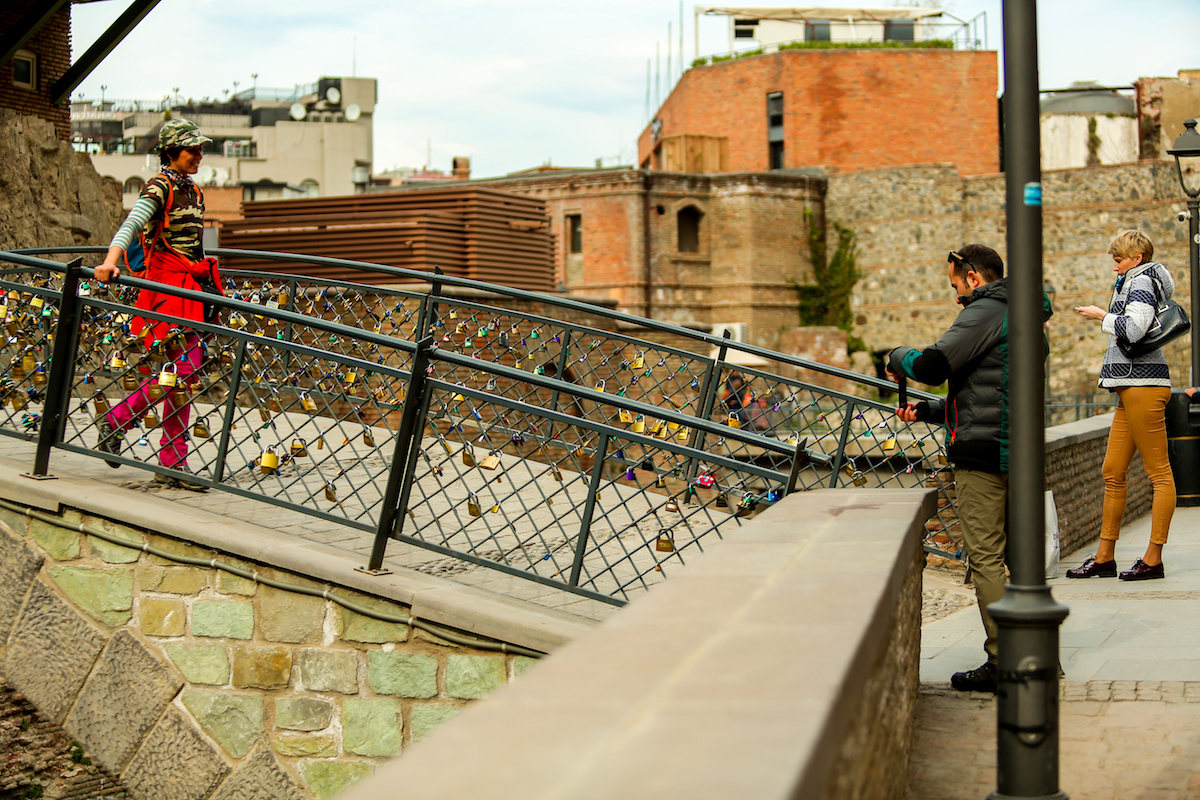 Valentina Semilet and Roland Kartvelishvili, a married couple from Tbilisi, have been running a joint business for four years already. Valentina finds clients, maintains written correspondence with them and organizes tours, while Roland acts as a driver guide. He is one of the few certified guides in Georgia.
"Roland is a holder of a Georgian Guides Association certificate, though he has had to produce it only once in the past four years," said Valentina. "Georgian travel companies usually don't require it, and that's regrettable, because there are a lot of unscrupulous people in this field. It often happens that a person who arrived in Georgia a week ago, immediately makes social media posts offering guided tours around Georgia."
"I've had some visitors who had been to Georgia before and had been provided services by some unskilled guides. After all, it won't be an exaggeration to say that such services are offered by every second taxi driver in our country," explained Roland. "Now those people highly recommend all travelers in their countries not to economize on sightseeing tours nor to turn to professional guides."
Licensing or natural selection?
"Tourism business has been exempt from licensing or mandatory certification for fear of bureaucratization. However, there hasn't been a common position in this regard and discussions are underway," said Rusudan Mamatsashvili, a spokesperson for the Georgian National Tourism Administration.
"Anyone can become a guide in Georgia, and that's good," says Keti Meladze, President of the Georgian Guides Association. "The market will stand them all. If a travel company doesn't like a guide, it will never invite him for cooperation again. There will be a natural selection," she believes.
The Guides Association has been operating in Georgia since 2010. The number of people seeking membership in the Association is increasing each year. Up until today, the Association has approved up to 200 guides.
"One should pass three specialty exams to get a certificate from the Guides Association. In addition, in order to obtain a certificate, one should have command of at least one foreign language. An international trainer and a Tourism Administration official are usually present at the exams. We have high standards, but you can never tell: there are people who study, but they fail the exams. Whereas sometimes a person, who just happened to be about, may come absolutely unprepared and easily pass it," said Meladze.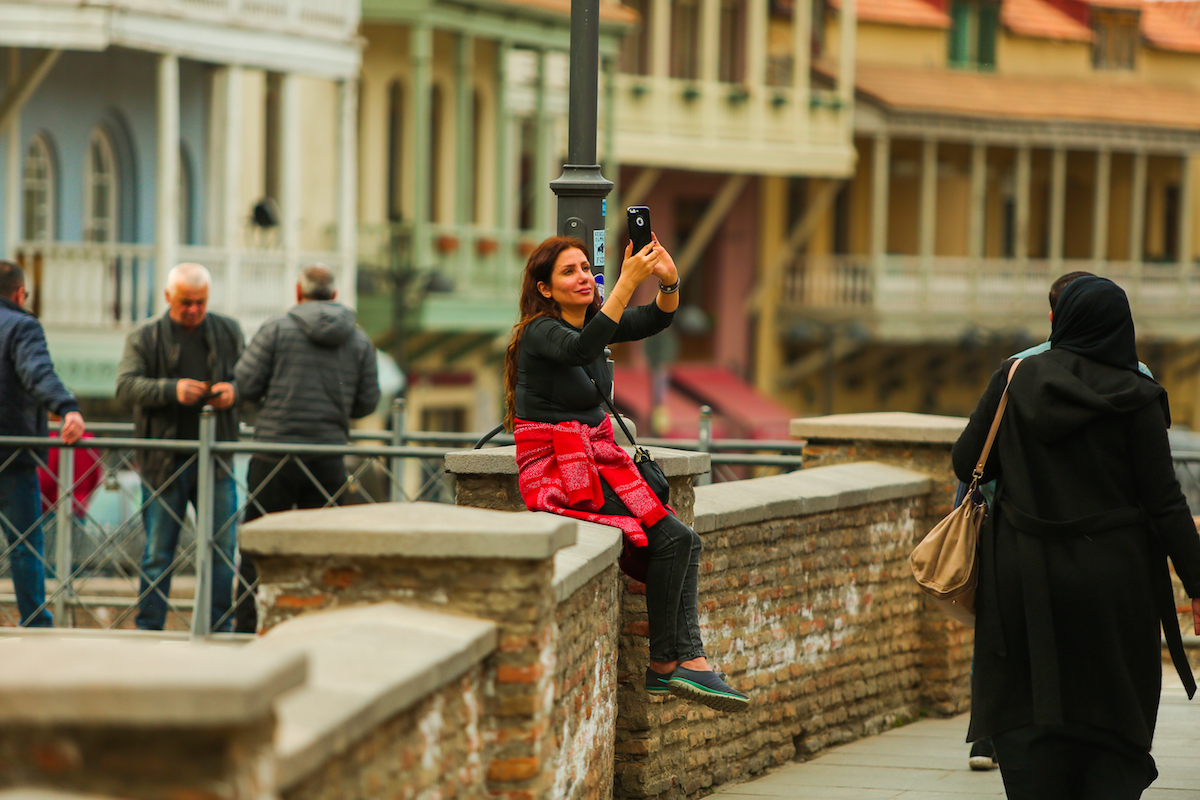 Maia Sidamonidze, an expert in the tourism field, formerly the head of the National Tourism Administration, has recently been engaged in private entrepreneurship. She owns a hotel in Tbilisi. She believes that guide licensing is a step backward.
"It's a source of corruption. You can somehow stimulate acquisition of new knowledge based on other countries' best practices. Such certificates aren't mandatory, but rather help to achieve a more professional level and be in demand at the labor market, that's it," Sidamonidze believes. "It's much more important to raise the education level, to conclude contracts with private companies, so that students can undergo mandatory internships during their studies at higher education institutions. Travel companies should find some additional resources to provide advanced training for their personnel in the management field. Education should be a priority in any field, and particularly in tourism."
At the same time, the tourists themselves don't always purposefully look for professional guides. An ethnic flavor of vacation and elementary service is far more important for many.
"Georgia is wonderful, but it's not quite ready for a huge tourist influx," says Oksana Miroshnichenko, from Kyiv. "We couldn't make the hotel personnel fix the phone in our room for almost the whole week that we spent in Tbilisi. They just shrugged their shoulders and that's it. A travel company we had booked a sightseeing tour and a transfer from the airport with, got the arrival date wrong and failed to meet us. At such moments you clearly feel that people can't handle an excessive influx of visitors."
"Georgia's attractiveness doesn't lie either in the super-professional guides' certificates or in the 'all-inclusive' system," says Vladimir Sukhovey, who has come to Georgia from Barnaul for the third time already. "The major charm here is the ingenuousness of Georgians themselves, the cordiality with which the locals meet any guest, as well as their orderly lifestyle."