How the tradition of producing non-alcoholic beer from rose hips became a family business in Georgia
Non-alcoholic beer from rose hips
Shengeli Tokhosashvili lives in the village of Omalo in Pankisi. He makes non-alcoholic beer from rose hips, and soon his beer will appear in other regions of Georgia. In Pankisi, where there are many migrants, Shengeli's idea has inspired other young people living there and looking for a source of income.
In this article, we will talk about Shengeli turned the tradition of rosehip beer into a family business, how he got family members involved, and the inception of the idea to its realization.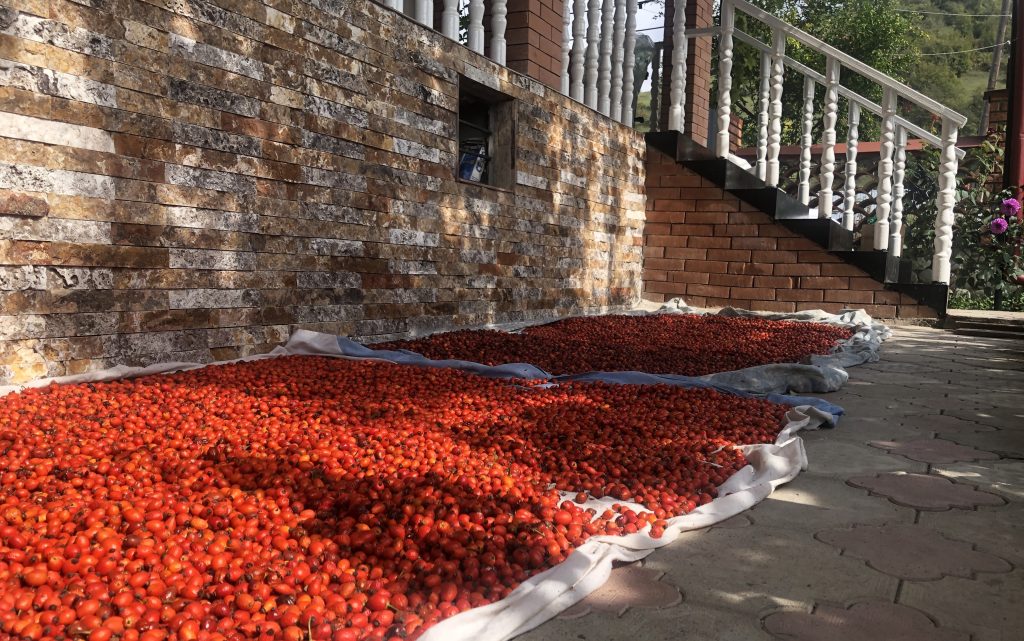 We take public transportation from Tbilisi to Pankisi. First we arrive in Akhmeta.
From Akhmeta to Pankisi village Omalo, where Shengeli lives, we have to pass through six villages. The driver of the shuttle bus between the villages of Matani, Kutsakhta, Sakobiano, Duisi, Dumasturi and Djokolo tells us all the way that the Kists know how to show amazing hospitality.
---
---
Everyone knows Shengeli Tokhosashvili in Omalo and his house is easy to find. "Kist Beer" this inscription on the gate of Shengeli's house can be seen from far away.
In every corner of the yard, rose hips are laid out to dry in the sun, and the smell of rose hips wafts from the brewery.
Non-alcoholic rosehip beer is a traditional Kist beer

The Kists, who live in the highland regions, started brewing this beer centuries ago.
For flavor, the drink is mixed with various herbs, including hops and hawthorn. Since Muslims do not drink alcohol, the Kist tradition does not use malt.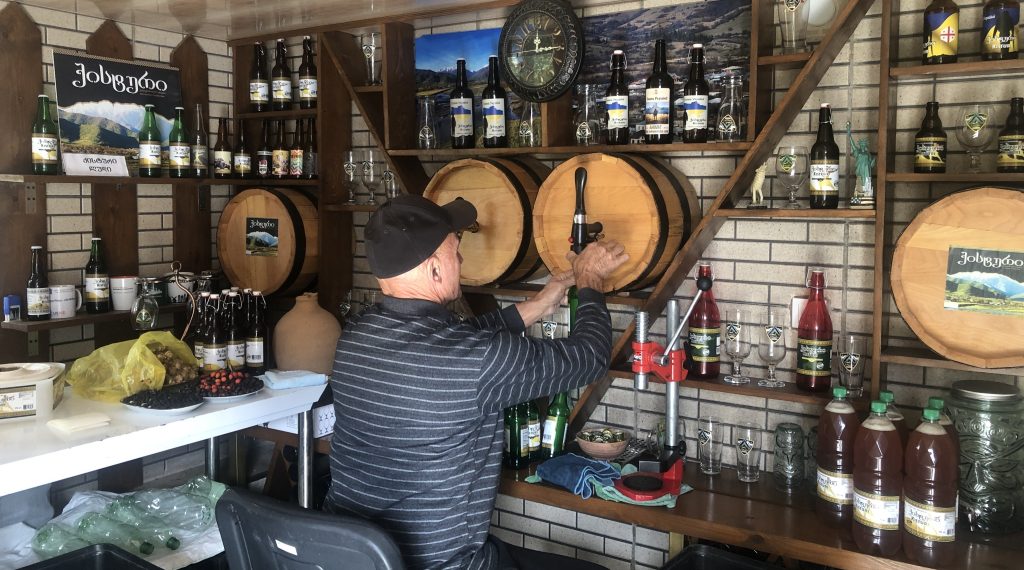 Beer brewed from rose hips is very popular in Pankisi. The owner says that in the past beer was brewed mostly on holidays in a birch cauldron. It was also a kind of holiday.
The beer was brewed first by Shengeli's grandmother and then by his mother. Both had their own recipe.
Shengeli's mother, Marine Tokhosashvili, started brewing beer when she had children.
"I am 62 years old, for as long as I can remember our people have been brewing this beer on New Year's Eve and other holidays. My grandmother used to brew it too, we had a lot of it in our family. In summer we used to put the bottles in water to keep them cold, there were few refrigerators then."
Marine adds a plant called Caucasian rhododendron to their beer. Marine says it gives the beer a special flavor.
When did the idea to turn a family tradition into a business arise?

The idea of turning a family tradition into a business came to Shengeli in 2019 at a USAID meeting in the village of Duisi.
At this meeting, Shengeli learned that there was a program called Growth, that helps villagers increase their income.
He first shared the idea with his parents. They liked the idea and promised to help.
Shengeli wrote up a project, then went through a week of training and won.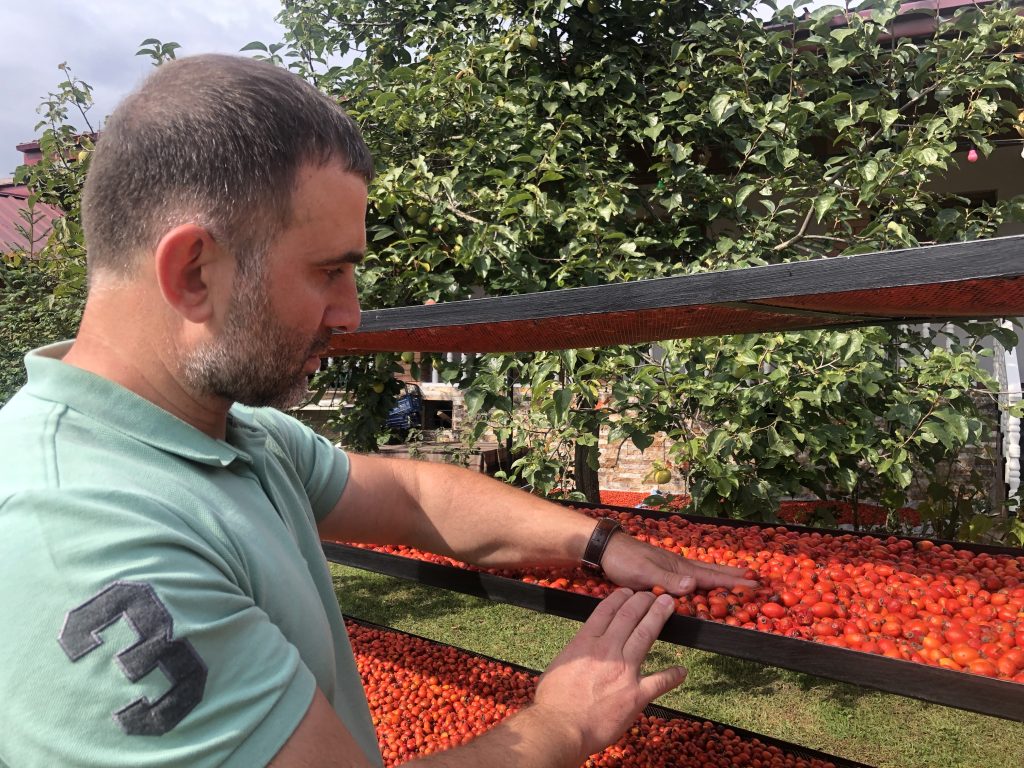 The Growth Project, funded by the U.S. Agency for International Development (USAID), was a five-year program with one of its goals being to promote income growth among the rural population. The project operated in 70 administrative border communities inhabited by ethnic minorities in six regions of Georgia: Shida Kartli, Samegrelo-Zemo Svaneti, Samtskhe-Javakheti, Kvemo Kartli, Mtskheta-Mtianeti, and Kakheti.
USAID funded the young entrepreneur with three thousand GEL [about $1,100]. Shengeli used this amount to buy the equipment needed for brewing:
"I thought a lot, asked a lot, and I was advised to buy an Italian boiler for brewing beer. I ordered it, but, as it turned out, it required a lot of electricity and it was small, so I sold it and used this amount to buy a 350-liter gas-fired boiler in Tbilisi. Then I bought plastic bottles in Telavi. That's how we started bottling beer."
Only one boiler was not enough. Shengeli needed to build a plant and purchase additional equipment. He started looking for new funding opportunities.
Another program to help young entrepreneurs, Young Entrepreneur, has been running since 2018. The program had a budget of $4,110,000 and its goal was to help grow youth participation in business through financial and technical support.
Shengeli became one of the beneficiaries of this program and received co-financing in the amount of GEL 21,000 [about $7,800]. With this amount, the young entrepreneur bought the equipment necessary for full operation.
Shengeli had almost everything, and he began to build a brewery in his yard – in the place of beds where the family used to grow garlic.
How is beer brewed?

The fields in Pankisi have many plants necessary for the production of traditional beer.
Shengeli recalls how many times he collected these plants himself as a child. But at the time, he never thought that years later he would need them to brew his own beer.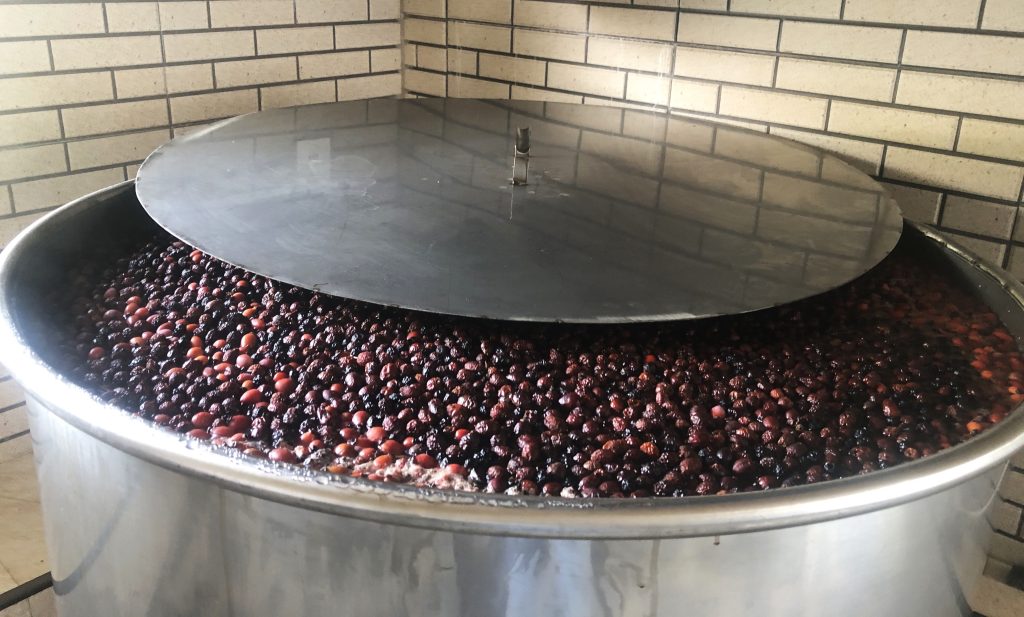 The young entrepreneur needs a lot of rose hips, so now he buys them from locals. In this way he helps others earn their own small income:
"Every day seven or eight people go to the field and pick rosehips. When they fill two or three bags, I go and buy them."
Rose hips, like red carpets, are scattered in all corners of the Tohosashvili family's yard. About 250 kilograms of rose hips are now spread out at Shengeli's place.
Then, as soon as they are dried, the rose hips are sent to the first room of the process. Here there is a large cauldron in which the beer is brewed. Rose hips, hawthorn and hops are brewed in the huge cauldron for three to four hours.
At the next stage the beer is poured into a fermentation tank in the second room. Here the drink stays the longest, about six days, for filtration.
After that the beer is moved to the refrigerator for cooling. Finally it is bottled, capped and labeled.
All in all, it takes 12-14 days to make the drink.
Shengeli wants people to familiarize themselves with the Kist tradition when buying beer. That's why he chose the name Kist and the label features a dancer performing a traditional dance.
A year after the idea, in 2020, Shengeli bottled the first batch of Kist beer at his company.
Services for tourists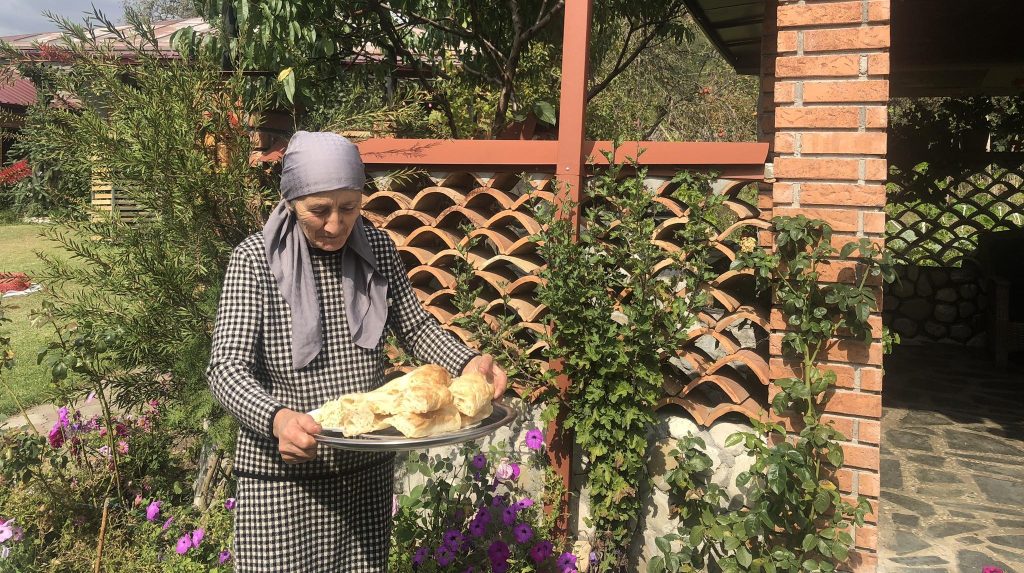 Then Shengeli had a new idea. Now tourists coming to the Pankisi Valley are offered a tour of the factory, treated to traditional Kist beer and food.
"When tourists come and try it, they say love it," says Shengeli's mother.
Equipment needed for the tour, a cooking stove and garden furniture were also funded through a USAID project.
The Tokhosashvilis are waiting for their guests. Marine prepares dinners for them.
Shengeli's mother is an elementary school teacher, and after school she helps her son run the family business.
Difficulties

Young Shengeli did not have any experience in running a business. So he says there were certainly challenges along the way, but they weren't insurmountable.
"There isn't a small business left in Georgia that I haven't been to at least once. Even today I call those who know about this business, asking how to solve this or that problem."
Shengeli recalls that in 2017, he visited the United States as part of the State Department's leadership program with another young man from Pankisi. He then spent 20 days in five American States:
"There I became convinced that if you calculate your work correctly, you can earn money in our country too. Going to another country, in my opinion, is not really justified. A person can find a job locally."
Shengeli is a lawyer by profession. He worked for seven years in the non-governmental organization Kakheti Regional Development Foundation. He taught civic education to young people. The project ended this year:
"I have a lot of free time and was given the opportunity to fully immerse myself in this work."
The Pankisi Gorge, like other parts of Georgia, has many social and infrastructural problems.
"We still have a problem with the road, the municipality has spent quite a lot of money to build a water pipeline, but it is not yet complete. Electricity in the gorge is bad, I had a very difficult time in the summer. I tried to introduce a three-phase system and increase the current for money, but it didn't work. We were promised that in the future there will be higher voltage, so we'll see."
It's not just these infrastructure problems. Young people in Pankisi say they see no prospects for themselves here, no jobs. There are fewer state programs that help young people start their own business, and it is not easy to get there, many people see Pankisi in a stereotypical way, and you have to fight this attitude.
Not everyone wants to go down that path and that's why migration from Pankisi is very high.
"They need examples that it is possible to start a business here. You have to work hard, but there are results," Shengeli says.
His business has become a motivation for other young people in the gorge, he said. Shengeli has helped some of them write business plans, and some have already received funding.
Non-alcoholic beer from rose hips
How they make non-alcoholic beer from rose hips

According to Shengeli, in Pankisi it is rare to find alcohol even in stores. Accordingly, non-alcoholic beer is very popular here.
Young people from neighboring villages visit Shengeli's brewery every day to buy newly bottled beer. Kist beer is already being sold in family hotels and stores in the village.
"At first, I used to attach labels to plastic bottles by hand. If we sold somewhere between 100-150 liters a month, even that was very satisfying. Now we sell 3,000 liters every month."
Shengeli and his family members often participate in trade shows to promote Kist beer.
The last week of September was particularly busy, with his mother hosting guests at her home, his father at an enterprise exhibition, and Shengeli in Tbilisi introducing Kistino beer to guests:
"At first people think it will taste like regular beer, but when they taste it, they realize it's different, flavorful, they really like it."
In the future, Shengeli plans to offer a variety of beer flavors. They plan to add prune and dried apple flavors.
Shengeli's plans are completely bound up with Pankisi. He doesn't even think about going abroad, and if he does, it's only to learn:
"To gain new experience, to apply the knowledge gained there."
Non-alcoholic beer from rose hips
---
The material was prepared within the framework of the Tolerance and Diversity Institute (TDI) project "Strengthening Inclusive and Pluralistic Media Coverage of National Minorities" with the support of the Office of the OSCE High Commissioner on National Minorities. The views expressed in the article are those of the author and do not reflect the position of the OSCE High Commissioner on National Minorities.