No other jobs in Armenia
Residents of the Yerevan garbage dump
Her finger nails, blackened from the sun and dirt and unable to be distinguished from her skin, are hardly even noticeable on her hands. Her facial features confirm her young age, though years of a hard life have made her look older. Her eyes are full of despair. She asks not to have her photos taken.
Meanwhile, she is trying to put plastic bottles into a huge polyethylene container. According to her, if the container is stuffed to the brim with bottles, it could be enough to provide her with her daily earnings – AMD 1,000 (a little more than USD 2).
"What do people throw in the landfill? It's mostly garbage nowadays. The situation used to be better. We used to live on what we could find in the landfill. Now there are only plastic bottles here. What am I supposed do with them? There are no jobs available. This is the only place I can earn money for bread," says Rita Gevorgyan, 50, who has been earning her living at the Nubarasheni waste landfill for over 10 years.
The 52-hectare landfill is located in the Erebuni administrative district, in the outskirts of Yerevan. The smoke from the landfill can be seen from high elevations within the capital, with the wind bringing it to neighboring streets. For many years, the landfill has been a place where a certain part of the population, commonly referred to as 'the most indigent' part, earn their living.
Men and women of different ages wait with impatience for the arrival of the next sanitation truck. They try to find some valuable things among the garbage. Many of them cover their noses and mouths with pieces of cloth to protect themselves from the stench and infections. They say they have gotten used to the dirt and stray dogs.
"Everybody knows when the garbage will be delivered and approximately 40 people gather here. We collect bottles and put them into sacks. There are people who come and take them. Copper and aluminum are the most valuable goods for us, but few people throw them away nowadays. There is not a single piece of copper and aluminum in my lot," says Rita, who is also a mother of two daughters. In Soviet times, she used to work at the Yerevan-based Oil and Fats Plant.
One kilo of collected copper, which can be processed, is worth AMD 1,100 (less than USD 2.50) and the same amount of aluminum for AMD 200 (approximately 40 cents).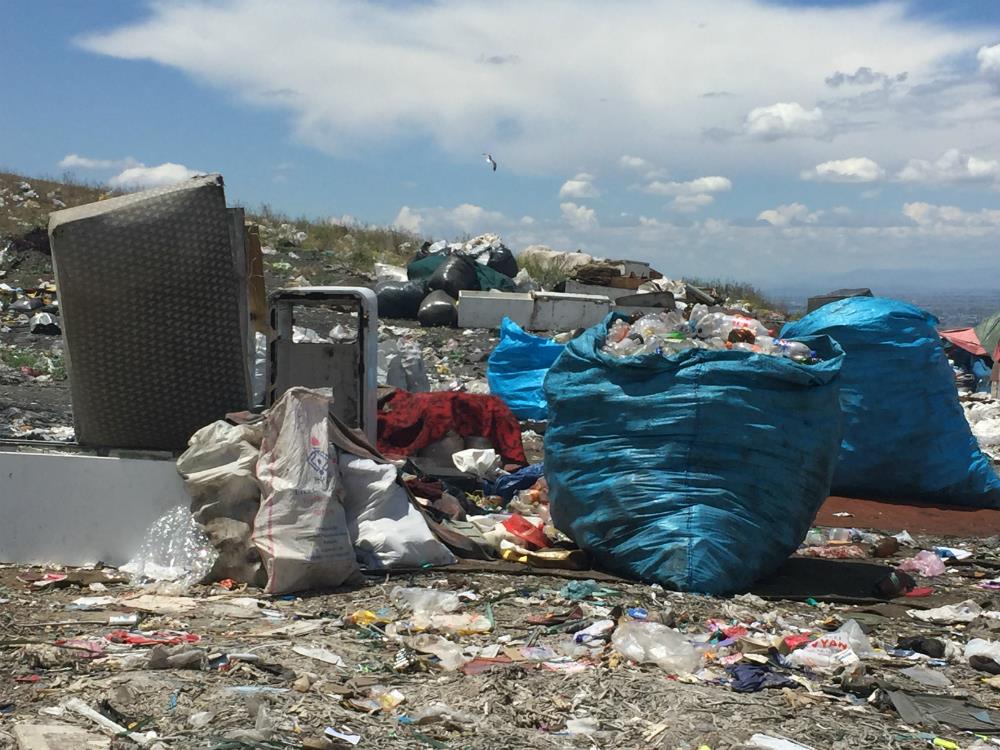 The landfill is filled with a diversity of thrown-away items and flowers: packages, worn footwear, remnants of outdated gas stoves and refrigerators, broken kitchenware, plastic objects, nonferrous metals, books, umbrellas…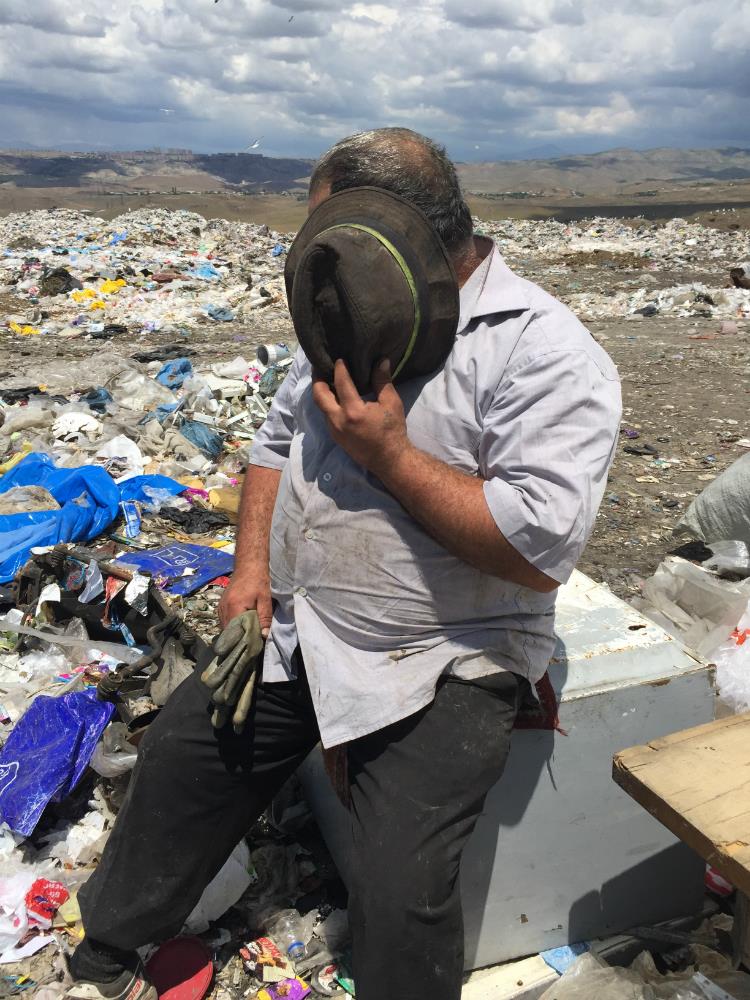 Garnik Sagatelyan, 50, who wears a black hat, a white shirt and worn-out sport shoes, differs from other people who scrounge the landfill. He speaks calmly, works in grey gloves in order not to hurt himself with glass splinters. He admits that his days have begun and ended at the Nubarashen landfill for over 8 years.
"We are glad to find even a single piece of copper. It can be taken in bulk from an electric cable. I am never upset – what can I do, this my job now. The only thing that upsets me is when journalists come, take videos, we are seen on TV and the next day my neighbors tell me: we have seen you at the scrapyard…Of course, they know that I come here, but still it is unpleasant," says the father of two children, who used to work at the Electric Appliances Plant for 12 years during Soviet times.
The conversation was interrupted by the arrival of trucks. Sagatelyan explained that they came to take the sacks of bottles collected at the landfill.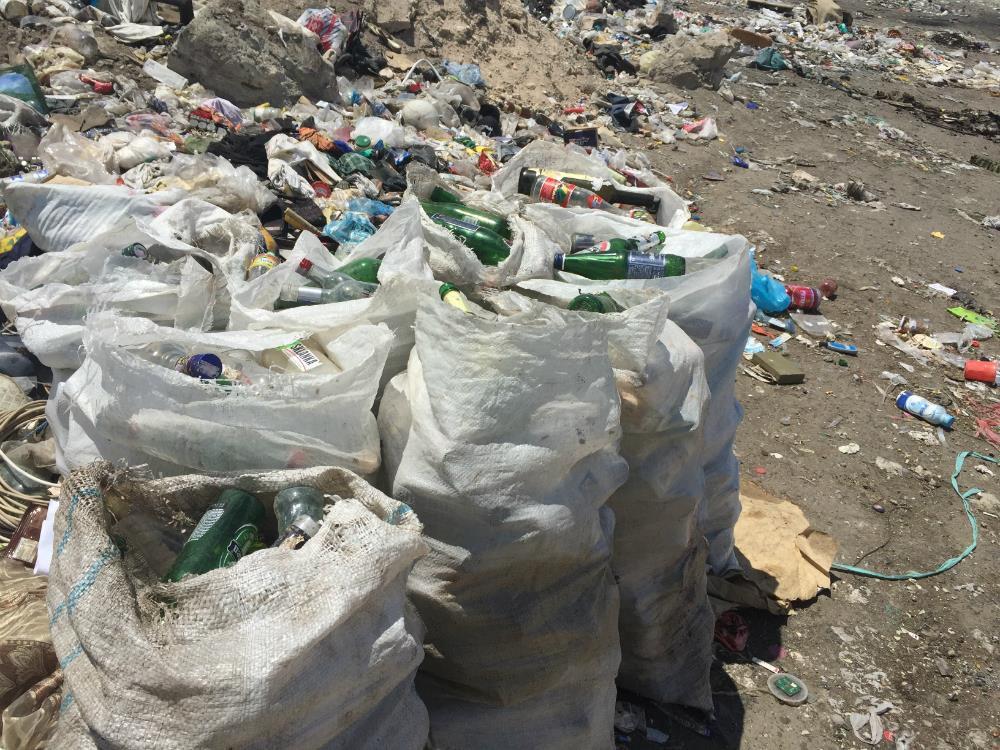 The people who earn their living at the landfill are anxious because they may be deprived of this job soon. They have heard that a new landfill, meeting European standards, is expected to be built in the vicinity of the old one.
Yerevan City Hall stated that a new landfill would be built in Nubarasheni before 2018. It will be equipped with a water collector, where waste waters will be cleared and re-used without entering the deep layers of the Earth. The new landfill will also be equipped with a gas collector, gas burning and power generation systems.
According to Vage Nikoyan, Yerevan's Vice-Mayor, this program will cost EUR 24 million, including EUR 16 million that will be allocated as a loan by the European Investment Bank and the European Bank for Reconstruction and Development. The government has already endorsed the first EUR 8 million loan agreement. An additional EUR 8 million is expected to be allocated as a grant.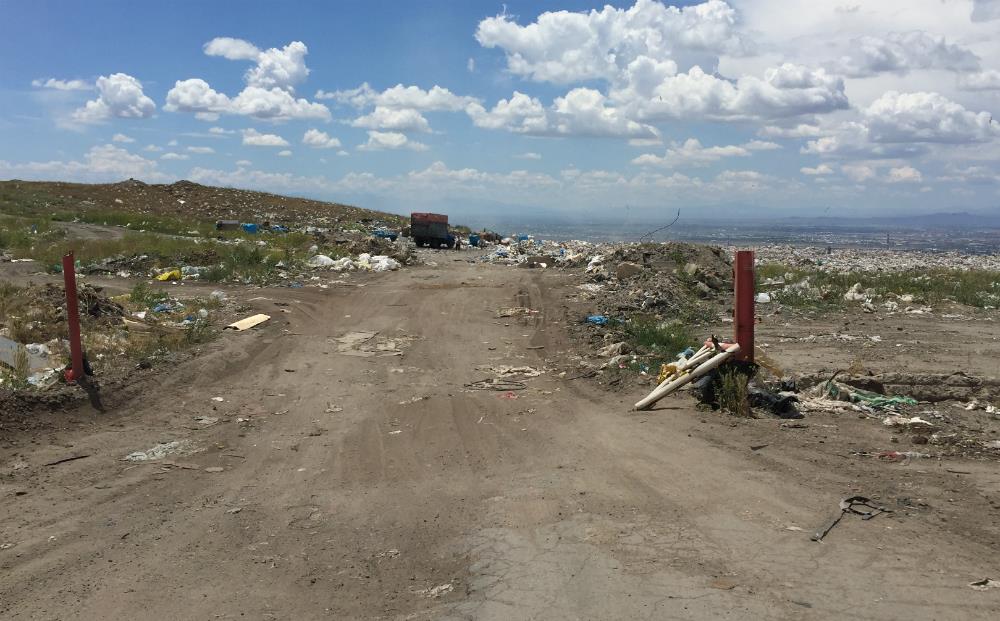 A sub-loan will be covered by an organization, set up by the Yerevan City Hall. The organization will pay it off from the funds obtained from the landfill operation, as well as from what is gained during the process of waste processing. An international competition will be announced soon in regard to the construction of a new landfill. As part of this program, there will be a plan to fence off the old landfill and turn it into a green zone in several years.
Levon Gevorgyan, an employee of Erebuni District Administration, hopes that all these people will be offered jobs at the new landfill, as they sort garbage professionally.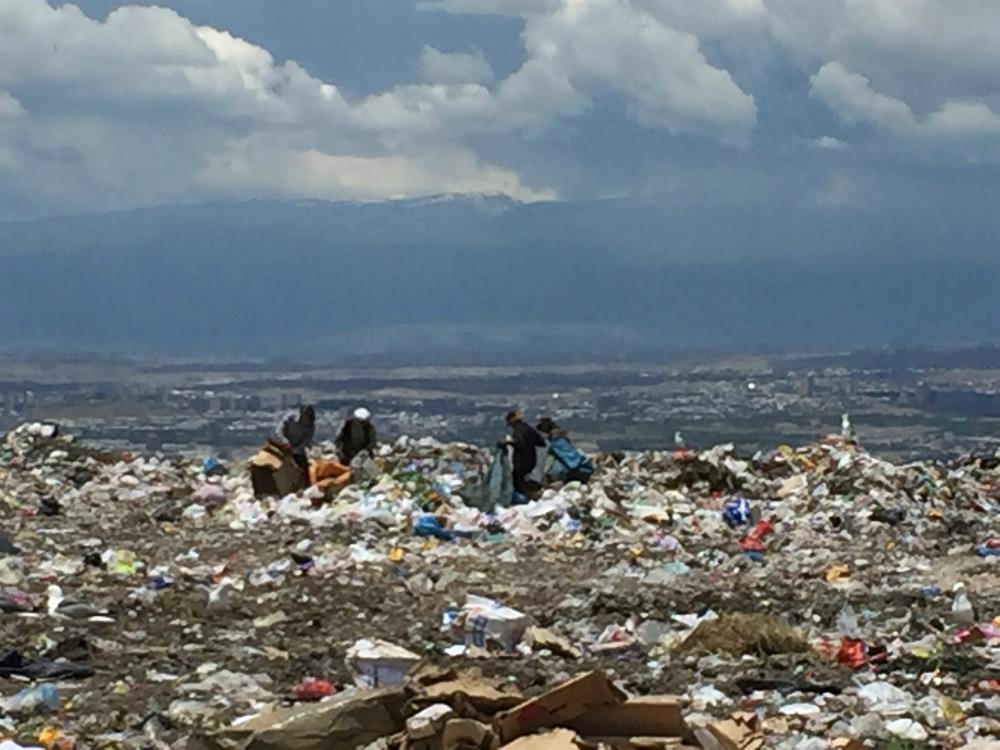 "It is difficult to find people who will work at such a plant. These people know their business very well. Nobody will be able to preform better than they do," says Gevorgyan, adding that only 10% of the city waste is delivered by 5 trucks here, while earlier, the garbage from all of Yerevan was taken to that landfill by 100 trucks. The rest of the garbage is taken to other landfills. Therefore, there is less work. He thinks that the garbage that gets to the landfill is an indication of the population's living standards.
"The people live in bad conditions. If people have one copper saucepan, they will not throw it away, but will rather scrap it themselves and take the money. People stopped throwing out old things because life is not good," says Levon Gevorgyan.
A caterpillar tractor covers the garbage with a layer of soil. A fire breaks out in some sections of the landfill and smoke spreads throughout the area. Gevorgyan says it's the result of spontaneous ignition.
Having moved the hat back, Garnik Sagatelyan says that the new landfill will never be built. "They have been talking about it for a thousand years, but it hasn't been built. Ok, let them build it. We will find another job then."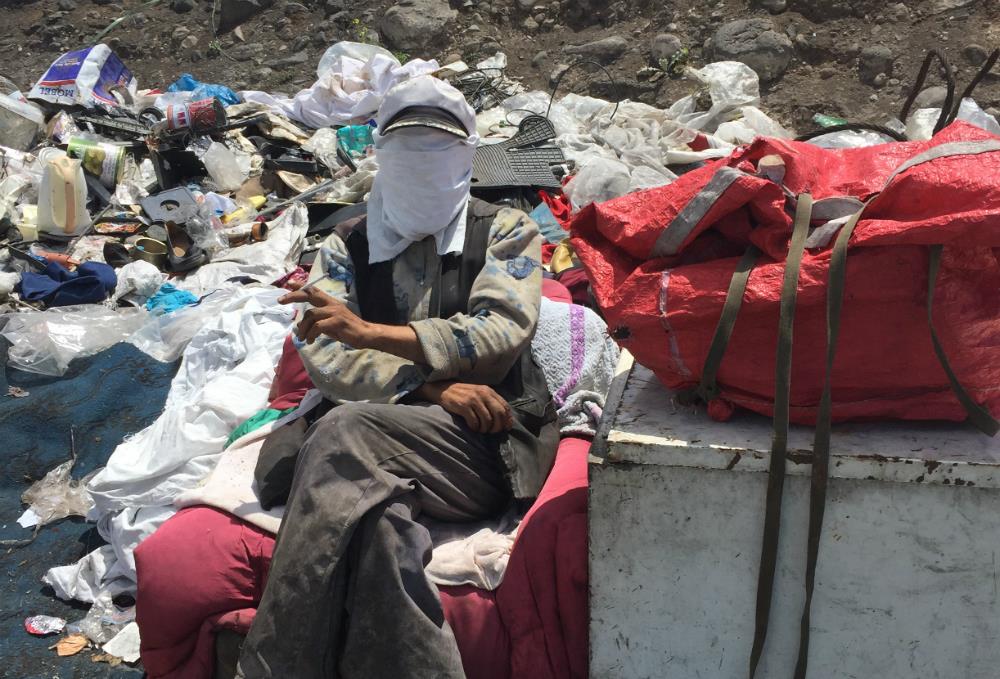 Somebody got rid of an armchair, and it was delivered to the landfill. Ruzan Saribekyanm, 53, is sitting on it. She has wound a white cloth around her face. She says she has done this in order to hide her face from us. She is smoking and complaining huskily about her life, blaming the authorities.
"What do you want to hear – how I have turned up among this garbage? This is the personal misfortune of each of us. Sometimes it seems to me I have been here since my birth. Everything they say on TV – 'we will do this and that', it's all a lie.
"Under communist rule, I used to work at the Garun garment factory, later at the tire works and then at the Kirov factory. It was sold and the money was gone. Now, if they need a cleaner, she is required to know English and have computer skills, as well as to be good-looking. How can I get back my youth? The only thing left is to scavenge in the garbage," says Ruzan, living in the ravine not far from the landfill.
White gulls fly over the Nubarasheni landfill. They are searching for something in the piles of waste like the people here scavenging in the landfill. Many people, working in the landfill, are hiding behind sacks with bottles; some of them have gone down to the ravine.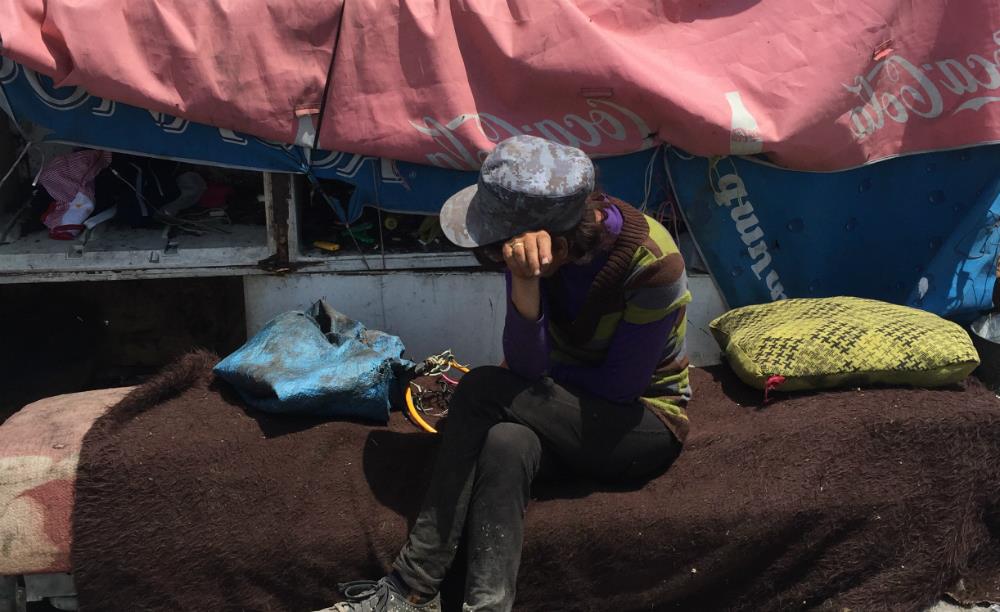 "The people are ashamed; they are not to be blamed. You see, it is hard to live scavenging in the garbage for 10-15 years," says Garnik Sagatelyan, covering his face with a hat.