Nikol Pashinyan: There are no unsolvable issues between Georgia and Armenia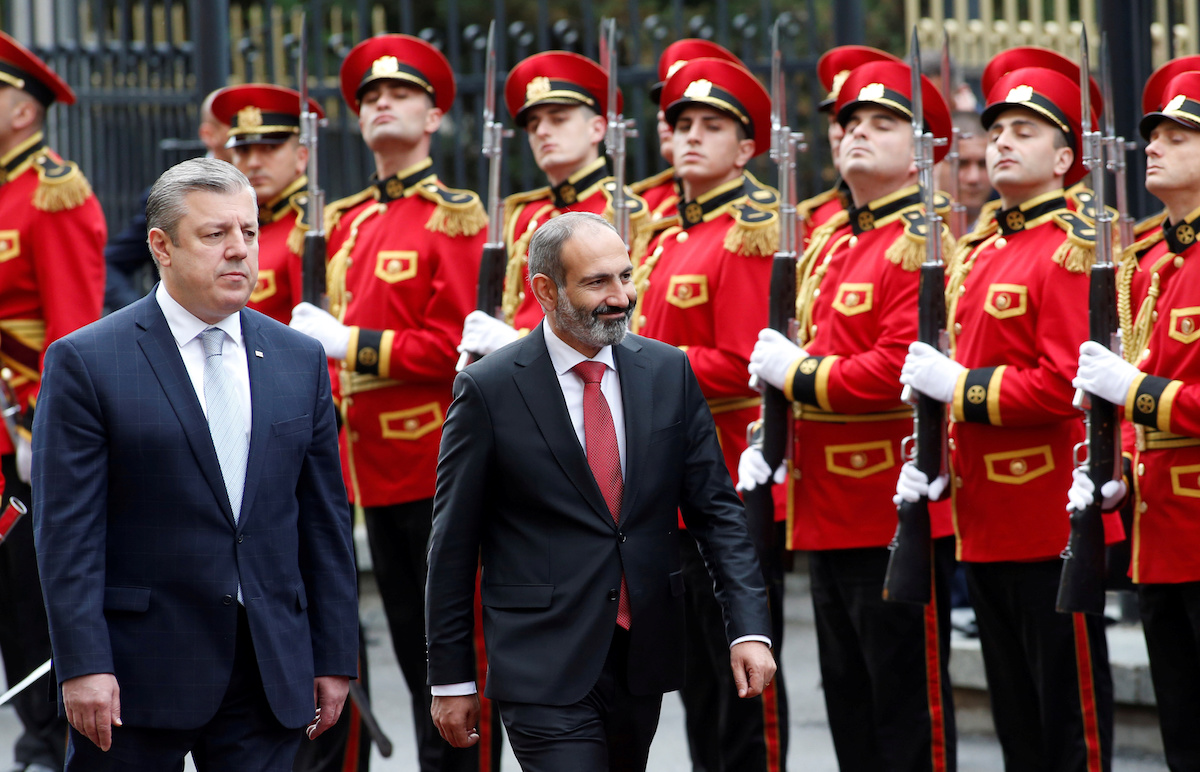 Prime Minister of Armenia Nikol Pashinyan is in Tbilisi on a two-day visit to Georgia. This is his first official visit after he was elected Prime Minister on 8 May, which was preceded by protest actions attended by thousands. Pashinyan's wife is accompanying him on the visit.
Pashinyan was met at the Tbilisi airport by the Minister of Foreign Affairs and Deputy Prime Minister Mikhail Janelidze.A reception was held in the Administration building, where Pashinyan and Georgian Prime Minister Giorgi Kvirikashvili  held tete-a-tete talks after the anthems of the two countries were played.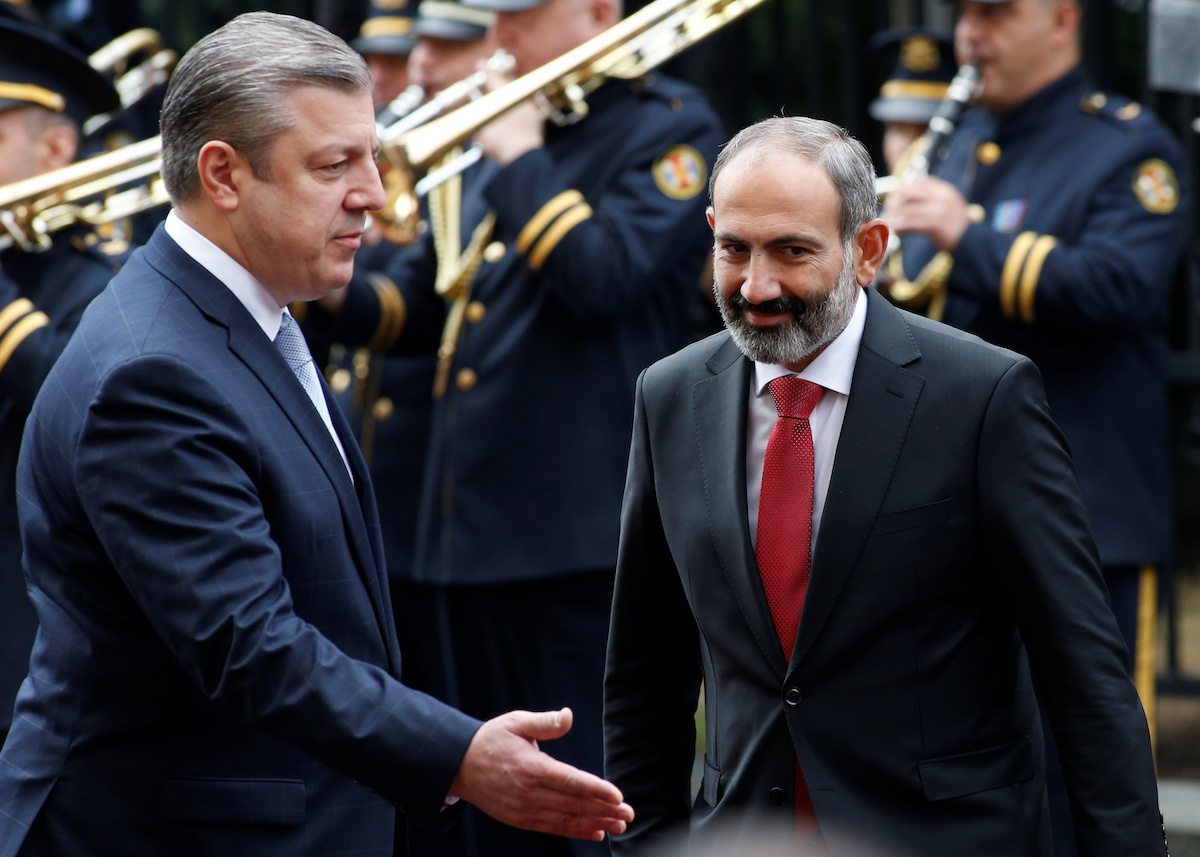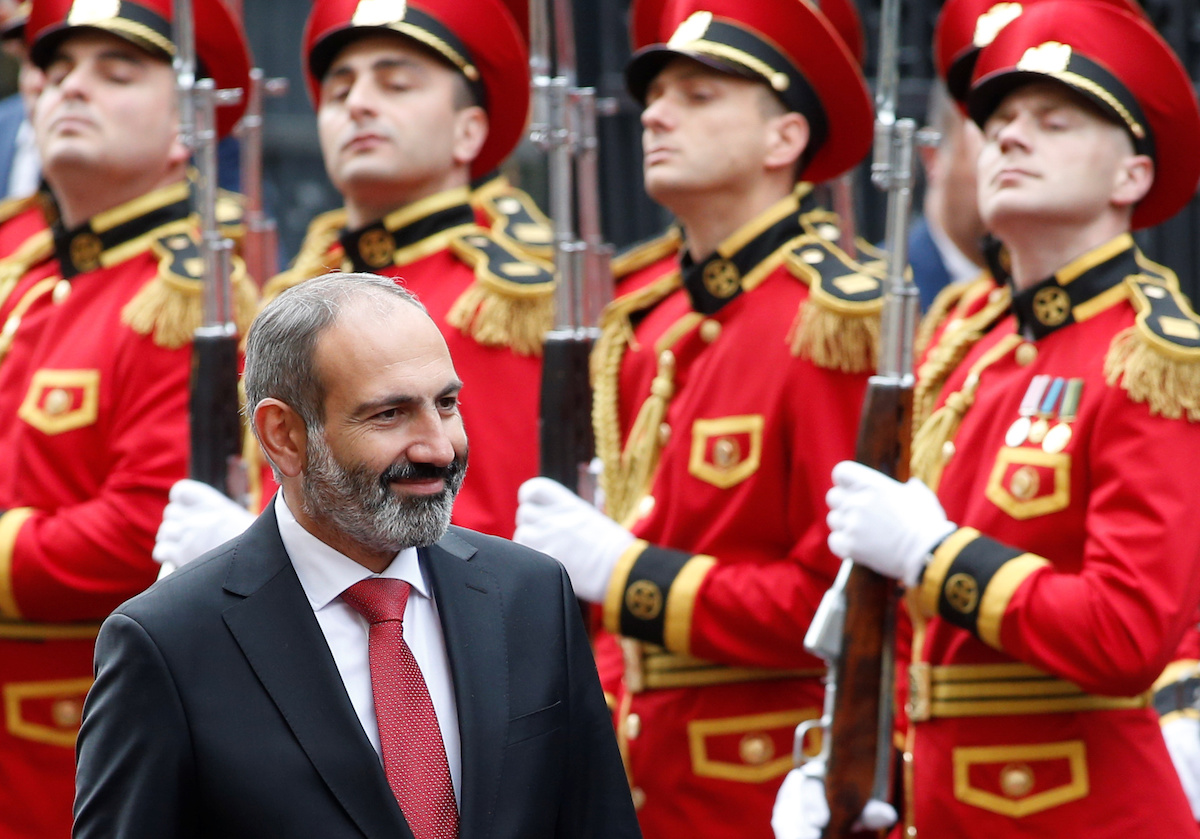 The Prime Minister made statements to the press at the conclusion of the meeting:
Nikol Pashinyan said that there are were no unsolvable issues in relationship between Armenia and Georgia. He congratulated Georgia on the 100th anniversary of the First Republic and spoke of friendship between the two countries:
"It is a great honor for me to make my first official visit to Georgia, as our relations with Georgia hold a special place in our political agenda. I always did everything necessary for the development of Armenian-Georgian relations, as a journalist, as a deputy, and now as a prime minister," Pashinyan said.
He expressed hope that these positive relations, which always existed between Georgia and Armenia, will be expressed in concrete economic results.
"We have both short-term and long-term interests in common. We have a lot of joint projects in Georgia. We must work on their implementation. There are no unsolvable issues in the relationship between Armenia and Georgia; the main factor is in the mood and will. Our delegation arrived in Tbilisi to confirm this readiness," stated Pashinyan and invited his counterpart to Armenia: "I hope to see you in Yerevan in the near future."
Pashinyan, having been a journalist, thanked the Georgian journalists for that heightened interest in the Armenian velvet revolution.
Giorgi Kvirikashvili in turn congratulated Nikol Pashinyan on his election to his post and stated that the Armenian people show a commitment and adherence to democratic principles. The Prime Minister of Georgia noted that, despite intensive cooperation between the two countries, there is an untapped potential in many areas.
"We decided to resume the work of the bilateral economic committee. A meeting of the working group will be held In the near future and a meeting of the bilateral commission on economic cooperation will be prepared. We also defined the main areas that deserve attention in the framework of this committee, "said Giorgi Kvirikashvili.
According to Kvirikashvili, bilateral cooperation should be deepened in such areas as transport, energy, tourism, culture, education, and innovation.
He said that during the meeting, in addition to bilateral relations, they discussed cooperation in regional as well as international formats, and stability, security and peace in the region.
Kvirikashvili highlighted that during the two-day visit Nikol Pashinyan will visit Javakheti – a region in Georgia mainly populated by ethnic Armenians. According to Kvirikashvili, Armenian citizens in Georgia are actively involved in the issues of state development in the country.
"Armenians in Georgia are actively involved in issues of state development, which proves the unity of multinational Georgia. Our population, regardless of nationality, serves one goal – strengthening Georgia, developing regional and good-neighborly relations," the Georgian Prime Minister said.
Nikol Pashinyan will leave Georgia tomorrow. During the visit, he will also meet with the president of Georgia and the chairman of Parliament. He is expected to travel to the Javakheti region on 31 May.
Prior to Pashinyan's visit to Georgia, the Armenian press actively discussed whether he would bring up the issue of restoring the railroad through Georgia's break-away region of Abkhazia during his visit. However, the Prime Minister did not touch upon this topic in his statements.
Also before Pashinyan's arrival Georgian Vice Prime Minister Mikhail Janelidze told reporters that the Armenian side has never before raised the issue of resuming rail service through Abkhazia and 'presumably will not do so even now'.