New Georgian opposition 'Main Channel' begins broadcasting
A new Georgian opposition channel, Mtavari Arkhi (Geo. Main Channel) began broadcasting last night on September 9 at 21:00.
The channel was founded by the former director of the opposition TV channel Rustavi 2 Nika Gvaramia and journalists that have recently left Rustavi 2 after the channel was taken over by a pro-government businessman.
• The fall and rise of Georgia's most watched TV channel
• Georgian PM candidate to the opposition: "I will finish you"
Mtavari Arkhi was created in just 19 days, after the new owner of Rustavi-2, Kibar Khalvashi began staff firings on August 20, including several leading journalists and producers.
After that, almost all the journalists and information service employees left Rustavi-2 in protest.
Now, most of Mtavari Arkhi's staff consists of former Rustavi-2 employees.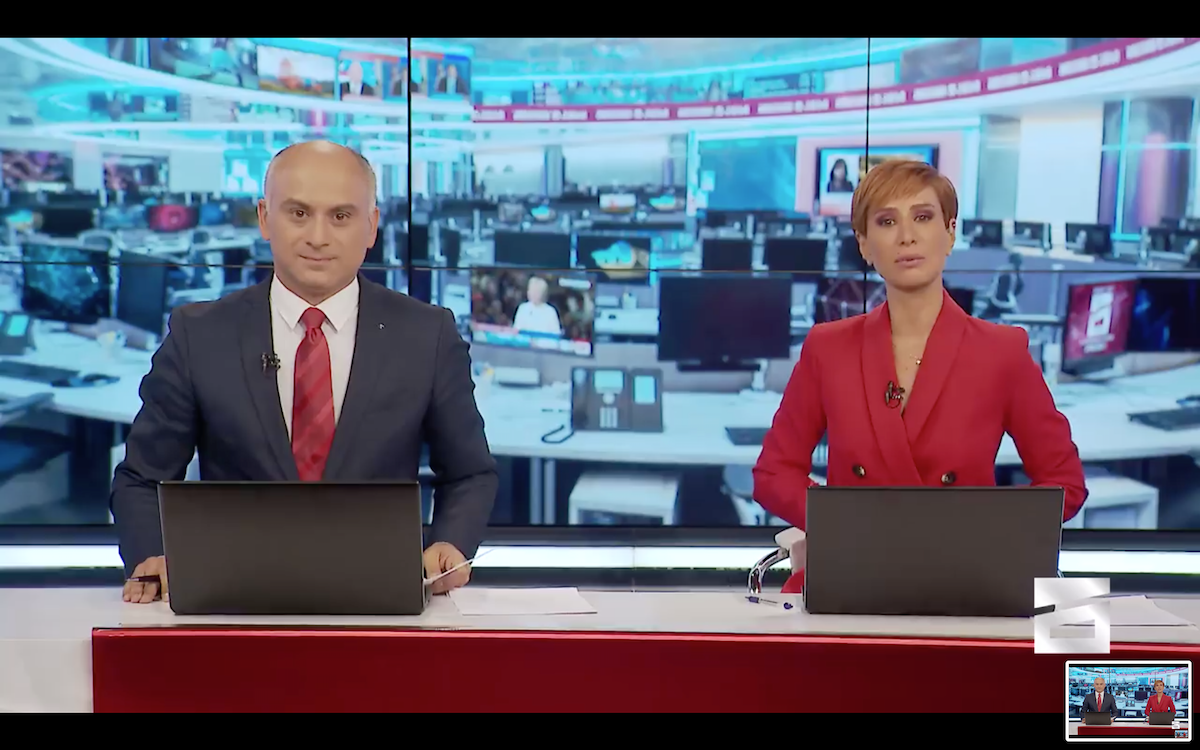 The handover to the authorities of the most famous Georgian channel took place after a European Court of Human Rights ruling, passed on July 18.
• What Georgia's informal leader has to do with the new PM
Office space was provided to the channel by businessman Zaza Okuashvili.
Instead of 6,000 square meters and the enormous building that Rustavi 2 earlier had at its dispersal, Mtavari Arkhi journalists now work in a much smaller space with smaller studios.
The main ambition of the channel is to turn into the country's main opposition TV channel, which will cause serious discomfort to the Georgian authorities.
Mtavari Arkhi created a Facebook page on August 22, which despite not having published news yet, it has gathered 170,000 subscribers in less than a week.
The start of Mtavari Arkhi's broadcasting was the main topic of discussion on social networks in Georgia:
"I look at the lame Rustavi 2, which was stolen by thieves, and look at the Mtavari Archi, which has problems with sound, image and others. And I think – what a rare situation this is, when Georgians were not disgraced and were able to stay faithful to their principles."
"Maybe Mtavari Archi will convince you that only idealists can build, not dreamers."
______________________________
Rustavi 2's fate changed after the July 18 ruling of the ECHR, as a result of which the television company passed into the ownership of Kibar Khalvashi – a businessman close to the authorities.
On the first day, Khalvashi fired CEO Nika Gvaramia.
And one month later, despite a promise not to dismiss journalists and not change the editorial policy of the channel, the new owner nevertheless began firing personnel en masse, dismissing several leading journalists and producers.
After that, in protest, almost all journalists and information service employees left Rustavi 2.
Rustavi 2 was the most ardent critic of the current Georgian authorities, the ruling Georgian Dream party and its leader, the informal ruler of Georgia, billionaire Bidzina Ivanishvili.
In various interviews, Ivanishvili has repeatedly called Rustavi-2 the "lie machine" and "partisan television of the [United National Movement] – the party of former Georgian President Mikheil Saakashvili.
Several months back, Bidzina Ivanishvili said that Rustavi-2 is "holding a part of society hostage and deceiving it, but soon it will stop."
After the departure of journalists on August 20, broadcasting on Rustavi-2 stopped.
Instead of the news, the channel shows feature films and TV shows.
The new management of Rustavi-2 is hiring new employees and promises to go on air with news programmes by September 15.
Media experts agree that new employees will be selected on the basis of loyalty to the authorities, and Rustavi-2 will cease to be a critical television channel.