MP Nadezhda Savchenko detained in Ukrainian parliament for attempted coup d'état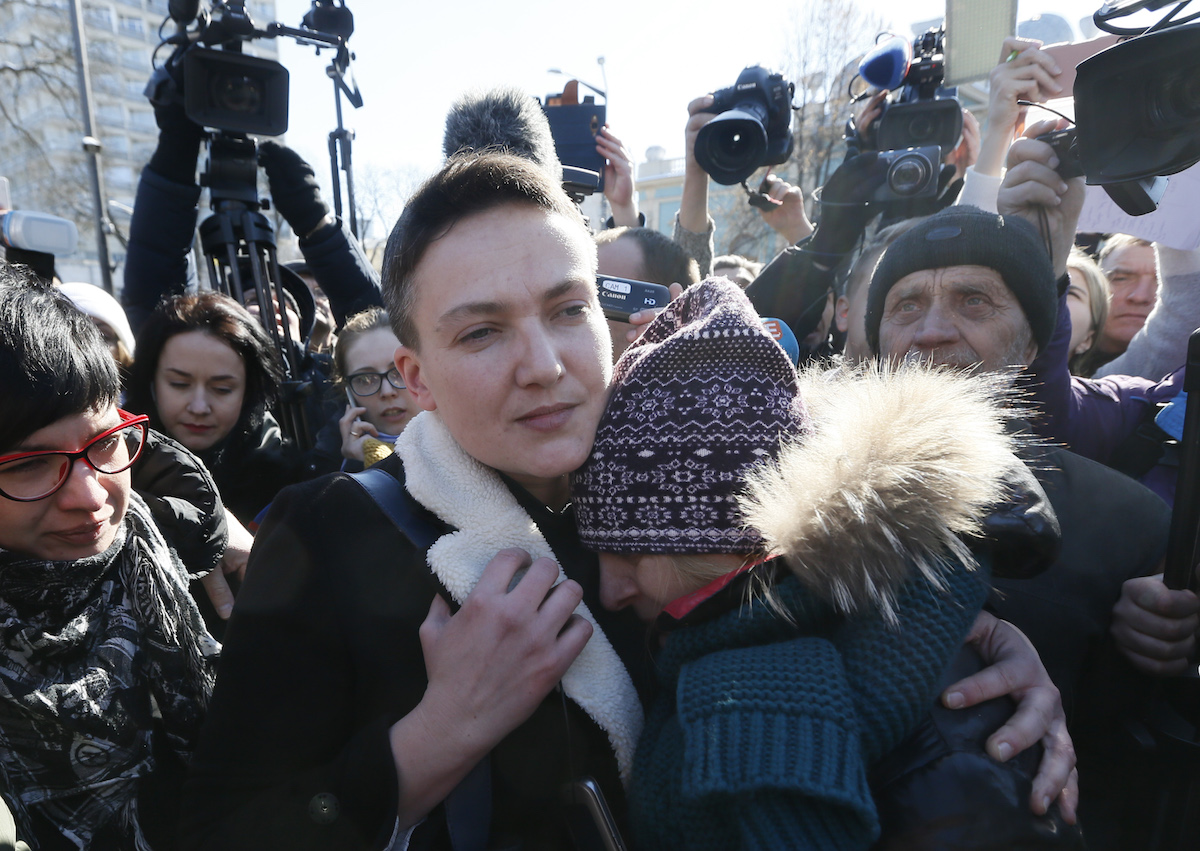 Ukrainian MP Nadezhda Savchenko was detained in Ukraine's Verkovna Rada (parliament).
According to Hromadskoe, Savchenko requested security officers to go by foot to the state security service building and left the parliament building accompanied by the law enforcement officers. She was met by supporters on the street who shouted "Nadezhda [Ed. Russian for hope], you are our hope!"
The Ukrainian parliament nullified Savchenko's MP immunity on 22 March and authorised her arrest.
Before this, the Prosecutor General of Ukraine Yuri Lutsenko presented footage of Savchenko allegedly transporting weapons out of the occupied eastern Ukrainian territories to commit a terror attack in Kiev.
In the video, Savchenko said that she planned to attack the government quarter and Verkhovna Rada (parliament), and that the main targets would be the Secretary of the Council of National Security and Defence Aleksandr Turchinov, President Petro Poroshenko and Minister of Internal Affairs Arsen Avakov.
After the Prosecutor General indicted Savchenko, she said that she had intentionally provoked the arrest because she was not planning a coup d'état but instead wanted to 'scare the authorities'.
Ukrainian armed forces officer Nadezhda Savchenko was captured by pro-Russian units in eastern Ukraine during military action in the summer of 2014. A little while later, she resurfaced in Russia where she was arrested and accused of being involved in the death of two Russian journalists who died as a result of mortar shelling on Luhansk.
Savchenko said she was forcefully taken to Russia and denied the murder allegations. Ukraine, international organisations and western states condemned her imprisonment in Russia and demanded her immediate, unconditional release. She announced a hunger strike on several occasions.
On 22 March 2016 a court in Rostov-na-Donu sentenced her to 22 years in prison, and on 26 May she was pardoned by Russian President Vladimir Putin. In exchange, Ukraine released two Russian soldiers who had been imprisoned for their involvement in the war against Ukraine.
In September 2014 while still in a Russian prison, Savchenko was elected as an MP in the Ukrainian parliament for the Batkivschina party.