Molokans in Armenia: 20 years ago and now
Molokans in Armenia
Journalist Mark Grigoryan visited the Molokan village of Fioletovo in Armenia in 2000 and wrote a book about its inhabitants. And now, 20 years later, he came there again. What has become of the heroes of his book and what happened to the village?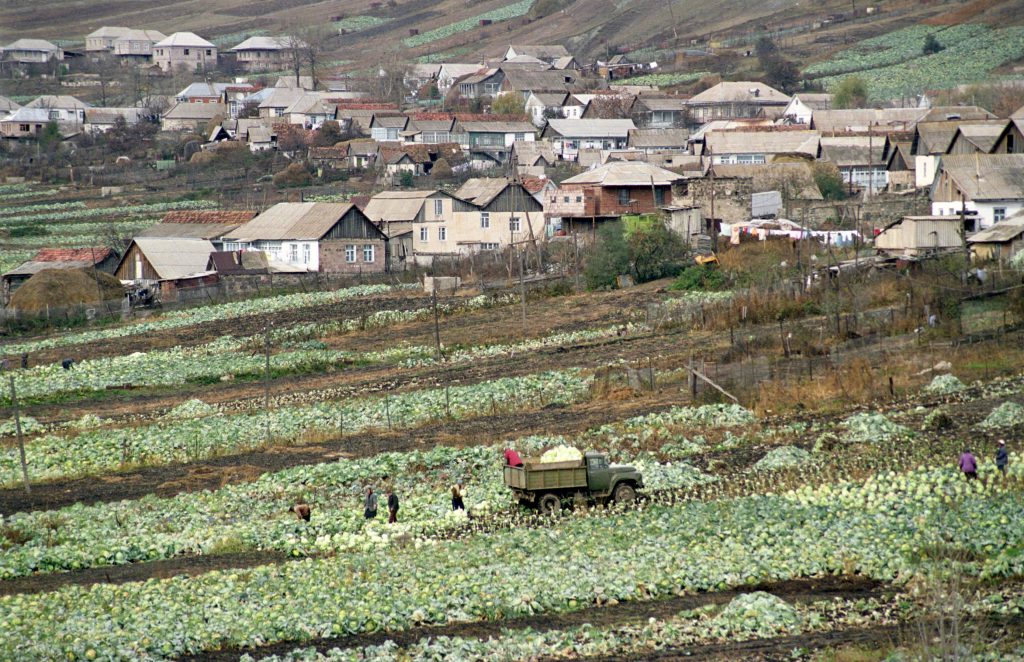 It seemed that nothing had changed here in 20 years. Everything is as before. Countryside fields with ripening cabbage, which, in sauer form, is, as it were, the hallmark of the village. Broken bumpy street with neat houses behind low fences. School with the slogan of the indestructible friendship between Armenia and Russia.
Fioletovo, as it was the only village inhabited only by Molokans in Armenia, remains so.
These are very interesting people, and the brilliant photojournalist Ruben Mangasaryan and I have devoted several years to the study of their everyday life.
It was about 20 years ago. We would come to Fioletovo every now and then, slowly making friends with the Molokans and publishing more than ten articles in a variety of Armenian, Russian, British, American and even South Korean publications.
Gradually, our trips went beyond mere journalistic interest. Several families in Fioletovo, thanks to our articles, found relatives in the United States. But the Americans did not speak Russian, and the Fioletovo Molokans did not speak English. So I translated their letters and sent them by mail.
And then, in 2018, I published a book based on photographs, conversations with Molokans, books written about them, and the advice we received from Ivan Semyonov, one of the prominent Armenian Molokans of the 20th century.
The book is called "Little Russia in the North of Armenia", and Ruben Mangasaryan and I became its authors. But he is no longer there – he died of a heart attack nine years before the book was published.
---
---
In the summer of 2021, I was finally able to go to Fioletovo again. It was interesting for me to meet the heroes of our book, to see what they have become 20 years after Ruben and I were last there.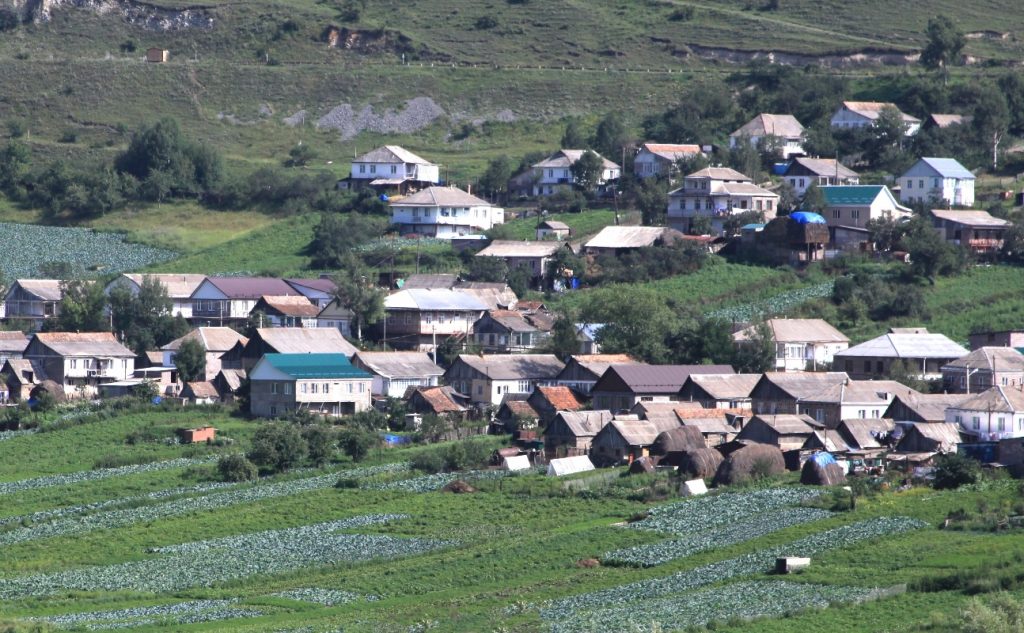 Maria
The photo of a girl on a swing, enjoying the flight with delight, I remember even then for the purity of emotions and delight, so clearly visible on her face.
And 20 years later, I met Maria. She is already 28 years old, her husband's name is Alexey, and they have three children.

Mikhail
We met Mikhail Mechikov when an American Molokan John Mechikov wrote to me 20 years ago and asked me to help him find relatives in the village of Fioletovo. Before the arrival of Soviet power, it was called Nikitino.
John and Mikhail turned out to be second cousins. We sent John to America a photograph in which Mikhail is proudly standing next to a truck that he himself designed and assembled with his sons.
Now Mikhail is 80 years old, and in his yard there is already another truck, also assembled by him. Both of them are old already – Mechikov and his car.

Ivan
Ivan is also John's second cousin. Actually, they are namesakes – Ivan Mechikov and John Metchikoff.
20 years ago we photographed Ivan showing John the grave of his great-grandfather. And now he is 79 years old, and he spends his days at home, together with his wife – smart and tactful Anna.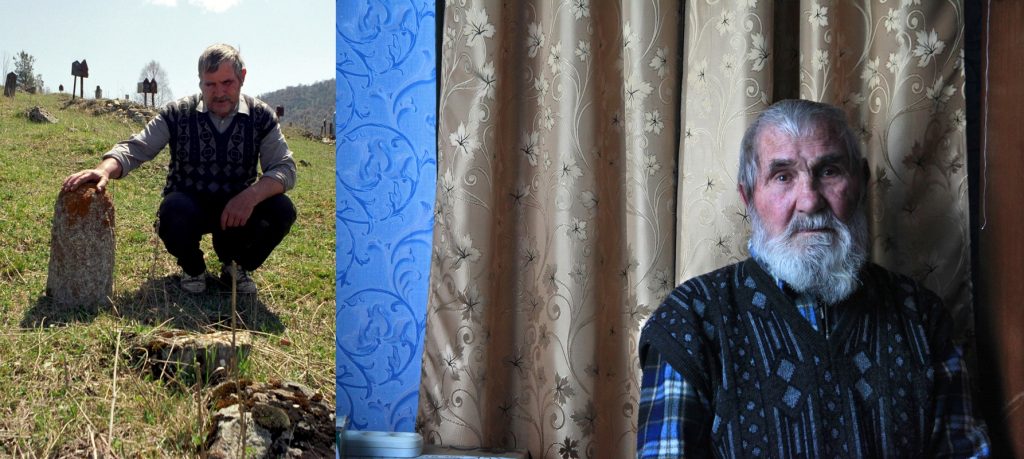 John died a couple of years ago. I found his son Adam on social media but he is not hugely interested in his ancestral land.
Bread
Then, 20 years ago, we really wanted to see how Molokans bake bread. We managed to do this only after we went to the village several times and got permission from one of the hostesses, who finally baked bread in a real Russian oven.
We also learned how the famous Molokan sauerkraut is prepared.
Noodles
This time I came from Fioletovo with a recipe for Molokan noodles.
First, of course, you need to prepare the dough. It contains flour, homemade (not purchased) eggs, a little water and salt.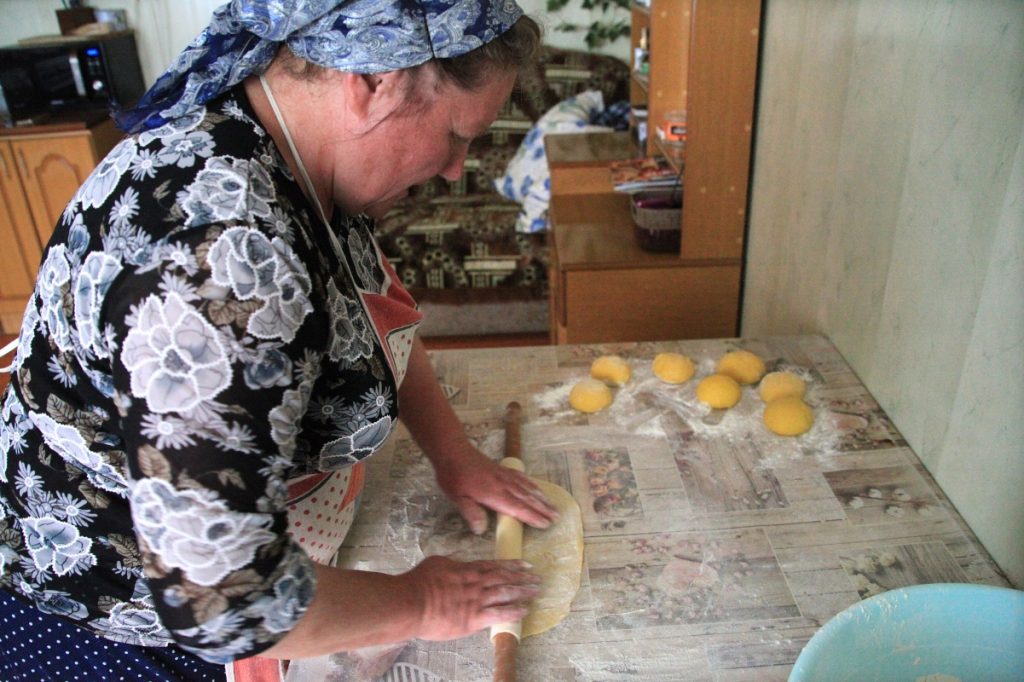 The dough is rolled out into very thin sheets, which are then slightly dried on a metal sheet, which is placed on the fire, "so that there is a smell of smoke".
On the same sheets, the Kurds in the mountains prepare lavash – with the difference that it must be baked, and the future noodles are only dried.
Then the dried sheets are rolled up and cut into thin slices.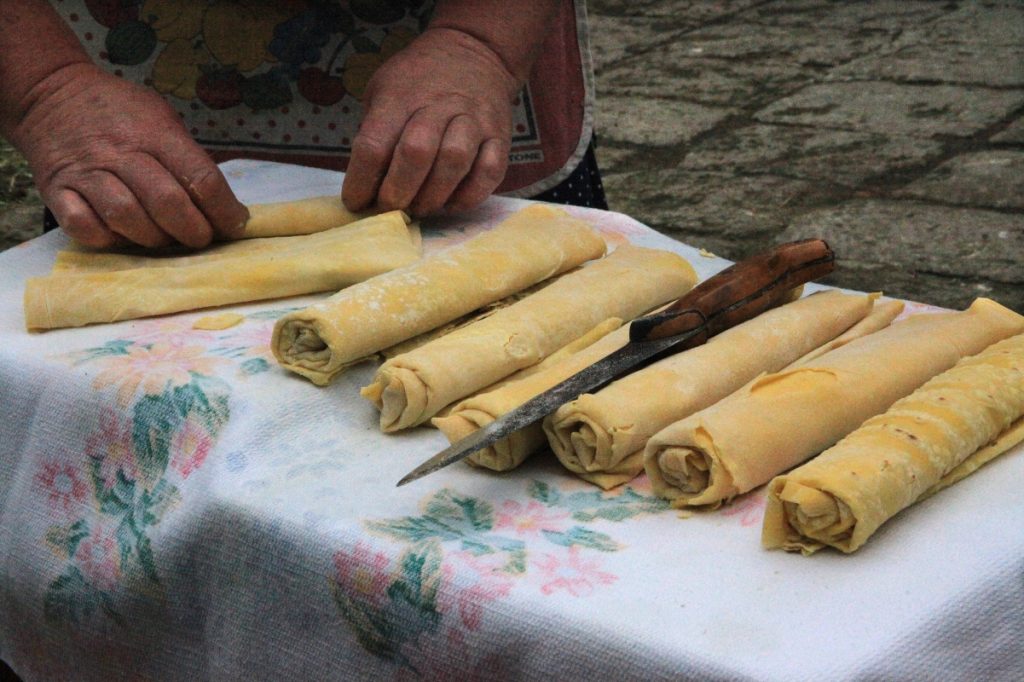 That's the actual noodles. But this is only a semi-finished product, because then it needs to be cooked, but not in water, but in chicken or beef broth. And only after that you can eat it. No village wedding is complete without noodles.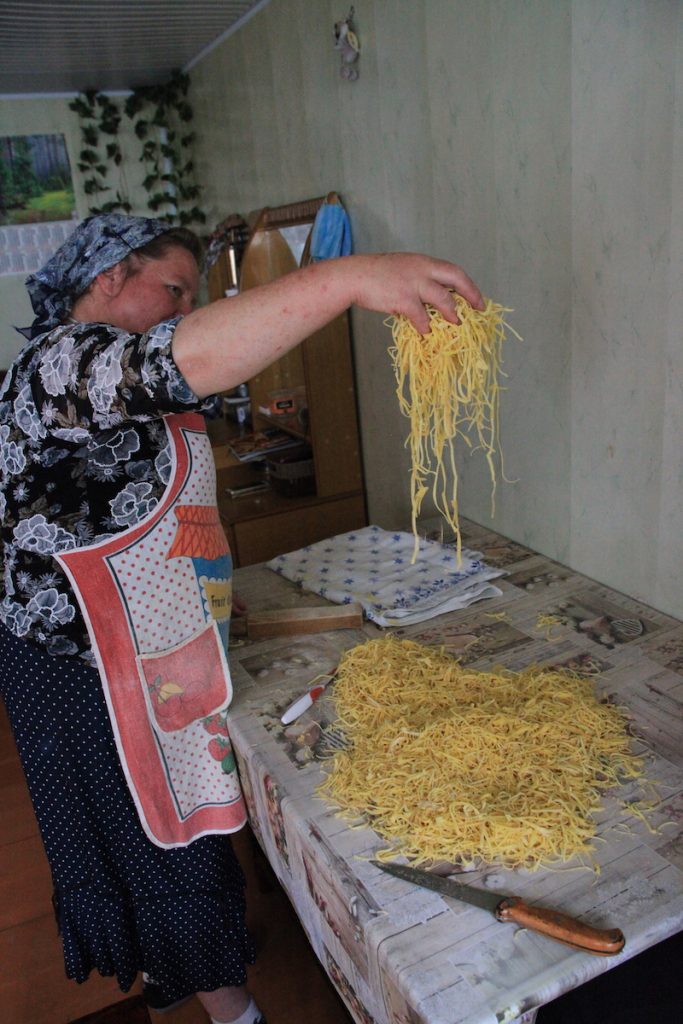 Cows
And, of course, what is a village without its cows? And since there are cows, then they must be milked. But 20 years ago, the milking procedure was not a priority for us – we believed that in all villages, regardless of national traditions, cows are milked in the same way.
In general, it is so.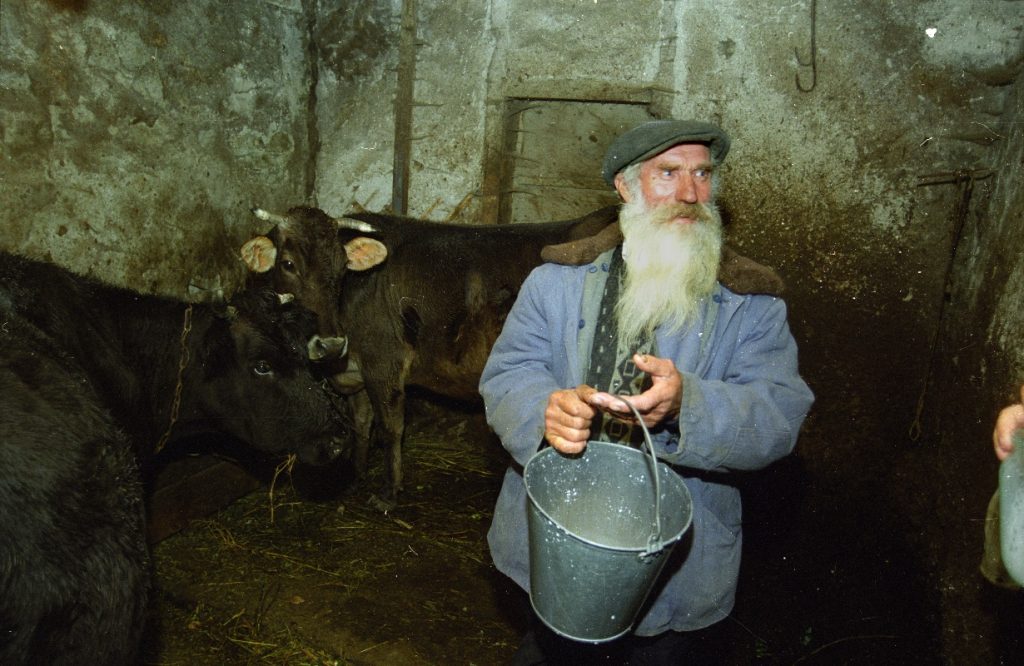 But this year I had a chance to visit the mountains, to the Molokan "nomad", where Aleksey Novikov and his family keep cows in the summer. I put the word "nomad" in quotation marks, because this is a neatly built house with several rooms, electricity, mobile reception and even the Internet.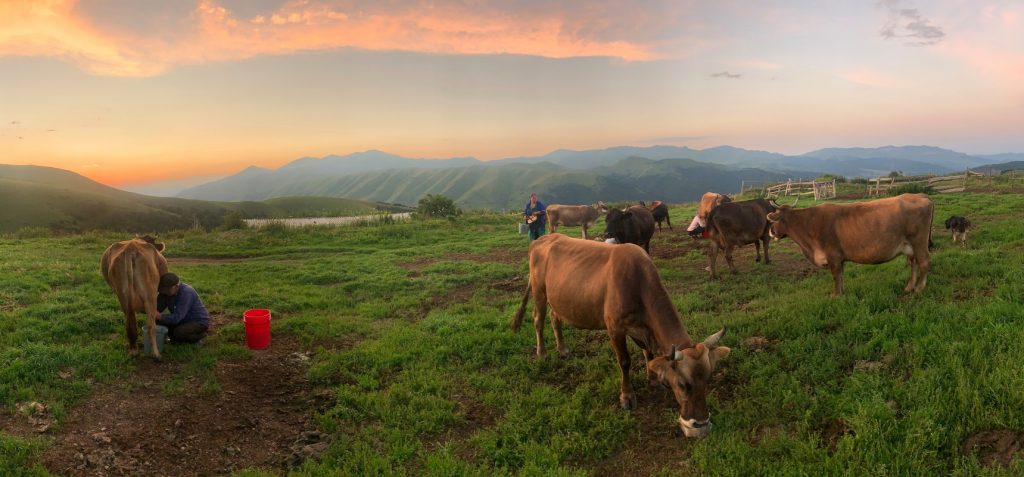 Mobile phones and Internet
But 20 years ago there was only one telephone in Fioletovo, mobile communication did not work, they did not even hear about the Internet, and religious leaders, elders, forbade watching TV.
Now these prohibitions are a thing of the past. In the village, mobile communications and the Internet work perfectly and are used by almost everyone.
Below, in the frame with a mobile is Tatiana and three of her five children. 20 years ago, she was a gull girl, and now, like Maria, she graduated from high school and got married.
Her children are the new generation of Molokans living in Fioletovo.