Live blog: Armenia protests, day 6. The Velvet Revolution continues
Large-scale demonstrations pick up – number of protesters appear to be no less than yesterday. The 'Association of Informed Citizens' says that with the help of drones, the number of people that participated at yesterday's protests was estimated at 33-35 thousand people.
17:30
Former president and current Prime Minister Serzh Sargsyan has begun forming his cabinet. His deputy will be Karen Karapetyan. He was the prime minister of the former government.
Two other deputies have also been appointed. One of them is the former deputy vice minister Vache Gabrielyan, the other is the former chairman of the National Security Council of Armenia Armen Gevorgyan.
17:18
Protesters are now located around government buildings where the ministries of foreign affairs, culture and education are located. The leader of the movement, Nikol Pashinyan, has called upon employees of these ministries to go out onto the streets and join the protesters. He then left to consult with other protest organizers for an hour and a half.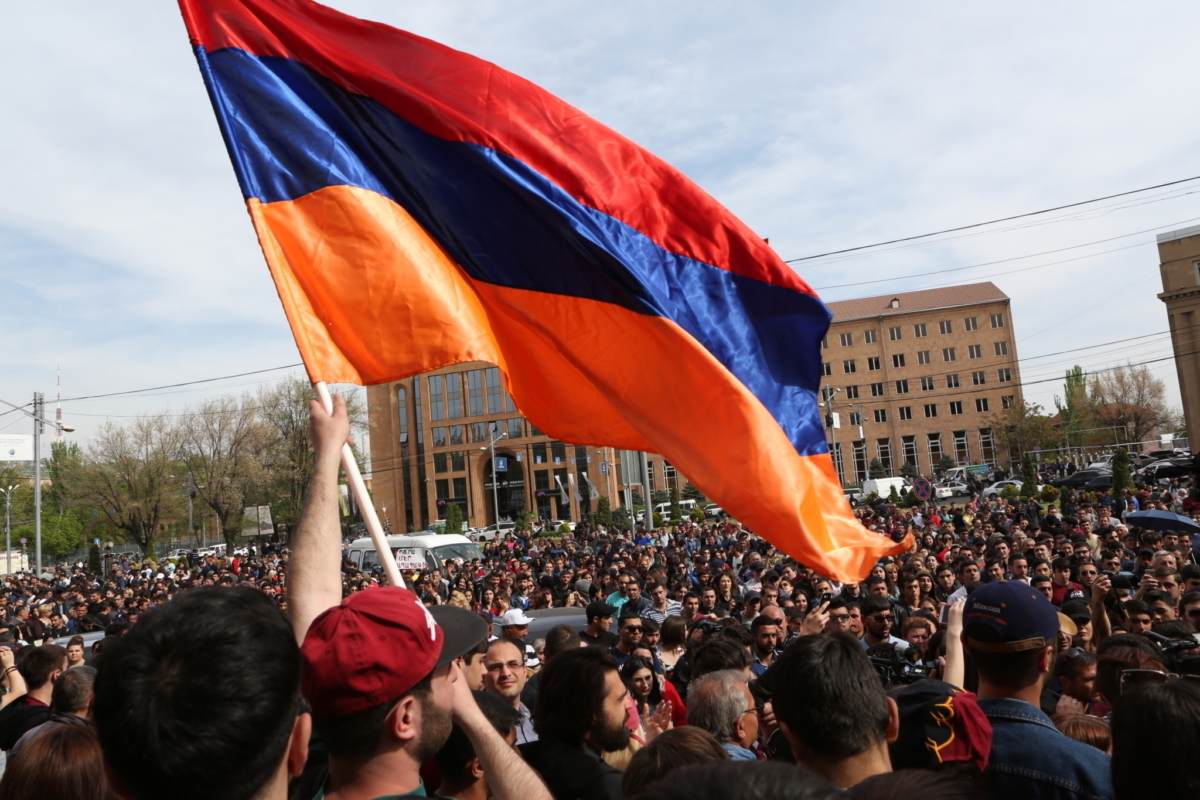 While waiting, protesters song the national anthem and other popular Armenian songs and chanting slogans such: "No to Serzh", "Take a step and reject Serzh".
A large-scale protest is planned for 19:00 this evening.
16:10
Both students and teenagers have been taken in by the police from amongst the detained protesters. Parents and journalists have gathered by a police station and are waiting for the children to be released. Several people have already emerged.
https://www.youtube.com/watch?v=FCWi-WQcTY8
15:10
Participants have arrived at the mayoral building of Yerevan and demand a meeting with the mayor.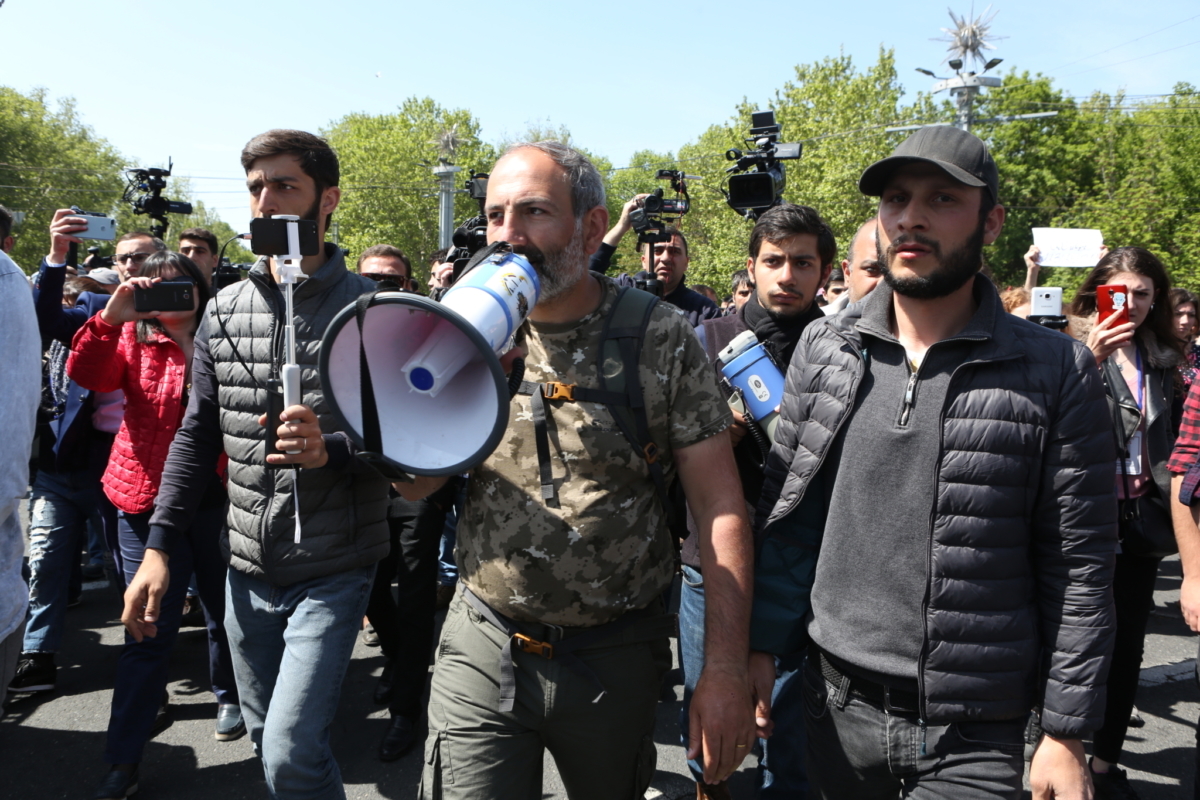 14:05
Protests are beginning in the cities of Gyumri and Vanadzor as well in support of the demonstrations in the capital.
12:00, 18 April
The leader of the civil disobedience movement in Armenia Nikol Pashinyan announced the beginning of a 'Velvet revolution' yesterday, and has been marching in the streets of downtown Yerevan since early this morning.
Last night Pashinyan announced that the movement would continue to 'paralyse' traffic and shut down streets.
The police says traffic must be opened for several streets. Several protesters have been arrested for refusing to do so.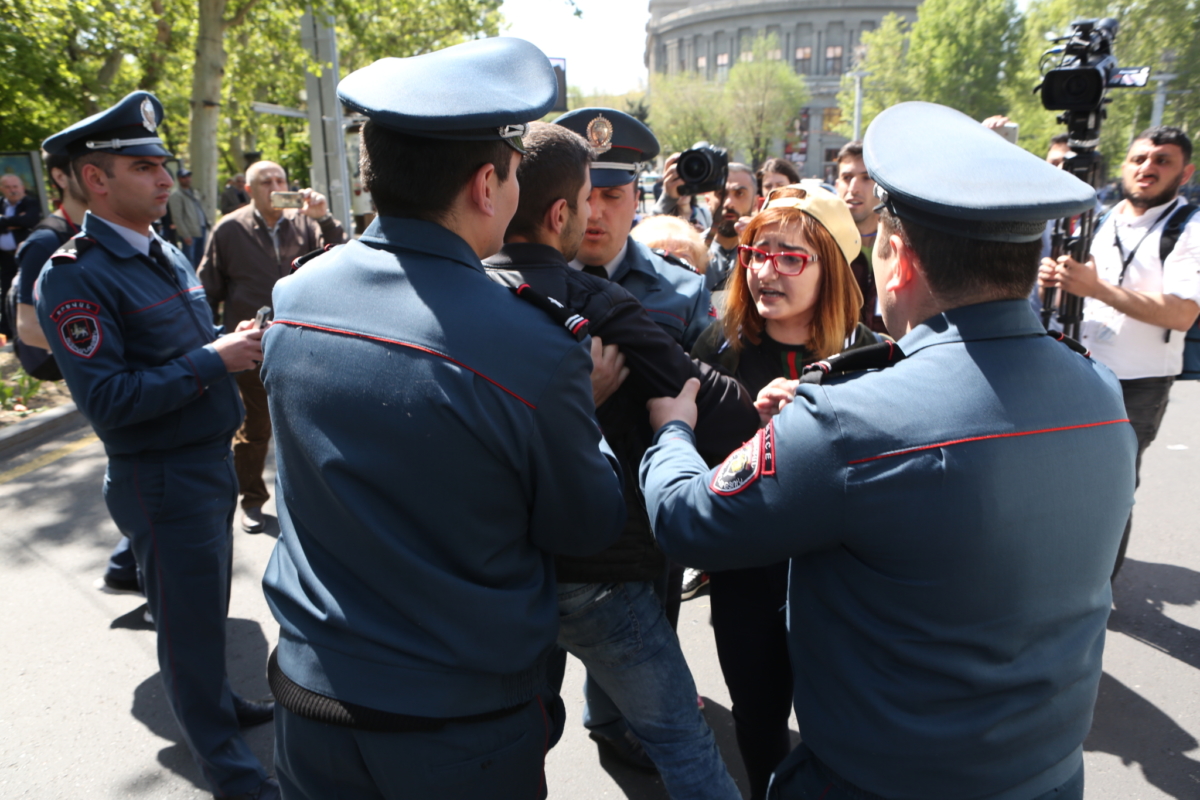 Today there was no police barricade around the residence of the Prime Minister – only several officers were present there. The police presence has been concentrated on smaller streets.
Pashinyan has asked followers to respect the police and not to use violence against them. He says "our struggle is against Serzh Sargsyan, who became Prime Minister yesterday. We are not fighting against the police".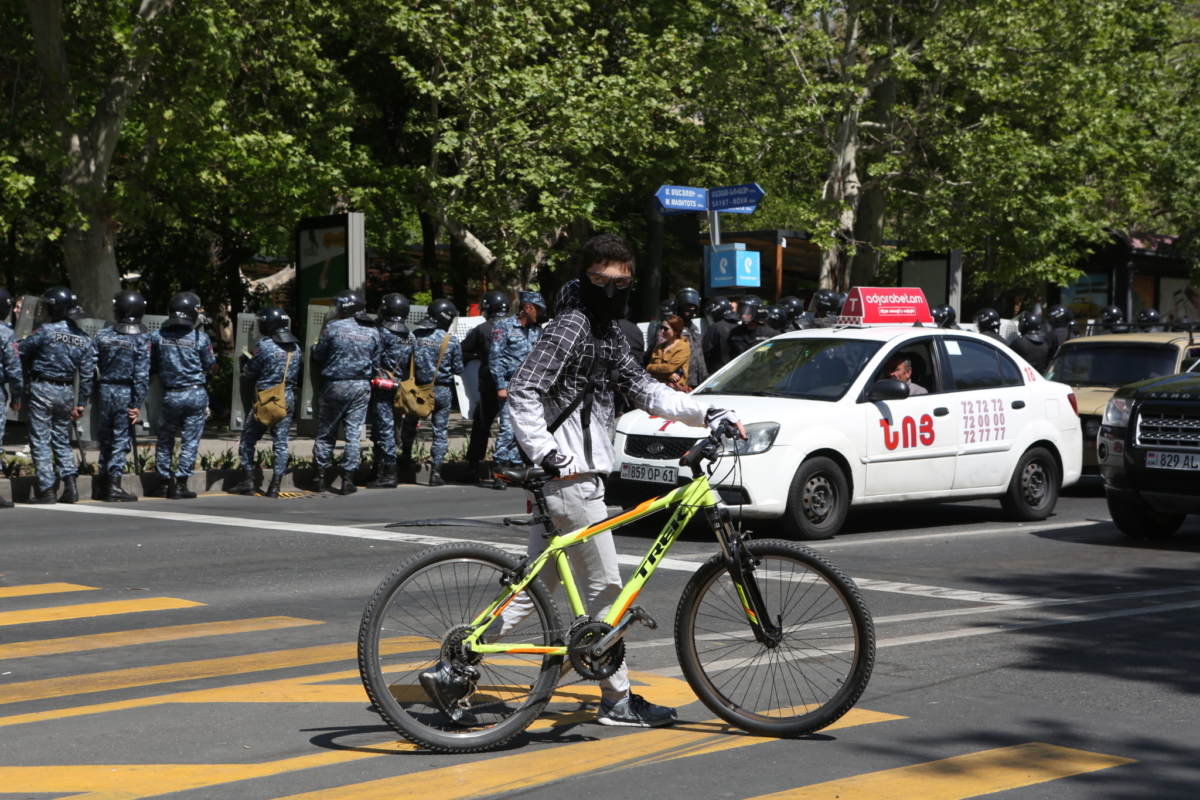 Pashinyan has been calling on protesters to remove hygiene masks, saying they have nothing to fear and that the police have agreed not to use tear gas against them. But journalists say that police still have gas masks in their possession which means that the use of tear gas is not entirely impossible.
JAMnews continues to provide rolling coverage of events as they happen.