Lithuania struggles to cope with the influx of illegal migrants from Belarus
The influx of illegal Belarus migrants in Lithuania
Hundreds of people illegally cross the Belarusian-Lithuanian border every day. These are migrants from the Middle East who flooded into Lithuania from a neighboring state after the Belarusian dictator Lukashenko forcibly suppressed protests and fell out with Europe. Lithuania struggles to cope with the invasion and is preparing to receive up to 40,000 people, Novaya Gazeta Baltia reports.
An extreme state has been declared in Lithuania – the country cannot cope with such an in-flow of migrants.
The number of illegal migrants who crossed the border from Belarus per day reached new records. Now there are almost 4,000 of them, and this figure will soon grow. Last Sunday alone there were almost 300 illegal crossings and almost the number on the next day. Most of the migrants came from Iraq or other countries in the Middle East and West Africa. Many came without any paperwork and it is not always possible to believe their stories.
---
---
Official Vilnius called the growing flows of illegal migration a hybrid attack against Lithuania by the Lukashenka regime dissatisfied with the EU sanctions. There is enough evidence that the flows of illegal migrants are organized by the Belarusian authorities but the official Minsk does not respond to Lithuania's inquiries.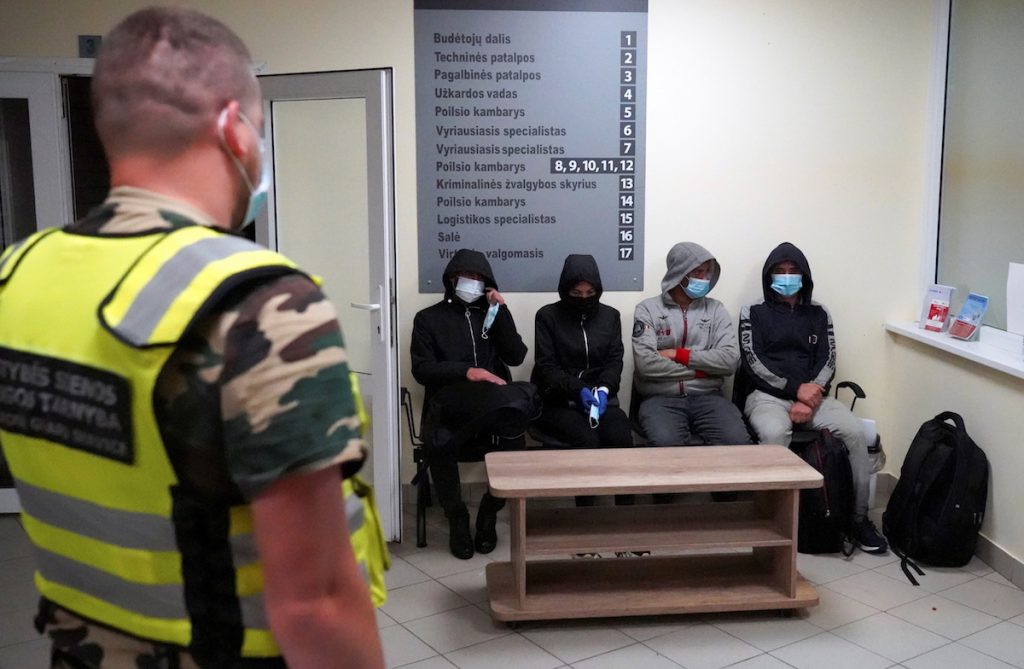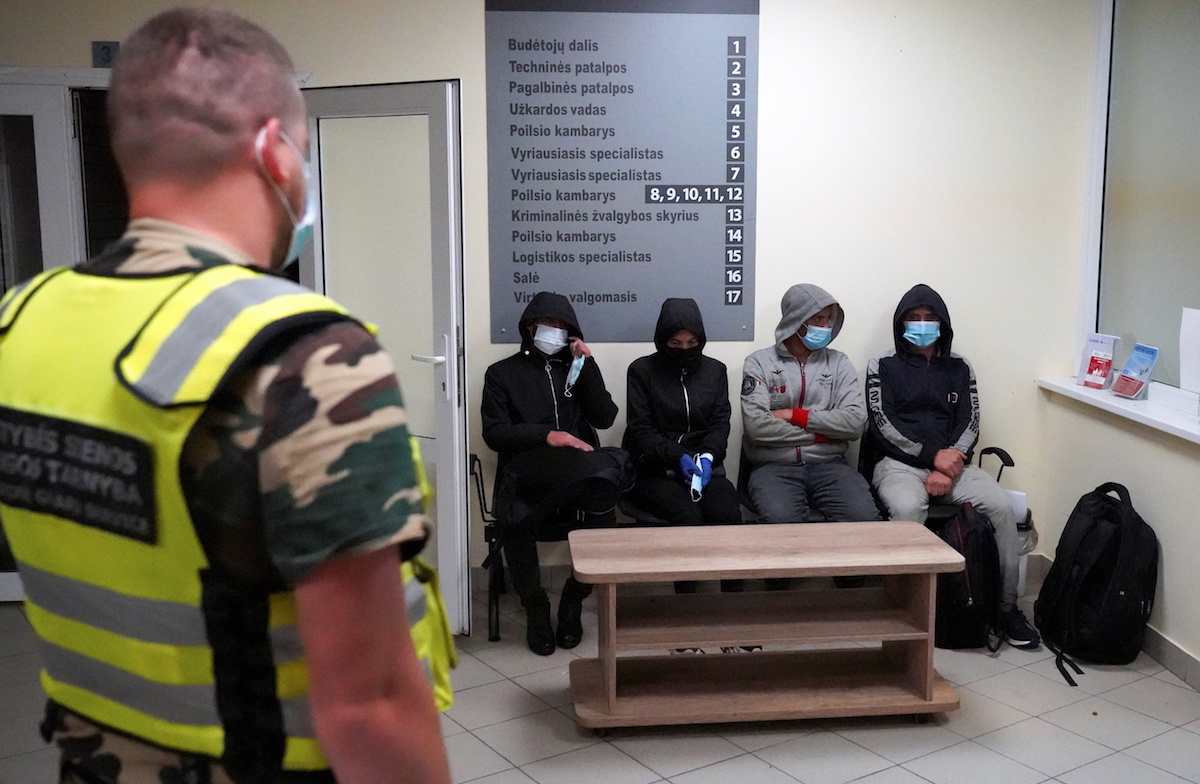 Protests on both sides
Migrants are guarded like prisoners, they are not allowed to leave the place of settlement, and if they go, to the nearest village store, they must be accompanied by a security guard. Local residents are afraid of them, although they cannot always explain why. They organize protests at the places where migrants are settled and criticize the government's actions.
The main requirement is to place migrants elsewhere. There are clashes between protesters and police, and the authorities have to pacify protests within the migrant camps themselves.
The protesters lack civic awareness and understanding of the situation, government officials say.
For example, the "Union of Families" joined the protests against the government's actions, having previously protested against the ratification of the Istanbul Convention (against domestic violence) by organizing a family protection march.
The Union organized a campaign "Defend the Lithuanian Border" and accused the Ministry of Foreign Affairs of causing an influx of migrants by its foreign policy choices. According to them, if Lithuania did not support democratic forces in Belarus and oppose human rights violations by the Lukashenka regime, then there would be no problem with illegal immigrants, they argue and demand the resignation of Lithuanian Foreign Minister Gabrielus Landsbergis.
But not only local residents are protesting. On Monday, after long rains, the tents at the Rudninkai training ground began to leak, and protests erupted among camp residents. The police used tear gas. Journalists were not allowed to visit the migrants, and those, standing at the fences, shouted when they saw representatives of the media: "We are people too! Let human rights defenders see it! "
The journalists could not speak with the protesters. But all the journalists heard shouts that the ambulance did not come to tend the sick for a long time, that the conditions in the tents were not suitable for small children and people with disabilities. Some announced their intention to start a hunger strike but there is simply nowhere to relocate people.
"We need to understand that we do not have the opportunity to provide migrants with tents of the highest quality – we received something thanks to the help of other countries, we took something from the reserves. It is as it is, we can only regret that the weather is like this", said a spokeswoman for the Ministry of Internal Affairs Lina Laurinaite-Grigene.
What to do with migrants

In the situation with migrants, Lithuania acts strictly within the framework of the law. It is impossible to return the migrants back to Belarus due to the fact that Alexander Lukashenko denounced the readmission agreement with the European Union. Deportation is possible only in those countries where migrants came from. But there are no direct flights from Vilnius to Baghdad, Tehran, or Kabul.
The same situation is with the citizens of West African countries – Cameroon, Guinea, Congo, Lithuania does not have direct flights with those countries. There are flights to Istanbul, but the deportation procedure through third countries takes a lot of time, it is complicated and time-consuming.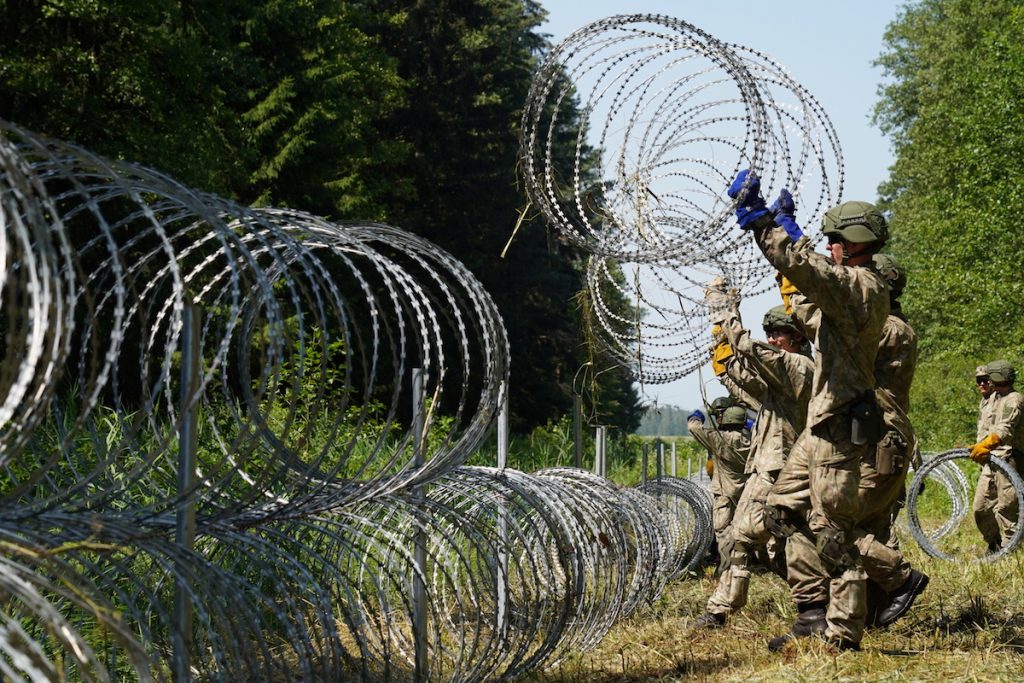 By law, the first EU country on the way of migrants is obliged to make sure that they do not travel freely within the EU until their status is clarified. If they are detained in another EU country, according to international treaties, they will be returned to Lithuania, in Lithuania, this should end either with asylum or deportation.
But now Lithuania has decided to take extreme measures.
Interior Minister Agne Bilotaite on Monday allowed border guards to return illegal migrants and direct them to border checkpoints or diplomatic missions. Those who want to apply for political asylum should apply at the checkpoint, embassies, and consulates.
Agne Bilotaite stated that international law allows the return of migrants if the decision is temporary and if the migrants are offered an alternative opportunity to apply for asylum. It is not yet clear how this will be implemented.
Influx of migrants

Of course, Lithuania has already faced the issue of accommodating illegal migrants. Approximately 100 cases of illegal border crossings per year, which were recorded earlier, did not create any special problems, and many migrants received refugee status.
After a 14-day quarantine, these people were free to go out, no one kept them under guard. Some of them left Lithuania without waiting for a decision on their status. Both then and now the target of almost all illegal immigrants was not Lithuania, but Germany, the Netherlands, Scandinavian countries.
All of such stories revolved around several families, small groups of people of 5-10 people. Now the count goes to hundreds and thousands.
Now, when 100 or more people cross the border not in a year, but every day, and everyone is asking for political asylum, the situation is completely different. Lithuania does not have enough specialists, because every case must be assessed individually and these legal procedures that last for months.
While each application is being considered, these people should be provided with housing and food, they should be entitled to benefits and medical assistance. In addition, if it is rejected, there is a possibility to appeal it and keep waiting. In general, according to experts, all these procedures can take about a year.
Taking into account the dynamics of the growth in the number of illegal border crossings, the Lithuanian government is already planning that housing will be needed for at least 40,000 people.
"Make Lukashenka take them back"

Due to the lack of space, illegal immigrants are placed at border posts, or even in offices. The tent camp in Rudninkai could solve the problem.
It is planned to accommodate about 1,500 migrants there, several hundred already live there. And the protests of local residents do not subside.
Some residents of Lithuania are actively protesting, some are not going to go to any protest rallies but they still feel anxiety and discontent over new government spending.
One of the residents of a small village in the Vilnius region, 20 km from the border with Belarus, said that her mother, who lives abroad, called with a request not to go to the forest:
"Forget the berries, do not go, you never know, the horror of what is going on with you!"
She herself is not afraid but she is outraged by the fact that the Belarusian authorities are sending tens of thousands of illegal immigrants to Lithuania: "Make Lukashenka take them back, what have we to do with it ?!"
To this day, there have been no attacks on local residents by migrants.
A pensioner from the Varensky district shares her displeasure: "It's a shame, of course, as we retire, so there is no money, but here there are whole millions to build a wall!".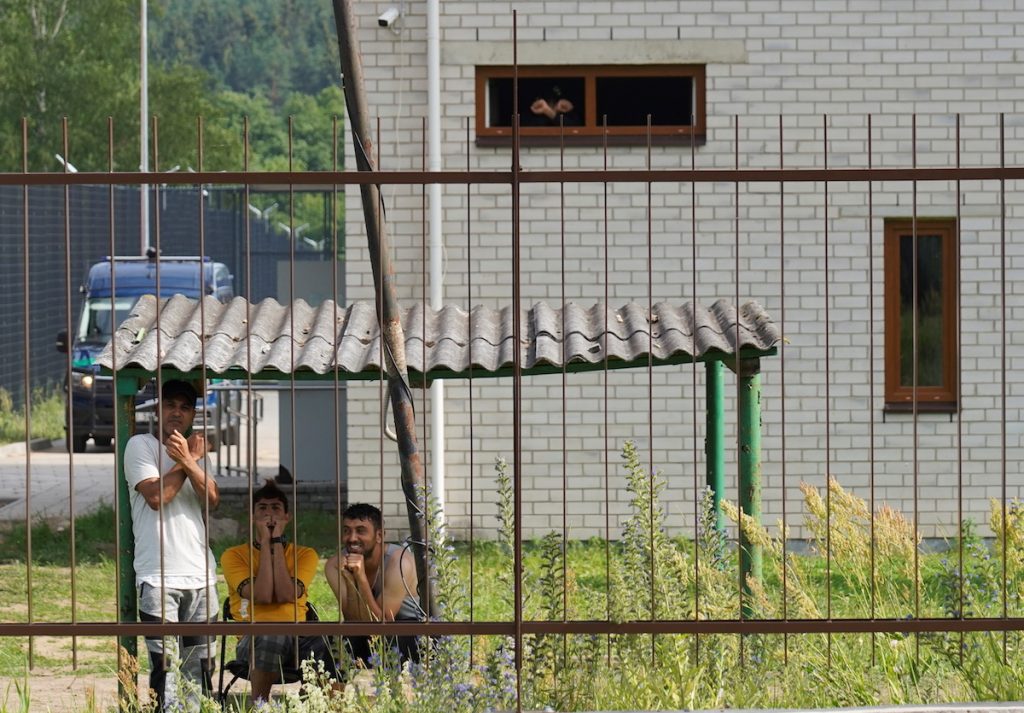 Inhabitants of Devyaniskes of Shalchininkai region are also surrounded by Belarus from three sides. There are no more than a thousand people living there. In July, they organized round-the-clock protests to prevent the authorities from accommodating several hundred illegal migrants with them. The center for migrants will be near the school. The authorities promise that migrants will live behind a high fence under protection and will not leave the center. And some parents say they won't let their children go to school.
The director of the gymnasium Lolita Mikalauskienė believes that it would be dangerous to let the children out of the building due to possible misunderstandings and provocations. She has already applied to the Ministry of Internal Affairs and the Ministry of Education.
To be better than Lukashenka

A new package of bills on this issue at an extraordinary session will be considered by the Lithuanian Seimas next week. Partial changes to the legislation have already been made. They simplified procedures for granting (and refusing) political and humanitarian asylum, and also limited the freedom of movement of migrants awaiting a decision on their status.
Some politicians and human rights activists criticize these changes as violating human rights.
Lukashenka is trying to take revenge on Lithuania for its position on the protection of human rights in Belarus, where these rights are constantly grossly violated. And now Lithuania itself is faced with problems related to human rights: among the illegal migrants there are children and adults who really need humanitarian assistance.
"It is important to note that among all persons who illegally crossed the border of the Republic of Lithuania, about 40 percent are vulnerable persons, including pregnant women, people with disabilities, persons subjected to torture, rape or physical and sexual violence, as well as unaccompanied minors and other vulnerable groups of people, – says the head of the Lithuanian parliamentary committee for the protection of human rights Tomas Vytautas Raskavičius. "Regardless of whether migrants receive asylum on the territory of the Republic of Lithuania, it is necessary to ensure basic humanitarian needs and comply with other international obligations towards migrants during the consideration of their applications."