Landmines on the Georgian-Azerbaijani border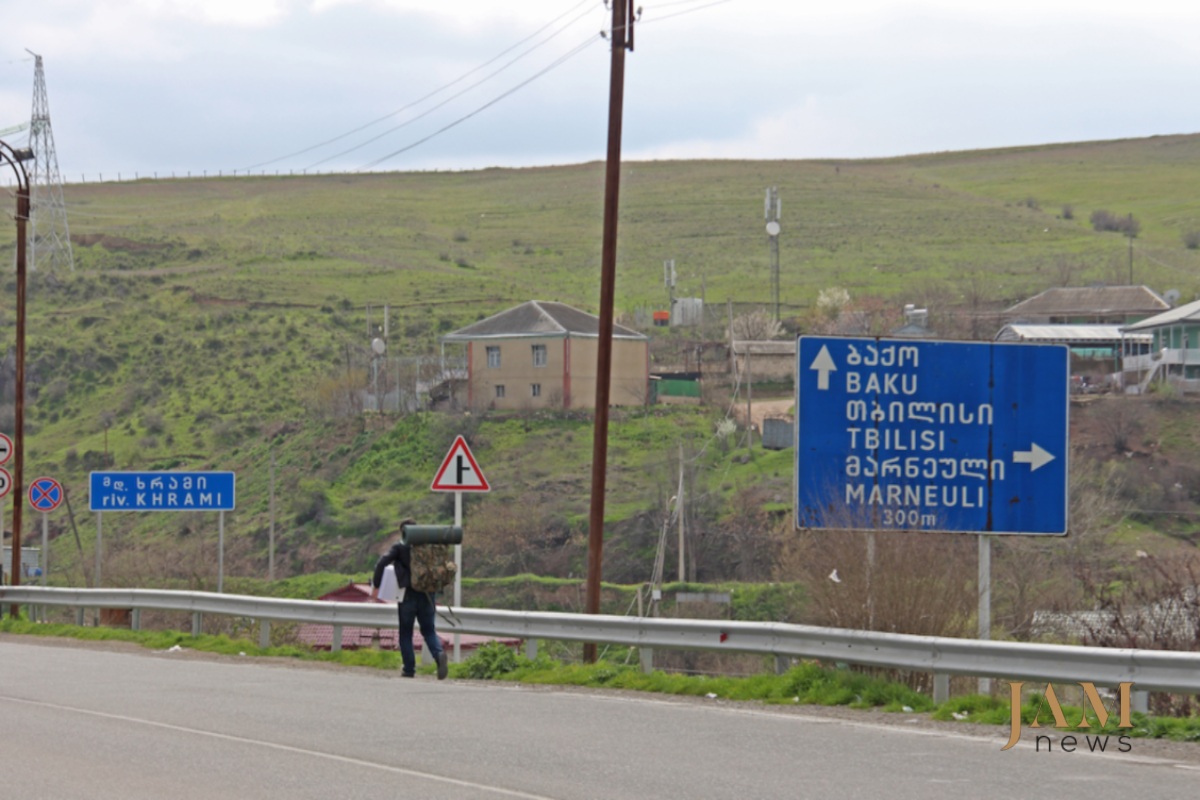 The Georgian-Azerbaijani border near the Red Bridge crossing point. Photo: David Pipia, JAMnews
There is a minefield a few hundred meters away from a large village, on the border with Azerbaijan, which is just an hour's drive from Tbilisi.
Mines have been lying there, buried for more than 25 years after the active phase of the Karabakh war. The Georgian authorities are in no hurry to clear their side of the mines, as neighboring Azerbaijan is against it.
A total of 18 incidents were reported here throughout that period: 7 were killed and several people were wounded. Mines still pose a danger to more than 4 000 residents of Kirach-Mughanlo, Kachagan and Tekali villages. Some of those who live here have been maimed by the mines. The locals constantly have to worry about their children and livestock. 
_______________________________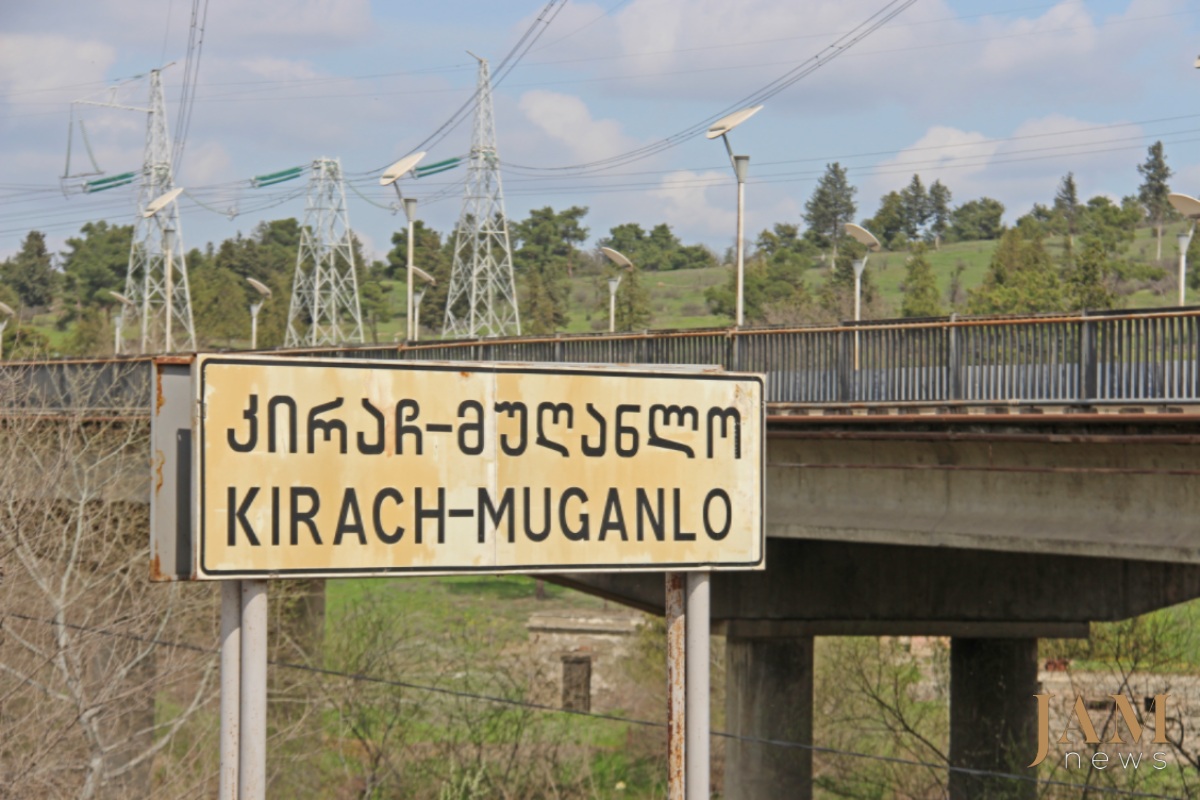 Kirach-Mughanlo is a village in the Marneuli municipality, located some 60 kilometers away from Tbilisi. There are about 1 200 residents in the village, most of them ethnic Azerbaijanis.
The border with Azerbaijan is just a few meters away from the village, and there is a steel grid stretched along it. Over 1 000 anti-tank and anti-personnel mines have been laid there, on a 100m wide and 7km long strip along the border.
This mined area is in close proximity to the rural pastures. There are neither fencing nor any warning signs installed here. Thus, any visitor who decides to take a walk in this area can easily step on a mine.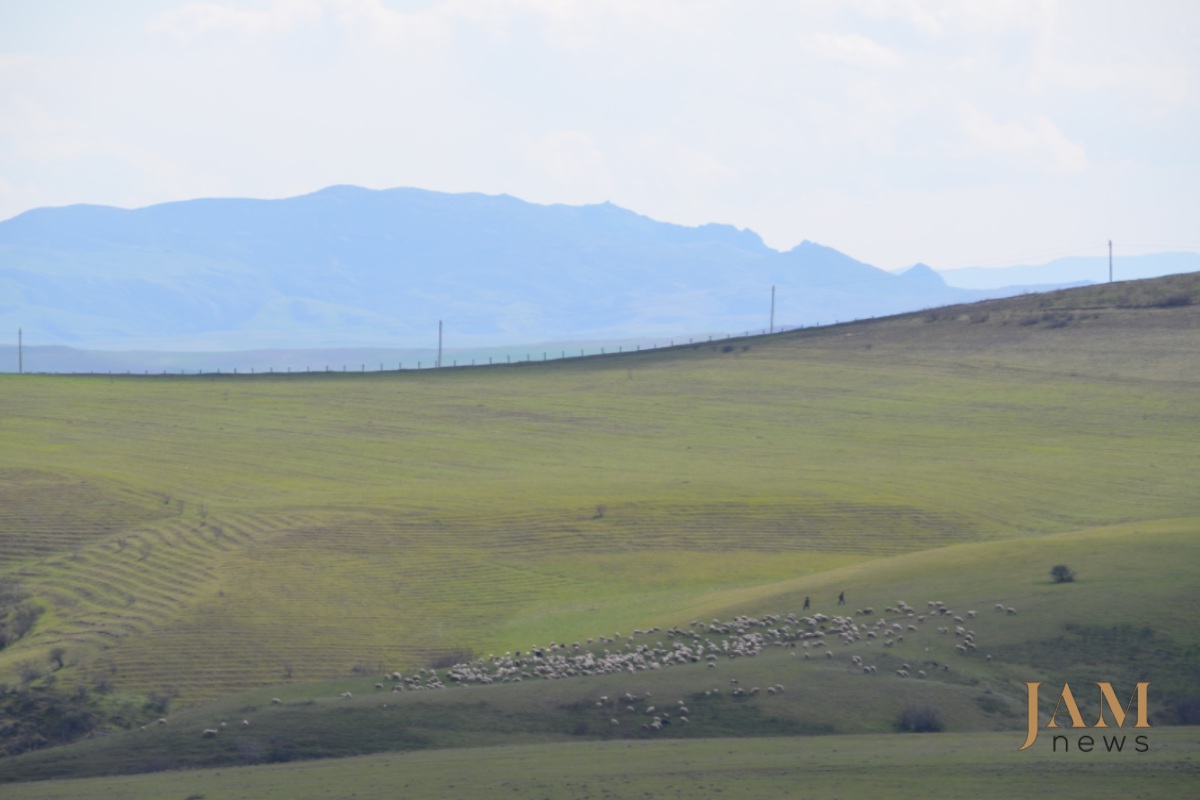 Mamish Musayev, 65, lives on the very edge of the village, in a large and well-maintained house with an asphalt yard. Mamish keeps numerous cattle and poultry (turkeys and chickens). He also owns plenty of land, but he finds it hard to cultivate it as there is a shortage of irrigation water. The family has to fetch water from a spring which is 600 meters away from their house.
"The mines are even closer, about 500 meters away," says Mamish's wife, smiling. She is out with her great-grandson who is wrapped up in a plaid blanket.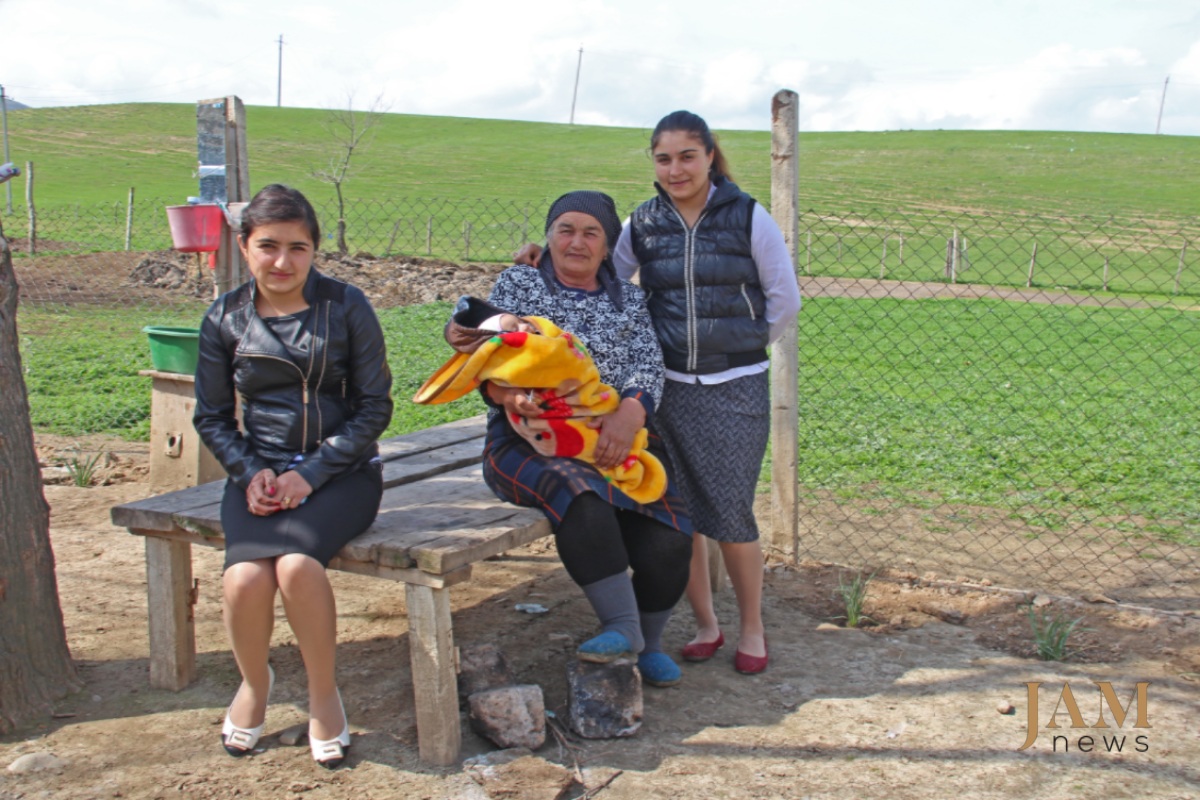 The Musayev family recalled incidents of when their fellow villagers stepped on the mines and were killed in the explosions.
"Everyone is aware of this problem. The police and the local administration know about it, but is there anything they can do? It's up to the higher authorities to solve this issue," Mamish says calmly.
Although the problem of this village is 'known to everyone', doing an internet search using the Georgian language gives no information about the mines. In 2013, the story of 25-year-old Sarhan Musayev who stepped on a mine made the headlines.
The media reported back then on 'forensic experts working on the explosion site'. However, no further explanations were offered as to how the mine appeared in a peaceful village in times of peace.
Who mined the border?
Mines were planted around the Kirach-Mughanlo village in 1991. Isa Sadygov, the Azerbaijani ex-Minister of Defence didn't deny that the area was mined by Azerbaijan.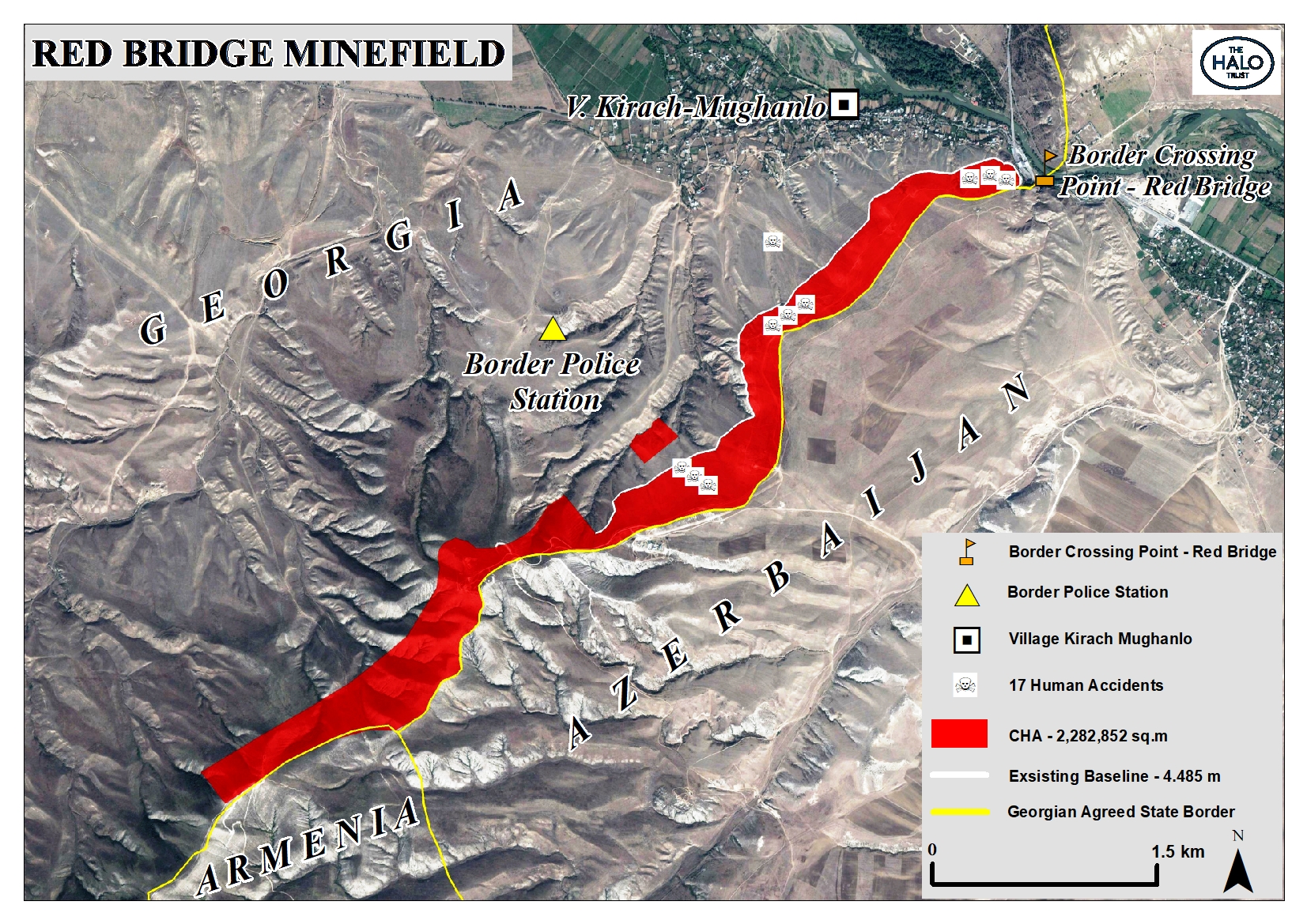 The Karabakh war (the bloodiest post-Soviet conflict) was at its height when Azerbaijan decided to mine the border near the Red Bridge, as the Georgian-Russian border ran about 5-6 kilometers away from it. Azerbaijan feared that Armenian units or individual violators could enter the country through Georgia.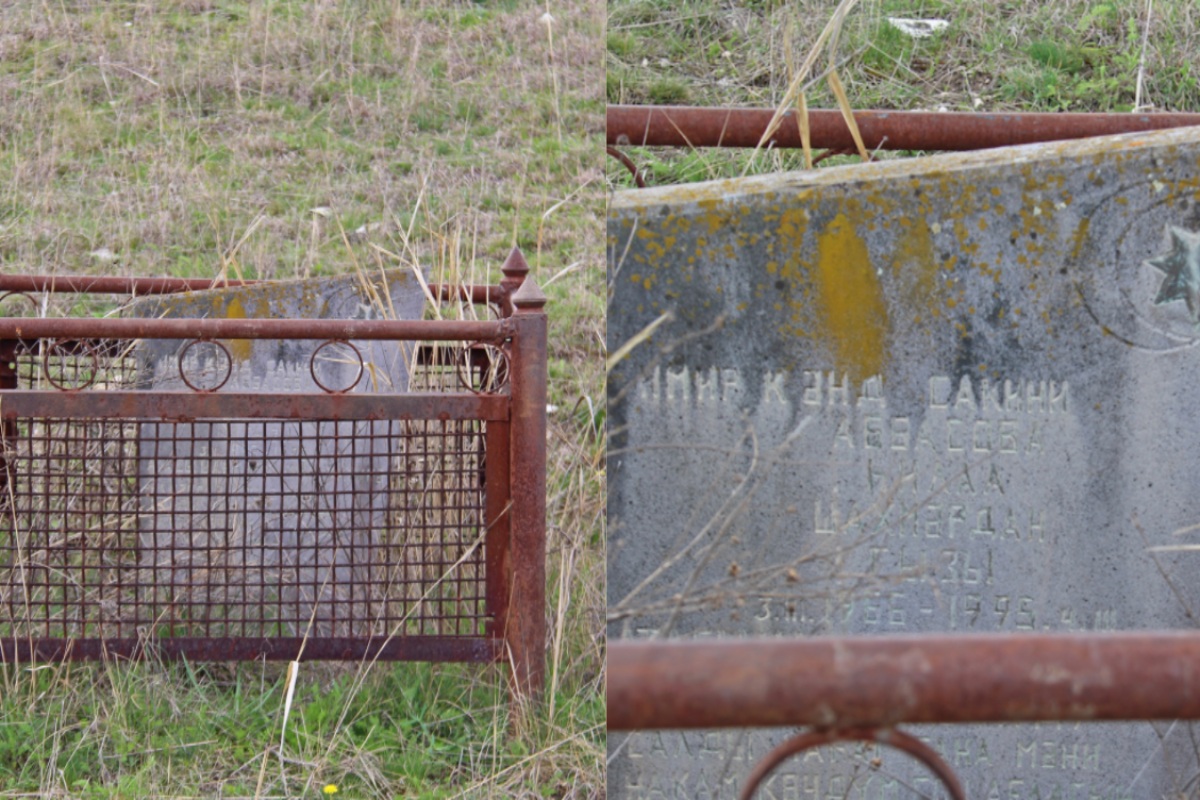 At the time Georgia was in the midst of a civil war. There were tanks driving around, every second family possessed weapons and munitions went off here and there like fireworks.
"In 1991, the Georgian authorities failed to control not only their borders, but also the capital's center. Thus Azerbaijan's defensive measures could be considered justified," said Georgian security expert Zurab Agladze.
Maimed people
Everyone in Kachagan village knows the way to Sarhan Musayev's house.
We entered the yard and called him by name. A man with a wrinkled forehead and black, messy hair cautiously looked out of his door. He squinted, as if he hadn't seen sunlight for a long time.
Five years ago, on 5 April 2013, Sarhan was visiting his friends in the neighboring Kirach-Mughanlo village. They went to find a lost cow in the evening. It was then that 25-year-old Sarhan stepped on an anti-personnel mine which blew off his left leg.
"Sometimes I feel pain, but it's not very strong and I can endure it. Doctors didn't expect that I would survive because I lost a lot of blood," says Sarhan.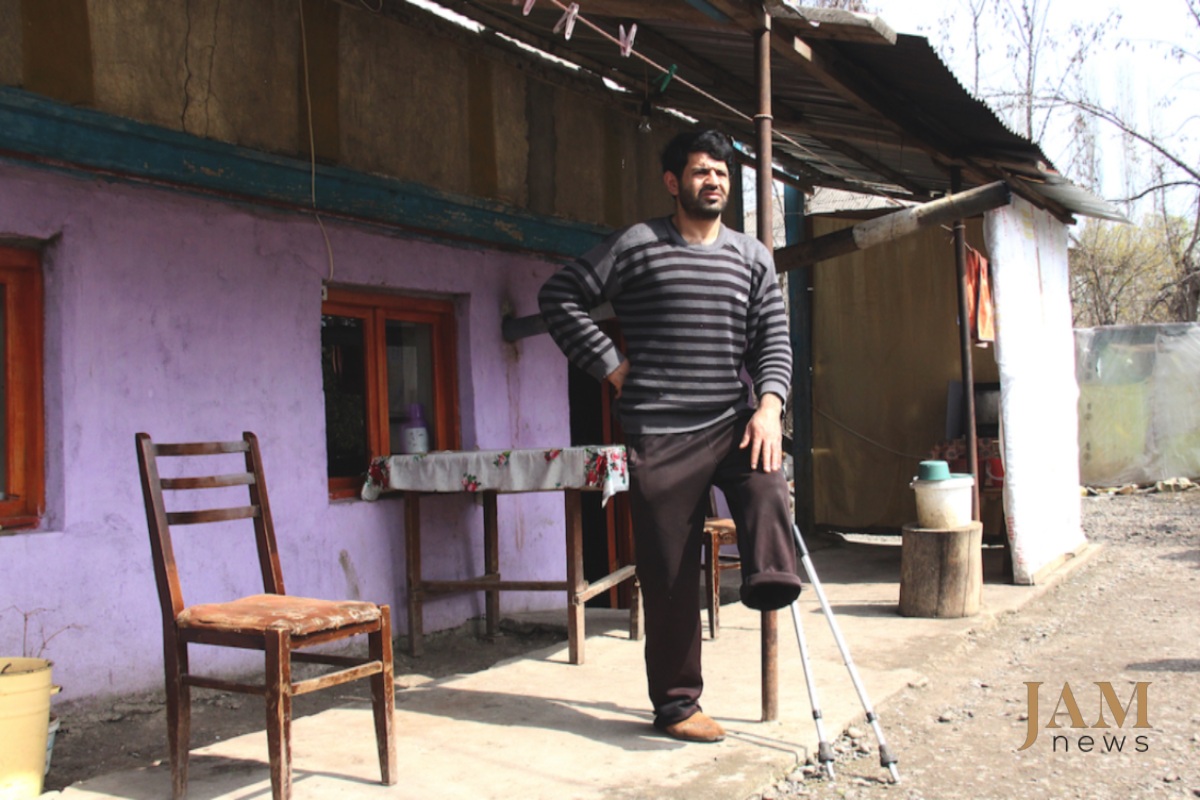 Sarkhan, who lost his left leg, receives a state pension amounting to GEL 100 (about USD 40). His family isn't entitled to any other benefits.
Sarhan Mammadov, a resident of Kirach-Mughanlo village, is yet another victim of the vague deal between the two countries. Once, when he was 12, he was playing in the field and found a metal object. He started tinkering with it, trying to figure out how it works The steel item turned out to be a landmine fuse which went off.
Sarhan is 29 years old now and he can't properly use his right hand.
'Friendly' tank visits
"I found out by chance that Azerbaijan had mined our territory," recalls a former high-ranking official from the Georgian Ministry of Defense (MoD). "They called me in the morning, saying that an Azeri tank had crossed over into Georgia. As I found out later, it was frequently the case."
The JAMnews source explained that the Azerbaijani military would cross the border from time to time to check whether the mines were there. Although it's Georgia's territory, it is actually managed by Azerbaijan. The former MoD official says that it's actually Azerbaijan who is against the demining of this area:
"When I asked why they didn't mine their part of the territory, I was told they didn't have any right to do that under the commitments assumed as part of the peace process. And we turn a blind eye to that on our part."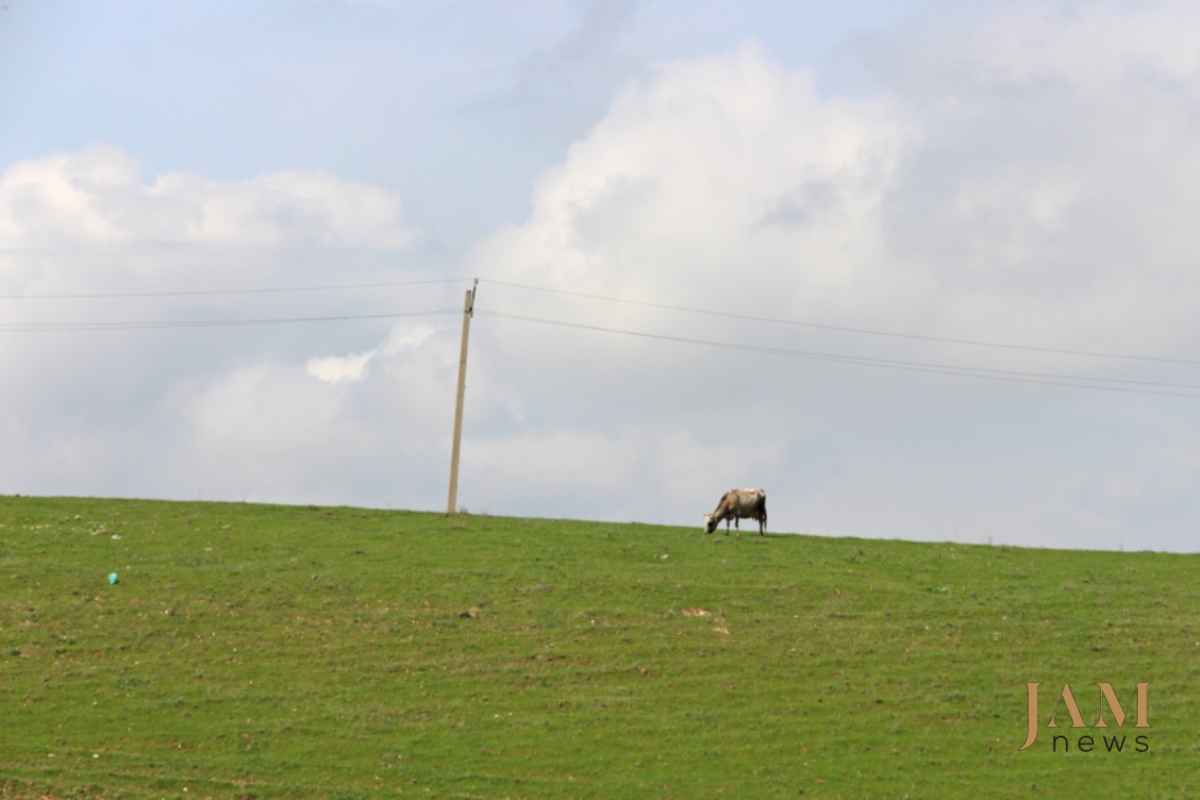 Employees from the British HALO Trust demining organization also confirmed that heavy military equipment from Azerbaijan had crossed into Georgia on a number of occasions.
On 6 July 2015 the HALO TRUST obtained permission from the Georgian Delta Scientific Technical Center (a humanitarian landmine action coordinating agency under the jurisdiction of the MoD) for conducting a technical survey in the Red Bridge area. Under the permit the organization was supposed to determine the size of the minefield and identify the types of mines planted there. However, despite having permission, the HALO Trust had to abandon those operations.
Irakli Chitanava, Programme Manager at HALO Trust Georgia:
"Upon obtaining permission, we immediately started preparing for the survey. In August, as we approached the minefield, about 50 meters away from the border, we saw that the Azerbaijani side had deployed soldiers and heavy military equipment. They demanded that we leave the area. Although we were accompanied by the Georgian Foreign Ministry and Border Police officials we still had to withdraw."
According to him, in the Kirach-Mughanlo area mines have been found not only directly at the border, but also some distance from it. In 2016 the local residents reported to the HALO Trust that they discovered a mine 800 meters away from the border. The organization appealed to the border police and the mine was rendered inert. However, the organization hasn't been permitted to survey the area and clear it of mines.
As the Georgian Defense Ministry pointed out in its official letter addressed to the HALO Trust organization, all operations on the border should be suspended until a final decision has been made. Although the defense agency hasn't given any official reasons for it, the organization's staff have mentioned in private conversations that Tbilisi intends to first discuss this matter with Baku.
The residents of Kirach-Mughanlo village shared similar stories about Azerbaijani border guards crossing the border from time to time.
"I'm not the only one who has seen them. You can ask anyone in the village," said Mamish Musayev. "Sometimes they take away our cattle. Once my flock of 35 sheep was stolen. I complained to the Georgian border guards, to the police, but I never got them back."
Pressure on Georgia?
JAMnews tried to find out details about this situation in Azerbaijan. Isa Sadigov used to serve as the Azerbaijani Deputy Defense Minister in 1992. He says that the maps of the minefield are kept at the Ministry of State Security of Azerbaijan.
"Georgia won't be able to clear that area of mines without Azerbaijan's consent. It's the Azerbaijani side that should be involved in that," said Sadygov.
However, the HALO Trust says the organization is ready to launch its operations as soon as the Georgian side consents because the organization has drawn up its own minefield map.
"The mine-strewn area covers about 2.2 million square meters. It will take about 2 to 3 years and up to USD 3 million to clear the area. If the Georgian government agrees, we will turn to various donors and will try to raise the necessary funds from the governments of Japan, the USA and some other nations – friends of Georgia," said Chitanava.
Isa Sadygov believes that Azerbaijan is exerting pressure on Georgia.
"This border strip is the subject matter of bargaining between Azerbaijan and Georgia. After all, the process of demarcation of the Georgian-Azerbaijan border hasn't finished yet, and there are still some disputed areas. Perhaps Azerbaijan is using this factor to pressure Georgia," he told JAMnews.
[There is for example a dispute between Georgia and Azerbaijan over an area adjacent to the David Gareji monastery – JAMnews]
"Anyway, it's inhumane to leave mines in an area that borders a populated area," Sadygov said.
Military expert Zurab Agladze believes that the existence of this minefield is a political issue.
"Azerbaijan is regarded as Georgia's partner and friend. Therefore Georgia probably defers to it in exchange for something, and for that very reason it is in no hurry to demine the area. However, there's another side to the story. If this area hasn't been marked in any way and the mines pose a danger to people, it means a disregard on the part of the government which is committed to protect its citizens," said Agladze.
Strategic partner
Azerbaijan (along with Ukraine) has been named as Georgia's second-friendly nation after the USA – according to a survey conducted in Georgia by the Caucasus Research Resource Center (CRRC) at the end of 2017.
Today, Azerbaijan is Georgia's key partner and neighbor. There are numerous energy and transport projects linking Georgia to this country. It's due to Azerbaijani energy resources that Georgia managed to achieve energy independence from Russia. Azerbaijan is the largest trading partner of Georgia.
Azerbaijanis are one of the largest ethnic groups in Georgia. The Azerbaijani population is estimated at 223 000 people or 6% of the country's overall population (according to the 2014 census data), most of them residing in the Kvemo Kartli region of southeastern Georgia.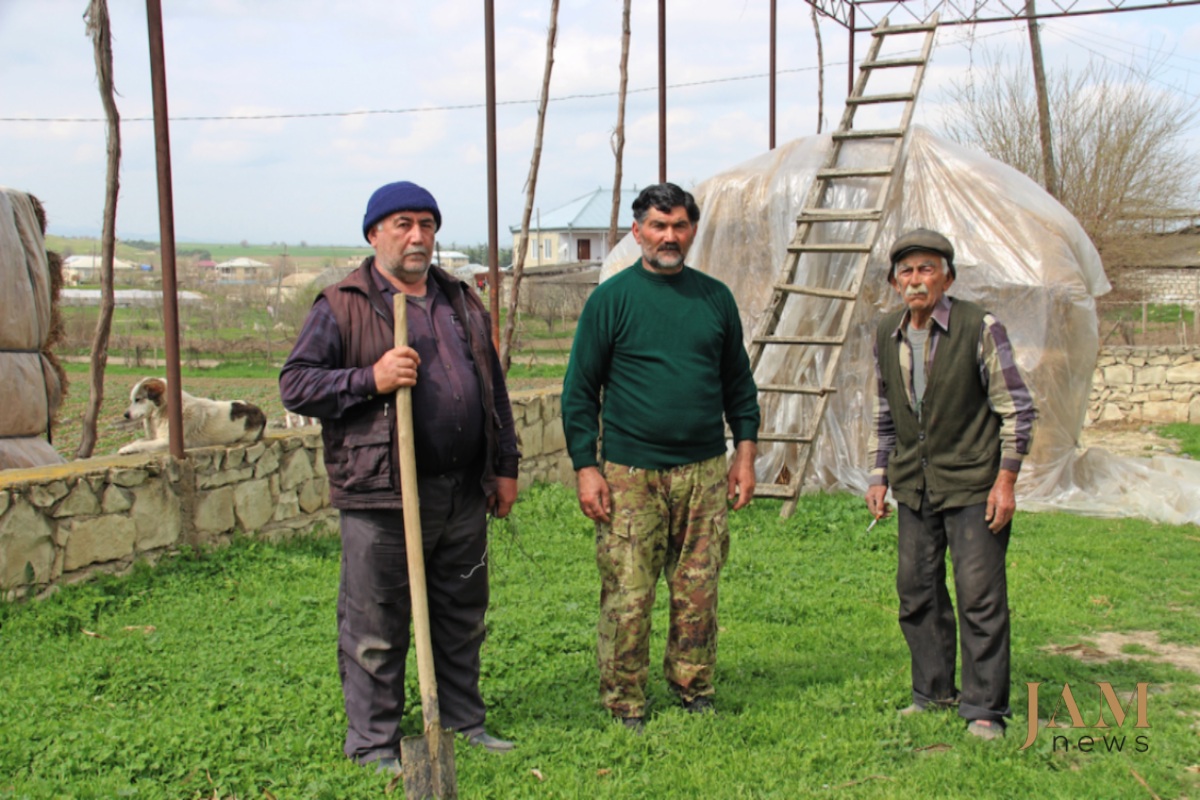 However, in the past few years, after the abduction of the Azerbaijani opposition journalist Afgan Mukhtarly from Tbilisi, many in Georgia look at the close co-operation between the two neighboring countries from a different angle.  
Georgian politicians and experts often note that Tbilisi should have a more principled position with regard to its neighbor and its relations with Azerbaijan should be based on the principle of equity.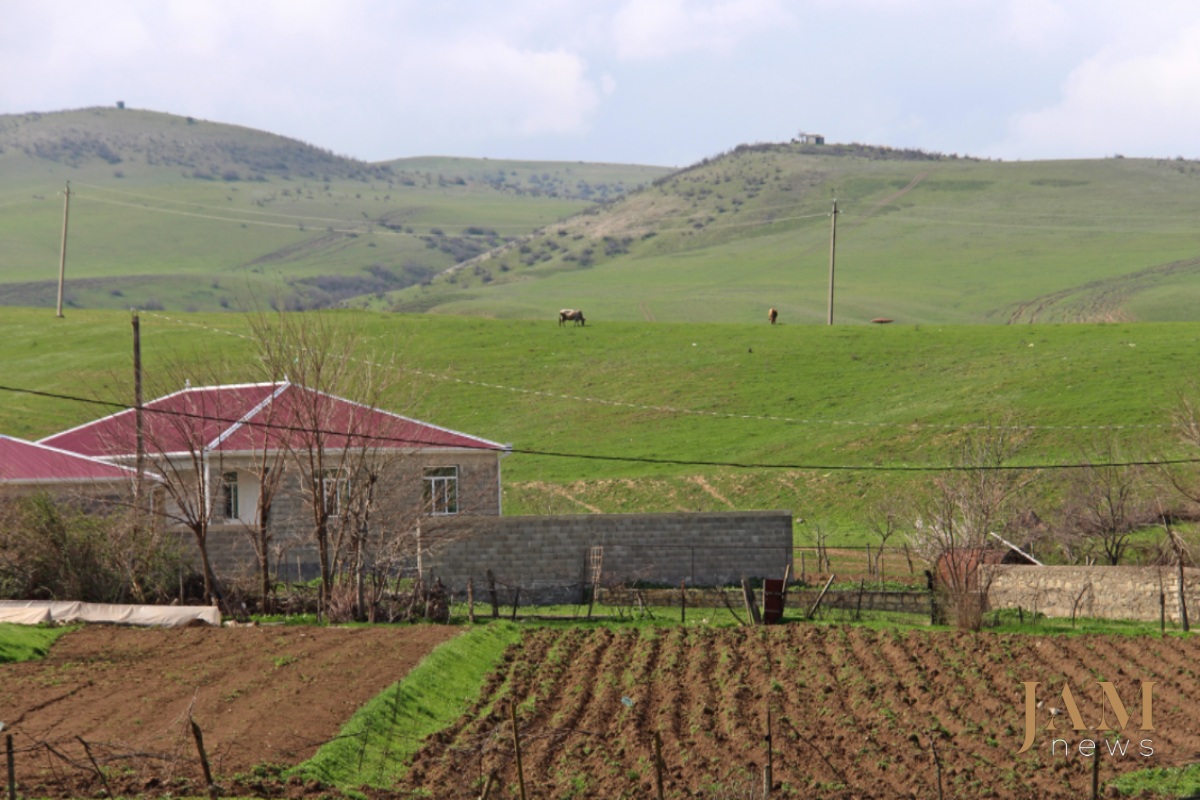 _______________________________
For the past 27 years, the residents of Kirach-Mughanlo village have learned to live with the mines.
Rain, snow and wind have exposed part of the mines that are buried in the ground. Shepherds who pass by the minefield every day frequently find them.
Mines can easily be detected in winter as they are more visible then, especially if there is no snow. However, this task becomes harder in summer, as everything is covered with green grass. So one has to walk more cautiously.
"When shepherds find a mine, they usually lay stones around it so as to mark the place," says Shamshir Mammadov, a local resident.
"Who should we complain to? It's hard to live like this. If a child is late getting home, the parents would first of all fear that he/she could have gone to the minefield. You know how many cattle were killed in landmine explosions? You breed the cows, you work hard and then, all of a sudden, you sustain such losses," complained Shamshir.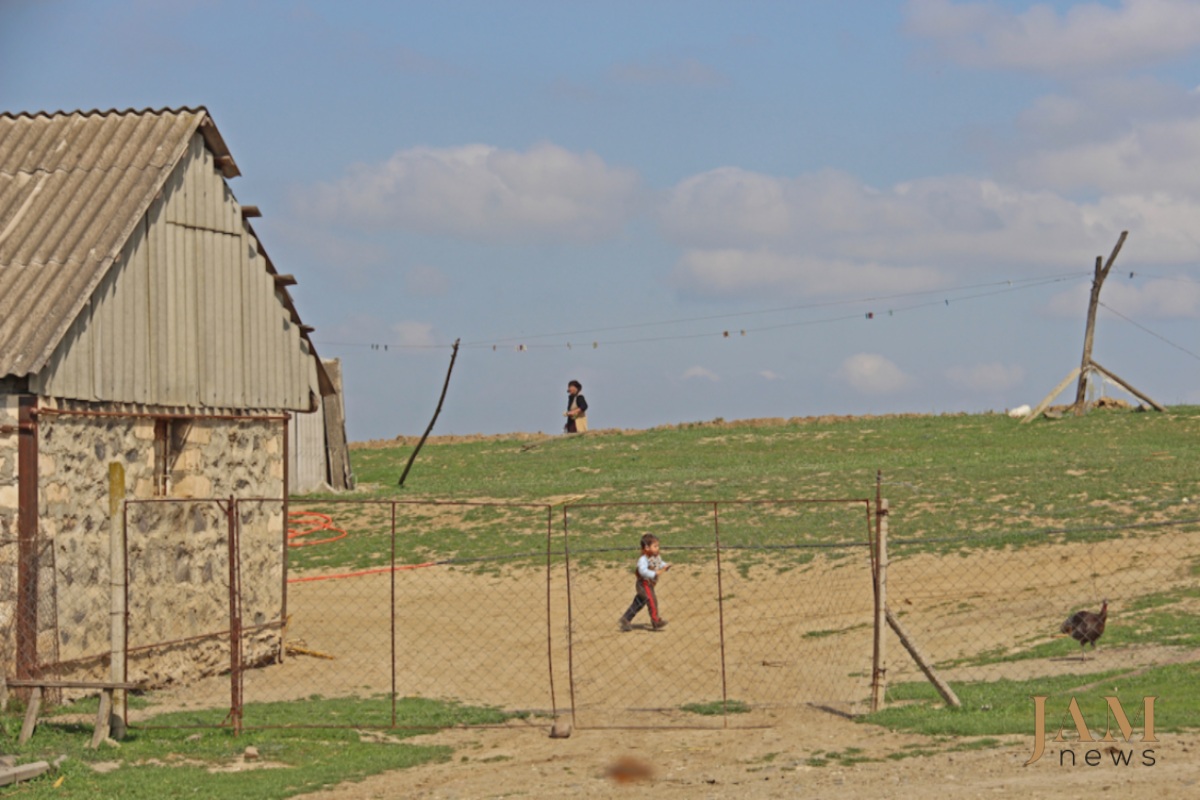 When working on this article JAMnews made inquiries with the Ministry of Defense, the Foreign Ministry, the State Committee on Delimitation and Demarcation of the Border and the Border Police of Georgia. However, none of the aforesaid agencies have responded so far.
* Author: Sopho Bukia, editor of JAMnews in Tbilisi