Kokoyty plans a comeback
Eduard Kokoyty has left South Ossetia in 2011 after five years of presidency and the political crisis and seemed to be well forgotten since. But now his supporters claim he is ready to run again.
Who is waiting for Kokoyty in South Ossetia? Must be the independence supporters
Kokoyty has left the political scene after the contradictory 2011 presidential elections. AllaGioeva has become the hero then, promisisng new political and economic perspectives for the country and less dependence on Russia. Eduard Kokoyty has lost popularity because of corruption and low quality management allegations and left South Ossetia for Moscow.
Since then Kokoyty has been closed for the media. His name has surfaced again in the wake of the upcoming presidential elections, due preliminary in April 2017.
Taira Gagloeva, the press secretary of the People`s Party, still loyal to Kokoyty, recently published the FB post named "Kokoyty: I will run for the presidency in South Ossetia!
She quotes his address:
"We should care about the interests of the people and the future of the country. The independence of South Ossetia is the priority! This is the precious diamond. For unclear reasons some would like to get rid of our independеnce, that was won by all of us.
The discussion on the future of South Ossetia is likely to become the key issue at the elections. For years two strategies have been discussed:
1)    Build an independent state and struggle for international recognition;
2)    Reject independence  and reunite with North Ossetia – that is, become part of the Russian Federation.
During his presidency, Kokoity was rather inconsistent in this issue. For example, in 2008, after Moscow had recognized the independence of South Ossetia, he immediately stated about his plans to make it  part of Russia.  
Whereas now, Kokoity obviously adheres to the first path. He even claims he does not support the popular idea of a referendum, meant to choose between the two strategies.
"The blood we shed is the best proof that we stand together with Russia, and a referendum does not make any sense now. Is that blood insufficient?,TairaGagloeva quotes Kokoyty.
Who is not waiting for Kokokoyty? A more complicated question
"I want every one to know, that I do not support any candidate, Iwillrun. IamwiththepeopleofSouthOssetia", Kokoyty declared on Gagloeva FB page.
But he is to face certain obstacles.
In 2016the 10 residence qualification was introduced in South Ossetia. Kokoyty has not been living in South Ossetia since 2012, spending time in Moscow and Alagir (North Ossetia), and cannot be registered as a candidate.
Roland Keleskhaev, an expert from South Ossetia:
– Kokoyty found himself in the trap, he had installed back in 2011. If he cannot run, he is likely to support his protégé or someone, who will guarantee that he remains on the South Ossetian political scene. If Kokoyty does not show up at the upcoming elections, in 5 years he is likely to be forgotten completely.
Another obstacle is his negative reputation in South Ossetia.
ThenewsofKokoytypossiblecomeback provoked immediate massive criticism and accusations. Firstthinghisopponentsreminded, that in August 2008 Kokoyty, the commander-in-chief then, fled from Tskhinval to Java in the wake of the Georgian army attack and returned only after the situation had been taken under control mainly by the volunteers.
Kokoyty supporters keep on reminding, that it is under his presidency the Russian Federation has recognized South Ossetia. His opponents argue, that the bulk of the Russian financial aid to restore South Ossetia after 2008 has been stolen.
Rolan Keleskhaev reminds, that no account has been provided by Kokoyty aides, on how the financial aid, received in 2008-2012, was spent. "It is over 30 billion rubles ($470 million)
Accusations of 1.2 billion roubles (over $30 ml) from the special account meant for the same purpose, turning into $300 000 by the moment Kokoyty left the office are also easy to be found in FB. The rest of the money vanished.
Keleskhaev considers new Kokoyty initiatives "stupid and sees no perspective for his comeback. "His attempts to influence the campaign may cause instability and protest.
What does Moscow think?
Since 2011 Kokoytyhas held no office in South Ossetia or in Russia. Occasional reports of him taking part in the events, organized by the cossak organizations or the Russsian Orthodox church, cause little interest in South Ossetia. The fresh rumours had it, that Kokoyty had accompanied the Russian leaders to a submarine and is working on the plan to annex region around Stepanatsminda (Kazbegi) from Georgia.
The message was, that Moscow possibly supports Kokoyty.
But Moscow has already made it clear that it is not interested in Kokoyty participating in the presidential elections, and he will have no support. The clear signal came in summer, when Kokoyty was called "the outsider in the Center for Current Policy report, and his potential comeback – "a destabilizing factor.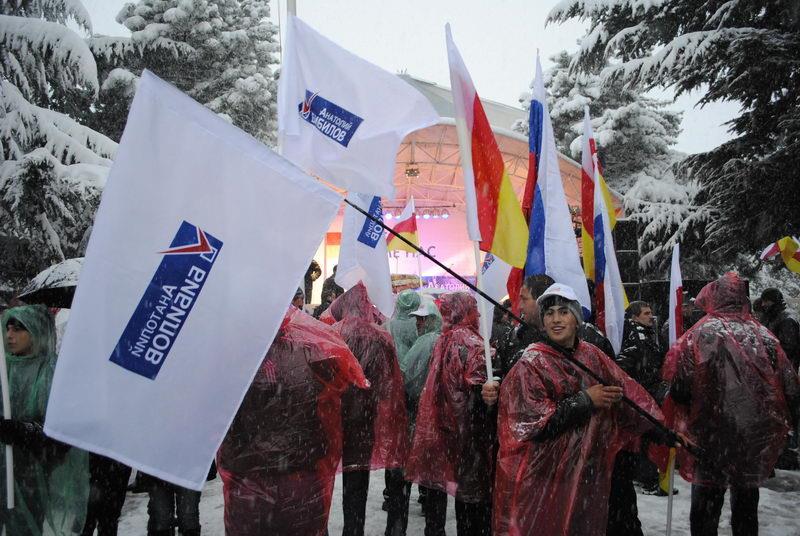 The opinions, expressed in this article convey the author's views and terminology do not necessarily reflect the views or opinions of the editorial staff