Independent Azerbaijani theatre suing Ministry of Culture for right to perform in street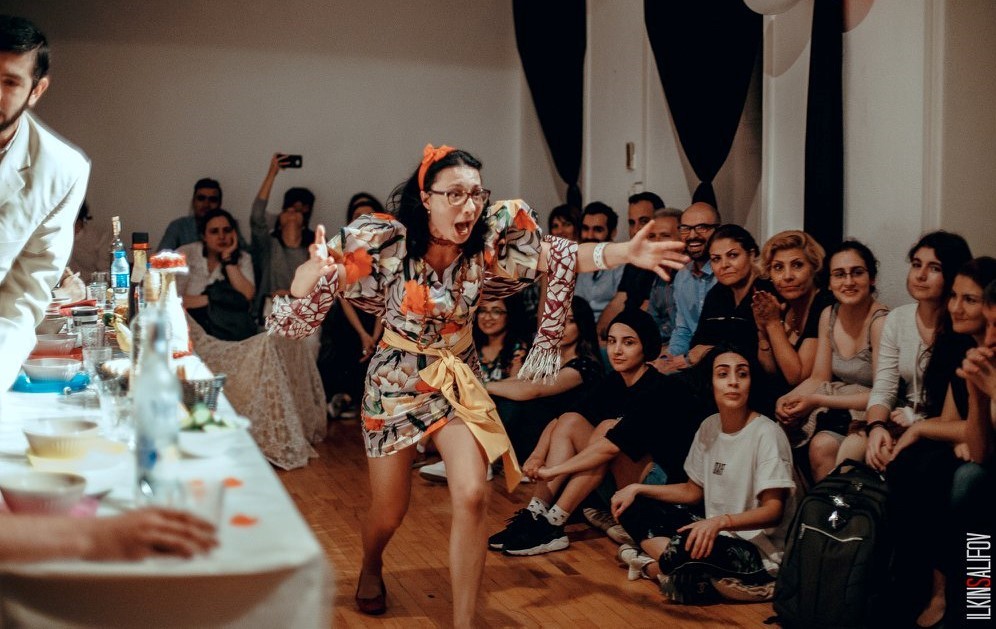 The private theater company ADO filed a lawsuit against the Azerbaijani Ministry of Culture and Tourism, demanding an official response about holding street performances. The theater has already been trying to get permission for two years, but so far they have only received oral refusal without any explanation.
• Azerbaijan's artistic underground – caught between a calling and a government
• Blind musicians and their unique project in Armenia
• Fouetté the Georgian way. Three-part photo story about Georgian ballet
ADO's "Inappropriate" Theater
ADO is one of several private theaters in Azerbaijan. АDО – один из немногих частных театров в Азербайджане. It's repertoire consists mainly of "informal" productions, slapstick comedy, and eccentric performances. Sometimes, with elements of eroticism. In Azerbaijan, ADO's work seems strange and indecent to many.
The theater has been around for six years. Its relationship with the Ministry of Culture and Tourism has always been somewhat strained. Last year, when ADO had problems finding a space to perform, the Ministry offered to "take them under its wing" under the condition that the performances would be censored. The theater declined.
 The "Fight for the Streets"
On September 26, 2019 the artistic director of ADO Elmin Badalov received a definitive "no" from Ministry representative Kenul Jafarova. However, she did not justify the refusal and did not agree to formalize it in writing.
One day later, Badalov met Minister of Culture Abulfaz Garayev during an event and gave him a piece of his mind.
"I demanded that the minister lift the ban, and basically, to resign. I enumerated to him all the problems with our culture, shouted them after him as he left the hall. And I will do the same at every event until the ban is lifted," wrote Badalov on his Facebook page. Бадалов на своей странице на Facebook.
The theater's lawyer, Samira Agaeva, spoke with JAMnews about what happened next:
"We appealed to the court with a demand to give an official and justified answer, as is in compliance with laws about reviewing citizens' complaints. That is, we want an explanation written to the theater about why they are being refused permission. If the answer does not satisfy us, we will file claims with higher authorities, up to the Supreme Court. If this does not bring results, we will file a complaint with the European Court of Human Rights, and then the lawsuit will become a concern about a violation of the right to freedom of expression. "
ADO is also still waiting for a response from the administration.
There are practically no street performances in Baku, with the exception of those organized by the government.