Azerbaijan's artistic underground – caught between a calling and a government
S
omething akin to a military council is taking place in this large hall –  a dim room filled with old, barely usable chairs, and only a small space in front of the screen is lit.
Twenty people have gathered in the bright spot. Photographers, artists, musicians, architects, feminists, journalists – Baku's creative youth, bohemians, the underground. The youngest is two years old. The curly-haired boy tries to reach the keys of a broken-down piano, while his father, along with the rest, decides how to save this building from demolition.
"When we got settled here, we knew, of course, that the building was old, and sooner or later they would ask us to leave. But we did not think that it would happen so soon", explains Leyli Gafarova.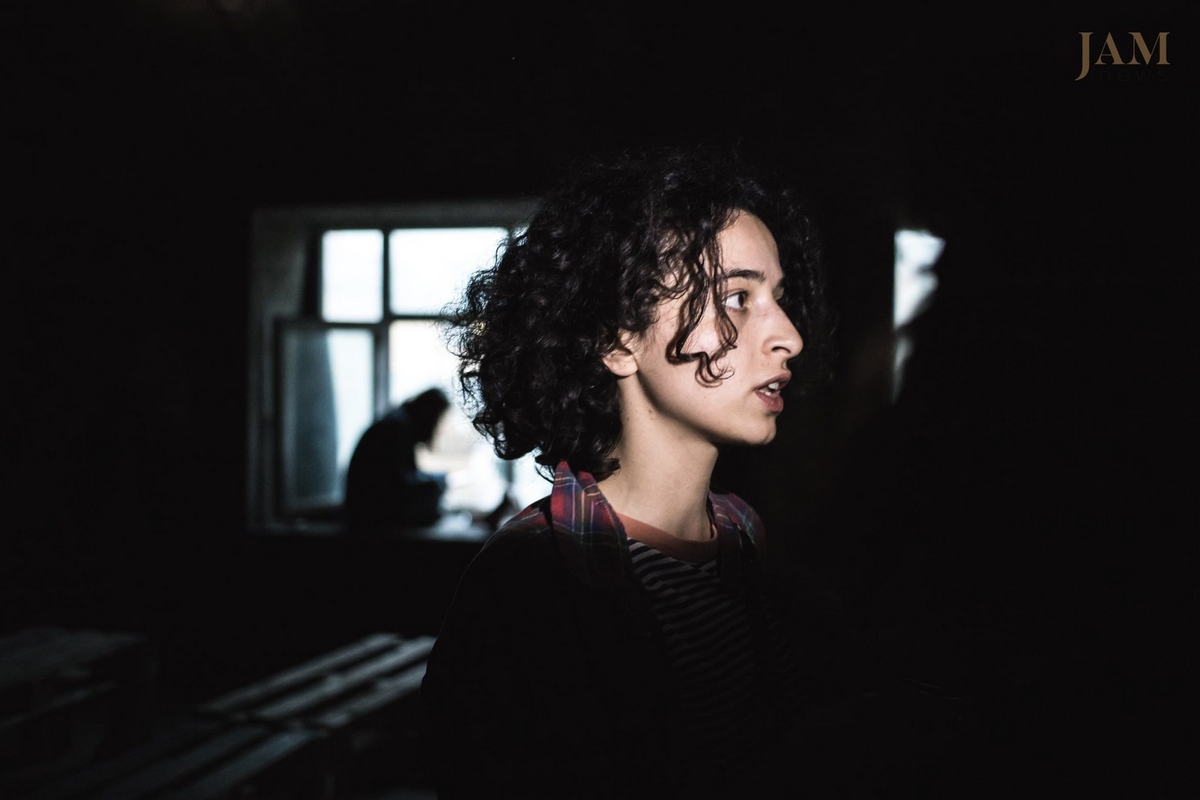 Leyli Gafarova. Photo: JAMnews
At the end of 2018, Leyli and her husband, Ilkin Huseynov, and several of their friends rented a two-story building in the centre of Baku and set up the independent SalaamCinema movie theatre inside.
The building was built in 1913, and used to be a former house of worship for Molokan Christians. The Molokans were expelled from Tsarist Russia for their faith in the 19th century and settled in the Caucasus, including Azerbaijan. [/ Notification]
For several months, bohemian youth chose this place as their hang out, where they not only watched movies, but also organized exhibitions, sang, drank, argued, got acquainted with "their own kind."
But in early May, a representative of the owner appeared on the threshold of the door of SalaamCinema and ordered the tenants to "clean out." He told them the building would be either restored or demolished – though he mentioned that which of the two 'did not concern' them.
The administrators of SalaamCinema negotiated for a delay. Sitting in this darkened hall, they frantically thought out what to do to save the building and that they would not be expelled onto the street. They decided to occupy the building.
And thus began the defence of SalaamCinema – the most ambitious (and the most fun) youth demonstration in Azerbaijan over the past many years.
Spoiler: they won.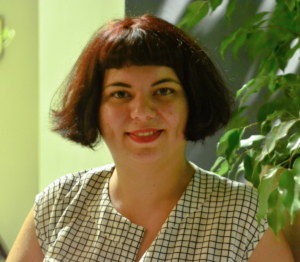 Sabina has been going to SalaamCinema since day one. Sabina is an architect who wants to create a friendly urban environment in Baku and loves places where "they show what they cannot see in other galleries or cinemas where there is no pathos, glass wine glasses and you can come in any clothes and feel at ease"
What is the underground and what's the SalaamCinema?
The underground in Azerbaijan is a community of "progressive" creative young people engaged in art and social projects without relying on the support of the state.
The story of SalaamCinema helped this community speak out loud and attract new "adepts".
This is not about contemporary art as such. Because in Baku there are other creative associations specializing in contemporary art and which attract young people. But they are supervised by the state, which in turn dictates certain rules.
Now the alternative creative community of Azerbaijan is an "archipelago" of several groups and individuals interacting with each other.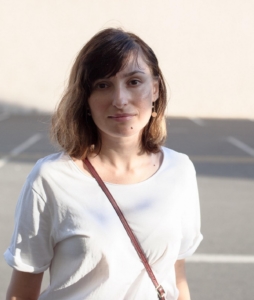 Natavan Vakhabova is a photographer, who often comes to "alternative get-togethers", but she does not consider herself to be an explicit member of any group. "I like to be in places and communicate with creative people who think differently, their art is different. Not 'smooth', like other contemporary artists. It more deeply touches on social themes", says Natavan. She herself is now also working on a social project – making a series of photos in a women's shelter.
Cultural shock for the Ministry of Culture
"We have no problems with the state. They have problems with us", says ADO artistic director Elmin Badalov.
ADO is the first independent theater in Azerbaijan. In six years of work, they have changed venues six times: they have had to move out because of police visits, then high rents and other reasons.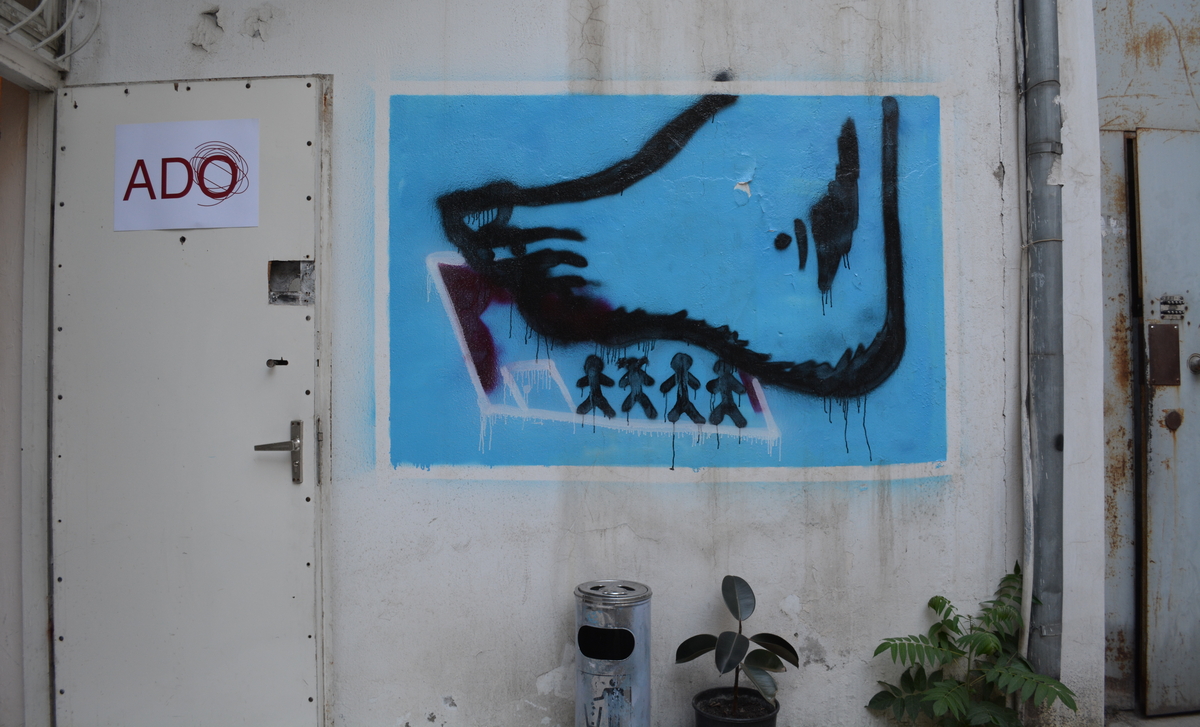 Photo: Bashir Kitachayev
They almost lost their present building too, and even turned for help to the Ministry of Culture. Officials came to one of the performances, saw people in strange tatters, devouring pasta in a frenzy, and then offered all kinds of assistance in exchange for control of the repertoire. The artists refused.
In addition, the Ministry of Culture for several years already has prohibited the theater to put on street performances in Baku. And Elmin Badalov, when he enters or leaves the country, goes through long checks and questioning at the border.
The ADO repertoire includes some "crazy" modern performances, expressive, symbolic and very "indecent", according to the standards of conservative Azerbaijan. Here on the their stage, you can hear and see things that you won't on the street – such as the word 'penis.' Or you might see actors and actresses walking around in their underwear. Or children's fairytales turning into hallucinations.
Not only Baku
In general, the entire Azerbaijani underground in one way expresses itself like in this fashion: by teasing what is essentially a shy patriarchal society, or trying to remake it through art. This goal is pursued, for example, by Murad Nabiyev.
Murad stumbles into the courtyard of the SalaamCinema with a backpack on his back in a mood. He loudly shouts a greeting in such a way that the cats peacefully grazing on the table give a start.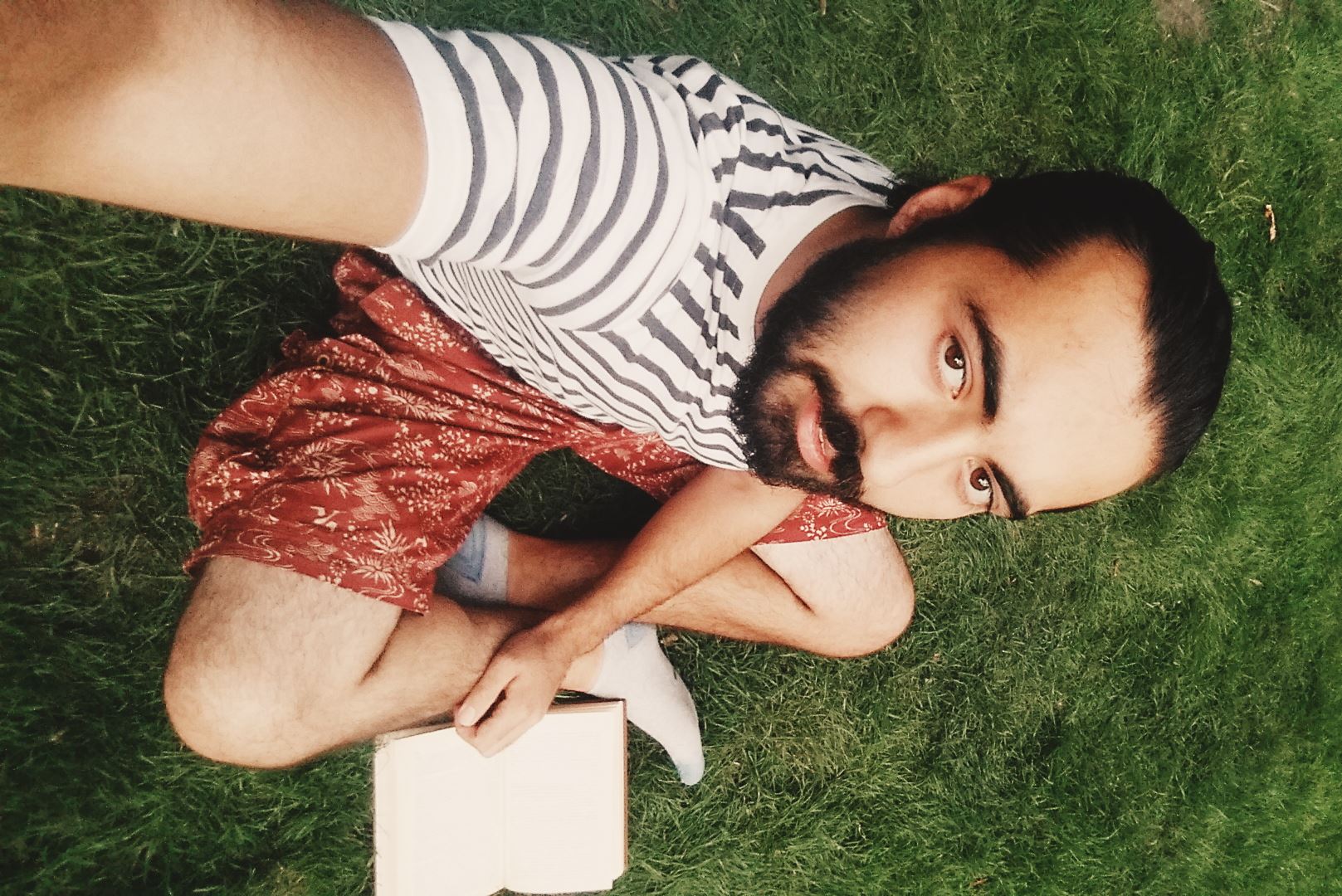 Photo: Facebook, Murad Nabiyev
Thirty-year-old Murad has been living in two cities for several months. Previously, he and his friends in Baku ran a venue called "Çıxış" [Az. exit], which held different kinds of events: from rock concerts to lectures on the role of Marxism in family life.
Then the venue had to be closed – there was no money to pay for the rent. After that, Murad went to his hometown of Ganja in the west of Azerbaijan and discovered there something similar called Art Garden. True, in Ganja, morals are stricter than in the capital, modern art is regarded with suspicion here, but Murad still managed to lure young people to drawing lessons, workshops on cinematography and even rave concerts.
"What I and my friends are doing has a social burden. Through art, we fight gender stereotypes, homophobia, cruelty and indifference towards animals. We want Azerbaijani society to become healthier in every sense", says Murad.
He himself is a vegetarian and supports the idea of doing away with plastic altogether. Çıxış was perhaps the first place in all of Azerbaijan to use pasta instead of straws. Maybe it was a bit inconvenient, but it was certainly more environmentally friendly.
Alternative coffee
Coffee-Moffee is already crowded by noon. Freelancers sit here with laptops, students cram for exams and social activists consider their next moves.
This cafe is one of the elements of the "underground infrastructure". Such establishments, as a rule, are opened by members of certain cliques and cater to other members of these social groups. In Baku, a city of three million, there are just five or so of these institutions – including thoroughly smoked bars, where local rock bands perform, and a "wandering" nightclub, which had to abandon the permanent site due to lack of clients.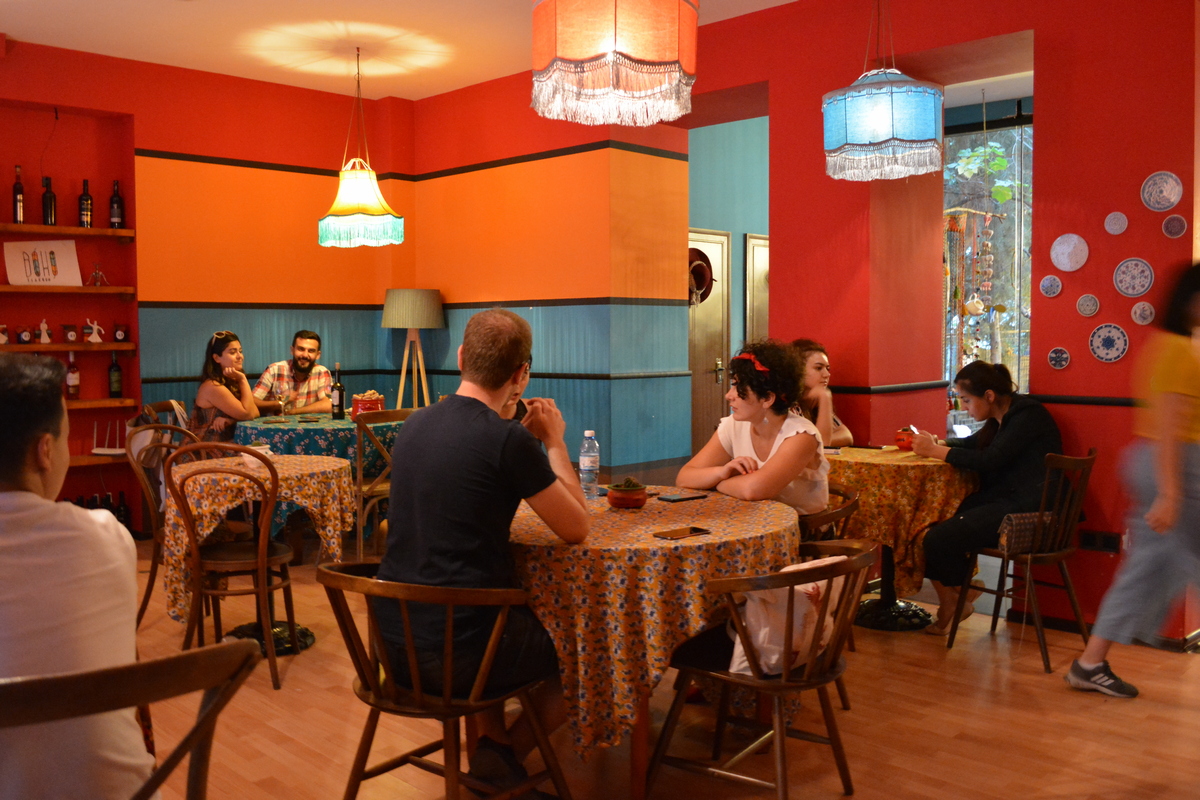 Boho. Photo: Bashir Kitachaev
Araz Hajiyev runs into Coffee-Moffee to complain that he again has lost his dog – a lame, shaggy mongrel Rasta, who is also practically a member of the underground community. Here, a couple of hours later, he comes back to report that Rasta was found. Araz organizes forays into nature, dances to electronic music by the fire on the beach and calls his team a family. The organization of "events" among Azerbaijani art activists is much more popular than long-term projects.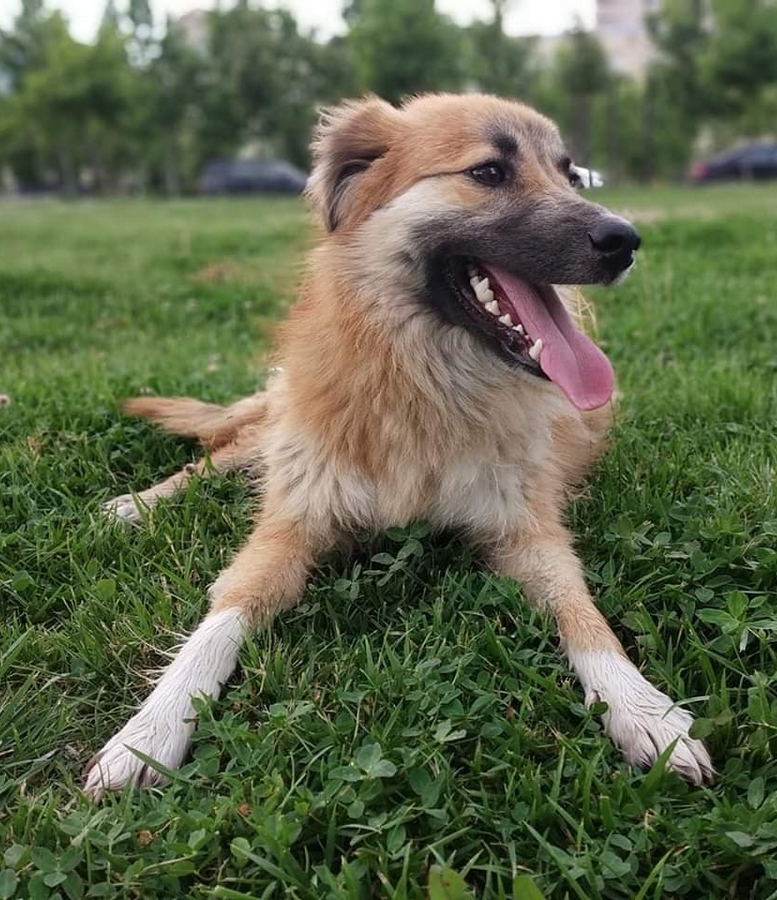 Rasta. Photo: Facebook
The underground and politics
The SalaamCinema defence lasted for about a week, and during this time about two hundred people managed to join in the fray. Many of those who came here for the first time in those days "got accustomed to the lifestyle" and now hardly leave. 
For example, 23-year-old Alexander. He works in a hotel, writes experimental music and more recently considers SalaamCinema his second home.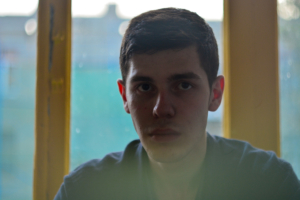 Alexander dragged his entire musical arsenal here, from bass-guitar to Anatolian bagpipes and African drums, and now he improvises along with others. Fortunately, the neighbors at SalaamCinema are either very kind or deaf.
As for politics, at first nobody wondered if the Azerbaijani underground was far from the eyes of the authorities or close. But when the campaign to protect the building acquired a serious scale, it was time to decide what it was: a cultural demonstration or a political one.
In order to ensure that the building was given the status of a historical monument, the SalaamCinema organizing committee sent letters to many people, including First Lady Mehriban Aliyeva – the first lady and vice-president of the country. In Azerbaijan, this is considered a reliable method when help is urgently needed.
The building was saved. But many were outraged that SalaamCinema turned to the president's wife for help. "Writing a petition", they said, "discredited" the very idea of ​​protest and independent art.
Former political prisoner Qiyas Ibrahimov called the SalaamCinema advocates "unprincipled political ignoramuses" who are not interested in anything but their own bohemian hobbies.
"In the struggle of the oppressed there is no place for opportunists, conformists, 'ordinary citizens', apolitical pseudo-intellectuals. You just get in the way under our feet. You will not change this country, so stand aside", Qiyas wrote on his Facebook page.
Bayram Mammadov and Qiyas Ibrahimov were sentenced to 10 years each on charges of drug trafficking after the appearance of graffiti on the monument to the ex-president of Azerbaijan and the father of the current president.
Bayram Mammadov, a friend of Qiyas and also a former political prisoner, comments this case in the following way:
"Of course, underground art cannot be apolitical by definition. There can be no apolitical thinking of people who are forced to hide 'underground' from a repressive state apparatus. Unfortunately, our society is experiencing an ideological crisis, and many of the ideologies existing here are not ideologies, but their distorted likeness."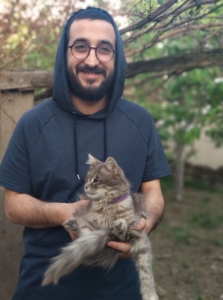 Bayram Mammadov. Photo: Facebook, Ulviyya Ali
SalaamCinema fans in turn, say that they didn't want to make a revolution at all.
"We not only wrote to her, but to all officials, one after another. We had one goal – to save the building. We were not going to organize political demonstrations. In general, I agree that people of art should express their civic position, but this does not mean that they should be oppositionists", says Leyli Gafarova.
Doctor of Philosophy Rahman Badalov does not see anything terrible in the fact that the Azerbaijani underground is not involved in politics:
"Independent alternative art in Azerbaijan will inevitably develop. This does not mean that they will create something special, meaningful in a global context. There is no suitable ground for serious cultural achievements in Azerbaijan. But they will do something, even for internal use. If the life of young people becomes more interesting, and the patriarchal foundations sway a little, this is already a lot. "