Buildings empty, people in line - on the housing crisis in Abkhazia

While there is state-funded housing assistance in Abkhazia, there are many people in line, sorted by category — so that a single mother may have to wait while a family with multiple children, or the wife of a casualty of war, gets their shot at housing under the program. On top of that, it is clear that the state is struggling to meet the financial demands of its own program. And people are getting desperate.
2,500 families in line
The state program to provide housing for the poor and families with multiple children has existed in Abkhazia since 1993.
People apply to the Ministry of Social Security and, if approved, select suitable accommodations; the money is not given to the applicant, but directly to the seller.
---
---
In 2022 and January 2023, 416 families applied for housing. Among them were families with three or four children, those with disabilities, single-parent families or spouses of those who died in the Georgian-Abkhazian war. At least 2,500 families are now in line for free housing in Abkhazia.
In 2022, 40 million rubles [about $582,000] were allocated from the state budget for the implementation of the program. This allowed 51 families to buy housing. This year funding for the program has increased to 60 million rubles [about $872,000]. But apartments have also risen in price — the cheapest housing in Sukhum, a one-room apartment with no windows or doors in a remote area, today costs 500-700,000 rubles [about $7-10,000]. Thus in 2023 the funds allocated by the state will be enough to provide housing for fewer than 60 families.
Ownerless apartments

Saida Kolbay has three children, one of whom has a disability. After divorcing her husband, she moved with her children to a three-room apartment where her mother, brother, daughter-in-law and their three children live.
Saida has been working in a kindergarten and has been on the waiting list for housing since 2010. At the end of 2022 she received a certificate from the government for 800,000 rubles [about $11,000] to buy an apartment. Her brother added another 400,000. The total was 1,200,000 rubles [about $17,500].
"For this money I was able to buy a odnushka in Pitsunda. Apartments here are very expensive, but I didn't want to move to another city. I was born and raised here," Saida says.
In Saida's new apartment, only the windows and doors are in good condition. Everything else needs replacement and repair. But, Saida says, knowing that this is her own apartment, she will do her best to renovate it.
"My brother helps me a lot. Now we live almost ten of us in three rooms, but knowing that we are about to move, it is already easier.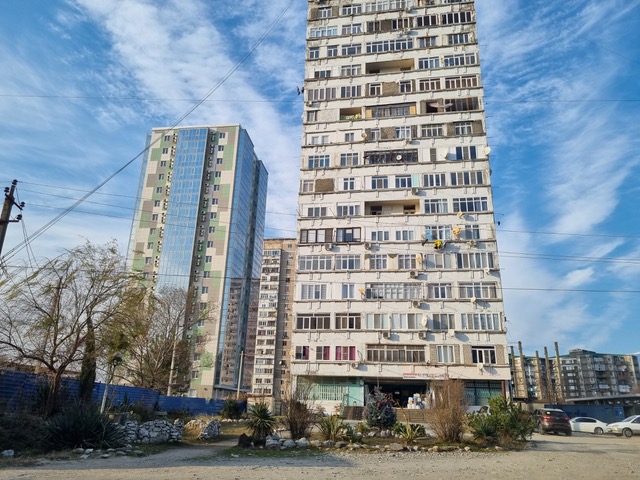 Opposite the nondescript nine-story building in which Saida bought an apartment there is a house that is strikingly different from all the others. It is elegantly finished and looks like it wound up in a residential area of Pitsunda quite by accident. According to rumors, a private company bought it from the apartment owners and is now selling the entire high-rise building for 180 million rubles [about $2,600,000]. And some in Pitsunda believe that the state could buy this house and distribute apartments among those in need.
Large families living in rented apartments in Abkhazia are outraged when they see empty buildings, whether it is a beautiful new building or an unfinished Soviet-era nine-story building. It was this nine-story building that 29 families in Sukhum tried to seize in mid-January. The authorities and the opposition somehow managed to calm the crowd, but this action quite clearly illustrates the mood prevailing among the people.
The law is no obstacle

There is no social housing as such in Abkhazia – that is, the state itself does not build houses for the needy.
The concept of a mortgage also does not exist.
And it is impossible to take a bank loan for this purpose, because ten years ago, banks actively issued loans for business development, but received nothing in return. So now bankers, taught by bitter experience, do not even consider the issue of lending to the population.
Over the past year housing in Abkhazia has risen in price by at least a third, including secondary housing, sold by owners. They attribute the rise in price to increased demand from foreigners.
"I have two apartments. We live in one with my husband and children, and my grandmother lived in the other. I wanted to keep it for my son. But today, if I can sell for a good price, I will sell, add savings and buy something better. I want an apartment or a house in the center," a resident of Sukhum says.
She already has buyers, a married couple from Russia, despite the fact that the law prohibits foreign citizens from buying real estate in Abkhazia. But both sellers and buyers have already adapted to circumvent or ignore this law:
"How will I make a deal? These are my good friends. We have been friends for many years. They just come and live here. This year they both retire and dream of spending their old age by the sea. I will help them fulfill their dream."
Another way to get around the ban (besides just unregistered transactions) is power of attorney. According to the Prime Minister, since 1993 more than 5,800 residential properties throughout Abkhazia have been passed to foreign citizens in this way.
---
Terms, place names, opinions and ideas suggested by the author of the publication are her / his own and do not necessarily coincide with the opinions and ideas of JAMnews or its individual employees. JAMnews reserves the right to remove comments on posts that are deemed offensive, threatening, violent or otherwise ethically unacceptable.