Hijab vs shorts
What do you feel when you meet a woman in a hijab or in 'fully-covered' clothes, only with her eyes visible? Does it please you or make you feel afraid? Have you ever wondered, how the Muslims feel themselves? Such experiments have been already conducted by journalists in various cities: nothing extraordinary happened to a female journalist wearing hijab either in Sydney or in Moscow, whereas in Estonia the experimenters were subjected to insults all day long and were even nearly beaten.
Hijab
An idea to organize such an experiment in Baku came across my mind while I was strolling through the park and saw 2 girls around the age of 10 wearing hijabs. They were talking in Russian, they were rather active, they were rollerblading and were no much different from other kids, except for their clothing. I wondered, what their feelings were, how they felt themselves in the society.
Although, Azerbaijan is a secular state, Islam is the predominant religion. There are a lot of women in Muslim attire in the streets. They are surely greater in number than a decade ago.
I got acquainted with Elnara (the name has been changed upon the young lady' request) in one of the groups on social media. She is a smiley person and an active mom of two minor children. Elnara kindly agreed to provide me with all necessary 'equipment' for my experiment; explained, how I should put on all that and told me how she had come to Islam herself.
Elnara used to live in Moscow at that time. "My father died 8 years ago. I was very much depressed and it happened so that there was no one beside me. So I went to mosque to find comfort there. People there supported me and then I decided to myself: 'Well, I'm an ethnic Muslim, but I don't understand the words of Namaz (prayer).' I felt ashamed. So, I started attending the classes. We were taught the basics of Islamic faith, Arabic grammar, the life history of prophets, Tajwid [the rules governing pronunciation during recitation of the Quran and a relevant Quranic science-author's note].
A phrase 'ethnic Muslim' may seem a bit strange to a foreigner, but it's a rather widespread concept in Azerbaijan: the residents of certain regions regard themselves as Sunnis and Shiites since their birth. Similarly, each Azerbaijani is considered to be Muslim by default and few people think of that choice – which religion to belong to.
During the first year of training, Elnara didn't cover up, except for the sessions in mosque. "As Imam told us during the classes, there are Muslim women, who cover their heads in mosque, but as they leave, they remove the cover and that's hypocrisy, Elnara said smiling. "And I thought, it was exactly about me: I also covered my head only during the classes. So, I promised myself that I would repent after giving birth to a child. And that's how it came about. I left the maternity house wearing a hijab.
In Elnara's words, she doesn't feel herself uncomfortable when wearing the Muslim clothes, "At first it was unusual, I encountered many blank stares, but I gradually got accustomed to it.
As Bakuvian Muslim women assure, they are, in no way, restricted by Islam, i.e. they can lead a full-fledged life-walk around the city, have fun, go in for sports, work etc. Some tougher restrictions in Islam are related to more radical branches, especially prevalent in Saudi Arabia and some other Muslim countries. For example, a woman there can't go out without being accompanied by a husband or a male relative. In some countries women aren't allowed to drive a car (or they can't do it without husband's permission); they can't undergo medical treatment, travel or get education without a permission.
The Muslim women's attire that is widely spread in Azerbaijan isn't burdensome. As Elnara told me, the laity, you can wear whatever you want, the main thing is that only face and hands remain uncovered. It allows young ladies to look, dare I say it, quite fashionable. Elnara was in a colorful blouse with long sleeves (a sleeve should be narrow, so that when a woman raises her hand, it will not fall back and show her arm), and a long, also colorful skirt. She was wearing comfortable sports shoes.
However, I had some different plans – I wanted to 'get equipped' in full. So, instead of just wearing hijab, I decided to put on niqab. It's a headwear that fully covers the face, leaving an opening for the eyes. I didn't know where to get it, but Elnara found the way out. It turned out that it was possible just to put on a black scarf as niqab and fix it so as to cover the entire face. To get a complete image, I borrowed abaya from Elnara. Abaya is a black, loose Muslim over-garment, a robe-like dress, decorated with colorful patterns on sleeves and collar area- it could be either embroidery, beads or even sequins.
And, finally, the X moment came. Not having dared going out in such an attire in order not to perplex my neighbors in vain, I decided to change my clothes in the 'ladies' room' at the 28 Mall shopping center. In order not to cause any bewilderment, I decided not change my clothes not in the WC, but rather in a small room for 'moms', that is used for baby feeding and changing. However, there were two women in the room, who were busy putting on make up. Having hesitated for a while, I finally decided to put on my clothes there.
The most difficult part was to fix the headscarf on the head with small needles-pins, so that it wouldn't pull off or, God forbid, reveal the front hair. Then I had to carefully fix the scarf on the face, pinning it at my temples, leaving only the eyes visible. Unfortunately, I didn't get a special headwear that Muslim women put on under the headscarf- a smooth cap, that is worn tight against one's head, fully covering the hair. Long hair is also pulled together and tucked under it. If there is no other way, a smooth cloth headband, tightly drawn against the forehead to hide the hairline and the stray strands of hair, will be good enough.
The young ladies were glancing at me with curiosity. I half heard them saying: 'She's got nice form'. I think they mistook me for an 'apostate' who decided to 'hang around' with no clothes on, and now was regaining usual appearance.
Having changed my clothes I left the room and headed towards a huge Music Gallery store, located on the ground floor of the same shopping center. It's quite unusual to see a woman in niqab, walking alone from one shop to another, since they usually walk around in groups or are accompanied by men. Some curious and, as it seemed to me, quite wary looks, were cast at me. Children aren't that good in hiding emotions, so their wariness was more obvious; a boy around the age of 10 cautiously passed me by in a small arc.
It should be said that it's quite hard to wear such a garment if you aren't used to it. Wearing a headscarf is particularly problematic, since the lower part of niqab is hanging down in loose folds, obstructing one's view-I stumbled several times on the stairs and on the escalator too. I found it difficult to take the things I needed out of my bag, when I was squinting down my eyes out of habit.
The situation was nearly the same in the shop- as I was walking down the aisles, the people's eyes rested on me for a second and then, as it was unseemly to gawk at someone after all, their gaze quickly slid off. It was unbecoming of me in the 'present status' to approach the male shop assistants, therefore I simply walked around the shop. Interestingly, a sturdy 'security guy' was all eyes watching me. Not willing to further stress him out, I finally decided to leave the shop.
My next plan was to travel by metro. To my inside disappointment, a police officer at the metro entrance paid almost no attention to me, probably mistaking me for an Arab tourist. To make my task more 'complicated', I decided to communicate with someone: I prepared a 20-kopec coin (in Baku metro travel fares are paid with cards, but those, who rarely travel by metro either don't have them at all or may forget them at home; in this case, you may go to someone at the payment terminal, hand out a coin and ask to pass you through his/her card) and turned to a young man for help. He certainly let me pass through his card, giving me a reserved nod.
When on escalator, people were eyeing me with curiosity. Some of them were staring at me unabashedly, elbowing each other, as if saying 'just look at her'. Unfortunately, I couldn't assess to the full the entire range of looks, winking and whispering, since the clothes I wore obstructed my sight and status.
The next section of my route was down the Istiglaliyat street. Fortunately, the summer ended and the head subsided. . However, it was hot in a rather monumental abaya. A cover on my face made this heat even more unbearable. In order to somehow cool myself, I decided to buy some juice, certainly with a straw, since I couldn't even imagine how it was possible to drink it otherwise. A salesman in a store was quite reserved, his face didn't show the slightest emotion. The Arab tourists had probably already dropped into his store.
Since I felt tired after a lengthy stroll, I sat down on a bench not far from the Fountain Square. The bypassers were curiously glancing back at me, but it had already become a customary thing for me.
I found it rather difficult to drink juice and I had to put a box of juice under the scarf edge. To tell the truth, I have absolutely no idea, what I was supposed to do if I had to eat something in that attire. As I read on the Internet (the information in this regard was surprisingly scarce), one is supposed to eat the same way: slightly turning up the lower part of niqab and accurately placing small portions of food into the mouth.
Generally speaking, you certainly have to get accustomed to wearing such clothes. It's certainly easier for the 'ordinary' Muslim young ladies to wear hijab. And, as I've already mentioned above, referring to Elnara's words, first there should be an internal need for wearing Muslim clothes. Despite the abundance of women in hijabs in the streets, you will find few women wearing niqabs. As Elnara told me, Quran sets forth only one requirement – a woman's face and hands should be the only parts uncovered. "Niqab is probably an individual desire or demand of the woman's family or her husband, she says. According to the Internet sources, niqab is not mandatory, in general.
In Elnara's words, hijab makes her feel safer. "I can walk in the street and I know that no impudent looks or words could hurt my feelings. You can see, for example, how people look at a young lady wearing hijab and the one wearing a mini-skirt.
At the same time, many Bakuvian Muslim women complain about discrimination when getting a job. And that concerns not only the service field, but also the office positions.
As far as the children's clothes are concerned, under the Islamic laws, the girls are prescribed to wear hijab since the age of 10. Ilnara was sincerely surprised by my question: 'What if she doesn't want to do that'? "If a girl is raised in the family of believers, if she sees what her mother wears, it should be quite natural and normal for her. Why would she want different things? Especially as in Muslim families the girls are taught to be modest in clothes and behavior since the very early age. So, she will never behave in an indiscreet manner, like an 'uncovered' girl.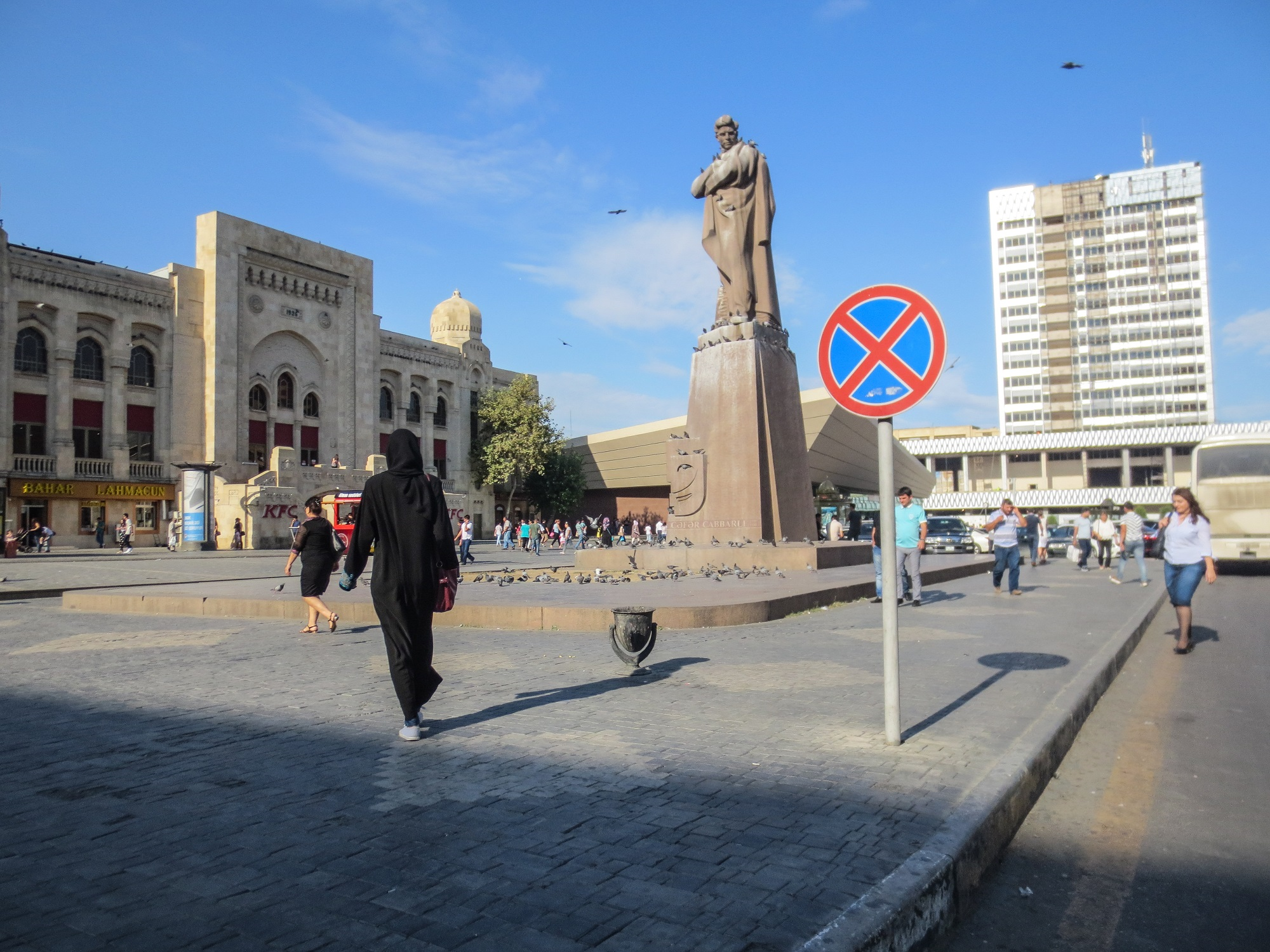 Shorts
-Aye, qəhbə ! [Oh, you bitch!] – tenderly sang out an elderly woman in a long skirt with a bright flower pattern, whom I met halfway as she was leaving the shop.
I dropped into the shop right from home, in a mid-summer day, dressed according to the weather and domestic state of affairs – in a T-shirt and, honestly, decent-length shorts. But life in the outskirts, in one of the residential districts of Baku, obliges. Here, the young ladies would shyly lower their eyes at seeing a guy coming in their direction, whereas the male neighbors would never say hello first, to avoid being accused of harassment.
Therefore my experiment, i.e. a stroll in shorts, starting from our residential district and ending with the city center, may be regarded as a rather risky undertaking. I cut my old jeans into shorts and rolled the legs up for the sake of experiment's integrity.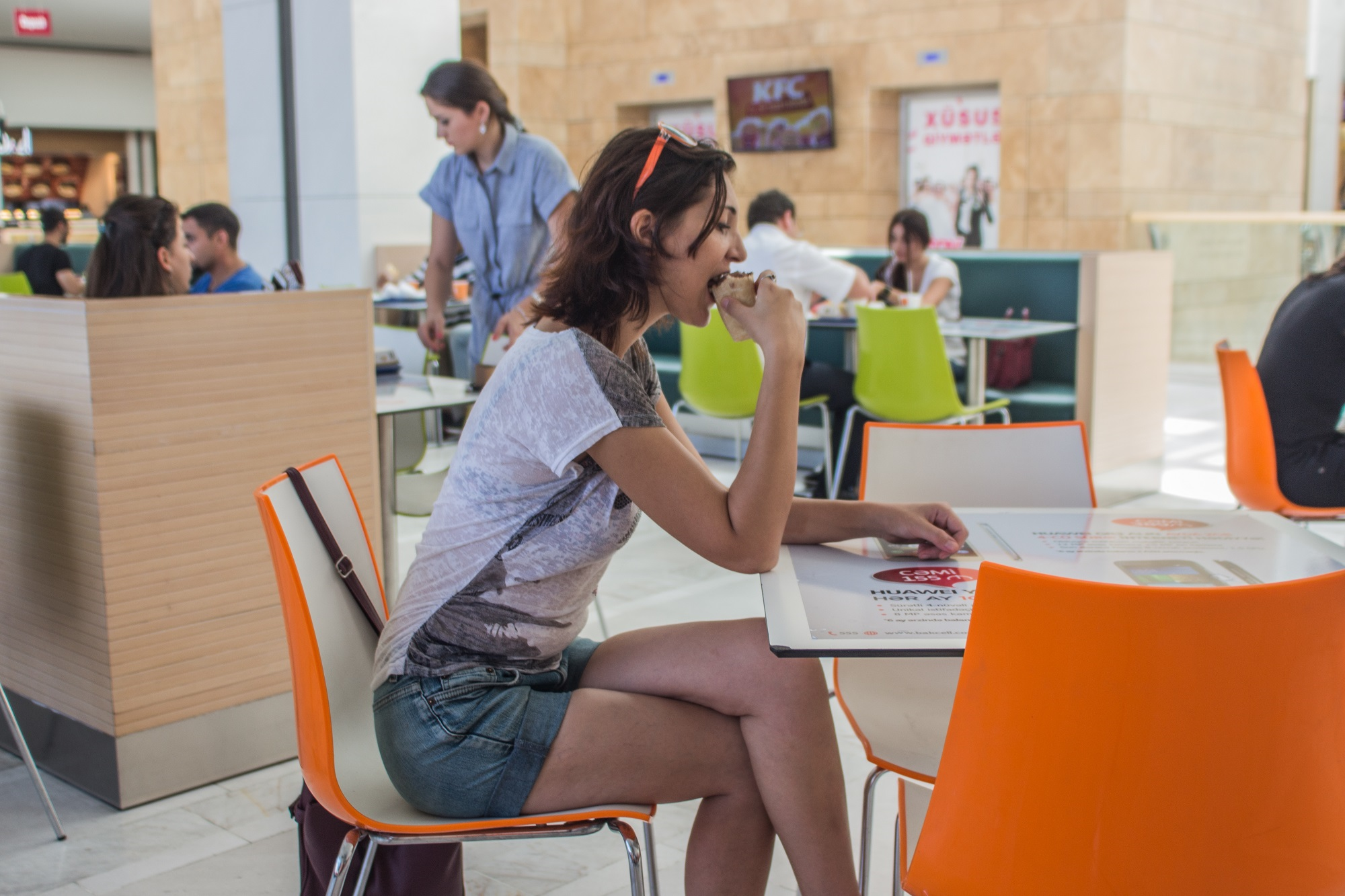 To tell the truth, the peripheral and central-urban parts of the experiment aren't much different. The women rested their eyes on me from time to time. The elderly looked at me with disapproval, whereas the young ladies smiled ironically.
The men tried to ignore both, my shorts and me.
There was a man around 50, sitting opposite me in the metro. I though, he winked at me several times. However, later, I concluded that it was just an eye twitching rather than a systematic winking.
People in the city have a more loyal attitude to mini-shorts. Young ladies are flaunting in shorter attires. Young men want the 'upper' and the 'lower' parts to match up. So, let's say, if a young lady is not that pretty, then a mini-skirt or shorts will cause condemnation; whereas if she is good looking, then exposed legs will be sort of a 'bonus'.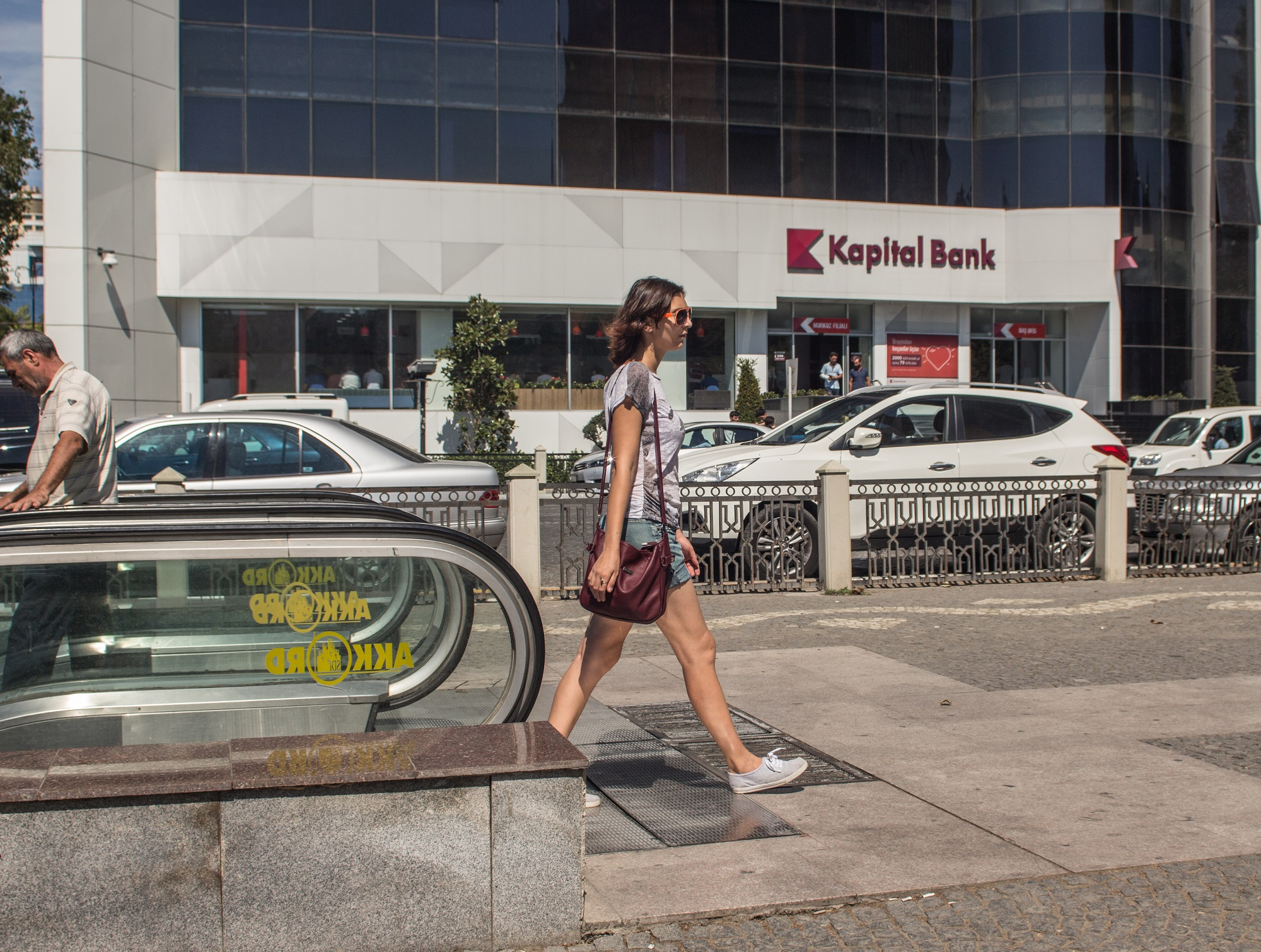 In case of hijab, 'a pitfall' is an employment problem. However, unlike a young lady in hijab, whom a businessman is unwilling to see in his office, a young lady wearing shorts is facing absolutely different problem-the majority of Azerbaijani young men can't imagine that she could be a mother of their children. We may argue about how many percent of the population regard the young ladies in shorts as dissolute, but there is no doubt that such stereotype really exists.
Back on street safety issue, a stereotype that a young lady in mini will be necessarily subjected to harassment, is unjustified. First of all, there are many tourists in the city. Secondly, as I already mentioned, I haven't noticed any clearly manifested condemnation. I was probably just ignored.
The feelings about wearing shorts vary depending on the circumstances in which they are worn. The remnants of the "oriental woman's mindset make you feel a bit uneasy when passing by a small store, where you buy vegetables every day with a more 'decent' look. There is no discomfort at all in the city center.
All in all, and that also concerns hijab, you may get accustomed to wearing absolutely any type of clothes. If you look nervous (it's certainly less noticeable if you are wearing niqab), you have a rickety walk, you continuously pull down and straighten this or that piece of clothes, this will draw people's attention and willy-nilly make them worry. Whereas, if you are calm and in control, this very inner sensation will be carried over to others.
To sum up it all, it could be said that you won't succeed in conducting a dangerous clothes experiment in Baku. The residents of this city have got used to everything, and they are very far from stoning a 'strangely dressed' person. We've got some stereotypes associated with the human outfit, but still no one will prevent you from wearing whatever you like.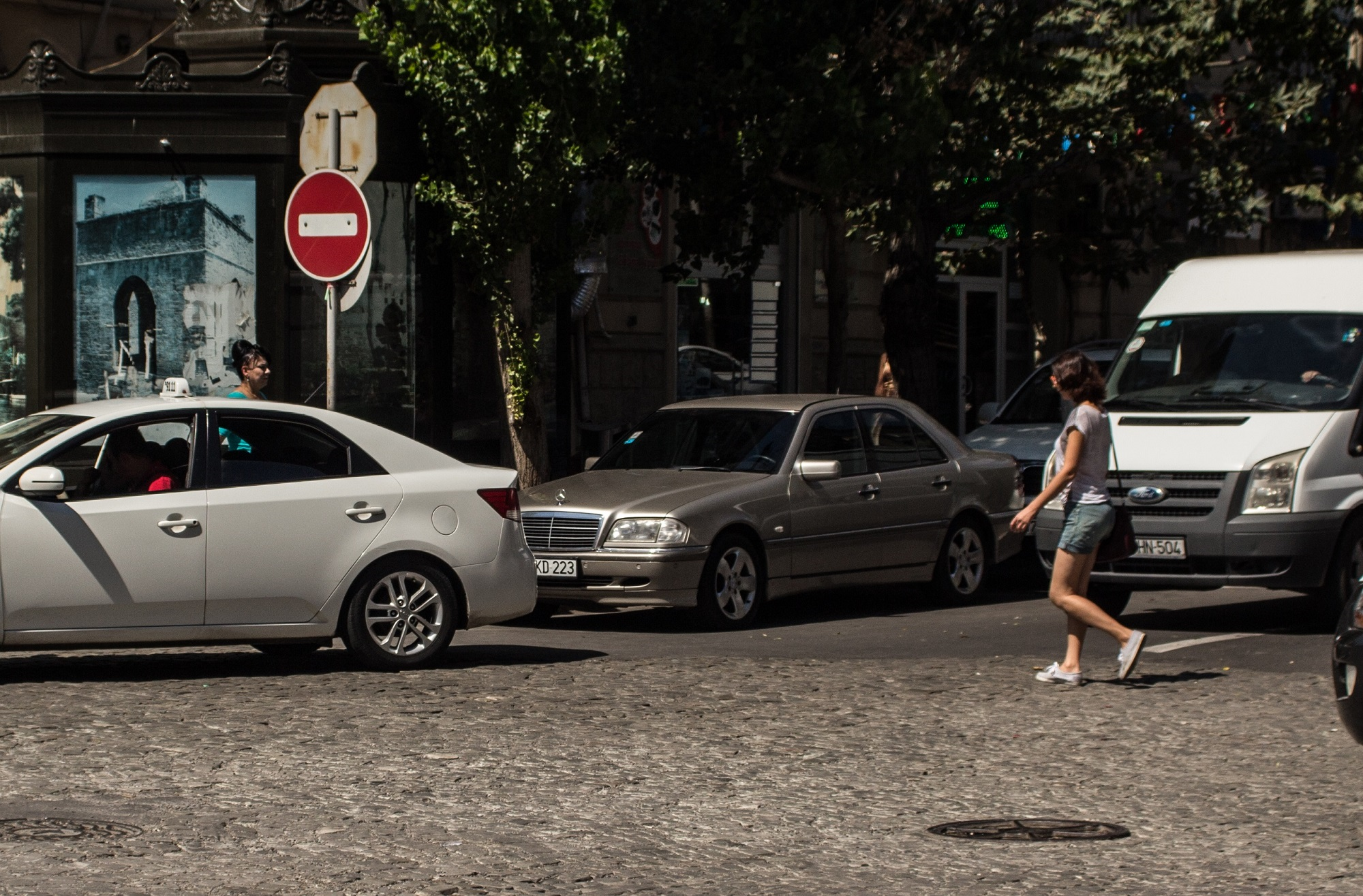 Published 21.09.2016