Head of Georgia tells all before elections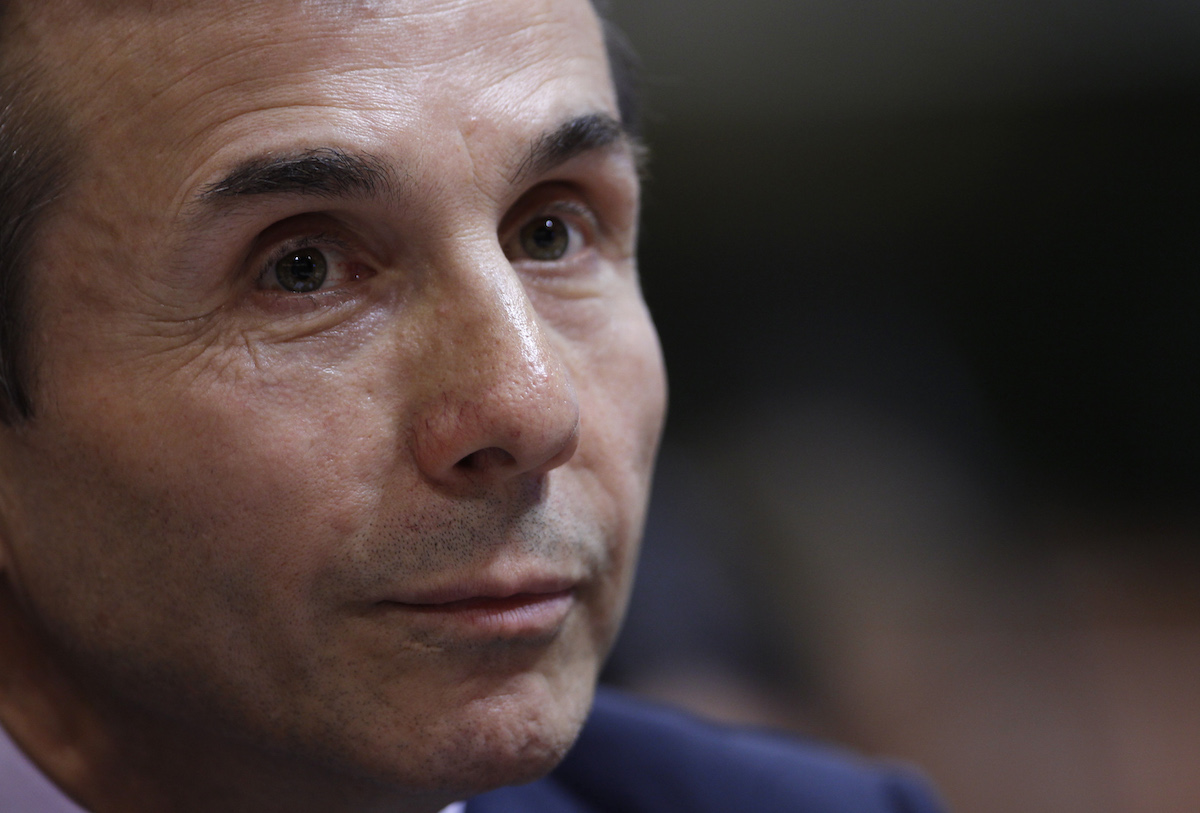 Five days before the presidential election, Bidzina Ivanishvili, the former Prime Minister of Georgia and chairman of the ruling Georgian Dream party, not to mention the most influential person in the country, decided to give an extensive TV interview.
This is his first interview he has given during the ongoing election campaign. Last year he did not make an appearance during the elections of the local self-governing bodies, but this time he even appeared in the campaign video of the government's so-called independent candidate Salome Zourabichvili. He also felt it necessary to give an extended interview.
The presidential elections will be held in Georgia on 28 October in which the public will elect the country's fifth president.
Ivanishvili himself decided the format of the interview and which journalists would be invited to participate. Some declined his invitation, and others were invited in their stead. In the end, the talk show host Eke Kvesitadze (Rustavi 2), Diane Trapaidze (TV Pirveli) and Irakli Chikhladze (Imedi) took part.
The interview began at 10 pm and lasted for two hours.
On.ge calculated that Ivanishvili used the phrase "wait a moment" 91 times during the interview and that he mentioned Rustavi-2 more than any other channel, some 40 times.
Ivanishvili also used the phrases "Let me show good manners", "Show [some] elementary respect, let me answer", and "Show good breeding". These phrases were mainly addressed to Eka Kvesitadze and Diana Trapaidze.
JAMnews offers the most relevant snippets from yesterday's interview with Bidzina Ivanishvili.
On opposition TV channel Rustavi-2
Ivanishvili's comment that "If you turn off Rustavi-2, you will not see anything other than the restoration of the country to prosperity" was a big hit on social media.
He said that Georgia is a leader in the region in terms of economic growth, but that the population did not notice this since Rustavi 2 claims the opposite.
He promised that "Rustavi-2 will not have the opportunity to hinder the expression of differing opinions nor continue to hold quite a significant part of society captive".
Rustavi-2, which for many years has been confronted by problems posed by the authorities, assessed Ivanishvili's words as a threat.
Following these remarks by Ivanishvili, social media networks exploded with sarcastic remarks in the spirit of the need to turn off Rustavi 2 in order to "stabilize the lari and fill the refrigerator with food".
On the former prosecutor accused of kidnapping and violence
During the interview, Bidzina Ivanishvili defended former Georgian Prosecutor General Otar Partskhaladze.
Partskhaladze is one of the figures in a series of secret audio recordings made public by businessman Zaza Okuashvili. Okuashvili accuses Partskhaladze of racketeering, kidnapping and beating former sports minister Levan Kipiani.
The authenticity of the recording was confirmed by an examination conducted in the UK, though Ivanishvili said the recording was fabricated.
Ivanishvili also denied accusations made by Zaza Okuashvili that businessmen in the country turn to Bidzina Ivanishvili to solve business problems. Ivanishvili said that Okuashvili ended up in a difficult position in the tobacco business on his own and that he had turned to Ivanishvili for advice.
"Do you know how many businessmen I meet? It's very good that they come to me, and this will continue," Ivanishvili said, accusing Rustavi-2 of spreading disinformation at the same time.
Ivanishvili also denied Okuashvili's statement claiming that Ivanishvili had demanded 4 million lari from him to resolve a business issue.
The luxurious homes of ministers and MPs and an empty pool
Ivanishvili was asked to comment on information pertaining to properties owned by a number of ministers and deputies that was recently published by Rustavi-2.
Read also: Journalists expose the lavish homes of Georgian MPs and minister 
Ivanishvili said the information was a lie made up by the TV company.
He elaborated on the triple story luxury house of MP Irakli Sesiashvili live on air, and conjectured that the house could be built for around $31,000.
Then Ivanishvili pointed out to the journalists that Sesiashvili's pool does not have any water.
In response to this statement, social media users responded by publishing photos of empty pools.
A warning to team members
Ivanishvili used a rather harsh tone when speaking about his party, and expressed dissatisfaction with the work of the government.
He asked the public for a year to correct the situation, promising that he would strengthen the team during this time.
"Talent will advance and become more active. Requirements will be tougher for each member of the Georgian Dream [party]. Within a year we will call things by their names and everyone will know their place," said Ivanishvili.
On Salome Zourabichvili
Ivanishvili devoted quite a lot of time to presidential candidate Salome Zourabichvili – the so-called independent candidate supported by the ruling party. He said she is the most worthy candidate for the presidency.
Ivanishvili also acknowledged what no one doubted: support for Zourabichvili was his personal idea. Nonetheless, he continued to call her an independent candidate.
Read also: Who is Georgian presidential candidate Salome Zourabichvili, and why isn't the public wild about her?
On the production of marijuana
Ivanishvili made another admission in terms of the recently postponed bill on the production and export of marijuana. He stated that he personally participated in discussions on the cultivation of marijuana for cosmetic and medicinal purposes and that he supports the idea.
Read also: Georgian government plans to export marijuana
"This business is very profitable. There are objective calculations proving the possibility of exporting a billion dollars over a period of two to three years," said Ivanishvili.
During the conversation on the topic, Ivanishvili claimed that ex-President Mikheil Saakashvili and Director of Rustavi-2 Nika Gvaramia use drugs.
The August War of 2008
Ivanishvili said that without the rash and treacherous actions of the previous authorities, Russia would not have fulfilled its dream, started the war in August 2008, and would not have occupied Georgian territory.
Foreign policy
Ivanishvili said that it was necessary to normalise relations with Russia, but not at the cost of territorial concessions.
Touching on the topic of foreign policy, Ivanishvili stressed that Georgia had managed to simultaneously be a partner of the United States and avoid escalating tensions with Russia, as a result of which many envy Georgia.
"All high-ranking politicians whom I know ask me jokingly, but with undisguised envy, how we do it," Ivanishvili said.
According to him, Georgia has never had such close relations with the United States as it has now. He also noted that he is proud of the balanced relations Georgia has with all its neighbours in the region.
On 'informal rule'
Journalist Diana Trapaidze asked Ivanishvili why the Georgian society believes he makes all the important decisions in the country and why many from his party acknowledged this fact as well.
Ivanishvili did not deny that he participates in the decision-making process, and said he considers it normal given that he is the chairman of the ruling party.
Bidzina Ivanishvili believes that there is no informal government in the country, and that this idea is also the invention of opposition journalists and non-governmental organisations.
On poverty and the poor
Bidzina Ivanishvili says he trusts the UNICEF study which says that the level of poverty in Georgia has increased. He blamed former Prime Minister Giorgi Kvirikashvili for this and noted that Kvirikashvili resigned for this reason.
Ivanishvili said that people had taken out loans which they cannot repay, and that this has had a negative impact on the standard of living of the population. The authorities, in turn, were too slow to enact loan regulations which would have limited the problem.
The loan regulations he mentioned will be introduced in Georgia starting on 1 November.
Ivanishvili also pointed to the devaluation of the lari as well as an increase in excise taxes. He also said that the poor sometimes blame others for their situation, and not themselves.