Georgians in Abkhazia changing last names – and nationality
Already more than 400 people in the Gal district of Abkhazia, who until now were considered Georgians, have changed their names and had themselves registered as ethnic Abkhaz, says Edisher Zukhba, deputy chairman of the public organization Council of Murzakan Abkhaz.
Gal (Gali in Georgian) district is an administrative unit of Abkhazia. According to the 2011 census, 98.21 percent of the population are Georgians / Megrelians. It is directly adjacent to the Ingur River (Inguri, in Georgian), which is considered the separation line of the Abkhaz-Georgian conflict. The Inguri Hydroelectric Power Station, the most important energy enterprise of Abkhazia, is located in the Gal district.
Abkhazia is building itself as an independent state with the support of Russia – while Tbilisi insists that Abkhazia is part of Georgia, and this requirement of territorial integrity is supported by the UN, the European Union and all Western countries.
Edisher Zukhba says that the last name change concerns local Megrelians [ed. an ethnic group of Georgians that leaves largely in Samegrelo in western Georgia. Many Megrelians also live in Abkhazia.]
The name Samurzakano refers specifically to the part of Abkhazia, where ethnic Georgians (Megrelians) make up 98 percent of the population. The Gal district is included in this part of the region.
• Thomas de Waal: the self-isolation of Abkhazia is a huge problem
• Residency permits for Georgians in Abkhazia: a problem or a solution?
According to Zukhba, many local Georgians (Megrelians) claim that they have Abkhaz roots and once their Abkhaz surname was altered in a Georgian (Megrelian) fashion.
"For example, my last name was Zuhbaia before. Now we have the opportunity to restore historical justice – to return our original Abkhaz surnames", said Edisher Zuhba.
He also named several other surnames which, according to him, are clearly of Abkhaz origin, for example: Abukbaia, Adzinbaia, Bagbaia, Inashlishvili, Kvatsabaia, Ashbaia and others.
According to Zukhba, over the five years of the existence of the Council of Murzakan Abkhaz, about 900 people have requested help in restoring their Abkhaz surnames.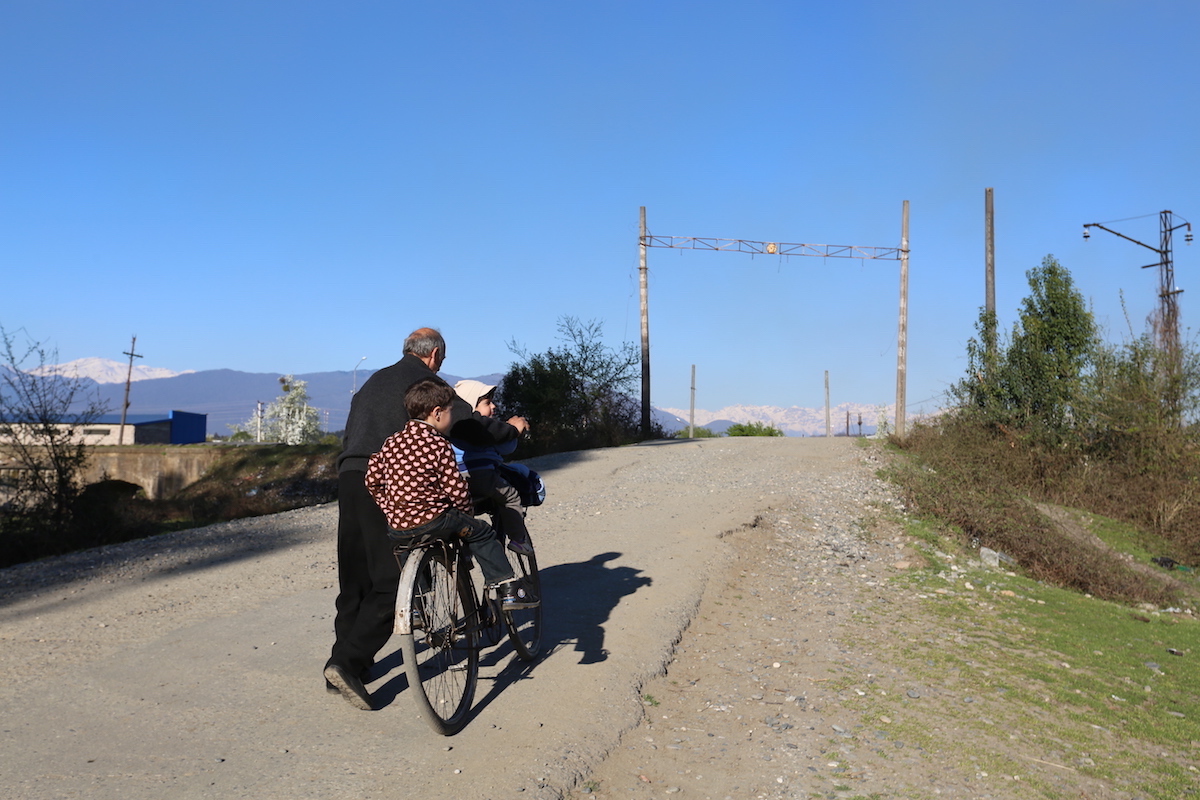 Georgians in Abkhazia and citizenship
The Abkhaz legislation prohibits dual citizenship with a country other than Russia. Local Georgians have Georgian citizenship and, therefore, they have to give it up in order to be able to obtain Abkhaz citizenship.
Abkhaz citizenship provides many more opportunities to not only participate in the political life of the republic, but also for trade and business.
• The former state minister for reconciliation: "Sooner or later the authorities will have to consider my ideas"
When in 2009 the question of Abkhaz passports for the Georgian population was just beginning to be resolved, a simple form was proposed: local Georgians (Samurzakans) had to declare in writing that they did not have Georgian citizenship before receiving an Abkhaz passport.
For the authorities, as well as for many local residents, the procedure has become in fact a mere formality. There are no official contacts between Tbilisi and Sukhum because of the unsettled Georgian-Abkhaz conflict, so it's impossible to verify who has really given up Georgian citizenship and who hasn't.
But after 2014, the attitude to the issue of the 'passportization' of local Georgians changed in Abkhazia.
In the summer of 2015, the administration of the Gal district conducted a survey among residents, and more than 18,000 Gal residents answered that they have Georgian citizenship.
Criminal proceedings were instituted against the staff of the passport and visa services of the Tkvarchel and Gal districts, who were accused of illegally issuing Abkhaz passports to citizens of Georgia.
The media wrote that passport office officials took bribes (as local residents say, from 150 to 400 dollars), closed their eyes to any issues and directly issued passports to residents of the Gal district.
As a result, 27,000 Abkhaz passports were issued to local Georgians (in the Gal, Tkvarchel and Ochamchira districts) were canceled.
And in the summer of 2017, the process of issuing a "residence permit" to local Georgians began. This document allows them to travel to the Zugdidi region of Georgia and then return back freely. This is a very important issue for the local Georgian community, since many receive pensions there and take their children to schools, as well as sell and buy products and goods.
However, obtaining an Abkhaz "residence permit" is a difficult issue and only a small number of the Georgians living in Abkhazia have managed to solve it.
What happens when an individual's surname is change from Georgian to Abkhaz?
People who are earlier listed as Georgians in documents, will now be considered Abkhaz after having changed their surnames.
According to the law on the citizenship of Abkhazia, every Abkhaz, no matter where in the world he or she lives, has the right to freely get an Abkhaz passport.
Representatives of the Council of Murzakan Abkhaz declared at their third congress, which was held on July 19, that more and more local people want to restore their historical surnames and nationality.
"We are interested in the speedy integration of the residents of the Gal district into the internal life of Abkhazia," one of the representatives of the organization said at the congress.
Toponyms, terminology, views and opinions expressed in the article do not necessarily reflect the views and opinions of JAMnews or any employees thereof. JAMnews reserves the right to delete comments it considers to be offensive, inflammatory, threatening, or otherwise unacceptable