Georgian exports to Europe - what has been accomplished since signing the Association Agreement
More than five years have passed since Georgia signed the Association Agreement with the European Union, one of the most important components of which was the Free Trade Area Agreement.
This agreement completely abolished customs duties, which automatically reduced the cost of Georgian goods on the European market by 20-25 percent.
The agreement opened up the European market to Georgian entrepreneurs. What has changed over these five years? What did this agreement bring to Georgian entrepreneurs and the Georgian economy?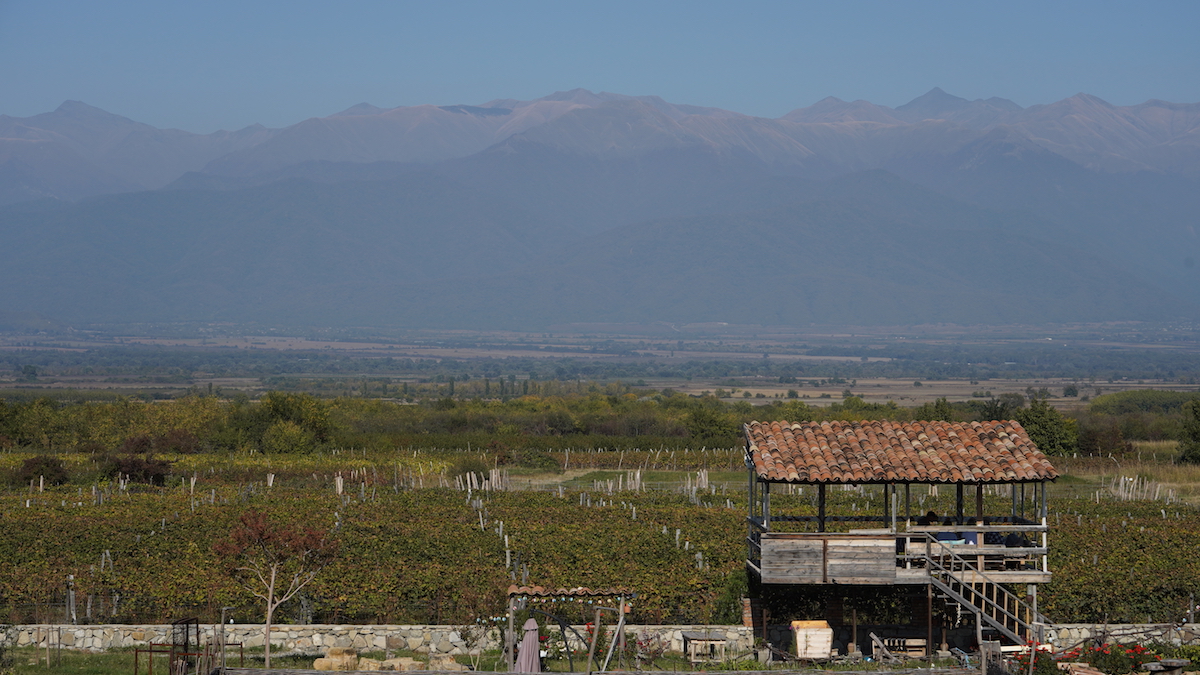 A vineyard where you can't use a mobile phone
Giorgi Aladashvili is an entrepreneur from the Kakheti region of Eastern Georgia. He says that it was the signing of the Association Agreement that inspired him to decide on the creation of his own farm for the production of organic wine.
His enterprise "Ruispiris Marani" is located near the city of Telavi
"Biodynamic means 100 percent organic and natural. We even have walls made of stone and mortar, no cement and reinforced concrete. All these things are very important for our health – and in Europe they pay attention " Giorgi announces to us.
In the 90s, Aladashvili left Georgia for a mountain village in Switzerland. There he first saw how locals grow grapes and produce organic wine according to the biodynamic method. After realizing the benefits of such farming, he decided to introduce the biodynamic method to Georgia
• The secret of wines from Armenian producers
• Moldovan exports: a profitable ban
Returning to his native village, he began to look for a site that had never been treated with chemicals. He tried to explain to the villagers that the herbicides and pesticides they used to increase production actually depleted the soil and poisoned the product.
"I was annoyed when they said that they want the crop for sale, and not for themselves. As long as there is such an approach, we can't compete in the European market", says Giorgi.
At first, the villagers didn't understand why Giorgi would collect chamomile and nettle from the fields to prepare a pest preparation when pesticides are easy and cheap.
Neither could they understand why Giorgi reverted to ancient Georgian qvevri technology – burying his wine deep in the ground in a clay jug – when plastic barrels had made the whole process much easier.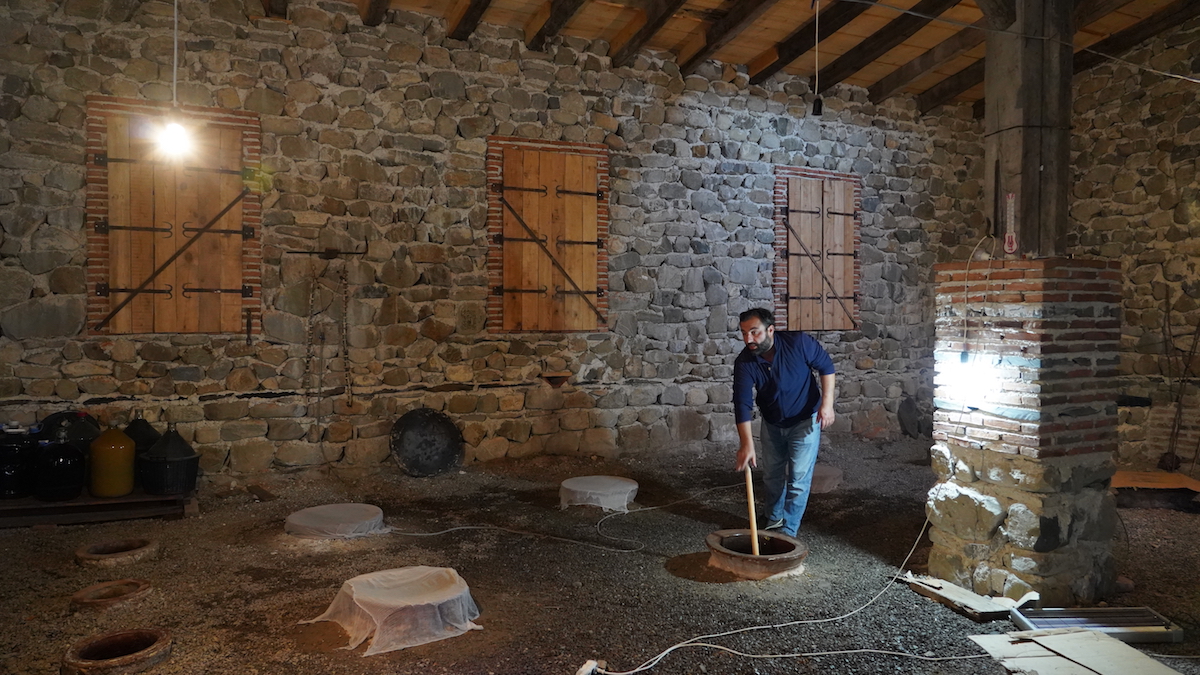 But when after a few years the wine from his farm began to be sold in Italy, France and even in Singapore, everyone realized that they should have listened to their neighbour. Now they turn to him for advice.
Today Giorgi's farm has 11 full-time employees. For seasonal work, he employs another twenty.
"We work only with our hands," says Ruispiris Marani employee Rezo. "The tractor isn't allowed anywhere near the vineyard. Giorgi also forbids mobile phones and cigarettes because they harm the grapes ."
Giorgi says that many farmers are interested in exporting their products to Europe.
"But the saddest thing is that they ask only about profit. No one is interested in quality and conscientious work. But in Europe it is the quality of the product that is valued. "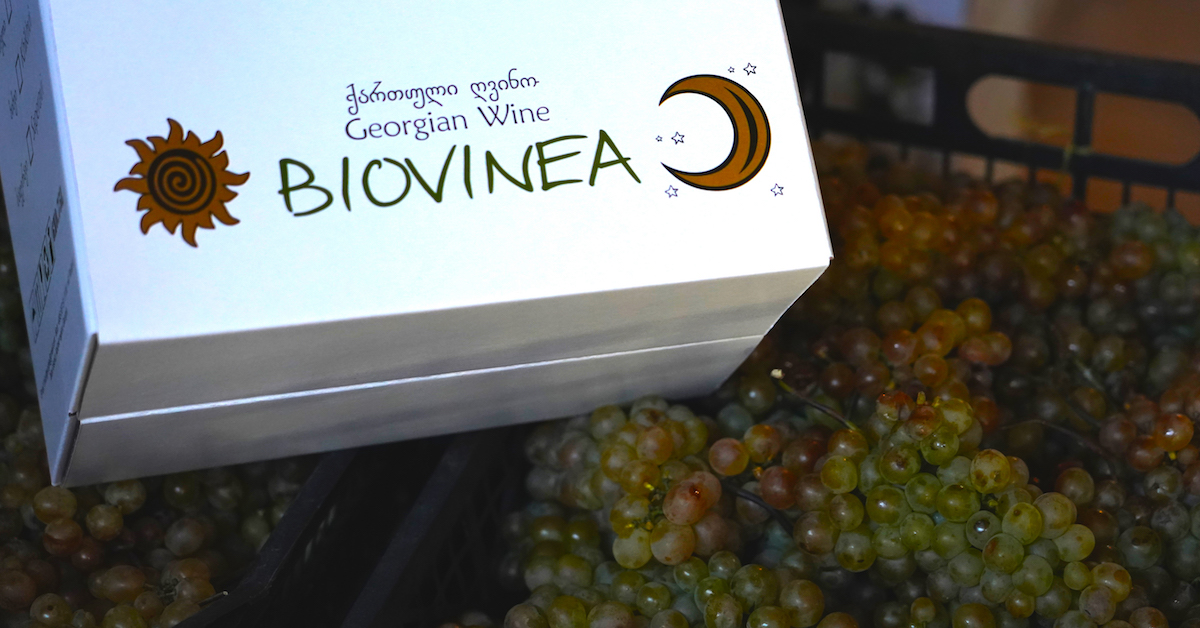 What is the Deep and Comprehensive Free Trade Agreement (DCFTA)
The Deep and Comprehensive Free Trade Area Agreement (DCFTA) with the European Union is an integral part of the Association Agreement.
This agreement opens the door for Georgian entrepreneurs to the EU's internal market – 28 countries and more than 500 million consumers.
However, for Georgian products to enter the European market, they must comply with European standards of safety and quality.
The essence of the agreement is ultimately to guarantee quality for all Georgian goods, both those intended for the domestic market and those for distribution abroad.
If the terms of the agreement are met, in a few years Georgian consumers will be able to buy in stores the same quality products as consumers in Europe.
To achieve this, the agreement obliges the Georgian government to gradually amend the laws and adopt legislation and regulations that are in line with EU standards. For example, the Georgian government has recently enacted a new toy safety regulation modeled after European legislation.
Nino Mikanadze, head of the Institute of Metrology, believes that caution and time are necessary to ensure compliance with the rules:
"In my opinion, it is justifiable and realistic to approach European legislation gradually. It would be very painful to transfer all the recommendations overnight to paper and thereby put business and consumers in front of a completely new reality. Neither business is ready for all the rules set out in the European directive – because this will require significant investment, nor a consumer for whom the products are more expensive. "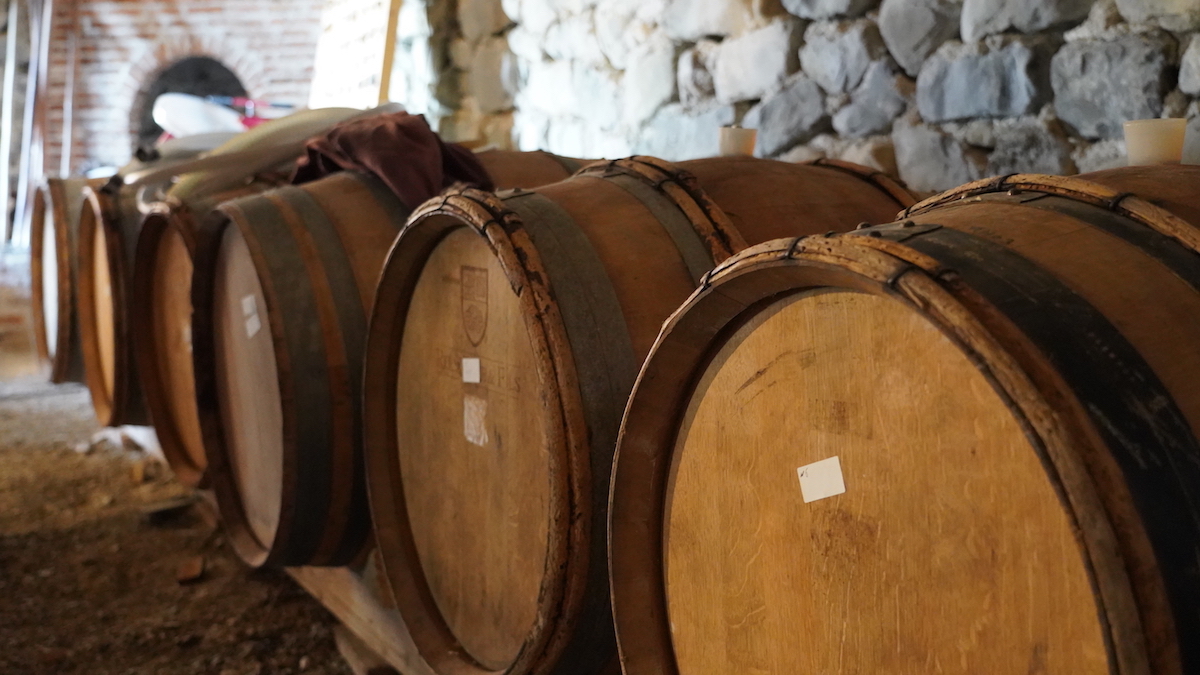 What prevents the distribution of Georgian products in Europe?
The biggest issue preventing the distribution of Georgian products in Europe is non-compliance with standards. For more successful distribution to happen, special production standards, including the HACCP standard, must be introduced in Georgia.
HACCP (Hazard Analysis Critical Control Point) is a food safety system that includes international standards of sanitation and hygiene. It requires tight control of food production from start to finish, from the quality of raw materials to hygiene in the workplace.
Entrepreneurs also seek to obtain the HACCP standard in countries where this is not mandatory, since such certification significantly increases the reputation and authority of the enterprise.
The standard in Georgia is so far mandatory only for those who want to export their products to Europe, (which means that raw materials obtained by those cooperating with the standard may not be in line with European standards.)
Ukraine has resolved this issue by making the HACCP standard mandatory for all food-related enterprises, from raw material processing plants to cafes and restaurants.
However, obtaining this standard is not easy, especially for small entrepreneurs. Its implementation requires a considerable investment: the complete re-equipment of the enterprise and retraining of personnel.
The second reason is the small size of Georgian plots, which do not yield sufficient product for the European market. With 500 million consumers, 10 tons of apples just doesn't cut it. Even if the farmers join forces to sell their product, this still does not solve the problem: European standards stipulate that the product must be homogeneous.
"Due to the fragmentation of land in Georgia, it is impossible to achieve mass and efficient production. You cannot be competitive in the European market unless you produce the same product on a large plot of land, " says Nino Zambakhidze, head of the Georgian Farmers Association.
The obvious answer to this problem is land consolidation, but so far this hasn't been able to work in Georgia.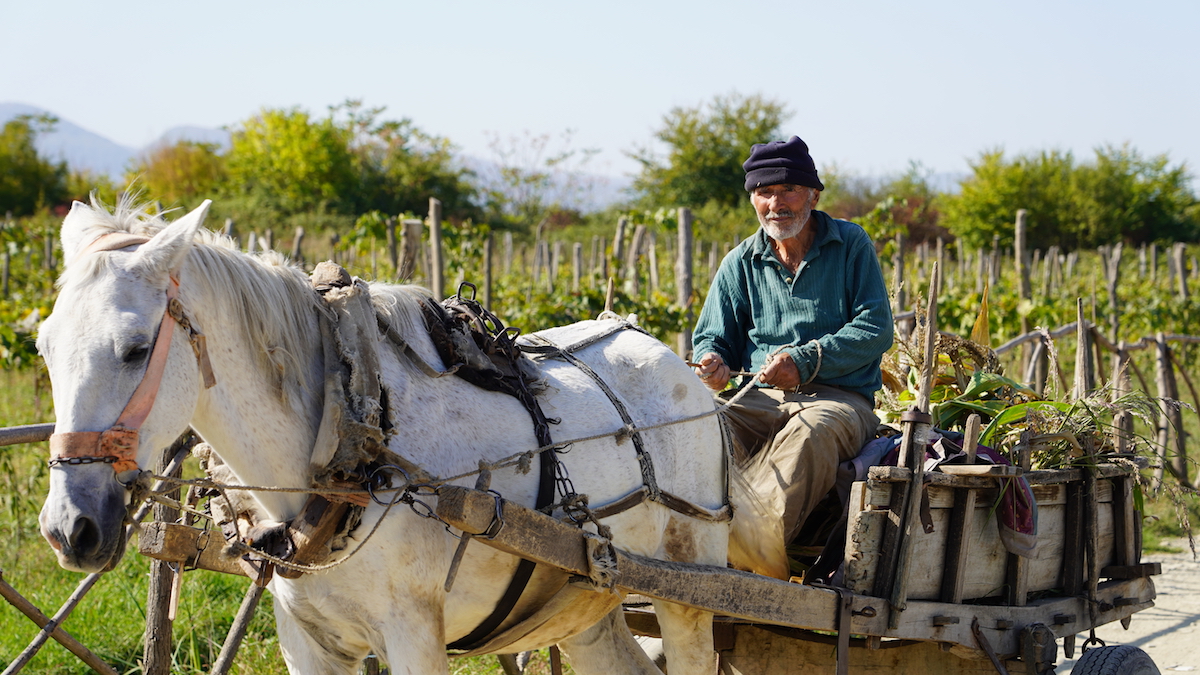 Firstly, the problem of land ownership in Georgia is still unresolved. The state's share in the total amount of agricultural land is still very high today – only 25 percent of the total agricultural land is privatized.
Giorgi Chitidze, head of the Accreditation Center in the Ministry of Economy and participant in the DCFTA negotiations, draws attention to another obstacle – the mentality of the population.
"Farmers in our villages have problems with the idea of uniting. "Everyone thinks that joining forces and working together is risky. They worry they'll get cheated and end up with nothing."
In addition, the development of exports to the EU is hindered by the lack of funds for farmers and entrepreneurs for new equipment and information on the peculiarities of the European market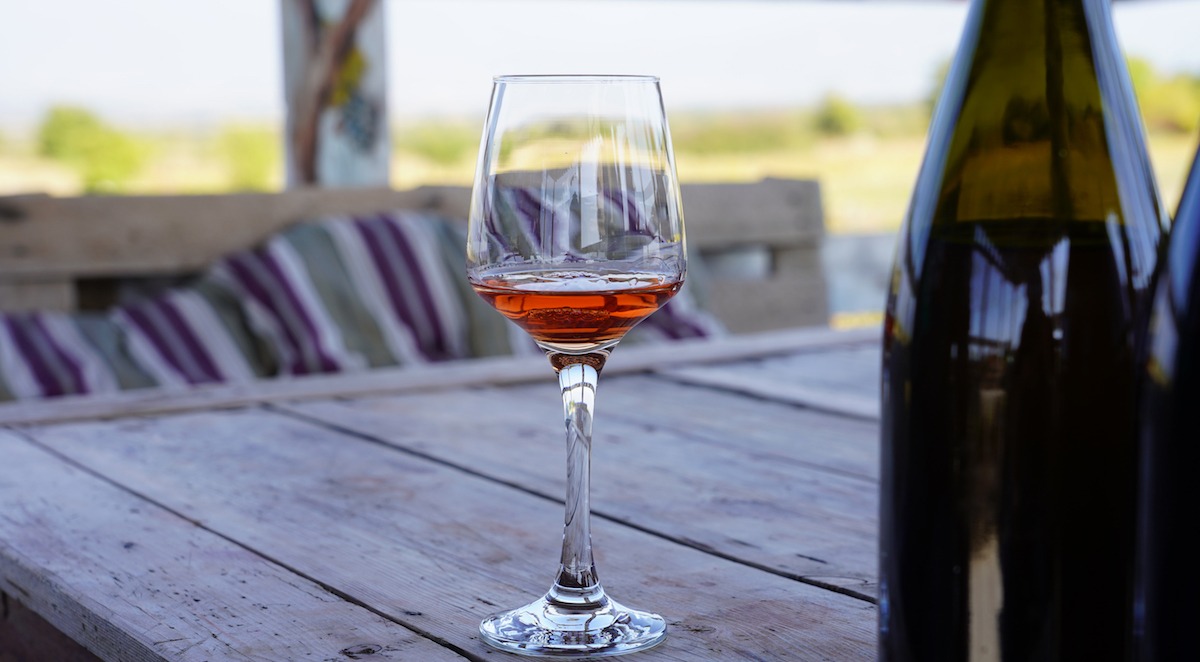 What and how much is exported to Europe today?
According to data for 2018, exports to EU countries amounted to 28% of all Georgian exports. The majority – 36 percent – is still exported to the Commonwealth of Independent States (CIS).
However, Eurostat data show positive export trends from Georgia.
Since the entry into force of DCFTA, the number of exporting companies in Georgia has increased by 37 percent. While in 2014 578 Georgian companies exported products to Europe, in 2018 that number had already reached 789.
Exports to EU countries in 2018 amounted to $ 730 million, which is 13% more than in 2015.
The data shows that wine, mineral water and hazelnuts remain – as before the signing of the Association Agreement – the main Georgian exports to the EU.
Recently, Georgian has begun exporting small quantities of kiwi, blueberries, dried fruits, and industrial products such as plastic and glass.
For Georgian milk, dairy products, and meat, the European market is still inaccessible due to strict EU regulations on animal products.
In Georgia, the "traceability chain" necessary for the safety of these products has not yet been fully established, and Georgian companies are just starting this process. "Traceability chain" means that the product must be strictly controlled at every step of the way – from the farm to the table.
Over the next two years, Georgia will introduce new laws governing the production of animal products. As part of this legislation, the home-made productuction of animal products will be prohibited.
As for industrial goods, the deadline for adopting the rules for their producers is 2027. Manufacturers and business operators will have to go through certain procedures before adopting new production standards: certification, development of internal quality control mechanisms, etc.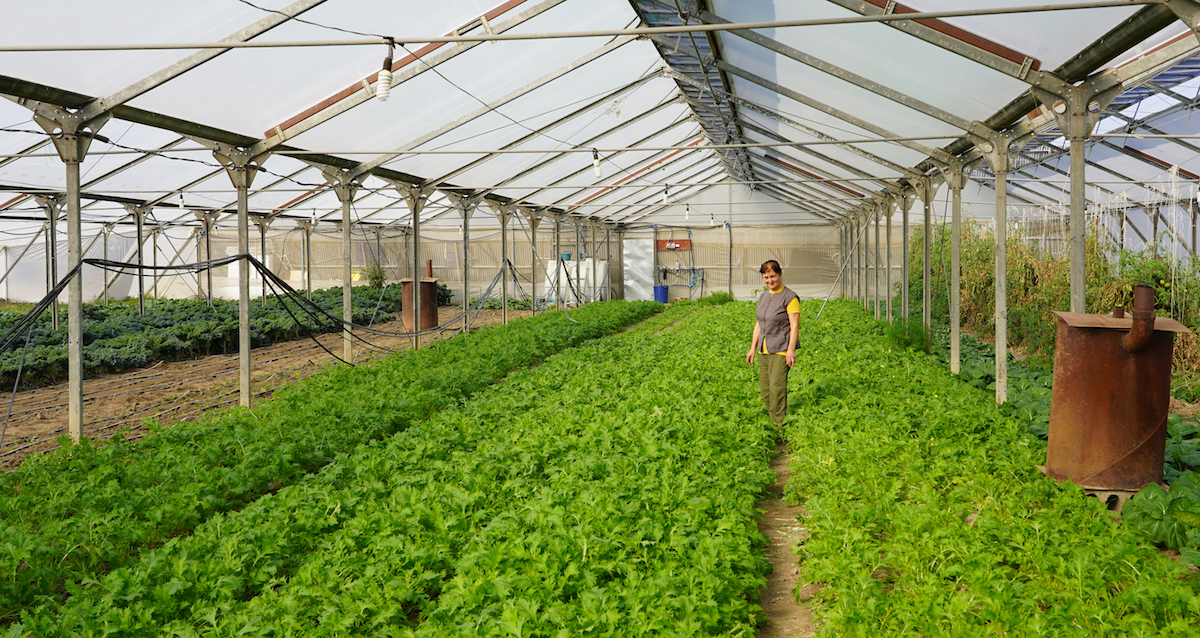 "I caught the excitement"
Kakha Tutberidze is a financier by profession. In 2014, at the same time as the signing of the Association Agreement, Kakha heard about "Produce in Georgia," a state program that gives money to those who present a correctly calculated business plan and are ready to invest their own funds.
Tutberidze created a greenhouse with the help of a state grant. After a soil analysis and consultation with experts, he chose a plot of land near the city of Rustavi.
Despite careful planning, a whole cascade of unforeseen issues arose.
"First, I couldn't find a qualified greenhouse designer. I had to find out everything and build it myself. "
Kakha began to grow types of greens that are widespread on the local market, but the market for these products turned out to be so unstable that several batches of products simply soured.
He began to look for another way to continue production.
Instead of going down the path of mass production, Kakha egan to grow rare vegetables and salads in Georgia – kale, Japanese mizuna salad, fennel, bok choy, arugula and artichoke.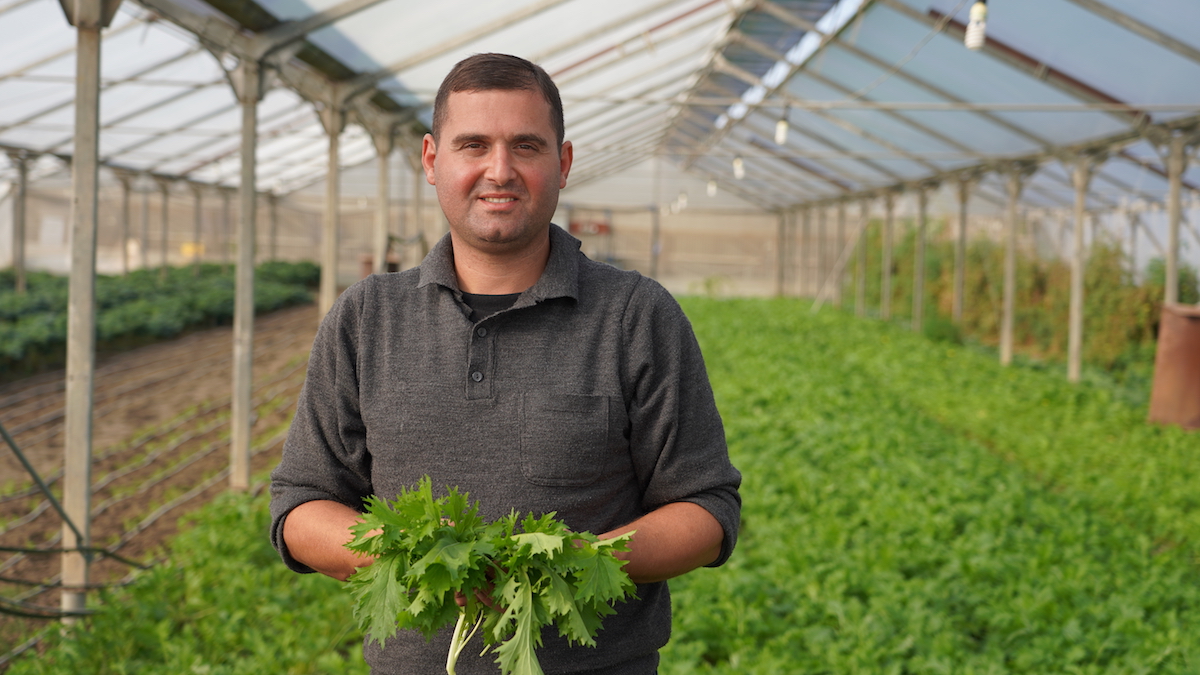 After testing the seeds, Kakha discovered that the Georgian climate yielded a high quality product. The taste and aroma of the vegetables were significantly superior to imported.
"Soon after, the Achara Group (a group of prestigious hotels) became interested in our products. They refused an imported product, and now we're delivering to hotels in the chain. "
After success in the local market, Kakha Tutberidze thought about exporting to Europe.
More recently, an Austrian businessman became interested in his greenhouse. At his request, ginger and turmeric were planted for testing. The test results showed that Georgian soil yields a higher quality crop than in Israel or Spain, which are the main suppliers of these products to the EU market.
"This circumstance gave me the ambition to start exporting products to Europe. Now that local production has begun successfully, I'm optimistic, "says Kakha Tutberidze.
Government and other support programs
For many years, state programs have been implemented in the country with optimistic names: "Produce in Georgia", "Realize the Future", "Preferential Agricultural Loan", "Young Entrepreneur" and other programs of co-financing and assistance to enterprises.
However, many entrepreneurs do not have access to these programs because they need seed capital and bank guarantees.
International donors such as EU, UN, and USAID are also actively involved in this process. They provide technical assistance to the Georgian government in order to bring Georgian legislation closer to that of Europe.
Large projects are being implemented by the European Neighborhood and Rural Development Program (ENPARD) with a budget of 179.5 million euros.
With the support of the Ministry of Agriculture, state programs are also being implemented. As part of ENPARD, rural advisory centers for farmers and cooperatives have been created, and substantial grants have been allocated to encourage research in agriculture.
With the financial support of the Czech government, the international organization People in Need has recently completed a training program informing farmers about the main aspects of DCFTA (compliance with European food safety standards, the benefits of energy efficiency, and climate planning principles for agriculture).
However, the opportunities offered by the free trade agreement with Europe are still perceived as a vague and distant prospect for many rural people.
"The state does not help"
Aramais Meltonyan, a fourth-generation beekeeper from the Ninotsminda region of southern Georgia, cares for more than 120 beehives.
When Georgia signed a free trade agreement with the EU, Aramais was optimistic. He repeatedly appealed to the authorities to help him establish exports to Europe, but in the end all he got were empty promises.
Farmer Aramais Meltonian, Ninotsminda, Georgia. Photo: Agunik Ayvazyan, JAMnews
For Aramais, the main obstacle is that in Georgia there is still no equipment for checking the quality of honey, which is necessary for the product to enter the EU market.
Additionally, Aramais did not have the funds for proper packaging and labeling. "I counted on the state for help with this, but in the end I did not receive it."
Aramais says that honey production is one of the potentially profitable sectors of agriculture, capable of generating twice or even three times more income than others.
Due to adverse climatic conditions this year, he received only 400-450 kg of honey, which is very small. Norm – 2-3 tons. He sells everything that he produces in his and neighboring Akhalkalaki regions, and also exports to Armenia.
"It would be nice if we could export honey to Europe, where it is quite expensive, but due to the lack of appropriate assistance, we cannot move on. They told me that I should open a cooperative – and I did – but still no one pays attention to me , "Aramais says.
The main obstacle for farmers in this region is lack of information, says Mahare Matsukatov, director of the NGO Akhalkalaki Business Center. In Armenian-majority Javakheti, a language barrier is added to a general lack of information.
" Farmers do not know how to pack goods, how to promote, how to send for export. This is a matter of both marketing and documents, " he explains.
According to him, sometimes the state and the non-governmental sector conduct trainings and issue booklets, but this is not enough for people to learn the ropes.
Moreover, new laws that tighten quality requirements are often not implemented in practice, says Katsukatov. For example, entrepreneurs who registered enterprises for the production of dairy products and comply with all established standards were in a losing position compared to those who continue to work "underground."
"If a farmer is going to export goods to Europe, he will have to comply with all the norms " , -says Matsukatov.