Former NATO Sec-Gen: Georgia should consider joining NATO without Article 5 applying to disputed regions
"I think discussions should begin as to whether it would be acceptable for Georgia or not to join NATO so that Article 5 would not be extended to Abkhazia and South Ossetia", former Secretary General of NATO Anders Fogh Rasmussen said earlier today in Tbilisi on September 10.
Rasmussen is in Tbilisi to attend the fifth international conference "Now What", organised by the Center for Economic Policy Research in Georgia and the McCain Institute.
Speaking about Georgia's prospects for NATO membership, Rasmussen noted that it was time for Georgia and the Alliance to discuss a mechanism by which Georgia would become a member of the alliance so that Article 5 of the NATO Charter would only apply to the Georgian-controlled territory.
This is needed so that the occupied territories do not become a hindrance to Georgia's membership in NATO, he noted.
What is Article 5? 
Article 5 of the North Atlantic (Washington) Treaty stipulates that an attack on one member of the organisation is an attack on the entire military alliance, and obliges member nations to come to the defence of the country attacked.
"Georgia fulfills the necessary criteria for NATO membership, except for the territories occupied by Russia. So I think you have to start discussions on whether it will be acceptable for Georgia to join NATO without Abkhazia and South Ossetia. It is up to Georgia [to decide] and then it should inform NATO that it is ready. What do you say?" Rasmussen said.
Asked by Interpressnews whether the Georgian government is ready to make this decision, Rasmussen responded that he does not know the take of the Georgian authorities on the issue.
Rasmussen described the issue as a "risky way" and said that discussion on the issue should start inside the country.
He said that if Tbilisi makes this decision, Putin would not be able to prevent Georgia from joining NATO.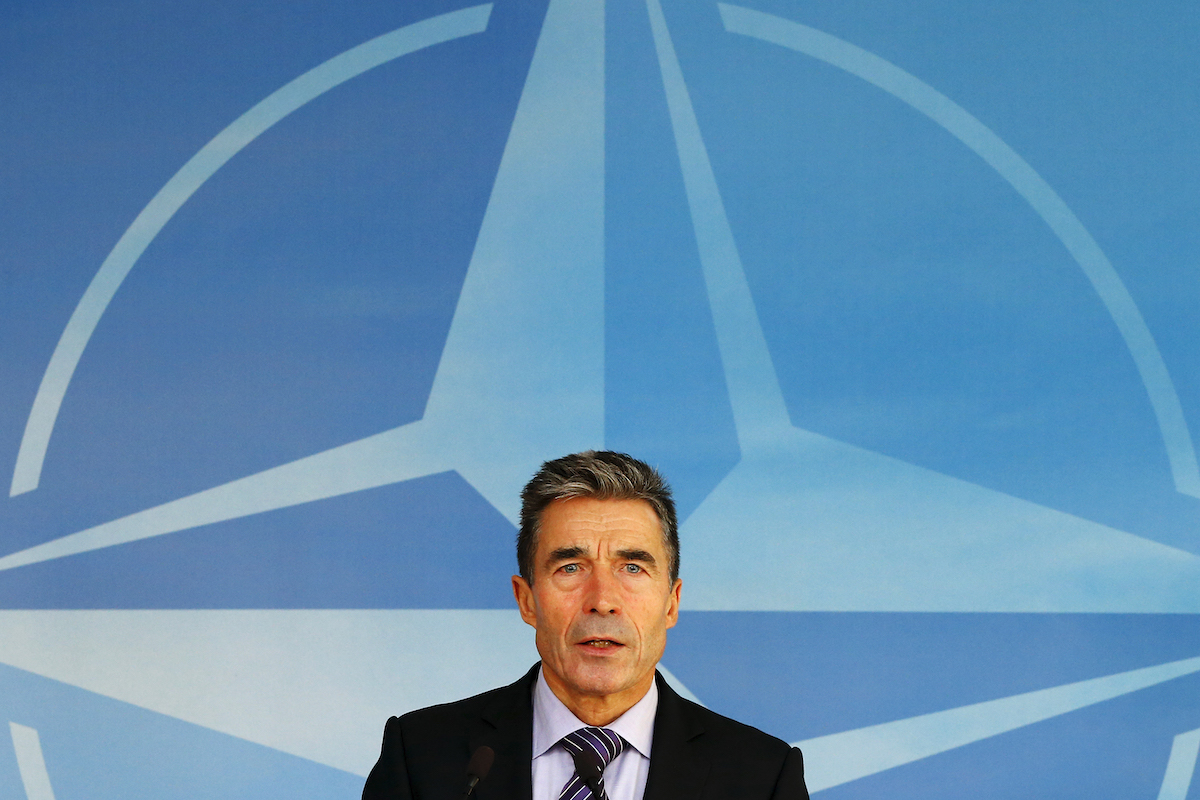 "You have to consider this internally because it is also a risky way. But I think we should avoid Putin's veto.  He [Putin] knows that NATO and the European Union will not want these problems [the problems of the occupied territories] to join the alliance. That is why he [Putin] continues to occupy Abkhazia and South Ossetia.
"But if Georgia says it is ready to join NATO without Abkhazia and South Ossetia, agreeing that Article 5 should only apply to the territory currently controlled by the Georgian government, then we can be sure that Putin will not [de facto] veto Georgia's membership in NATO, " Rasmussen said.
• Russian PM: Georgia joining NATO will be a catastrophe
• Russian diplomat advises Tbilisi to make up its mind: either stability in the Caucasus, or NATO 
•  Georgia: 77% support accession to EU, 74% – to NATO 
• NATO Sec-Gen: Georgia will become a member, nobody has the right to interfere
He said the issue of Georgia's membership would not be resolved by just this one step, but "at least such a decision by the Georgian government would be the basis for a real resumption [of the discussion of] membership."
"This will be the first, real step towards implementing the decision NATO made in 2008 that you will become a member of NATO if you meet the necessary criteria," Rasmussen said.
An Interpressnews journalist asked Rasmussen: What about the people who believe this decision would be the ultimate surrender of the occupied territories?
That is why the choice is risky, the senior NATO official responded.
"Of course it's a risk. That is why it is up to Georgia to decide and act on it. But the question is what is more risky – the current situation or the start of new talks on Georgia's future membership in NATO", he said.
In an interview with Voice of America on the same issue, Rasmussen explained that such a precedent exists and that the alliance allowed it in the case of Germany.
"Germany joined NATO in 1955, but only the western part. The NATO Charter did not apply to East Germany. However, in 1991, following Germany's reunification, the NATO Charter also extended to East Germany. In principle, a similar mechanism could be developed for Georgia as well. Of course, this is contentious and should be discussed both in Georgia and in NATO.
"But I think we need to confirm it, because otherwise we are giving President Putin a de facto veto to permanently hinder Georgia, Ukraine or any other neighboring country from joining NATO by producing similar conflicts", Rasmussen said.
In addition, in an interview with Voice of America, Rasmussen said that the alliance made a mistake in 2008 when Georgia and Ukraine did not adopt such a membership plan.
Reaction to Rasmussen's statement 
Rasmussen's statement gave rise to a number of mixed reactions in Tbilisi.
Government officials said it is impossible to consider Georgia's becoming a NATO member without Abkhazia and South Ossetia.
"Any international organization should accept Georgia within the territory and within its borders recognised by the international community, including NATO," Gia Volski, the leader of the parliamentary majority and a member of the ruling Georgian Dream said in response to Rasmussen's proposal.  
Chairman of the Parliamentary Committee on Defense and Security Irakli Sesiashvili said Georgia's territorial integrity will never be in doubt and the country will become a NATO member along with Abkhazia and Tskhinvali.
Sesiashvili said that the issue raised by Rasmussen has never been considered on an official level by the Georgian government.
"There has never been an official discussion of this topic, it [has] only been discussed and proposed as the opinion of experts", Sesiashvili said.
Former defense minister Tina Khidasheli said no friend of Georiga has ever said that the country should become a NATO member without Abkhazia and South Ossetia within its borders.
Khidasheli did note that Rasmussen meant that Georgia should become a NATO member within its internationally recognised borders, but that Article 5 should not apply to Abkhazia and South Ossetia:
"Anyone who disseminates information to the contrary is either a misinformer or just an enemy of the country," Khidasheli said.
"It is a pragmatic and acceptable form of accession not to apply Article 5 to Abkhazia and South Ossetia. That is, for Georgia to become a full member of NATO, including its entire territory, including the occupied territories, but Article 5 may not extend to the occupied territories. That is what Rasmussen is saying to the other friends of Georgia", Khidasheli said.
Giga Bokeria, one of the leaders of the opposition European Georgia party, says Anders Fogh Rasmussen's proposal is in Georgia's interest.
"It is interesting that it is the same people who threaten our citizens with a war with Russia and who at the same time insist that Article 5 should be extended to Abkhazia. That means war, and it is under this pretext that NATO membership is being blocked.  Mr. Rasmussen has said that it is in Georgia's interest to preserve unoccupied Georgia, and this increases the chances of restoring territorial integrity quickly. This was the case in Germany (but this is not a precise analogy) and in many other cases", Bokeria said.
"The fact that the former NATO Secretary General has said this means that the West already has a sense that Georgia deserves NATO membership and this should happen as soon as possible," Rondel Foundation researcher Zurab Batiashvili said.
 "This statement is positive because NATO is becoming more aware that the 2008 decision was not quite right and fair in respect to Georgia and Ukraine and that it was the wrong signals sent to Russia that fueled its aggression towards us. As for the non-application of Article 5 of NATO to the occupied territories … this will be a very important deterrent in terms of repelling further possible Russian aggression", Batiashvili said.
Conflict expert Paata Zakareishvili also agrees with Rasmussen that discussions on the issue should begin.
"Yes, discussions should start on how to get into NATO. If the fifth article does not apply to Abkhazia and South Ossetia, there is nothing wrong with that, on the contrary, it is good. In this case, everyone will calm down, including NATO, because in this case we do not ask for armed support from the alliance, we only need peaceful support."
Zakareishvili says it is an acceptable position for Georgia to join NATO without Article 5 applying to Abkhazia and South Ossetia, but that Georgian society must reach a consensus.
"Georgian society must decide whether we want to join NATO so that the fifth article oes not apply to Abkhazia and Tskhinvali, and a Georgia joining NATO will continue to work for unification with … the occupied territories. It is important that the dialogue not come to an end", he said.