"No one is waiting for you here!" - Photo report and comments from first Russian flight to Tbilisi
First flight from Moscow to Tbilisi
On May 19 the first direct Moscow-Tbilisi flight in four years landed at Shota Rustaveli Airport.
Hundreds of activists went to the airport to protest against the resumption of direct flights between Russia and Georgia. They greeted the passengers of the Moscow-Tbilisi flight with protest banners, whistles and shouts.
The police did not let the activists into the arrivals hall.
The first direct flight, which landed at Tbilisi Airport at 2:00 p.m., carried about 70 passengers.
Since Russian President Vladimir Putin signed a decision to restore direct flights on May 10, protests in Georgia have not stopped. In addition to the airport, they also take place in the center of Tbilisi, in front of the parliament building.
The opposition, civil society representatives and ordinary citizens are protesting that the Georgian government supported Putin's decision. Direct flights to Russia will also be operated by the Georgian company Georgian Airways. Part of society believes that in conditions when the whole world cancels flights with Russia as a sign of solidarity with Ukraine, Georgia's position is unacceptable and returns the country to the Russian orbit.
Georgian President Salome Zurabishvili is also against direct flights. She expressed solidarity with the protesters: "Despite the opposition of the Georgian people, Russia made its unwanted flight to Tbilisi," the President wrote on Twitter, accompanying her post with the hashtag #No2Flights2Russia.
First flight from Moscow to Tbilisi
JAMnews talked to several passengers who arrived from Moscow, as well as to the protesters: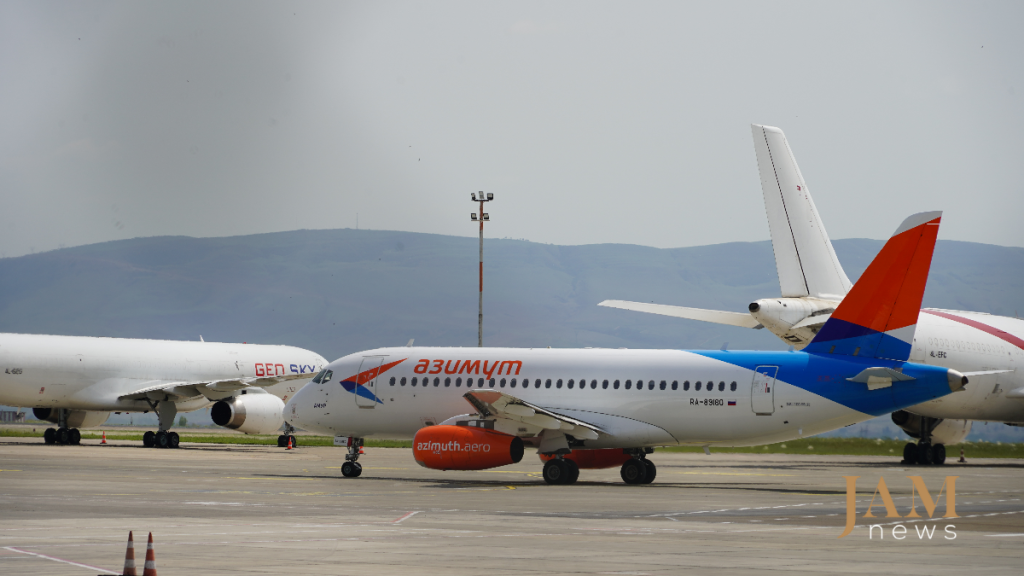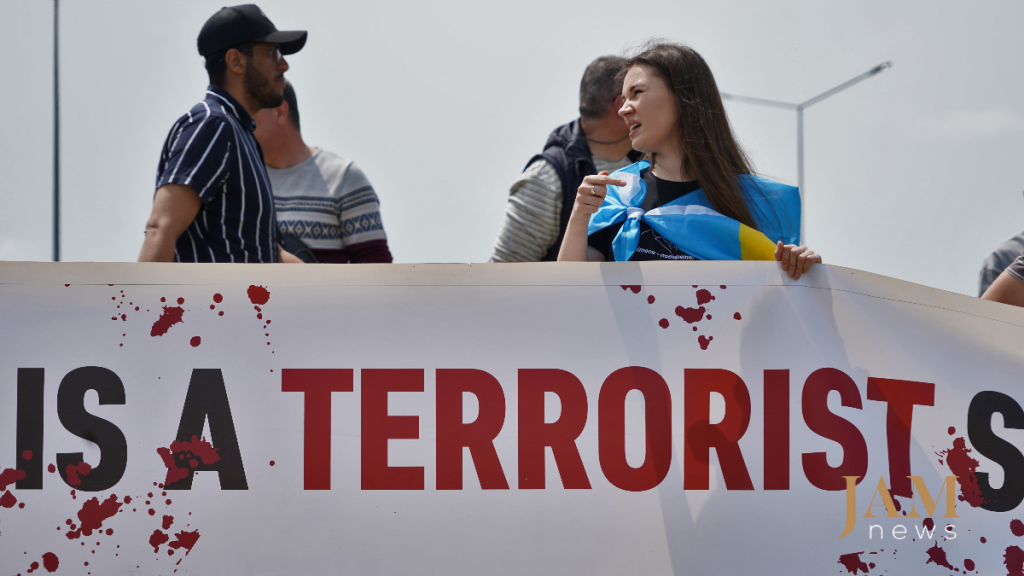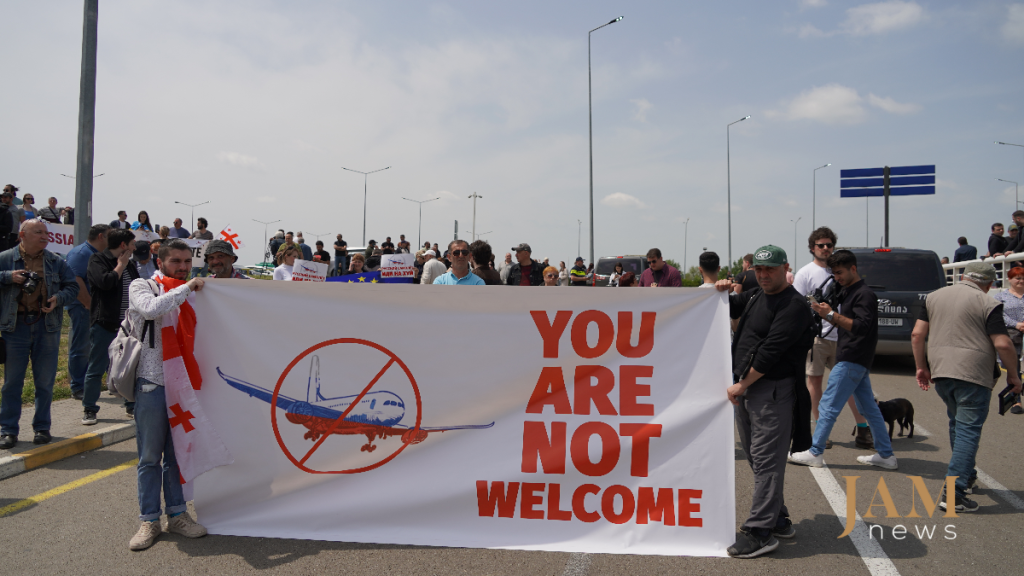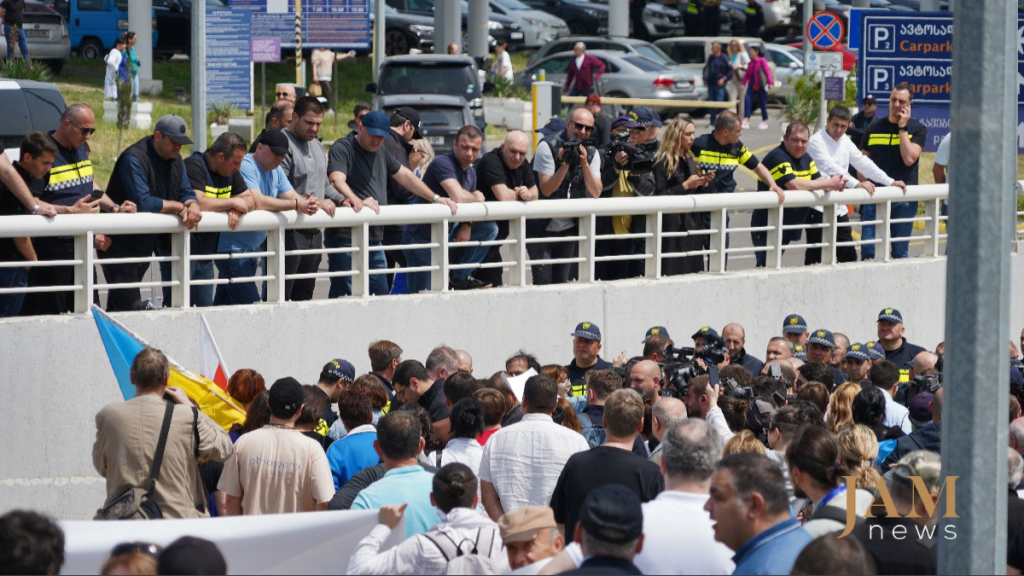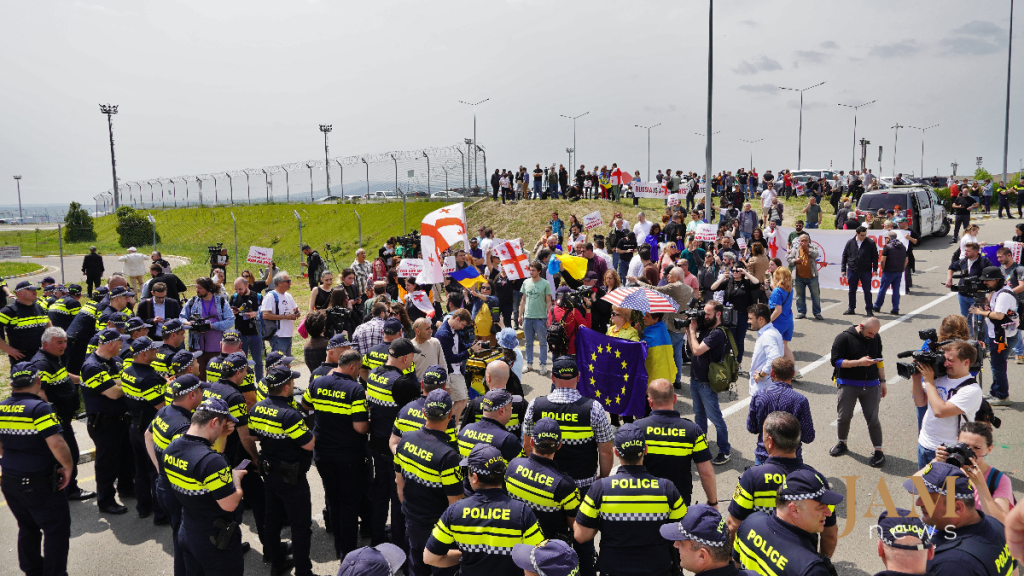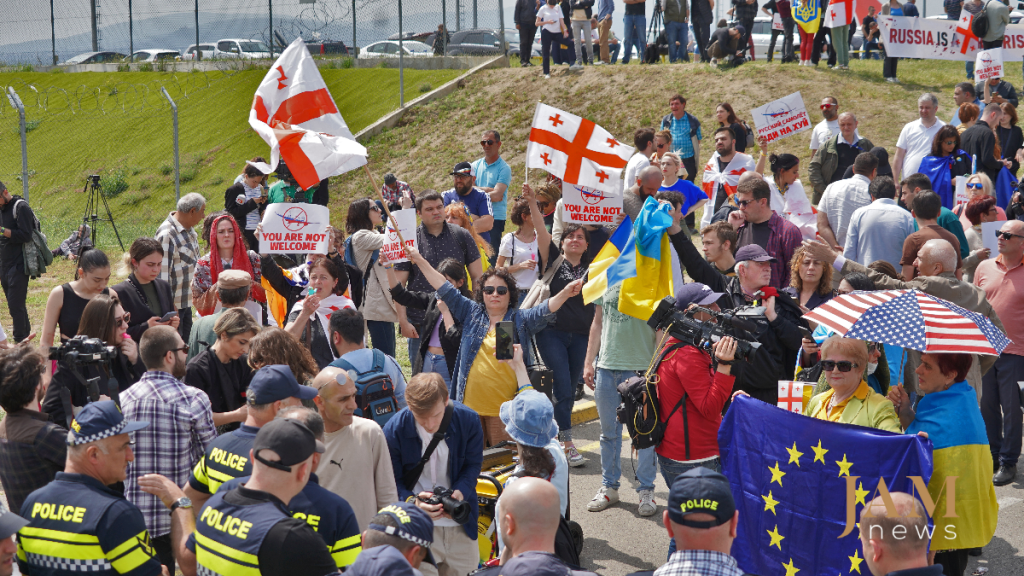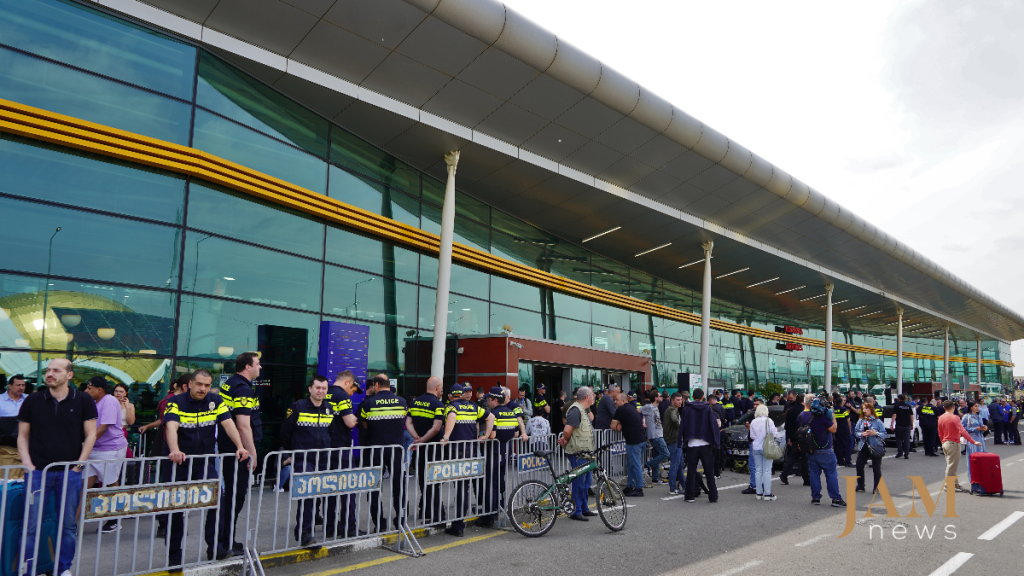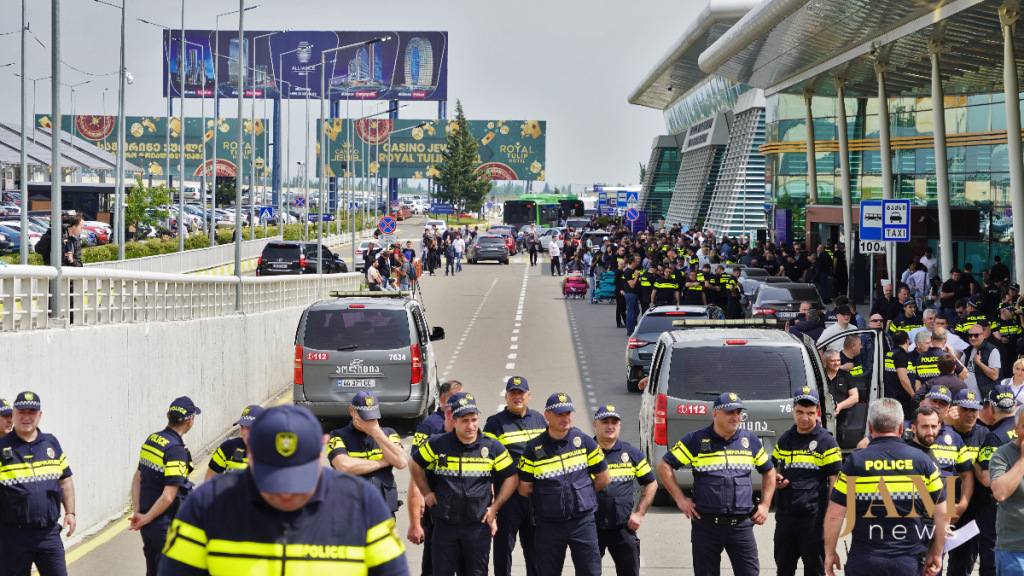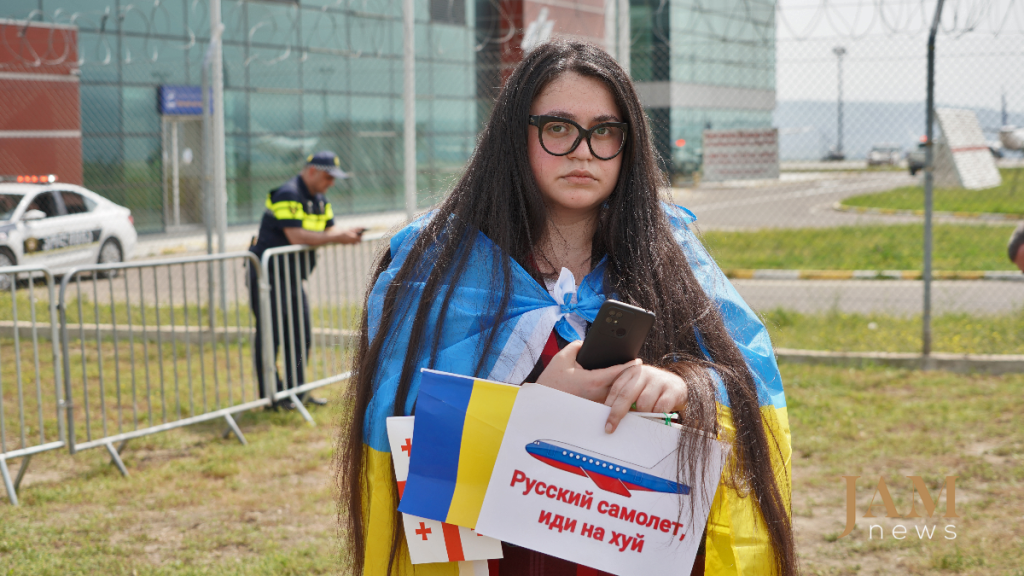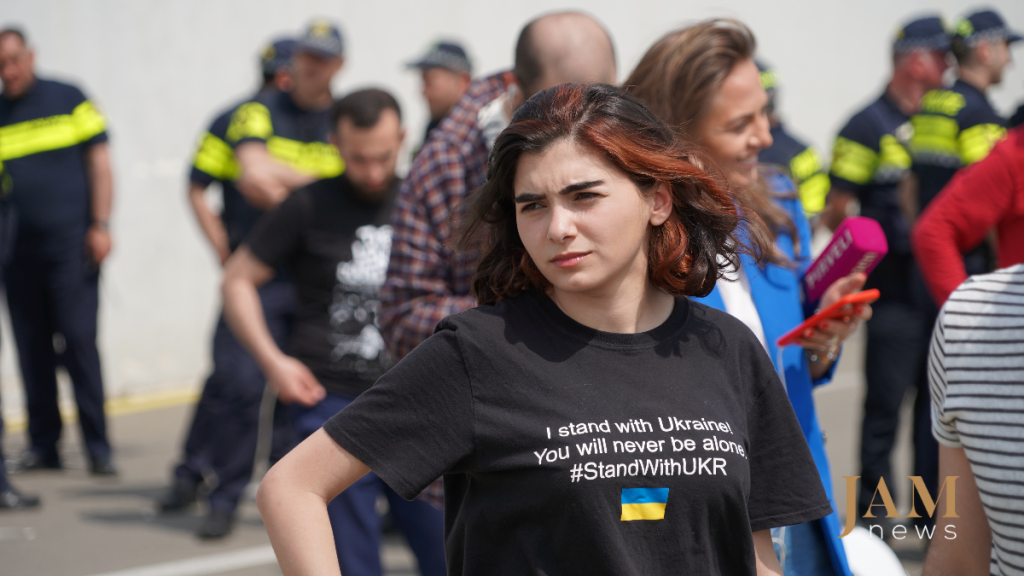 Alexander Buzaladze, Moscow, passenger on an Azimuth airline flight:
Came for ten days to visit a friend. I know that there is a tense situation between Georgia and Russia. I am an ethnic Georgian and so I am especially worried about this situation, but aggression is not an option. As John Lennon would say, only love can save this situation.
Malkhaz, passenger of the Azimuth flight

For those Georgians who live in Moscow, it is very good that this flight was scheduled. I also welcome the restoration of relations between Russia and Georgia. Politics is none of my business, we have to think about people, and what's wrong if we fly directly?
Tatyana, passenger

We came to Georgia to spend the weekend. We booked a hotel, we will visit cafes and restaurants. We will spend money here and enjoy your beautiful country. I think it's good for everyone.
Keti Kurmashvili, 40, protester, Tbilisi
I came here because I love my homeland, I can't stand occupation, especially now, when the government is directly connected with Russia. Now between Russia and Ukraine there is a fierce war, and the resumption of flights is a direct crime.
Maya Magradze, Maka Mindiashvili, Irakli Kikiani, protesters, Tbilisi
Maya Magradze: Russia conquered not 20 percent of Georgia, but 100 percent. The future of our children is for sale. Today is the day of the murder of Gigi Otozoria. Today, the plane of his killers landed.
Maka Mindiashvili: There should have been a lot of us today. The youth who protested against the Russian law (the law on foreign agents – editor's note) should stand here today, because it is even worse. Do we accept the occupying country that killed your brothers and sisters?!
Irakli Kikiani: The Parliamentary Assembly of the Council of Europe recognized Russia as a country supporting terrorism. That says it all. It turns out that the Georgian government supports a country that promotes terrorism.
Alina Kolicheva, 22, Russian citizen living in Tbilisi.
I oppose the flights of Russian planes to Georgia, because I myself am from Russia and in that country I cannot stand with such a poster. I know very well what Russia is, and that is why I ran away from it. I don't want Georgia to turn into Russia. I want Georgia to become a member of the European Union.
Marina Adamia, Tbilisi
All of us, true patriots, must stand. We are a sane nation with an ancient civilization and our youth does not want Russia. We want Europe – progress, development and once again progress.
First flight from Moscow to Tbilisi