Ex-head of Sberbank Abkhazia detained after two-year search
The former head of Sberbank of Abkhazia Timur Bganba has been detained after a two year search that began in 2018 when he was first put on the wanted list.
The ex-banker was detained in Moscow, right in the crowd in the city center, on Petrovsky Boulevard.
It is assumed that he will soon be transferred to Abkhazia.
This news came as a surprise to the Prosecutor General of Abkhazia: even after several Russian channels broadcast news of the arrest, the office could not confirm the fact of the detention of Bganba.
"Bganba is accused of concluding an agreement on behalf of Sberbank to provide a loan that is disadvantageous for the bank to the amount of 1,959,000 dollars. We have reason to believe that it was known in advance that the loan would not be serviced and would not be repaid, " ex-Deputy Prosecutor General Eshso Kakaliya explained to reporters in 2018.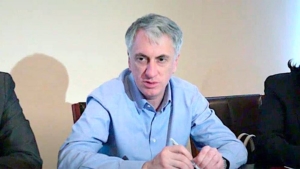 Timur Bganba from the moment of its foundation in 1996 to 2018 headed Sberbank of Abkhazia.
In 2019, Robert Agrba was appointed to the post of head of Sberbank of Abkhazia. And on December 12, his brother Adgur Agrba became the new prosecutor general of Abkhazia.
The case of the search for Timur Bganba sharply intensified after this.
• Abkhazia needs small businesses, and small businesses need reforms
• Op-ed: How we got 'criminal Abkhazia' instead of the dream of a wonderful, small country
Toponyms, terminology, views and opinions expressed in the article do not necessarily reflect the views and opinions of JAMnews or any employees thereof. JAMnews reserves the right to delete comments it considers to be offensive, inflammatory, threatening, or otherwise unacceptable