Georgian PM to speak at anti-LGBT conservative conference in Hungary
Conservative conference in Hungary
Georgian Prime Minister Irakli Garibashvili will speak at an anti-LGBT conservative conference in Hungary, as reported on the official website of the conference.
Hungarian Prime Minister Viktor Orban will also take part in the conference, which is scheduled for May 4-5, and, according to the organizers, he will deliver the keynote speech.
"He [Irakli Garibashvili] believes that Georgia is a conservative society with Christian values. Garibashvili believes that activists and politicians have an obligation to respect the will of the majority, and the vast majority of Georgians reject LGBTQ propaganda, demonstrative pressure," the statement says.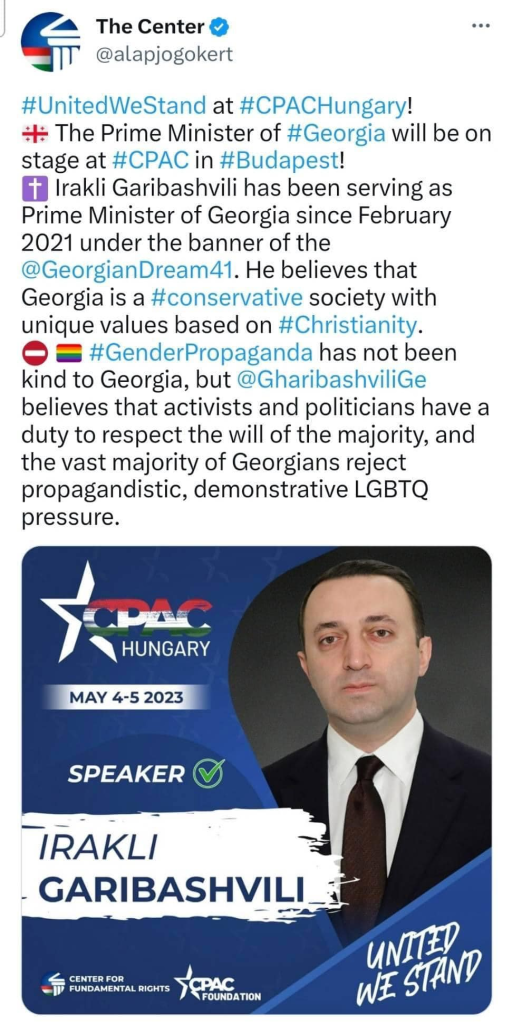 ---
---
According to the Associated Press, a conference of American conservatives will be held in Europe for the second time, and this year its motto will be "Together we are strong." The focus of the conference will be "the nightmare of the liberals: the international alliance of nationalist forces".
As the publication wrote in January, Hungary is largely isolated in Europe due to a right-wing populist government and is looking for like-minded people outside the country.
The "Conservative Political Action Conference" organized by the American Conservative Union was first held in 1974. This annual event is also held in different countries. Hungary is hosting the conference for the second year.
The Hungarian government is considered the most pro-Russian and populist EU government, and the Georgian government make no secret of their sympathy for each other's policies. In October 2022 Viktor Orban called his Georgian counterpart "a great politician", and Garibashvili said that the Georgian government has largely taken its example from Hungary.