BLOG: They solved the problem themselves
A good friend asked me to help him find a nursery place for his niece. It was the first time I'd encountered this issue and I soon realised it was no easy task. There are nurseries in Stepanakert, but to secure a place in one for a child, you have to think about it a long time in advance. Every year more children are born here – to our delight – but they all need nurseries, to help in their development. Nurseries are also important for parents, to allow them time to do things they need to do.
I'd been talking with Lena online for several months. I've met her Irish husband, Paul, in person. He's come into our office several times and I'm always amazed at how well he speaks Armenian. I've heard their story: they were both working as volunteers at a Yerevan NGO and, naturally, he couldn't help but fall in love with the beautiful Lena. They got married and had children.
I knew that Lena had a small children's group in Stepanakert. I wanted to see it for myself and so I asked her if I could visit this 'nursery'. Lena agreed and three days later, when she came to Stepanakert from Yerevan, we met up.
At the appointed time I arrived at the private house on the outskirts of Stepanakert where Lena rents a room for the children's group. Looking around, the place was surrounded by beautiful mountain scenery. You could easily be in the woods within about ten minutes.
Lena turned up with her young son, Daniel. We went into the room and waited for the children to arrive. I looked around. On the walls there were drawings and colourful pictures and there were shelves of children's toys.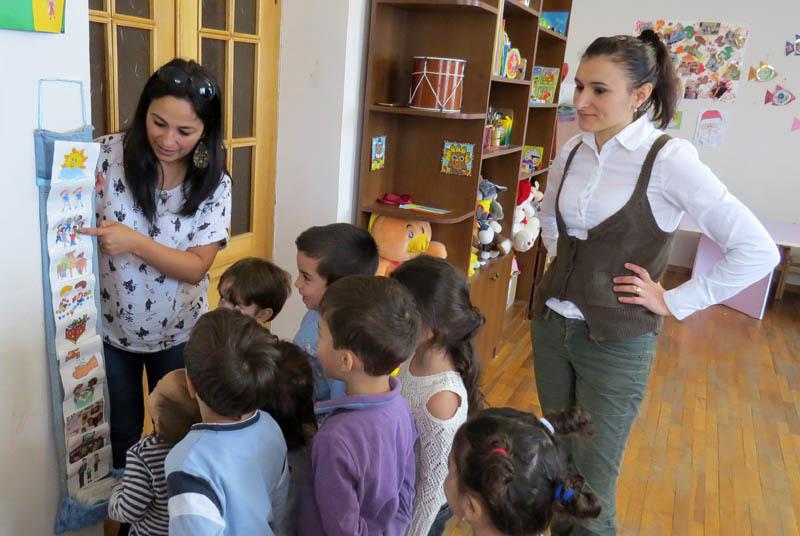 We had about twenty minutes to talk, so I asked her to tell me about herself and about the children's group. I was very interested in everything she had to say.
"I'm originally from Baku. We lived in the district of Montino. Although I was only small, I really remember our nursery. One time we were taken on a walk and I proudly showed all the children where we lived on the fifth floor. Another time when the nursery celebrated a festival by putting on the show 'Masha and the Bear', I played the role of Masha.
After we got married my husband and I moved to Karabakh. We lived there for four years and then returned to Armenia. When we moved to Stepanakert in 2013, we immediately decided to enrol our child at nursery. We also wanted to have a look and see what we could do to help in Karabakh. We went round all the nurseries but hardly any of them had places, especially as we weren't from here and didn't have a Stepanakert residence permit.
The experience prompted me to start off doing activities with my son myself, because I didn't want him to end up falling behind his peers. As it turned out, I wasn't the only person with this problem, as the nurseries were so full, and soon there were another two or three children whose parents wanted me to look after them.
After that people started to find out by word of mouth about our little group and parents started bringing their children to me. Our 'nursery', as they call it, has been running for five years now. It's not a nursery, though, it's a group of children and we do activities with them. We have a maximum of ten children, ranging in age from two and a half to five years old. We work with each child individually, so we get to know their personality and their family. We talk to the children in Armenian so that it's easier for the teacher to work with them when they start school. But alongside Armenian the children also learn Russian and English from our volunteers."
A young woman now arrived with a small child. Lena introduced us. This was the nursery teacher, Arev Apresova. Parents and children were now starting to arrive. Outside it was misty and the rain pattered on the windows. Lena said not all the parents would bring their children in this weather. In the end there were three children who didn't turn up.
While the parents were helping their children off with their shoes, Lena continued.
"We introduce the children to the world around them. We take them to the church and the library and to the bakery to see how bread's made. We show them the world they live in. We go into the countryside and the children see farm animals, how they're looked after and fed, how cows are milked. The great thing is, if you have a small group, you can easily organise things, whereas if you have a group of 50 to 60 children, it's impossible.
In the autumn we go into the woods and collect leaves and talk about the seasons. Sometimes we ask the parents to bring their children in wellington boots, so they can go and jump in puddles outside or go into the woods. The children's parents see how they're developing and they're really pleased with how we work…"
The children had immediately run over to what I could see were their favourite toys and started playing with them. But the daily routine is the daily routine, even where there are children.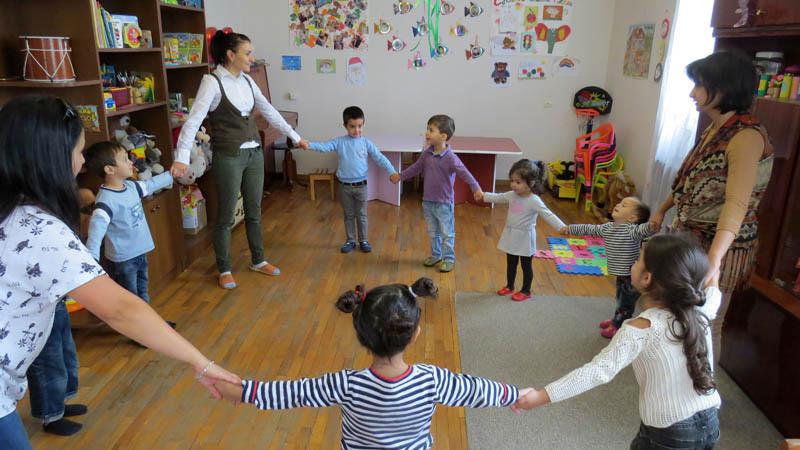 The children threw themselves enthusiastically into exercises to music with Lena and Arev and were clearly having lots of fun. While Arev carried on working with the children, following the daily schedule, Lena and I drank wonderful tea and continued our conversation. I wanted to know about her attitude to the conflict and how it affects her work with the children.
"I have a very definite opinion on the conflict: on both sides there are ordinary, peaceful people who are suffering and it shouldn't be like that. At our group we don't have any toys like pistols, assault rifles, swords or any weapons, in fact, because we don't encourage those sorts of toys. Last year, in April, when there was military action on the line of contact, we talked with the children's parents and agreed not to shut down our group for the duration. We continued to work with the children. We helped them by distracting them from the tensions in the city.
In addition, from the first day of the April War we took in a family from Martakert who lived with us for a month. Their two children joined our group which helped them to get over their stressful experiences. When the April War was over, the parents of the children in our group thanked us for helping their children to get through the upheaval without stress. Although I've been through a lot myself, I still hope that some day all this will be behind us and will seem like a bad dream."
After pouring me a fresh cup of tea and handing me a plate with a slice of Napoleon cake, Lena went over to Arev to talk about the children's snack. Then she sat back down opposite me and continued our conversation, summing things up thus.
"We don't talk to the children like they do in other places – about the war and our enemies. We try to give them hope in a peaceful future. Children register everything they hear and it's really important how adults respond to this. Most children, if you ask them what they want to do when they grow up, say: 'We want to be soldiers so we can kill our enemies'. We try to show the children that soldiers are friends and protectors, not killers, that it's much better to live in peace…"
Although there aren't very many children in the group, it would still be difficult for Arev to work with them all on her own. I asked Lena about this and she explained: "We have lots of volunteers. Look, there's a young student just coming in. She has two or three hours free today and has offered to help us. Arev is a linguist by training. Last year her son came to our group. Now she has a second child here, and another she has another one too. Arev said she liked how we work with the children here and the things we do with them and she offered to help.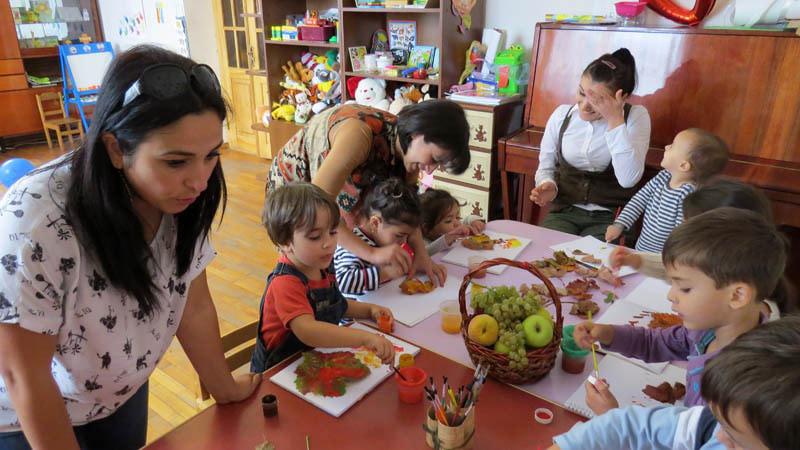 When we enrol children to our group we don't refuse those with physical difficulties or autism. I've done courses on caring for children with autism and teaching them using different methods. We give them more attention. Incidentally, the parents of these children often become volunteers and offer to help.
The programme runs from nine in the morning until one in the afternoon. The fees are 7,000 drams per month ($1 – 478 drams). Generally, we use the money for the children's snack and to buy craft materials (pencils, paints, coloured paper, plasticine etc.). A lot of what you see here (cupboard and tables and things) we've received as gifts from parents.
They like the fact that we give each child individual attention and take their 'whims' seriously. One of our children loves drawing, so we took the whole group to an art gallery. You should have seen this child's face. Another child really likes fire engines and says he wants to be a firefighter when he grows up. We arranged with the head of the emergency services to visit with the whole group. The firefighters showed the children the emergency vehicles and what they do when they get a call-out, how they get ready and come down the pole. The children were awestruck – actually it wasn't just the children!"
In the first part of this post I wrote that I know Lena's husband, Paul. I was interested to know what he thought about what his wife is doing, especially given that they now live in Yerevan and Lena has to travel to Stepanakert at least once a month.
Lena smiled and explained: "My husband supports what I'm doing – if he didn't, I couldn't do it. At the moment he's at home looking after the baby."
I also discovered during my conversation with Lena that alongside stories in Armenian and Russian, they also read stories from the children's Bible. As Lena said, "We're a Christian country and we want the children to develop spiritually, so they're familiar with Christian values."
And so I come to the end of my post about these amazing people who have managed to find their own solution to the problem of caring for their children, generously volunteering their time to help look after this small group. And I'm pleased that the children have ended up in such safe hands. The adults are nurturing in the children seeds of goodness and decency alongside love for their country. Respect!
Unheard Voices is part of International Alert's work on the Nagorno-Karabakh conflict. It is the result of work produced with journalists from societies affected by the conflict and their collaborative efforts to highlight its effects on the daily lives of people living in the conditions of 'no war, no peace'. The purpose is to ensure their voices are heard both at home, in their own societies and on the other side of the conflict divide, allowing readers to see the real faces hidden behind the images of 'the enemy'.
This project is funded by the European Union as part of the European Partnership for the Peaceful Settlement of the Conflict over Nagorno-Karabakh (EPNK).

The materials published on this page are solely the responsibility of the journalists and do not necessarily reflect the opinions or policies of International Alert or its donors. All our journalists adhere to a Code of Conduct, which can be found here.