Baku rooftop water tanks dismantled, despite serious problems with water supply
In Baku, water tanks are being removed from the roofs of high-rise buildings, which have been set up by locals to provide for cases when municipal water services are shut off. 
Officials say that this needs to be done in order to replace old elevators and repair roofs.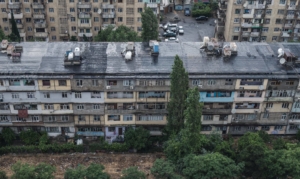 Why do Bakuvians need water tanks 
Baku is known for its problems with the local water supply. In some parts of the city, there is water for only a fe hours a day.  In other areas, it is constant, but often there are interruptions or weak pressure.
• Azerbaijan's energy apocalypse  
• Who the lions protect – the story of Baku's famous Fantazia sauna
Therefore, citizens put big tanks on the roofs of their homes –  the tank is connected by pipes to the water supply system and the apartment, and often a pump is also installed to make it easier to pump water into the tank.
Why are the tanks being taken down? 
Public officials say that they the roofs of high-rise buildings will be repaired and modern elevators will be installed instead of old ones and that the water tanks are in the way of renovation work. 
Chairman of the Housing and Utilities Association Ramsin Abdullayev says most of the water tanks on the roofs of buildings are installed above the elevator shafts and make it difficult to change them out. 
Such an explanation was received by Baku resident Svetlana Krasnova: 
"It's been a month since all the tanks have been removed from our house. Every night the water is turned off, no one repairs the roof, the elevator does not change," she complains.
In the five-story building where Arzu Khalilova lives, there is no elevator at all.  But her water tank and the water tanks of her neighbors were also taken away. These cases gave rise to another official explanation: the tanks were removed so as not to spoil the view of the city. 
Sometimes officials say that the tanks are being removed because they are no longer needed, and that very soon, all Baku addresses will have a constant water supply with normal pressure. 
The state company Azersu has promised this for a long time, but has not yet kept its promise, however company officials have publicly stated that 'removing water tanks is not within our purview.' 
Tanks began being taken down six months ago in Baku, but the issue become more severe with the onset of summer.