Baku dog owner takes police to court over 'unlawful' fine – and wins
Baku dog owner Oleg Amirov has challenged a fine he was given for having his dogs unmuzzled and won. 
This is the first time a 'dog lover' has gone to court for such a reason; usually people prefer to just pay the fine. Amirov claims that police extorted money in order to 'resolve the issue.'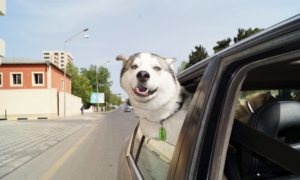 • Where cats invite out for coffee – video from Baku
• Free and captive at once. Video and photo from Yerevan's zoo
Two huskies, three police officers and a $117 fine
Amirov has two huskies. 
He was walking them along the seaside boulevard in Baku, when three police officers approached and asked why the dogs were without muzzles.
Amirov told the officers that huskies are medium-sized dogs, and the law on muzzling dogs only applies to larger breeds. 
The officers replied that the law did not dictate which breeds of dogs are considered large, but rather the police have the right to determine.
The argument over the size of dogs continued at the police station, and in the end, Amirov was fined 200 manat (approximately $117).
"The next day, they informed me that 'my issue' could be resolved for half the fine," says Amirov.
Amirov filed a complaint with the court and won; the fine was revoked.
The police who had fined Amirov were not present at the hearing and the issue of extortion was not raised during the court proceedings..
"The bailiff said that I was the first person to refuse to pay the fine and fight it in court," Amirov says, urging other dog owners who encounter such issues to not immediately pay the fine, and to not be afraid to defend their rights.
Similar cases
Several social media users shared their own experiences with the police in regards to their dogs:
"My miniature schnauzer is the smallest service dog in the world. But once 7 or 8 police officers came and tried to prove that the dog required a muzzle"
"I have a medium-sized dog but have never been stopped by police. An acquaintance with the exact same breed of dog was fined 200 manat a few years ago."
"I've been approached by police several times, but they fined me 30 or 60 manat…
According to the law?
In reality, large dogs do need muzzles, according to Azerbaijan's administrative law. Breaking this law carries with it a fine of 200 manat. 
'Size criteria' are not specified in the law. Each purebred dog's registration indicates the dog's size.
In Amirov's case, the dogs' registration indicates that they are medium-sized; therefore, they are not required to wear muzzles. 
"Dogs weighing up to 30 kilos and measuring less than 60 centimeters at the shoulders are not required to be muzzled. Stop sponsoring corruption – this is the only way to destroy it," says Amirov.