"Azerbaijan's urban infrastructure is not adapted for the disabled"
Disabled people in Azerbaijan
Khadija Sakhavat
"As a young student, I sign up for volunteer programs, but I can't participate due to the lack of conditions. It never occurs to anyone to think about people like us, install elevators or put up ramps for wheelchairs."
Aysel Jafarli, 25, is a student at the College of Tourism in Mingachevir. She says she goes to classes with the help of her friends and family members. She wants to continue her studies at Mingachevir University, get a bachelor's degree, but the lack of conditions at this university for people with disabilities prevents her from doing this.
---
---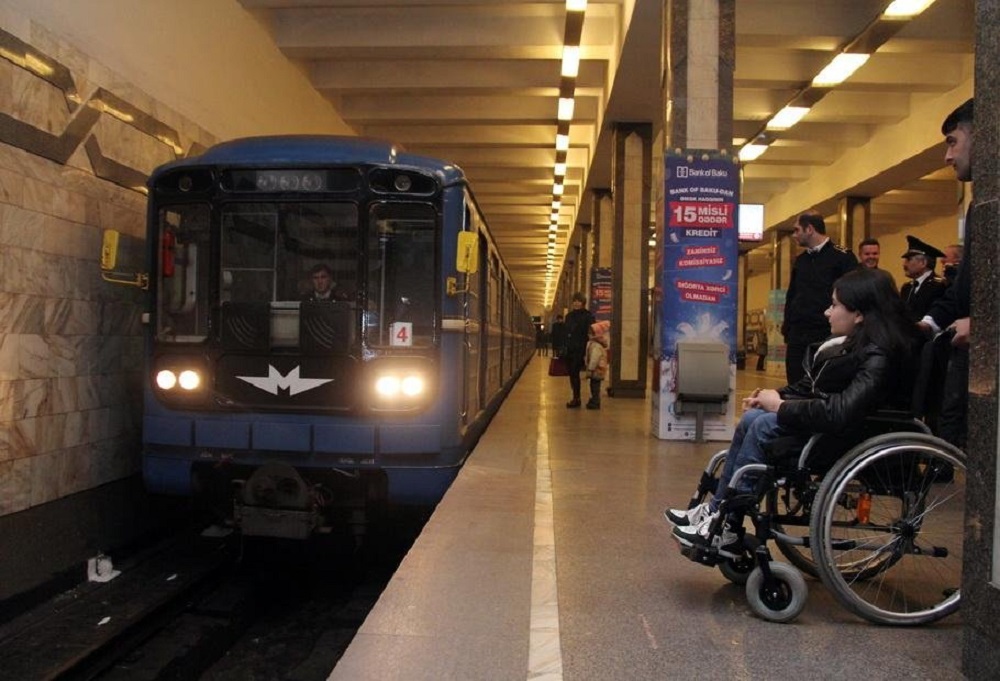 "I can't go to the markets calmly, and it's also inconvenient to drive through the streets in a wheelchair. Roads are in poor condition. Three months ago, I fell out of a wheelchair and hurt my head. Even in one of the largest parks in the city, on the Kura coast, there are no normal conditions for us to go out there for a walk, to spend our free time. I often have to go out onto the carriageway, which poses a real threat to life.
I was able to work as a volunteer only in the ASAN service.
I repeatedly called on state structures to create conditions for us, and promises were made. But still nothing happens. I, as an active young girl, also want to live my daily life, participate in events and trainings," Aysel says.
"The situation is the same all over the country"
Based on complaints from disabled people, it can be said that the situation is more or less the same not only in Mingachevir, but also in all cities and regions of Azerbaijan, starting from the capital. Disabled persons are not taken into account during the construction of buildings, as well as roads and carrying out repair and restoration work.
True, in some places we see ramps on the sidewalks and on the side of the stairs, but not everywhere. Moreover, since many ramps are at a steep angle, they are practically useless.
According to the latest building codes, special attention should be paid to wheelchair accessibility when designing new buildings. That is, the dimensions of elevators, corridors, toilets must be suitable for the movement of wheelchairs. But in reality, these recommendations are not always followed. It can be observed that in the majority of new buildings in the country conditions for the movement of disabled people have not been created.
"In order to integrate people with disabilities into society, they need infrastructure, not psychologists"
"To integrate people with disabilities into society, we do not need a psychologist or a doctor, we are people like everyone else. Our main problem is that the city infrastructure is not adapted for the disabled," says Umud Rustamov, a disabled person of the first group.
Umud Rustamov is a graphic designer. Although he does not have any difficulties in the work process, like all disabled people, he complains that he cannot move freely and comfortably around the city:
"There is an underground passage near the Icherisheher metro station. Once I looked at this transition from the side. The ramp is built in such a way that it looks like you have to jump a few meters down a straight wall. The stroller cannot drive properly on this ramp, I would be in danger if I went down this ramp. No matter how many people help, you can't go down with a stroller from there. To cross the road there, I have to use a wheelchair on the carriageway. I feel less danger when I drive between cars than on the ramp in this underpass."
In 6 years 2500 ramps
According to the Azerbaijan Land Transport Agency (ANTA), one of the important points in terms of ensuring accessibility in urban transport is the compatibility of the road network.
"We note that issues related to ensuring the accessibility of road infrastructure for people with disabilities are provided for in the Action Plan approved by presidential decree of June 2, 2017. In the same year, a project of great social importance was launched.
Work is underway to create suitable infrastructure for the comfortable movement of people with disabilities and those in need of special care, the elderly and people with wheelchairs. In this frame, ramps are installed on the sidewalks. The slope of the ramps, built to world standards, also meets the requirements. They are equipped with warning surfaces (tactile floor) for visually impaired people and handrails on the sides that encourage the use of pedestrian crossings and increase safety. In total, over the past period, about 2,500 ramps have been installed on about 200 streets and avenues."
ANTA also reports that ramps with an incorrect slope were previously built by the State Automobile Roads Agency of Azerbaijan (GAADA). And a GAADA official says that pedestrian sidewalks are not part of their service area: "If there is a problem with the sidewalk in any area, this problem should be fixed by the Baku Transport Agency."
"Comfortable conditions should be created in civil society not only for healthy people, but also for the disabled"
Aysel Huseynova, talking about the incorrect slope of most of the ramps installed in the city, notes that at present there are ready-made programs for determining the degree of slopes along the length during their installation.
"Actually, there is no problem at all. With these programs, you can accurately determine the slope. You also need to be careful when choosing the material for the ramps. In many places where ramps are installed, obstacles were not taken into account. As soon as the ramp ends, you run into a wall or bushes. The main goal of us architects is to create a comfortable, safe urban environment, in parallel with the aesthetic appearance."
The young architect says that a sign of a civilized society is the organization of safe and comfortable living conditions not only for healthy people, but also for the disabled.
"Regardless of gender, age, state of health and social status, every person should be able to move freely in any public place – park, sidewalk, shop, clinic, educational institution…".