Azerbaijani prisoner of conscience released after five-year term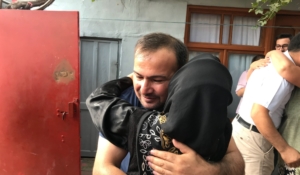 High-profile Azerbaijani political prisoner Seymur Khazi has been released from prison today after serving a five-yer term. 
• What is freedom? A vox pop from Baku, Tbilisi and Yerevan
• Political prisoners 'pardoned' in Azerbaijan: a sign of change?
Who is Seymur Khazi, and how did he end up in prison?
Seymur Khazi is a journalist that worked for opposition newspaper Azadliq and a member of the opposition Azerbaijani Popular Front Party.   
On 30 August 2014 he was arrested and accused of 'hooliganism with a weapon' and sentenced to five years in prison. 
At the time, police claimed Khazi started a fight with a stranger on the street and hit him on the head with a bottle.  
The journalist himself denied this accusation, and said the fight was a provocation and the arrest was politically motivated.  The same opinion was shared by his colleagues, party comrades, local and international human rights organizations.
Seymur Khazi was one of the most "famous" Azerbaijani prisoners of conscience.  
The European Court of Human Rights declared his arrest unlawful and ruled that the Azerbaijani government should pay the journalist about 15 thousand euros of compensation for moral damage and legal costs.
The man Seymur Khazi fought with was sentenced to six months in prison. 
Khazi on his prison term 
While in prison, Seymur Hazi married Nigar Yagublu, the daughter of the deputy chairman of the opposition Musavat party.
Khazi served his term with almost no excesses, not counting complaints about the conditions of detention.
Upon his release, Hazy said that he "spent his life for five years, playing sports and reading a lot, and now intends to continue its activities.