Azerbaijani Ilisu village: how locals struggle to develop tourism with no state support
One of the most frequently visited tourist places in Azerbaijan is the village of Ilisu, located in the Gakh region – between two mountains, along the Kurmuk River. Tourists who come there rarely leave without seeing the Ramramay waterfall. But climbing to this waterfall is not an easy task, because the road leading to it is only enjoyable to those who seek extreme travel.
---
---
Soviet-era cars and a queue of drivers
Those wishing to get to the foot of the Ramramay waterfall use the services of local residents. These people know the area and own special off-road vehicles, and they gather in a clearing located almost at the very end of the Ilisu village.
Tourists who come by their own cars, even if those are jeeps with high cross-country ability, leave their cars in the same glade – as one can only travel further in very hardy UAZ-469 cars, which are referred to as "Willis" here. A trip to the waterfall in cars left over from Soviet times will cost 15 manats [about $ 8.82]. This price was set by the drivers themselves.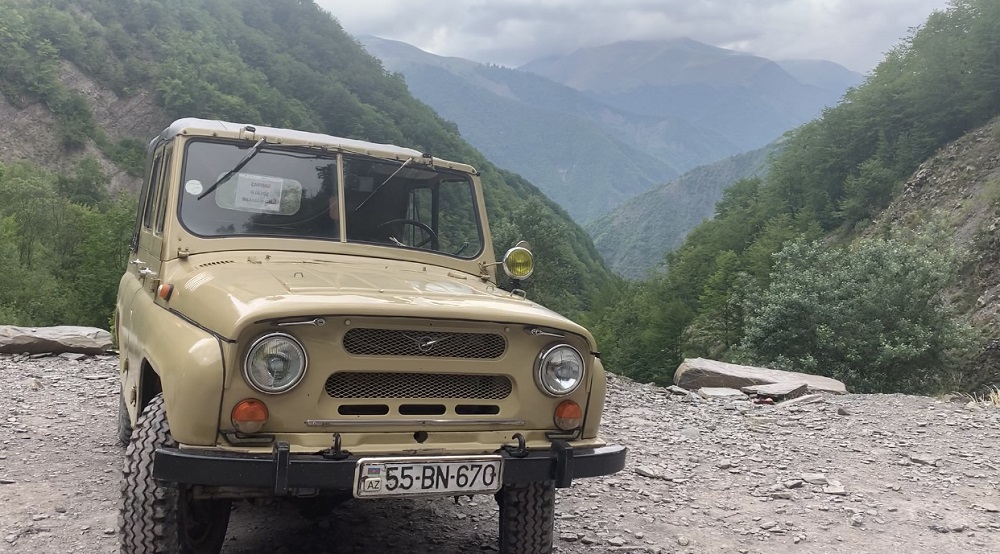 Having introduced ourselves as journalists, we asked the driver who would take us to the waterfall to give a short interview on the way. This condition was not to the liking of the drivers, who had tourists queueing to travel with them. Even the promised additional reward for the interview did not inspire many, and after a little deliberation between each other, they transferred one of the drivers to the first place in the queue – he agreed to talk to us.
Guest MP and a forgotten request
Ghalib Ramazanov takes tourists to the Ramramay waterfall in his car every day. He is a local, and this is his first season doing this job. According to him, there are drivers who have been engaged in this business for 10-15 years. The main occupation of our interlocutor is the renovation of houses:
"Shortly before the summer, I bought this car to make some money for the family. I try to take any job that comes by. Every day, from morning to evening, I stand with other drivers in that glade. We work in turns. There are many cars, but there are almost no roads. Nobody cares about this, we hand-clean the roads ourselves. Young guests of the village sometimes try to climb the waterfall on their own, we warn them that it is dangerous and potentially deadly. Sometimes they fall, our heart aches for them. It is more difficult to return than to climb up, and city people do not know this and refuse to listen".
Ghalib says that during this time he managed to bring famous people to the waterfall. One of them turned out to be a member of the Azerbaijani parliament Azer Karimli. The drivers asked the deputy to help with road improvement, but so far no one wants to do this:
"They applied everywhere, to all agencies. This waterfall is one of the few attractions in Ilisu. Tourists want to go up, take pictures up there. But the cars do not stand up, the roads are in a deplorable state. There is another famous place in our village – a natural bath-cave with sulfuric water. It's six kilometers from here. But there is no road there either. We somehow made a small road ourselves but the mudflow destroyed that too", Ghalib complains.
There is practically no work here in winter
Our interlocutor notes that the market price of these machines does not exceed 2-3 thousand manats [approximately $1,176-1,764]. But they can operate on these roads for no more than a month, then they have to be repaired. Due to the frequent rains, drivers can only work for a month. Each driver manages to take tourists to the waterfall four or five times a day. But, according to our driver, there are days when it is difficult to find even one tourist.
Ghalib complains about the lack of jobs in the area:
"Where can we go in the summer? To prevent our children from starving at home, we try to earn money anywhere and in any way. In winter there is practically no work. We just close the door for nine months and look forward to next summer. Some work as shepherds, some are busy with other things. There are no factories here. I used to work as a taxi driver, but now there are so many taxi services that they have no time need for local residents.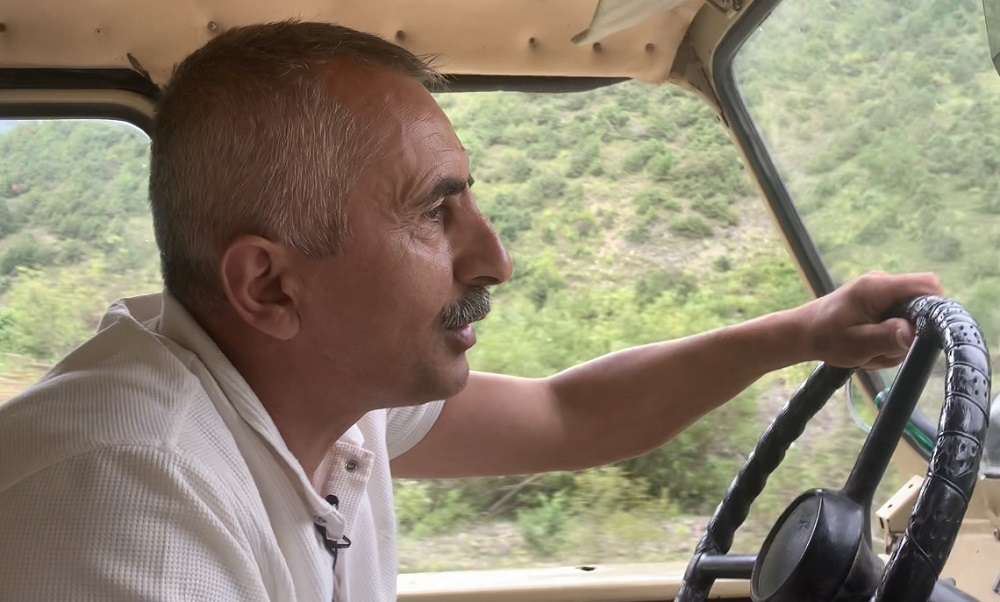 I have two sons. After serving in the army, they came back home. I provide them with money. Because there is no work for them. Young people work as waiters in local cafes and restaurants during the summer months. But not everyone can stand it. Sometimes the clients are very rude. You can't do agriculture here, there are only mountains and rocks around. So what should we do? "
"Poultry birds are stolen by predators"
"Some local residents keep livestock in the yard. But it is very difficult. Chickens are carried away by birds of prey, and other livestock often falls prey to jackals who descend into the village from the forest.
Some of the local young people went to work in Baku. But it doesn't really help. The money earned in Baku ends up there, it doesn't reach us. There you have to pay for an apartment, food, transport. Therefore, these people are simply lost for our village",Ghalib says.
There is no infrastructure for tourism
At the foot of the Ramramai waterfall, tourists have as much fun as they can. Some, for the sake of a spectacular photo, go to the very waterfall, despite the warnings of the locals, others just observe the nature around.
Here you will not be able to find anything that even hints at any work being done to develop regional tourism. The organization of tourists' recreation here is the concern of the tourists themselves.