At the age of six school kids carry over 4 kilograms on their shoulders
Throughout the South Caucasus, the academic year begins in September on either the 1st, 15th or 20th, with about 260 000 children starting their school careers. This of course makes their families feel very happy and proud. But there is no way to avoid the substantial costs involved – textbooks, bags, clothes etc.
How much do families in the different regions of the South Caucasus have to spend on their first graders?
As usual in JAMnews reviews, the cities are listed in alphabetical order using local names, which bears no connection to the position or opinion of the editorial stuff..
Baku
In Baku, 30 degrees above Celsius in the shade is common in September. They call the season 'the fig heat' – figs enjoy heat and ripen in September. For this reason the beginning of the academic year in Azerbaijan has been moved from September 1st to 15th.
Families struggle to get their kids ready for school in advance. The clerks at stationery shops say that prices have been increasing since early August.
Statistics for 2017 have not been gathered yet, but 156 877 children attended school for the first time in Azerbaijan in 2016. They all received free textbooks at school, or at least were supposed to. Some schools asked the families to purchase textbooks as they did not have sufficient funds to cover it.
Then comes the obligatory 'supplementary notebooks' – the same A4 size as standard textbooks, in soft cover for about $3 each.
Some elementary class teachers try to make life easier for their pupils by not requiring supplementary notebooks, but they are few. The families also have to purchase manuals and equipment for all subjects, including music, painting and even physical training.
All the necessary books amount from $15 (in the case of a liberal teacher skipping the supplementary notebooks) to $40 on average. Pencils, pens, rulers, pencil boxes, glue, coloured pens and pencils – all of these will cost you anywhere from $15 up to $70 in case you shop for up-market pencils and funny notebooks at "Grafika".
At public schools a uniform is obligatory. It is the same nationwide, and the price cannot exceed $30: a blue-checkered skirt (trousers for boys), a blue vest and a jacket. The price of white shirts can be problematic too: you won't find them for less than $10 ($25 for a high-quality garment) unless one has been fortunate enough to buy it at a New Year sale.
For first graders at private schools, the uniform is to be ordered from a tailor for a minimum of double the price. The price of sportswear varies depending on schools and teachers. Some demand white T-shirts without prints and black shorts, but the price is unlikely to be less than $10.
The same goes for white shirts – some school rules do not allow laces or any 'feminine' elements on girls' shirts, making them rare and expensive things. The prices of bags vary from $20 for a standard bag to $125 for an orthopaedic bag.
The cheapest you can send a first grader to school in Azerbaijan for:
Textbooks – $15
Stationery – $15
Uniform – $40
Sportswear – $10
Bag – $20
Overall: $100
This is the minimum amount. Quality clothes (three cotton shirts and a pair of leather boots), decent felt-tip pens and a bag that is easy to carry, increases the cost to $500.
The bags of first-graders weigh around 3 to 5 kilos, and those of the seniors up to 7 kilos.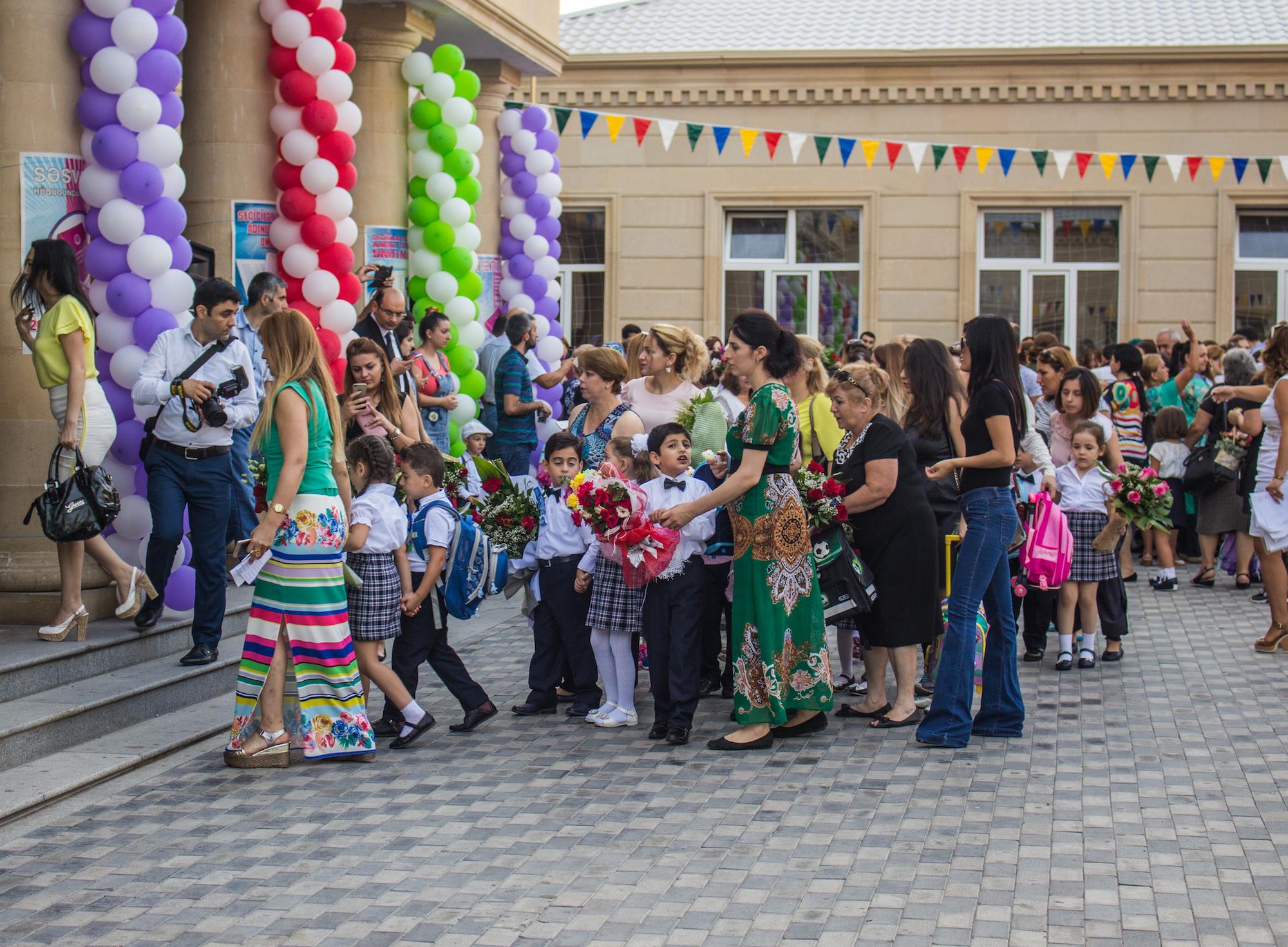 Yerevan
In Armenia, the new school year commenced on 1 September, with around 40 000 enrolled in the first grade. Take a standard school bag, fill it with all the paraphernalia that a first-grader is supposed to take with them on their first day in school, and weigh it – it's over four kilos in all.
This is a lot more than a six-year-old should be allowed to carry on their back or shoulders, which is why some parents opt for a wheeled backpack for their kids. It costs around 30 dollars. Children in the first four grades receive free textbooks at school.
However, a first-grader is also supposed to bring with them:
10 thin notebooks: $1
10 standard notebooks: $8
Pencils: $4
Erasers: $1
Ruler: $1
School diary: $1
Pens: $1
A standard white shirt costs about 10 000 drams (about $ 21). Trousers and footwear will come to about 60 dollars. All in all, it totals about 74 000 drams (about $150). This is the average cost for first-year schoolgoers. It may vary substantially depending on the parents possibilities and eagerness.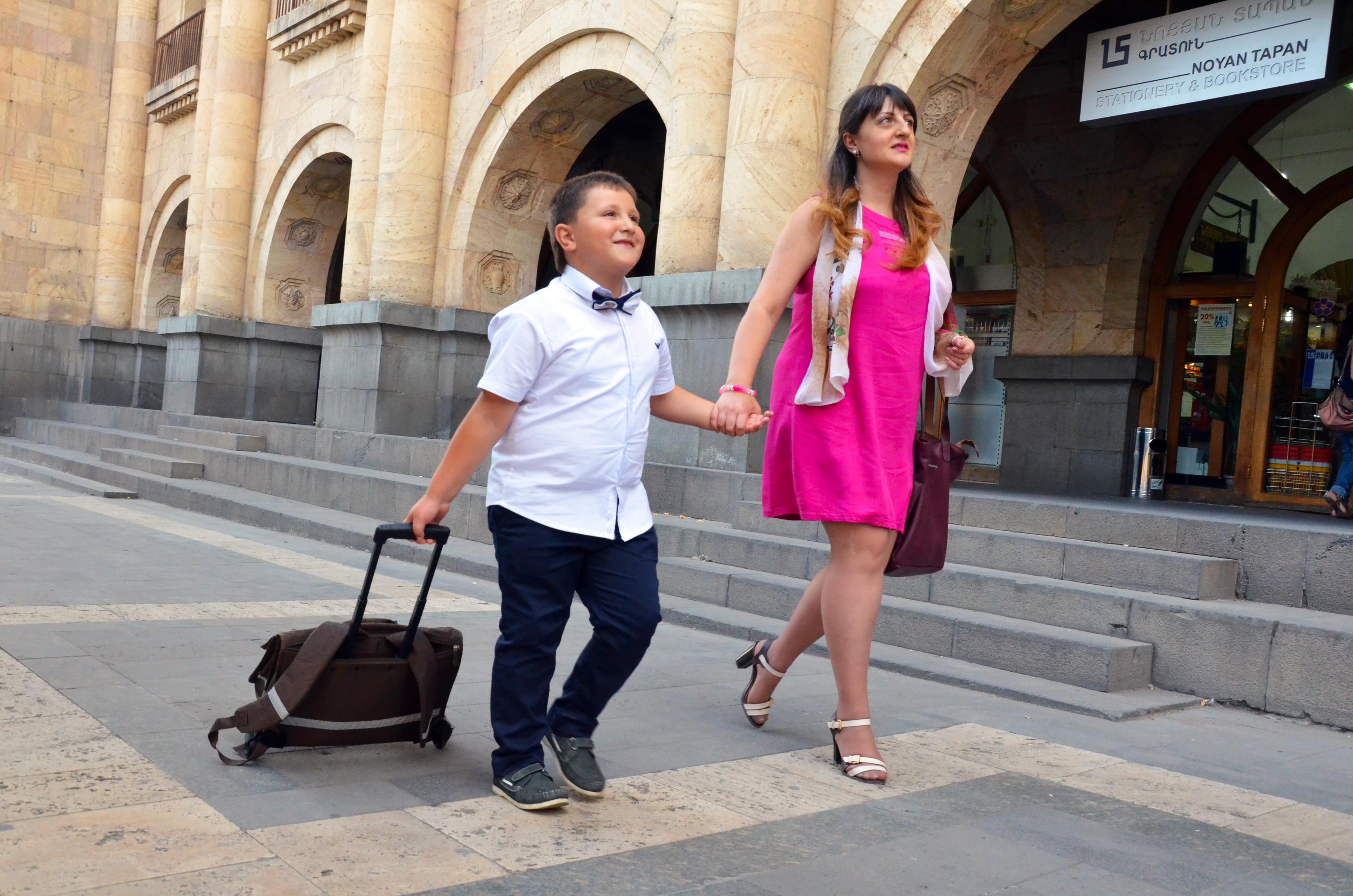 Sukhum
There are 156 schools operating in Abkhazia this year. Of that, 46 are Russian (using Russian as the main language medium), 59 are Abkhaz, 11 Georgian and 25 Armenian. The 1st of September, which is the first day of the new school year, saw 2 938 kids come to school for the first time in their lives.
Education is free in Abkhazia. Nevertheless, the cost of school preparations do not come cheap.
First comes the school uniform. Trousers, a jacket, a couple of shirts and a pullover costs about $80, while a girls' uniform costs between $95-100.
The average price of a schoolbag is around $60. Stationery (pens, pencils, notebooks, pencil boxes, paints, rulers etc.) costs around $45.
Most textbooks are provided free of charge, but the families often have to purchase them because of a short supply at an average price of $5-7. Additional manuals and gear costs on average $45.
Families also have to pay for the classroom's renovation, which consists of painting the walls, the ceiling and more often than not installing window frames running the total up to $2 000. The sum is usually split between the parents.
The Minister of Education Adgur Kakoba recently told journalists that most schools in Abkhazia are in need of new equipment or to have air conditioning installed. Sometimes, though, sponsors come to help.
Average expenses for a first-grader in Abkhazia amounts to about $150.

Tbilisi
Mate is 6 years old, and is going to school this year. He has had everything readied two weeks before the festive day. New trousers, a blue shirt, shoes and socks have been waiting in the drawer for everybody to see. A blue schoolbag donning Spiderman in his famous pose has been prepared too.
Nino Kemularia has spent the equivalent of $106 to buy everything her son might need at school.
Pens, pencils, books, notebooks, paints, plasticine for molding, a pencil case and other stationery cost her $33, the schoolbag $20 and clothes $65.
In Georgian schools all first graders receive a present from the Ministry of Education – a miniature 'book computer' with downloaded learning materials.
Though the textbooks for public schools are also provided free of charge by the Ministry of Education, Nino chose to buy new ones for Mate.
"At school they give the children books that have already been in use, and insist that the children should not spoil them by writing in them or rumpling them. I believe a kid should enjoy their books without experiencing any pressure," Nino says.
The textbooks for elementary grades cost $3-7.
"The bulk of our clients are the parents of the kids who attend private schools. The parents of kids in public schools also come, since the books that are being handed out in schools are to be returned intact. But the books wear out anyway, no matter how careful you are. Then a kid gets penalty points and subsequently an even more worn out book," a seller at a bookshop says.
The average price of a special notebook, a supplement to every textbook, is about $3. The minimum price for a schoolbag is about $20. The sellers note that this year bags that are on wheels are in high demand, and costs $30-35.
With schoolbags getting heavier every year and weighing no less than 5 kilograms, the wheels are a help indeed. Some parents found a solution by buying two of every textbook, one for school and one for home. But not every family can afford paying extra for making a schoolbag less heavy.
Alexander Djedjelava from the Ministry of Education claims that heavy schoolbags are one of the most serious problems his ministry is working on. Using paper for textbooks that will make it weigh less and the introduction of electronic books are viewed as possible solutions.
"We are developing a project in cooperation with Microsoft and others. Obviously, every family will make their own choice regarding electronic books for their kids. But having an alternative is a must in the 21st century," Djedjelava said.
In Georgia, the school year starts on 15 September, and new statistics have yet to become available. In 2016, 61 000 kids were admitted to the first grade, of which 53 000 were in public schools and 8 000 in private ones.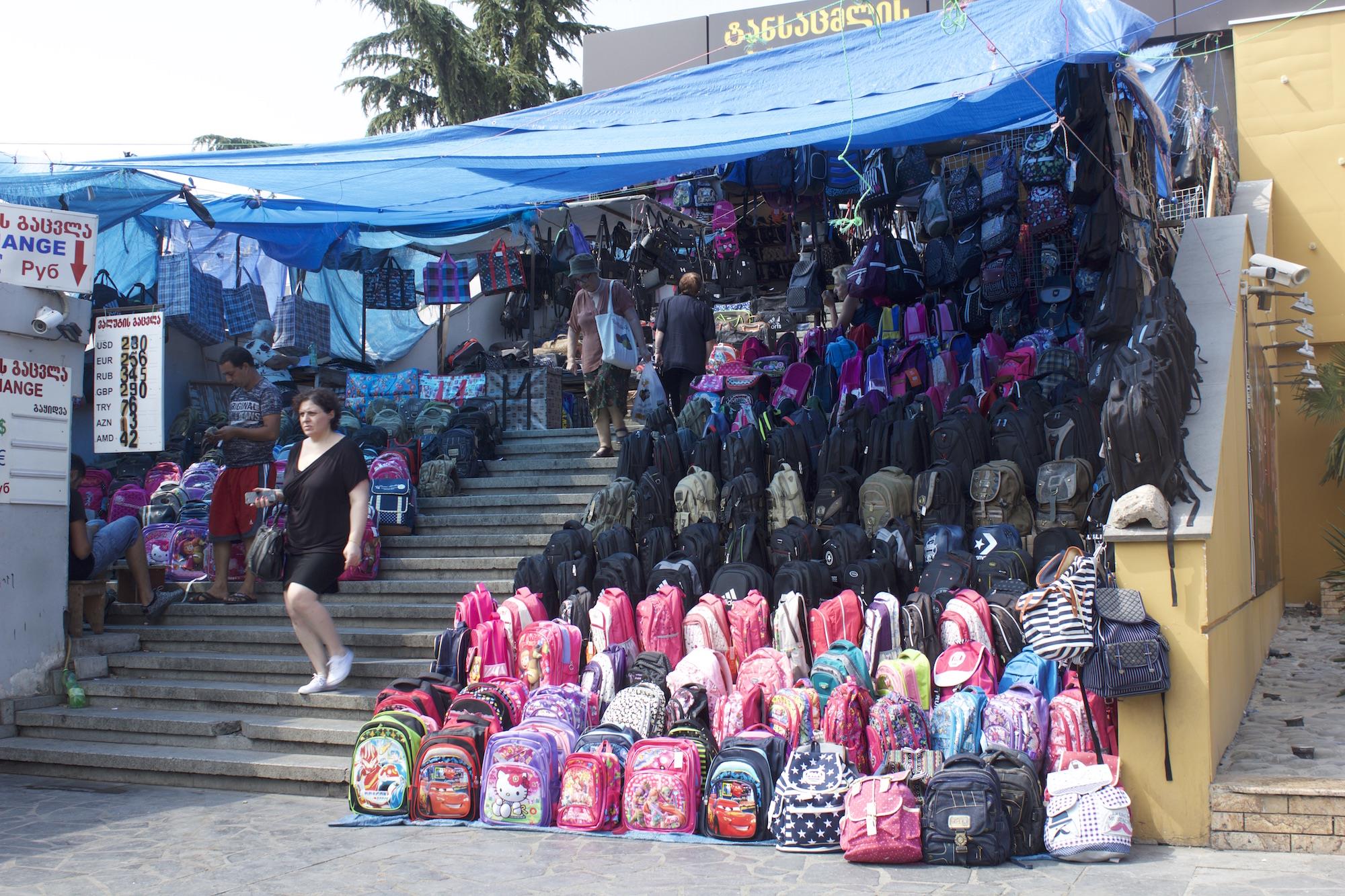 Tskhinval
In South Ossetia, 798 children have become first graders this year. In all, there are 53 schools in the republic.
Preparing a boy for school modestly will cost his family around $300. The sum includes a suit, 2 shirts, shoes, sportswear, a schoolbag, paint, colored pencils, stationery, craft accessories. The cost does not allow for quality clothes. Natural leather and an absence of synthetics increases the price to $500.
Most families buy orthopedic bags that cost around $70. A dress, a bow and an apron for a girl will save the family up to $50. It takes about 80 dollars to buy all the necessary text- and activity books for a first-grader.
But all the pupils in South Ossetia are entitled to a free breakfast – a bun and a cup of compote or kissel. A Full lunch is available for those who stay in the day-care centers.
Toponyms and terminology used in the publication, and views, opinions and strategies expressed in it do not necessarily reflect the views and opinions of JAMnews or any employees thereof.