Anti-EU radical attacks journalist in Tbilisi

Alt-Info radical attacks Pirveli TV journalist
Nato Gogelia, a journalist for the Georgian TV channel Pirveli, was attacked by one of the radicals who tore down the EU flag in front of the parliament building in Tbilisi. Gogelia approached Mamuka Andguladze to record an interview, but he smashed her phone and attacked her.
The Charter of Journalistic Ethics calls on the investigating authorities to promptly investigate the case. As noted in the Charter's statement, protracted and uninvestigated cases of crimes against media representatives contribute to frequent attacks on journalists.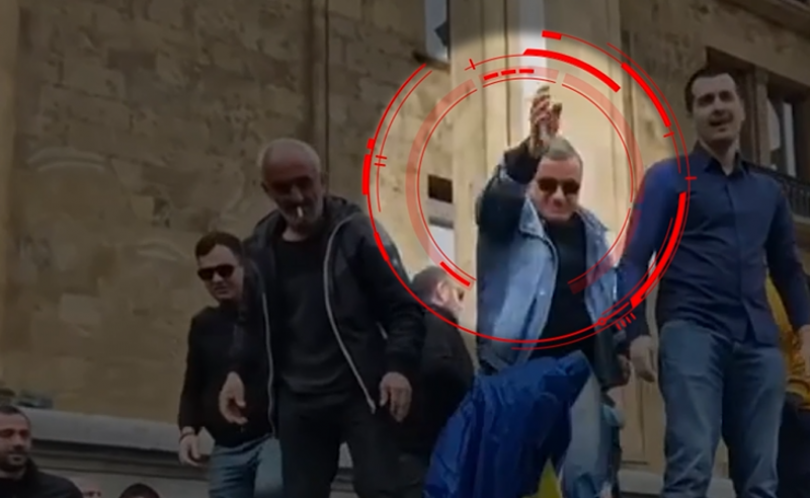 The Special Investigation Service launched an investigation into the case of illegal obstruction of Gogelia's professional activities. The investigation is underway under the first part of Article 154 of the Criminal Code of Georgia.
It should be noted that, in spite of there being video, the Ministry of Internal Affairs has not yet been able to identify those involved in removing the flag.
"Proceedings have been initiated, and when we identify them there will be due process," Goga Memanishvili, deputy head of the Tbilisi Patrol Police, told Pirveli.
But it appears quite easy to identify those involved, among whom was Zurab Makharadze, associated with the conservative and allegedly pro-Russian Alt-Info agency, who said in a speech at the rally that he himself had torn down the flag.
---
---
On March 14, an aggressive gang tore down, ripped up, and set fire to the EU flag in front of the parliament building in Tbilisi. The police gave ltitle reaction. One of the organizers of the rally was Alt-Info, whose affiliates also participated in the attack on journalists on July 5, 2021.
During the action, the radicals made aggressive and threatening statements, and threw stones at the balcony where the Ukrainian flag is flown.
Follow us – Twitter | Facebook | Instagram
Pro-Russian groups in Georgia have torn down the EU flag in the past. In particular, the day after the events of July 5, 2021. On July 7, the flag was returned to its place, after which the Georgian parliament passed a law according to which a fine of 1,000 lari [$387] is provided for damage to the flags of partner countries and organizations. The repetition of the same action entails a fine of 2,000 lari [$774] or administrative arrest for up to 15 days.