Abkhazia: new opposition force presents candidate for 2019 presidential elections
A political group in Abkhazia, which calls itself the "third force" as opposed to the government and the "traditional" opposition, has announced its presidential candidate for the elections to be held in July 2019.
Its candidate, Almas Japua, recently received attention for protesting against the idea of oil production in Abkhazia.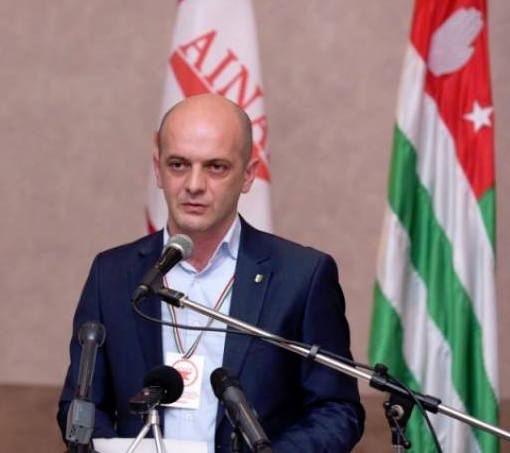 • Abkhazia: hopes waver for the appearance of a third political force
The decision to nominate Almas Japua was made at a closed meeting of the public movement Common Cause, which positions itself as an alternative to both the government and the current opposition.
Common Cause was registered less than a year ago, but it has quite a lot of supporters, especially among the youth. Among the creators of this organization is the famous historian Stanislav Lakoba and several current and former members of parliament.
• History textbook on trial in Abkhazia
Against oil production and the sale of real estate to foreigners
Almas Japua is known for several political projects:
• He has consistently opposed oil production in Abkhazia and at one time headed up a parliamentary commission to this end, which examined a contract between the Russian company Rosneft and the Abkhaz Apsny-Oil, which were considering engaging in oil exploration activities in Abkhazia.
• He then asked the prosecutor to look into the former President of Abkhazia Alexander Ankvab, accusing him of lobbying for projects related to oil production.
• In addition to the fight against oil production in Abkhazia, Japua is known for demanding a moratorium on the bill on the sale of real estate to foreigners.
• A few years ago, Japua headed up a promising new party, Ainar, which is considered one of the most radical Abkhaz political organizations in Abkhazia. However, after the creation of Common Cause, this party virtually ceased to exist, having joined the ranks of the new organization.
Japua is already the second politician to announce his intention to participate in the presidential elections scheduled for 21 July in Abkhazia. Earlier, the former head of the Abkhaz special services, Astamur Tarba, who returned to politics after a fifteen-year pause, said the same.
Toponyms and terminology used in the article, and views, opinions and strategies expressed in it do not necessarily reflect the views and opinions of JAMnews or any employees thereof. JAMnews reserves the right to remove comments it considers to be offensive, inflammatory, threatening, or otherwise unacceptable.