A vacationer's portrait
Who are the people spending their vacation in Abkhazia? Where do they stay? What do they like or dislike about this place?  You can learn about this after spending an evening among tourists in Sukhum Botanical Garden.  
 "The border between Abkhazia and Russia made me upset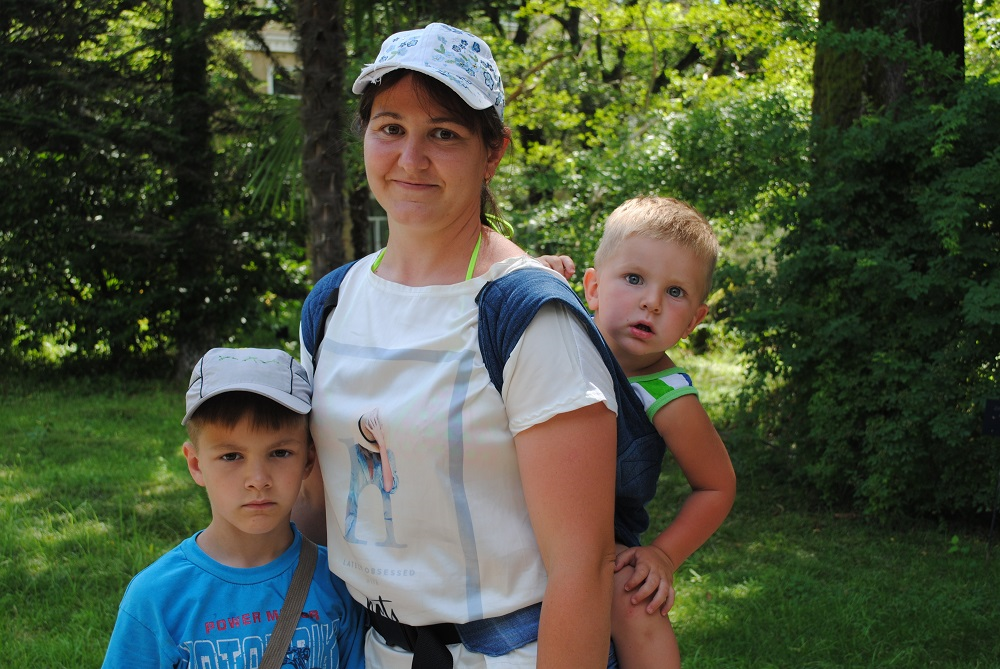 Oksana  Yarovaya, a housewife, travelled to Abkhazia with her children on vacation:  
"We come from Azov, which is in the Rostov Region. I am a IT specialist, but I am unemployed now, since I take care of my children. My husband works in a law-enforcement agency, but I can't tell you where exactly, you see, these things should not be discussed.  
It's already my third visit here. My children and I managed to see the entire New Athos and now we have reached Sukhum. The ruins in the city are the worst part of the city. Of course, I was upset with the Abkhaz-Russian border. It's so hard to stand in a queue with the children. It'd be better if they do away with this border completely. But to do that, Abkhazia should integrate into Russia. In principal, we already have the experience of integrating.
Young people here are a bit strange-they wear jeans and closed footwear in such a hot weather. They behave in a strange manner. They are miscreants. It should be that we have similar things in our country, too. But it should be known that everyone dances Lezginka beautifully.       
I like the local cuisine.  I like khachapuri very much and the vegetables in clay pots are just finger-licking good! I have tasted different varieties of grits. It's also very tasty. Prices are normal, in general. We took 70,000 RUB (about $1,000 US) for out vacation and that was enough for us.   
The people here are kind, though they are a bit hot-blooded, but that's the Caucasus anyway. We have a family tradition that we go to Apsni (Abkhazia) on vacation. It's a country with soul. We wouldn't be similarly impressed by the Maldives.  
A bar of chocolate for aunt Zina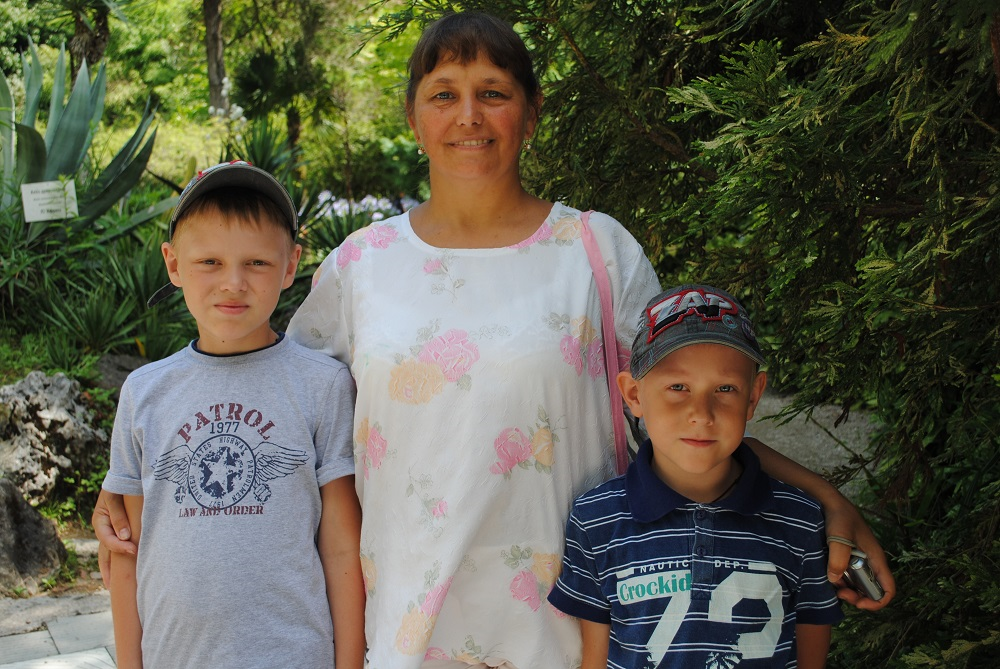 Irina Bebrish, a teacher, came to Abkhazia together with her students, Ilya and Roman  Zinchenko 
"We are from Abakan, the Republic of Khakassia, in Siberia. This is a sort of educational visit. The boys are in the 2nd grade, and I am their teacher. We have come to get familiar with Abkhazia's plant life, its rare plant species, as well as to write a scientific piece on kiwi cultivation.
Many people are surprised at hearing that I have come here together with my students, but only practice can provide a child with real knowledge. Therefore, I've assumed this responsibility. Our teachers have small salaries-24,000 RUB (about $350 US). I managed to save some money and came here with the children. We have come for ten days. We don't lead a posh life, but we have managed to see a lot. Our flight turned out to be rather expensive, approximately 100,000 RUB (about $1,500 US), and the same amount is required for our vacation. We are renting a room for 500 RUB at Aunt Zina's place, near the market. She is a very good woman and we even want to give her a bar of chocolate for her kindness.          
We like everything here. The sightseeing tours are cheap and that's also good news.
Our impressions of Abkhazia are very positive. We like new museums, we find it interesting to stroll along the embankment and there are interesting sculptures here. Public transport is something we were not quite happy about. Buses rarely run and are always packed with people. We have to take taxies, and they're rather expensive for a public employee.
Your people are very kind and always eager to help. Whatever country I visit, I visit it twice, because when you go for the first time, you get just your first impressions and your opinion about the country is formed during the second visit. That is why we will come here next year, too.  
"The ruins upset me greatly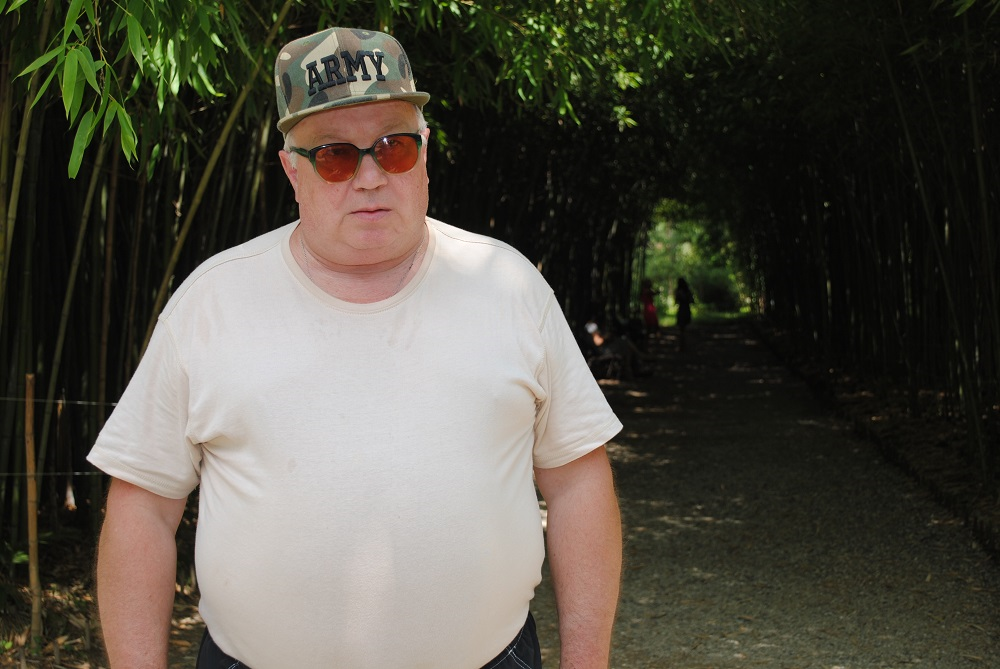 Vasily Zyuganov, a senior citizen, came to Abkhazia from Moscow
"It's my first visit to Abkhazia. Since I am a senior citizen, the only thing I have left to do is to travel and explore the world. I used to work as a prosecutor in the Prosecutor's Office for many years.   
One could say the prices here are quite reasonable. They are low compared with prices in Moscow. I have managed to go sightseeing around downtown and the embankment, but I have a lot of things ahead. The ruins upset me greatly, but I understand that these are the ravages of war.    
My friends had traveled to Abkhazia before the war and they told me much about it. That is why I've also decided to come here. I like Abkhazian cuisine. I'm fond of eating, in general, and you can easily figure this out by taking a look at me. However, I didn't like grits. It's an acquired taste.
I've chosen Abkhazia because it is calm here. Look what is going on in the world- there are terrorist attacks, wars. There were also some rallies here a few days ago, but overall, things went all right.    
I'm staying in the 'Inter-Sukhum' hotel. After the rallies, many people left for Sochi, but I decided to stay here. I wish, the people of Abkhazia valued everything they have and also that more tourists would come here. I am going to visit Crimea next year. It will be interesting to compare it to Abkhazia.       
"I wish you had a president like we have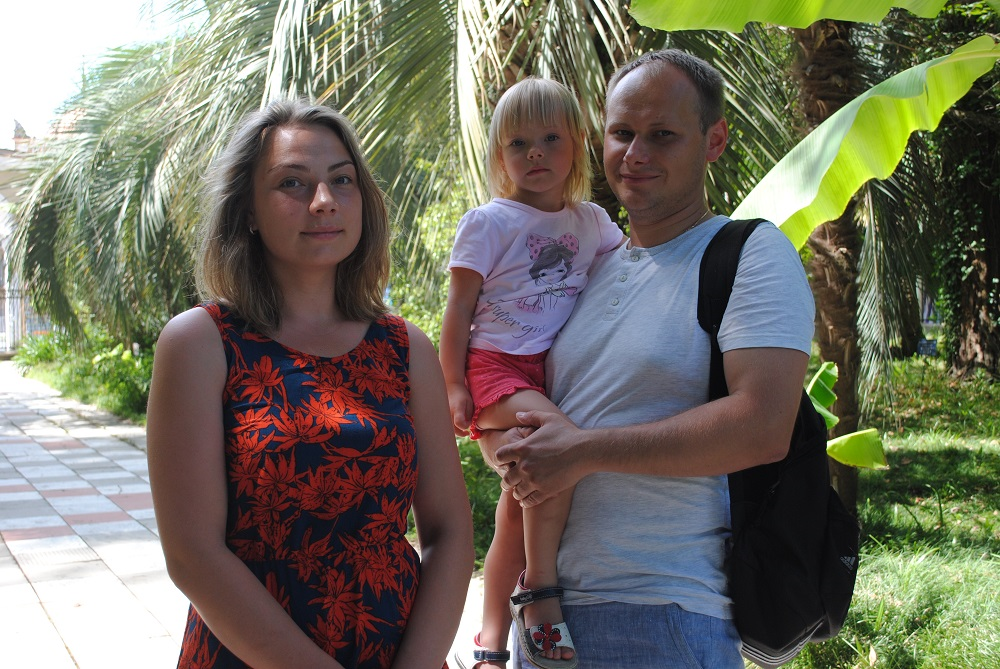 Olga and Sergei Borisov came to Abkhazia from St. Petersburg together with their daughter, Nastya:
"The reason we have chosen Abkhazia is that it doesn't take long to fly from St.Petersburg and also, our people are very similar. We both like driving fast.      
I am a programmer and my spouse is a housewife.  Our family belongs to the middle class. It's a little hard to tell you exactly how much I earn. I'd say it's roughly 80,000 RUB per month (approximately $1,200 US), but it's enough to make a living. We have managed to save for this summer holiday.
The nature and the sea are beautiful, but the local population's mentality is a little bit offensive. We once found ourselves walking along the embankment and some local guys offered my wife a lift, which was certainly unexpected.
We have noticed that people here are very lazy and they, themselves, admit this fact.  
We have also noticed that there aren't price tags and we have the feeling the feeling that we are being cheated everywhere. This can really be said about the young people. For example, in St. Petersburg you will not hear someone say, "Hey, come over here, we will give you a lift for 100 RUB. However, locals' behavior is quite understandable. Tourism is the only thing they can earn their living with. People in Crimea are kinder.        
We enjoy staying here and the prices are affordable for us, on the whole. We are renting a guestroom with a seafront view for 1,500 RUB (about $25 US). We will surely come here again.
We wish we were able to buy a small house near the sea, but, unfortunately, as far we know, real estate is not given to Russian citizens. Otherwise, we would have moved from St.Petersburg to Abkhazia. It is hazy and cloudy in our city. There is nothing one can do except work, work, work.
We wish you had the president like we have. Then everything would be O.K. here. We would come here again with great pleasure, but we are going to spend our next vacation in Europe. 
"No one is in a rush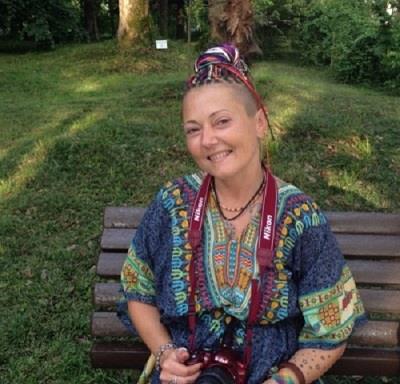 Anna, a facial surgeon from Sevastopol. She is visiting Abkhazia for the first time:  
"I came with one of my friends for six days. The nature here is brilliant. I don't have the words to express my feelings. I have already visited New Athos Cave, the Mzi Lake and the Aatsy waterfall. 
However, I must note that the aftermath of the war is really horrifying to me. I walk around and take photos of the ruined buildings to show them to my friends and acquaintances. 
Regrettably, cheese was the only thing I tasted of the cuisine. I am a vegetarian and, on top of that, a Buddhist.  
By the way, the first thing I said, when we arrived in Gagra by train, was: 'Oh, it's like Yalta. We also have subtropics and palm trees in Sevastopol, though there are fewer of them. 
People have good sense of humor and I always smile when I listen to them. I like joyful people.   
One problem that I have with the people here is that they are too slow. They never hurry, no one needs to get anywhere. The youth here are very beautiful. All of them have black hair, black eyes, and black eyebrows. The girls are also very pretty.
I will come to Abkhazia again. I will live in a tent somewhere in the forest or under the waterfall, so that I won't have to go anywhere. That's my dream. 
The opinions, expressed in this article, convey the author's views and the terminology used does not necessarily reflect the views or opinions of the editorial staff