A business trip to post-war Talish
There aren't any distinctive Armenian or Azeri signs-flags, emblems or military equipment, that could be seen from Talish without binoculars.
Sos Petrosyan, 43, a math and physics teacher at Talysh schools, says that his house is located just 1 kilometer away from that dangerous 'height'. Being a reserve officer, he was awarded this house a month ago for his 11-year service in the Defense Army.
The Armenian forces have officially recognized that they lost this very area, which can be seen from Talish, on April 2, during the large-scale hostilities along the entire perimeter of the contact line between Karabakh and Azerbaijani Armed Forces, occurring for the first time since the 1994 truce.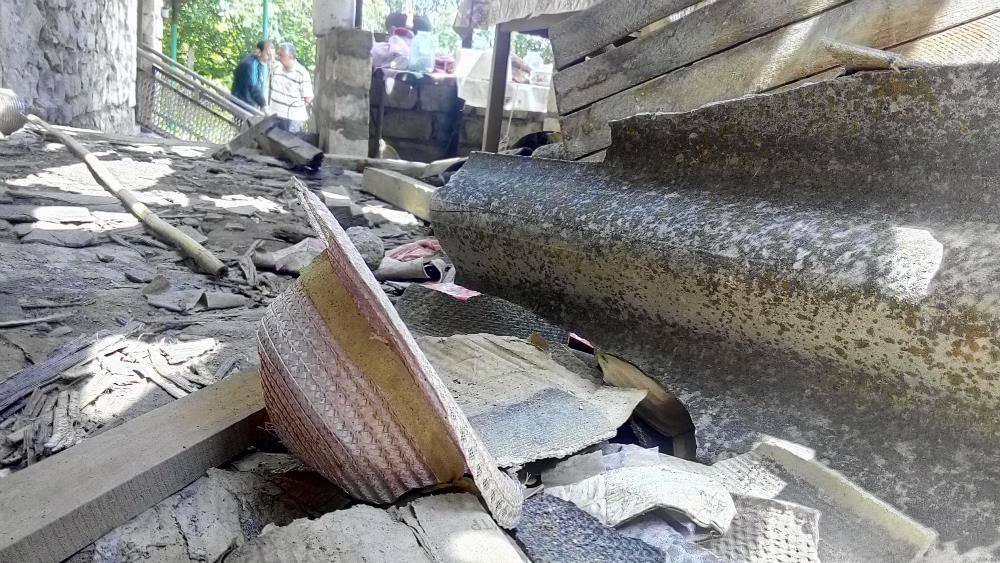 Talish village, located in the south-eastern section of the Nagorno-Karabakh border, is kept at gunpoint by the Azerbaijani armed forces. 500 residents of the village were evacuated. Sos Petrosyan took his wife and three sons to Armenia. They still live in his wife's parent's house in Charentsavan.
"Let them not rejoice: it's all temporary. We will regain our posts," says Petrosyan. He came home to take the sneakers of his youngest son, who is 4 years old.
People say that the night on May 25, 2016 was the only one in the past two years, when not a single shot was heard on the contact line of the troops.
Arsen, a servicemen of the Nagorno-Karabakh Defense Army's Special Operations Unit, says such quiet nights occur just once every few years. He is deployed in Talish together with other members of his unit. They are stationed in one of the abandoned houses in the village.
It's more or less calm here during the day. They have a period of rest. Standing at the gate of his temporary dwelling, wearing military pants and a T-shirt, Arsen says: "It has become relatively quiet at night, especially since May 16, when Azerbaijan stopped using artillery and other heavy weapons."
The Presidents and Foreign Ministers of Armenia and Azerbaijan met in the Armenian capital on that day. The meeting was held on the initiative of the OSCE Minsk Group, which is involved in the resolution of the Karabakh conflict. Soldiers from both sides were killed immediately after that meeting, on the night of May 17. That was the last incident of that kind.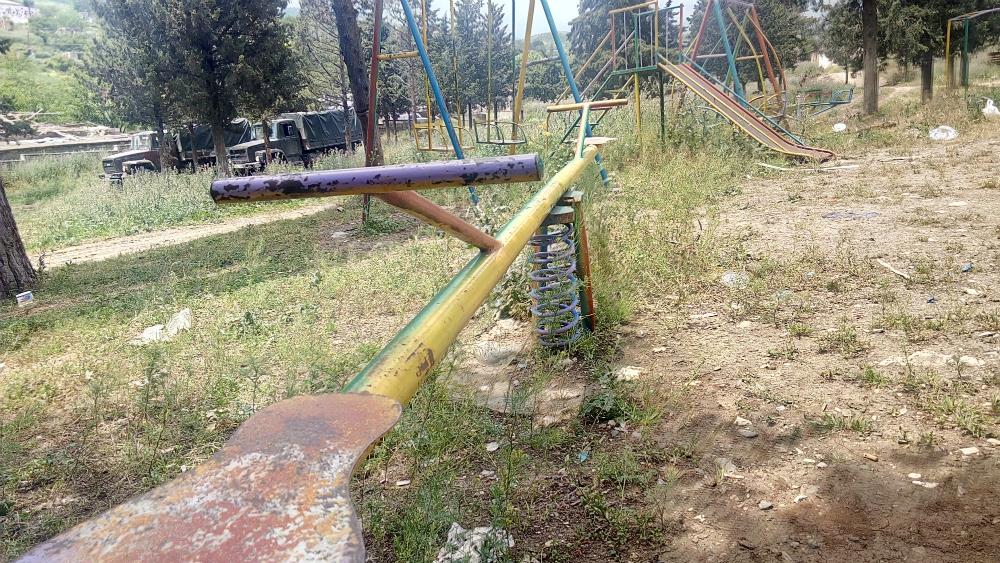 There are only military men in Talish now: some operations are carried out at the village entrance. The village's main road passes close to a kindergarten. One can hear special operations unit officers singing some folk songs there. Boxes with soldiers' dry rations lie next to the children's slippers-the kindergarten pupils' indoor footwear. Some of the boxes are open. Biscuits have fallen out from some of them.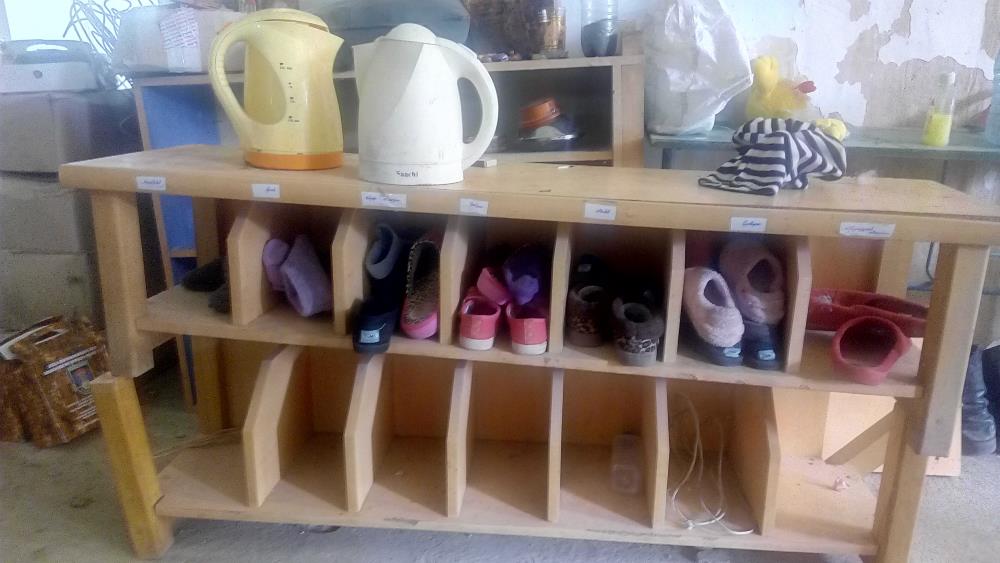 Military vehicles drive up the main road to the posts and then return back.
"If peace can be achieved through war, we are ready for that," says Arsen, 39. He is not a random person in the Karabakh developments.
Arsen is a native of the Getashen village. He was only 12, when his family left the village in two cars, in 1989.
"I still remember the Ikarus bus with an AD license plate number, parked in the surrounding area of Kazakh. There was a tall man with gray hair. He was well-dressed. He did not wear a jacket, but he had a vest. He wanted to say something, but several men approached him from behind, hit him with a rebar, knocked him down and started beating him. That was day I decided that I would become a soldier,"says Arsen.
Arsen visited Talish for the first time at the age of 7. "My uncle's wife was from this village and I travelled here for summer holidays. My childhood friend is a native of Talish. We've been friends for 31 years.
"I have always thought that our motherland begins from Talysh: a sort of gateway to our home. But the adversary came here and attacked people in their sleep, like a gangster…Thank God, there were some brave 19-20-year-old guys who managed to resist them. Otherwise, I'm sure the situation would have developed the same way it did in Maragha: all Talish residents would have been exterminated. There is some evidence of that that would have been the case-they killed the old sick people in this village."
Talish residents would like to return to the village, but Nagorno-Karabakh authorities do not think it's safe. For the time being, Talysh is home only for people in military uniforms. Whereas the owners of the houses, fully or partially destroyed after the April attacks, will not be able to fix them yet.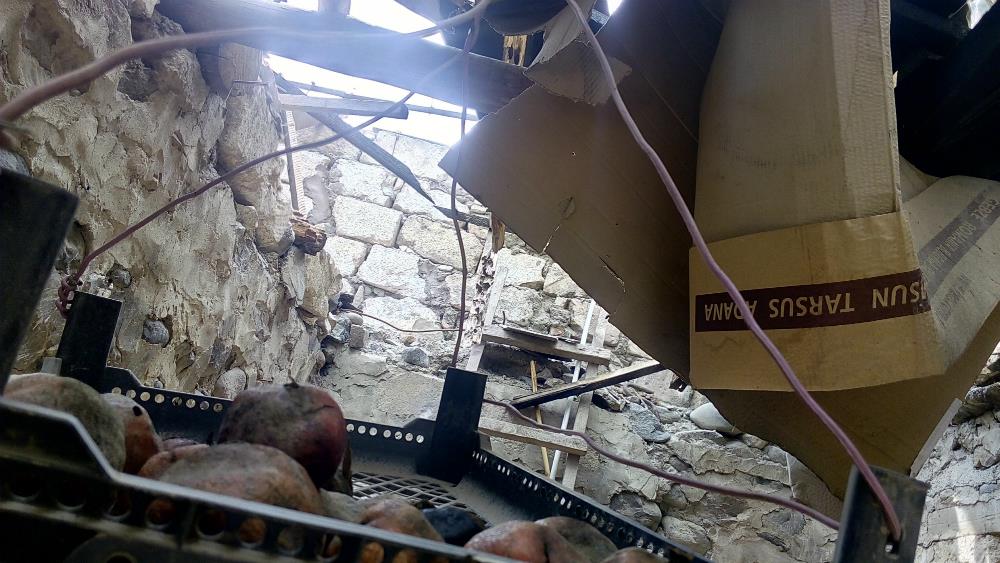 Many houses have been unroofed. The walls and fences bear the scars of shellings – the huge and small holes left by the projectiles.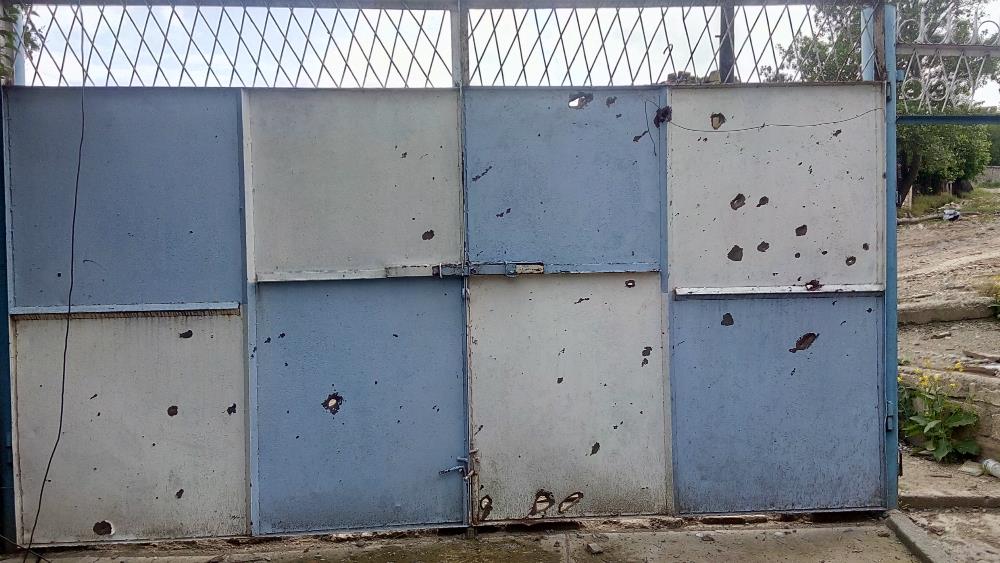 There is a blond doll in a white and blue dress in plain view in the garden of one one of the central houses in Talish.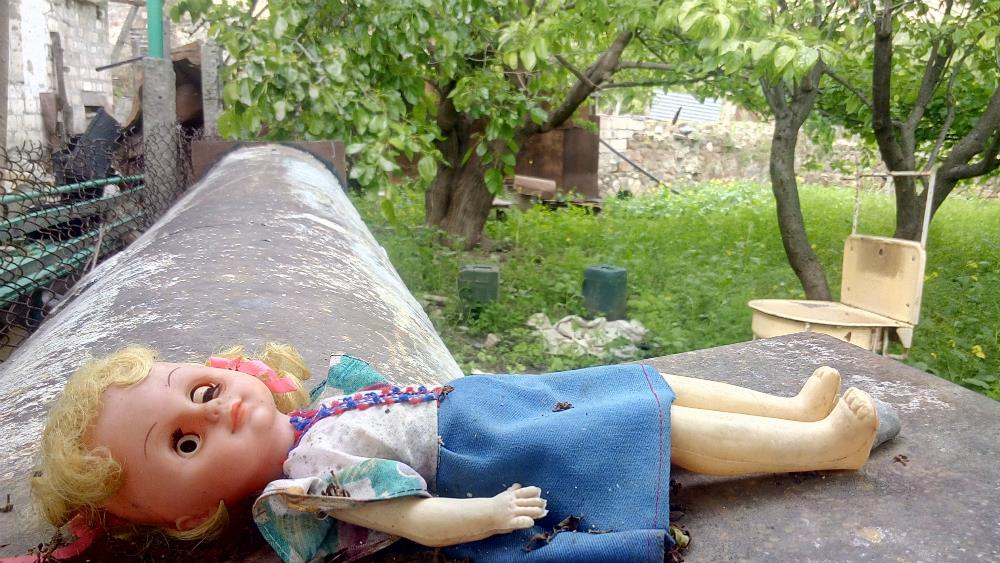 "This is the house of Armen Hayrapetyan, our history teacher. This doll probably belongs to his eldest daughter, Greta. Hayrapetyan, his wife and two daughters – Greta and their newborn Iveta, also left for Armenia," says Sos Petrosyan.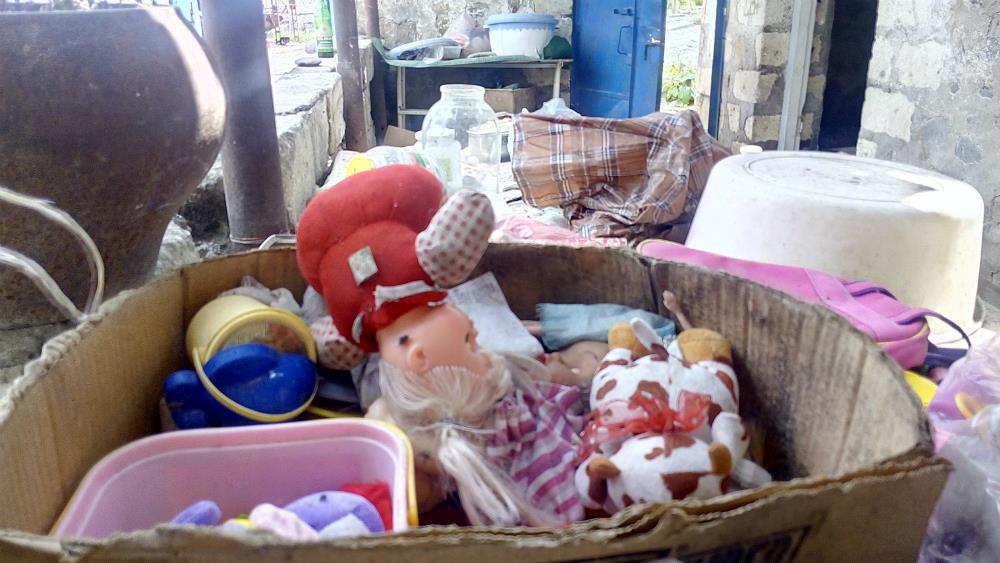 In April, while Talish residents were taking their families to Armenia, hundreds of volunteers travelled to Nagorno-Karabakh and many of them still remain at the posts, beside the soldiers.
There are soldiers and officers alongside the volunteers in one of the defensive localities in Marakert. There is also a guard dog with two puppies, who have become the best form of entertainment for the military and a chance to escape the war-like situation during periods of rest.
Suren Davtyan, 22, has been on the front line for 2 months now, since the very first days of the four-day war. In his words, even the relative calmness, established following the Vienna meeting, does not provide any guarantees of peace. A state of emergency is still maintained.
Myasnik Karapetyan, a duty soldier, closely watches the Azerbaijani post, located just 400 meters away, through binoculars. No activities can be observed on that side at the moment. It's a peaceful, windy and sunny Monday in Nagorno-Karabakh.
"Although the situation on the border has been relatively calm these days, there can't be any developments in the negotiation process until the mechanisms for dealing with the ceasefire violations are introduced, says Karen Mirzoyan, the Minister of Foreign Affairs of Nagorno-Karabakh Republic. "Like all normal people, Karabakh residents are also scared of the war because a human being is created to live in peace. Yet, we are not afraid to fight."
The Minister emphasizes: people in Karabakh 'hope' for conflict resolution, but they are not that 'naïve' to believe that this issue can be settled soon: "We should work on a long-term and fair resolution of this conflict, since hasty decisions surely won't be the best ones."
Cover photo: Gayane Mkrtchyan
The opinions expressed in the article convey the author's terminology and views and do not necessarily reflect the position of the editorial staff.
Published: 07.06.2016