A bike trip across Armenia and Georgia
Vasily Grino, a street artist and designer, whose photo you surely remember, accompanied by ten hotshot young men, travelled by bike across Armenia and Georgia. While traveling 600 kilometers across two most hospitable countries, spending nights in tents and someone's yards, communicating with the militia, travelling on off-roads and overcoming obstacles, Vasily seems to have managed to get into the spirit of these two countries. Let's look at the photos and listen to a gripping story.
Last year, my 10 friends and I took a 1,500 kilometer bike trip from Vienna to Tivat (Montenegro). A year later, we decided to travel with the same company to some other country on the May holiday. We singled out Armenia and Georgia. I had not been to those countries earlier, as I had always postponed visits there for certain reasons. So, we bought the tickets, packed the bikes and met in the airport.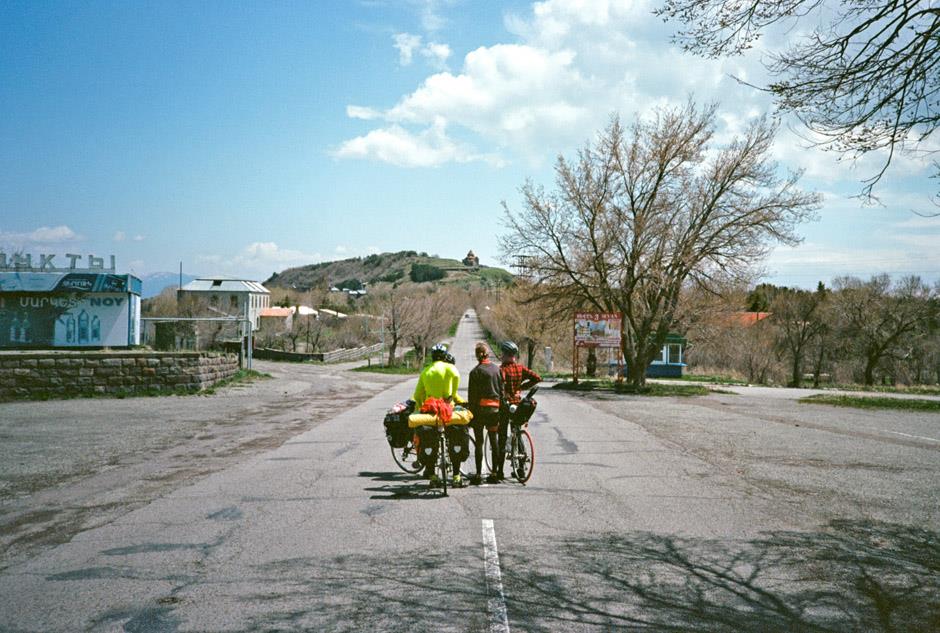 Yerevan
On our arrival in Yerevan we, first of all, started looking for our huge boxes with the packed bikes, hoping that the freight handlers had not damaged anything during transportation. Having opened the boxed and made sure that all the components were safe and sound, we unhurriedly assembled our bikes in the territory of the airport, amidst the local people's gapes. Many people were coming up to us, showing interest in our bikes and asking questions about our plans with regard to them. The taxi drivers were traditionally offering their services. One elderly man handed over to us the elements of Christian merchandise: a key fob with a crucifix, which accompanied us during the whole trip, tied to the handle bar of my friend Leonid's bicycle. The man also presented us with carton icons, one of which was kept in my small bag with the spare parts.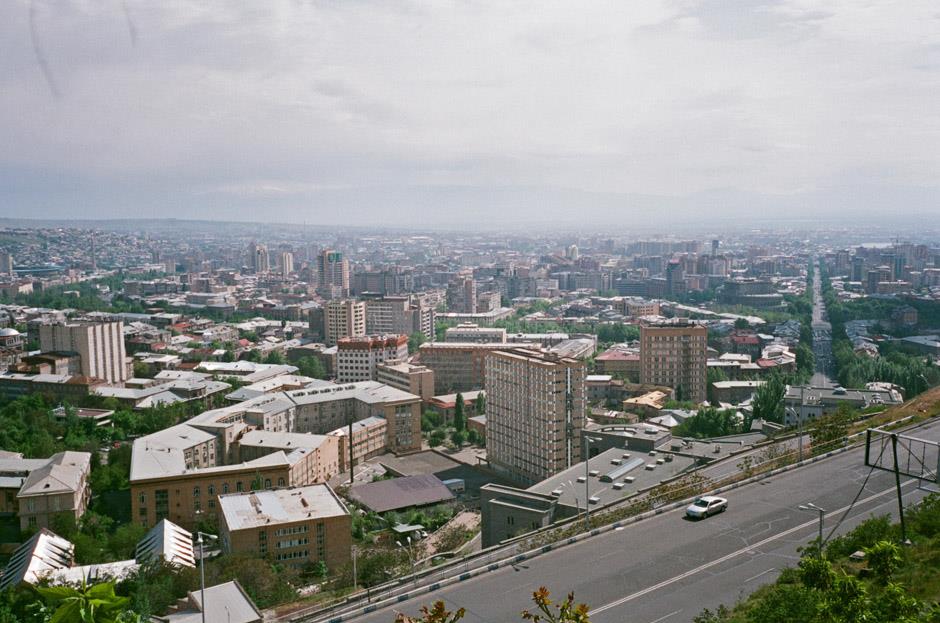 Modern Yerevan is divided into 12 districts: Ajapnyak, Arabkir, Avan, Davtashen, Erebuni, Kanaker-Zeytun, Kentron,  Malatia-Sebastia, Nork-Marash, Nork-Nork, Nubarashen and Shengavit that in their turn are divided into blocks. Spinning rollers for clotheslines have been hidden in many houses and between them. Like in Crimea and in many post-soviet countries, people build out flats to ordinary panel buildings. We accommodated in a semi-basement hostel in the center.
The locals explained us that the water in Yerevan and in the whole Armenia was very good and could be drunk from a tap, any water pump or the water fountains that were in abundance in the city. The locals are fond of G-Wagens (cross-country vehicles), and there are many of them in the city. However, those, who cannot afford buying them drive blinged up Nivas.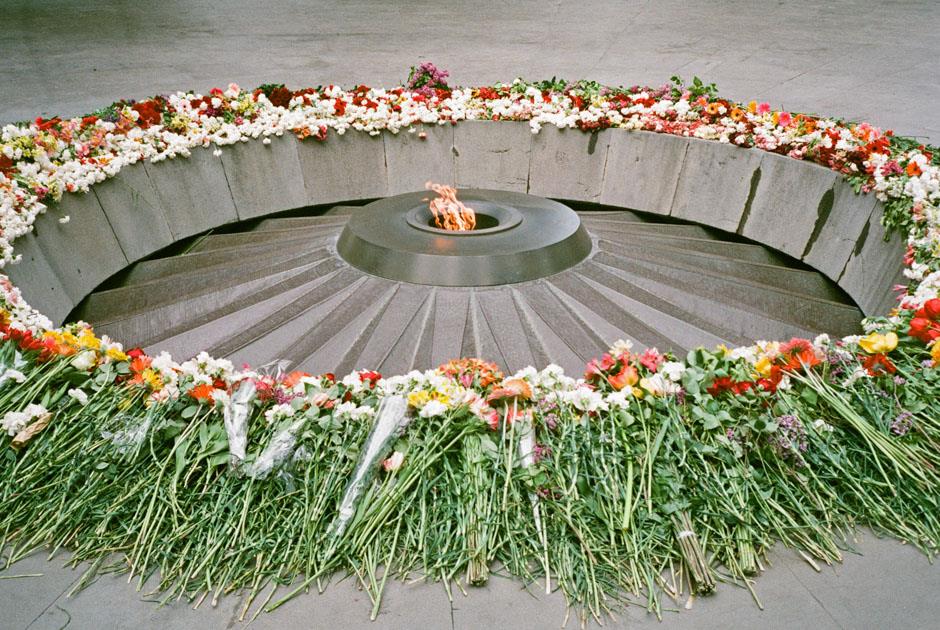 It was interesting to see over the city in details. So, we spent the next day riding across the city and studying it carefully. Ararat was seen from the viewing platform. We were greatly impressed by Tsitsernakaberd (the swallow's fortress), built to commemorate the victims of the Armenian genocide in 1915. The 44-meter stele symbolizes the Armenian people's will for revival. The stele is divided into two parts by a deep break running from the foundation to the top.  The stele symbolizes the divided Armenian people, the smaller part of whom reside in Armenia and the greater part – in the diaspora. There is a pedestal – a cone made of twelve large stones near the stele, with the eternal light in the center of the cone at the 1,5-meter depth. 
Sevan
Two members of our group, whose flight was a day later, joined us the next day. At 11.00 a.m., our 11-member group set off from Yerevan in the direction of the Sevan Lake. We were escorted by a car of our new acquaintance, who was also the owner of our hostel. It was hard to ride up 9-11% hills along 64 km and at some sections we had to walk, pushing the bicycle loaded with bags up. The situation was further aggravated by the rain, pouring from time to time. Four punctured tires and at 07:30 p.m. we finally reached one of the coldest lakes in the world.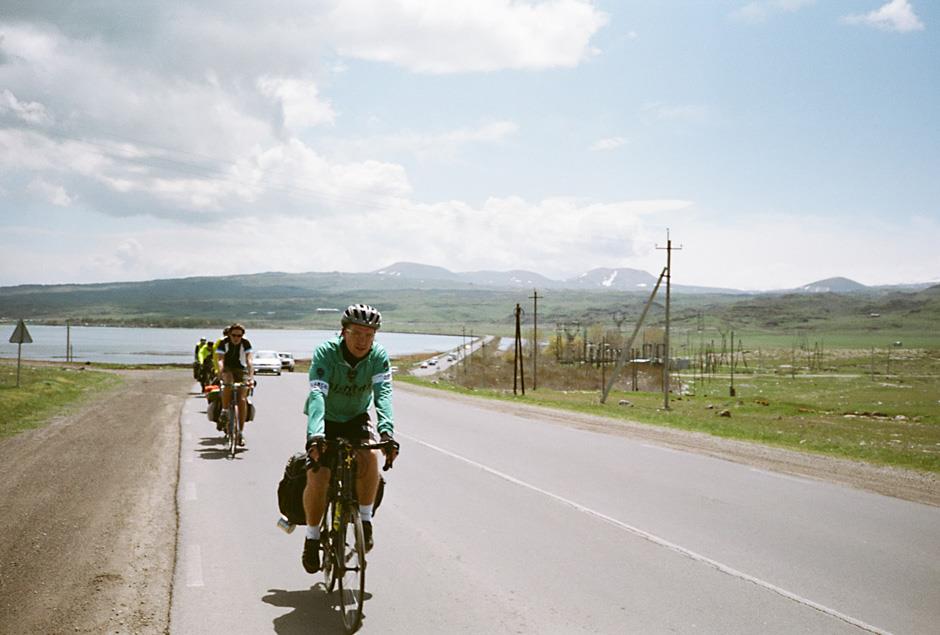 The Sevan Lake is a wonder of the nature, neighboring the sky. It is located in the thicket of huge mountains, at the altitude of 1916 meters above the sea level. It's water is clean and clear: according to the legend – only stars and gods drank from it. There are several hypothesis about the Sevan's origin. Most likely the lake was formed as a result of the volcanic activity several millennia ago that occurred in the Gegami Mountains, surrounding it. Dozens of geometric round craters, filled with the fresh water, are situated on the southern slopes of the mountains. 28 small rivers, including the longest – 50-kilometer long Maverick, flow into the Sevan Lake. Only the Razdan flows out of the Sevan.  Our friend from Yerevan helped us find the overnight accommodation-the ordinary wagons that have been turned into small summer houses. The temperature dropped to 2 degrees below zero at night and we slept in sleeping bags because the linens were damped. 
Further across Armenia
In the morning we headed to Ijevan. A 3-km long tunnel in Sevan-Dilijan rock was one of the key impressions of that day. And the first spontaneous camping in the vicinity of Ijevan was extremely beautiful and atmospheric. As I was falling asleep and getting slightly cold, I did not know, how steep the rising road would be ahead.
A small village of Voskepar in Tavush province was the next destination point. Since quiet a lengthy section of our route in Armenia passed along the border with Azerbaijan, we saw several abandoned enclaves, a lot of hidden and disguised military hardware on our way. The soldiers were smiling and waving us off.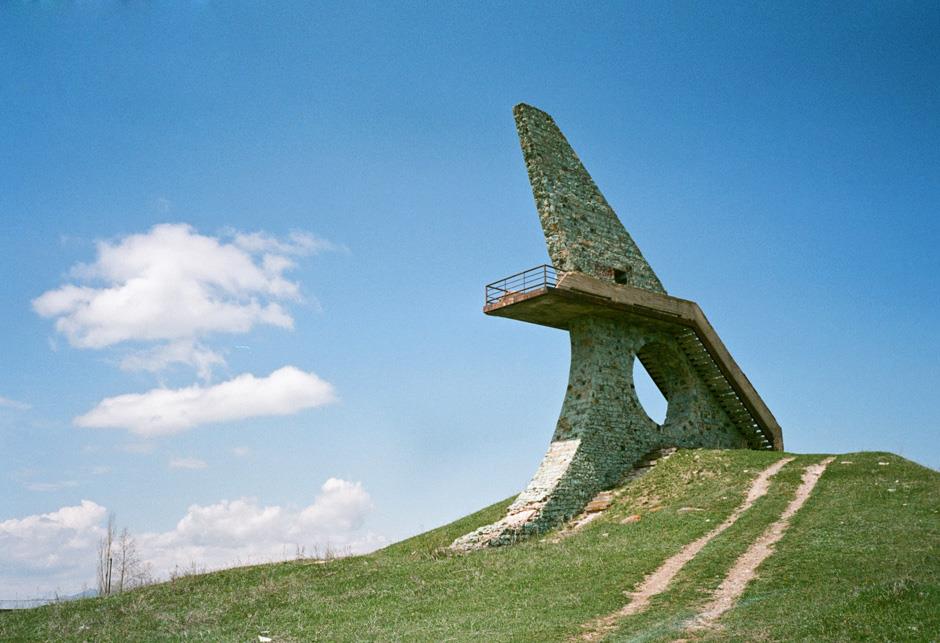 We arrived in Noyemberyan, near the border with Georgia, when it was already getting dark. It was unclear, where we were supposed to put up the tent camp. So, we randomly chose the first available place somewhere not far, on the mountain. However, when we ascended, it turned out that it was a favorite place of the local 'drifters'. A huge, constructivism-style monument, dedicated to the developments in 1941-1945, was also located there. 
After a while, a police car showed up and the situation was becoming a bit surrealistic in nature. A policeman, who either had not slept for a long time or had been under influence of something, tried to clear out who we were and what we were doing there. After long-lasting inquiries and talks we gradually started founding a common language and the dialogue became adequate. Later one more police car with the Noyemberyan police chief came. Having recorded all passport data of 11 persons they allowed us to spend a night on the closed area of that monument. The explanation was as follows: we do this, because there is shooting here sometimes. Nevertheless, two police cars were lighting the place where we put up tents for half an hour. They suggested sending a squad, so that we could sleep calmly, but we refused.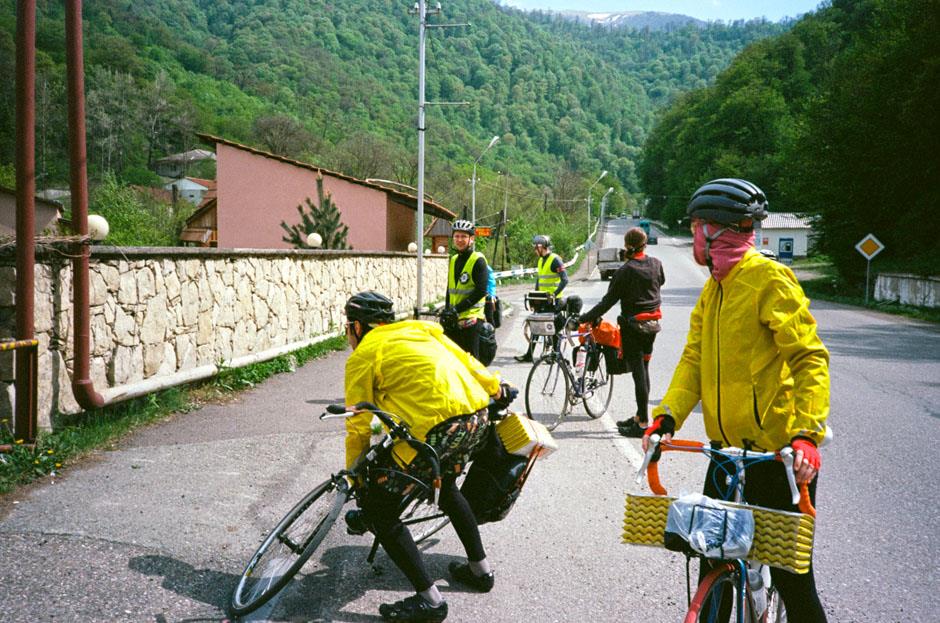 The next day, having dried our clothes in the sun, we headed in the direction of Georgia. The weather finally improved and the highway was perfect. We quickly crossed the border into Georgia. A customs officer in the window looked at my passport and recapped: "Your Batko is a real man. How is he doing?  I presumed, he was fine.
Armenia left an extremely pleasant impression on us, in general. All the Armenians, whom we met on our way, at first had straight faces, but when we showed even minimal emotions, they showed them in response too. Very often the people would come up with a phrase: "Do you need some help, brother?  Even if we did not need any help, they wished us a nice trip and a good road. The cars stopped at the very first gesture; the drivers explained how and where it was better to ride; the children besieged us from all sides, asking us to give them helmets to try on, to take a bike ride, or were just standing around the strange people and laughing. 
Georgia
Before we reached the border, we had stopped at a roadside cafe and ordered a portion of meal each, waiting for the rest to come. It should be noted that everywhere in Armenia, and in many places in Georgia, the menu in the cafe is very conditional, that is, you can say that you have a certain diet, and you will be cooked a boiled barbecue. It was a pleasant surprise for me. The portions were huge and the food was obscenely delicious. The difference between these two countries became obvious just 5 minutes after crossing the border. It could be immediately felt that Georgia has higher living standards and the condition of roads, small towns and villages testifies to that.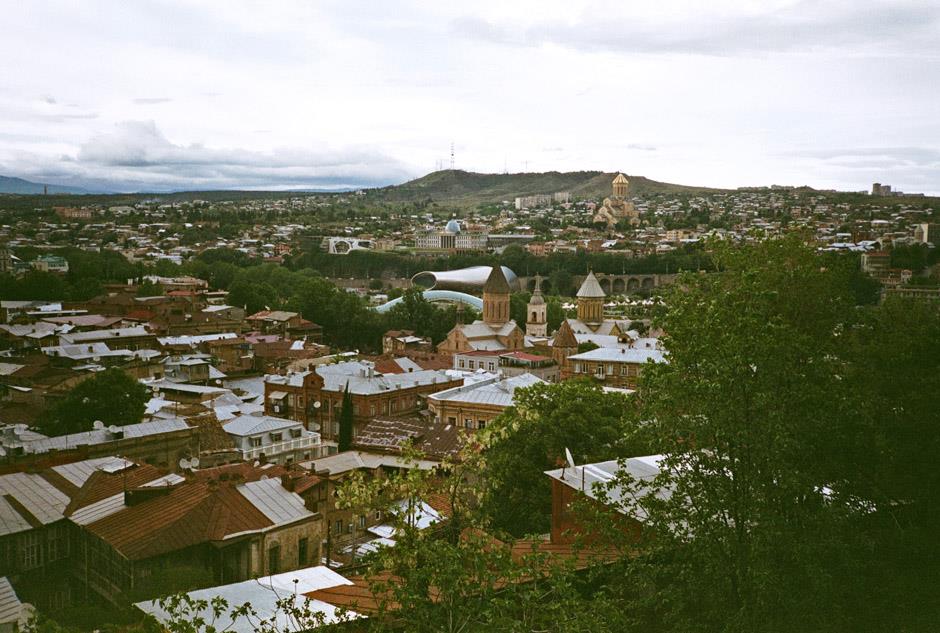 Georgia's outstanding feature are the Christian crosses from the welded metal pipes, with the beams that, unlike our crosses, are not straight but rather looking down at an angle, resembling an arrow or a bird's foot. They are called St. Nino's crosses. According to the legend, that's the vine-woven cross that Virgin Mary had given to Saint Nino before sending her to Georgia. I scratched one on the frame of my bike.
Armenia's mountainous areas were long behind us. We were racing down the perfect asphalted road in the direction of Tbilisi. Along the entire trip, people were waving their hands, wishing us happy journey, treating us with wine at the stops and parking lots, embracing and even kissed a couple of times. I didn't believe it could really be so.
Tbilisi
We had a 100-kilometer bike ride on that day and we ended up in the amazing city of Tbilisi. Because of an incredible tourist flow, Tbilisi is not that emotional and peaceful as Georgia's provinces. Many things have been churned out here for the sake of tourists' entertainment. But despite that, I have never encountered such an atmosphere before. The old parts of the city are so tattered and incredibly comfortable, that it cannot but touch your feelings. Of course, we tried to follow a standard tourist program: for example, we visited the legendary sulfur baths in Abanotubani (bath quarter). The water is supplied from somewhere under the ground, it is warm and contains a lot of sulfur. There are similar baths in Italy, in Tivoli district, and in England.
We indulged ourselves in eating Georgian food and drinking wine. And both of them are fantastic. Now, I terribly miss Adjarian khachapuri and khinkali. On a side note, the farther you move from Tbilisi towards the sea, the bigger the size of khinkali becomes, so be careful when ordering it, or you won't cope with your meal alone.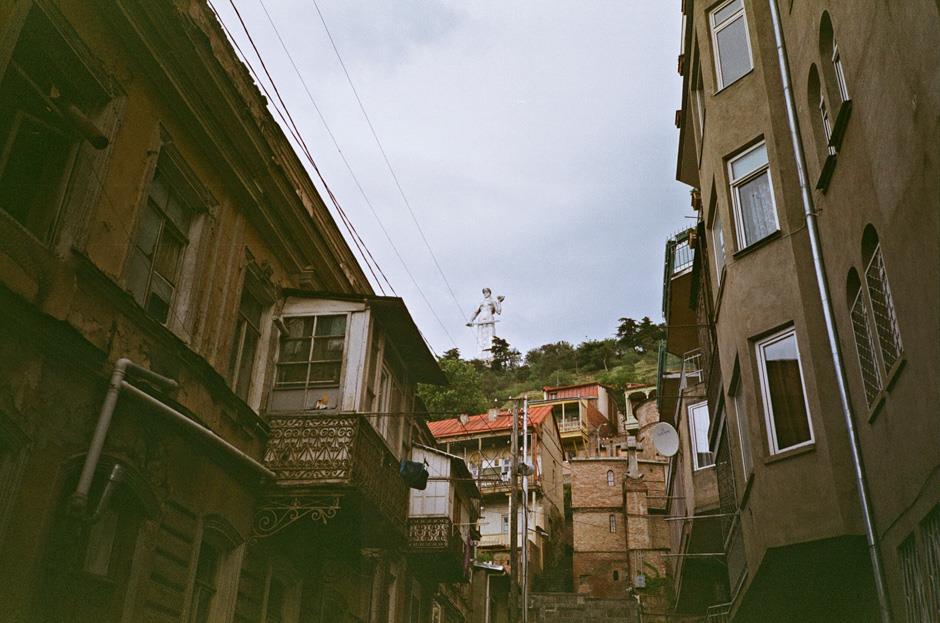 There is no sense advising certain restaurants or cafes, because they are there too many of them and they are all very nice. It's a great pleasure to walk around the city. Tbilisi is really lively and textured. As we were strolling and taking photos of everything, we were lucky to be presented a bottle of homemade wine from the local church priest, handed over to us by his parishioner.
However, it's not safe to travel around the city by bike, because Georgians completely ignore the traffic rules: they drive on the red light, do not yield to the pedestrians. After a while, we got adapted a little bit and started crossing the road like the locals did – at random places, flashing our palms at the drivers like 'Stop, I am crossing the road.' I also did not miss a chance to visit the flea market, where I came across an interesting old icon from a cycling event in Tbilisi. Two wonderful days in the city passed too quickly.
Uplistsikhe
The majority of our team members made tattoo-'9%' on the quadriceps of the front of their thighs in the memory of 9% mountain ascents in Armenia, that we found so difficult to climb. Then we set off to the one of the most ancient cities of Georgia-Gori. To be more precise, we were interested in a place called Uplistsikhe, in the vicinity of Gori.
Uplistsikhe (literally 'Lord's fortress') is an ancient cave town, one of the first cities in Georgia. Uplistsikhe is carved in the rock. It is 12 kilometers east of Gori, on the left bank of the Kura River. The city was finally abandoned in the 19th century. It is a multi-layer archaeological site, one of the most important monuments of Georgian culture. It is unique, because due to its arrangement, it has preserve the remains of architectural and religious buildings, constructed for several millennia. During its golden age, Uplistsikhe comprised over 700 caves and cave structures. Only 150 of them have been preserved until present.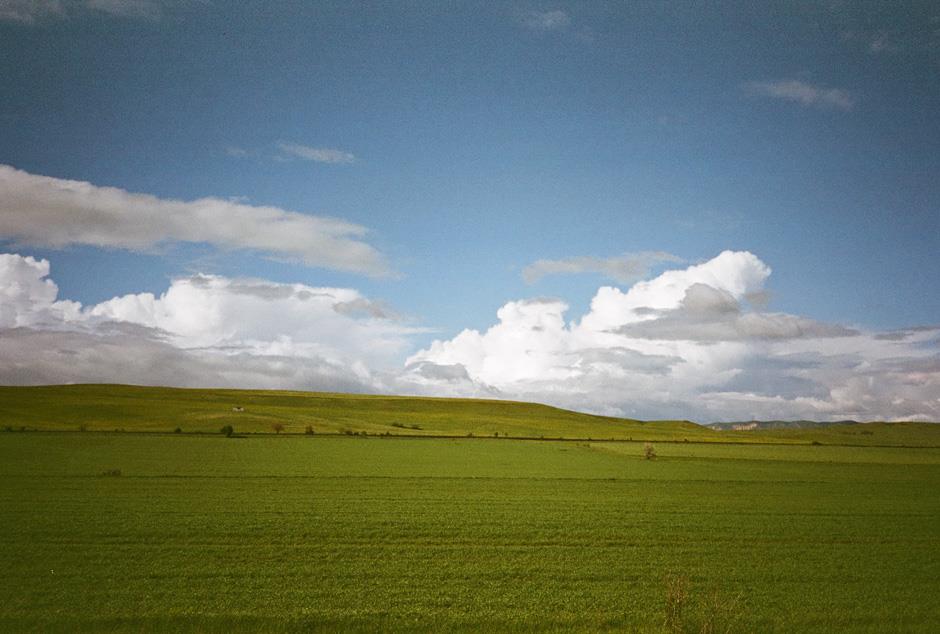 We reached the place in the evening. We found a suitable site for the tent camp and started putting up tents. Suddenly, a pack of dogs besieged us. Eventually, they were guarding us from the cows grazing nearby and from some random animals, staying right outside our tents all the night through and we fed them for that as much as possible. In the morning, we hurriedly packed our things and rushed to explore the city and learn about its history from a guide, without whom all that would be a mere picturesque pile of stones and holes in the rock. I particularly memorized the story about the cone-shaped jugs of wine in special storage facilities (kvevri), because this method of storage is still used in many places nowadays. The wines from such jars are just incredible-they are tart and thick. We were lucky to try it in a cafe near the museum. One of the hosts with a strange name Stalber (short for "Stalin, Beria") kindly treated us with is. I also tasted an incredibly delicious Georgian dish – 'chakapuli', made of lamb or beef meat, stewed with herbs and spices (it is translated as 'meat in the scum'). Meat-eaters are highly recommended to taste it. 
Surami and the Prometheus Cave
Then our path went in the direction of Surami. Everything  was like before -a smooth road, shepherds on the roadsides, people waving their hands in a friendly manner, beautiful scenery plus endorphins from exercise pedaling. What else do you need for happiness? When we finally caught up with our guys near Surami, they were already drinking wine, chasing it down with incredibly delicious buns–'nazuki', with raisins and spices. It's a sort of sweet lavash bread, a very tasty stuff. It is available only here and nowhere else. Two elderly gentlemen tried to persuade us to stay and drink some wine with them, but after some explanations that we really had to go, otherwise we wouldn't manage to put up tents before it got dark, they finally let us go, saying: "Come again, guys. We will be here, on this the bench. It was so nice. By the way, we were eating that nazuki with great pleasure for a few more days.
We turned to a side road at one of the sections, because we didn't want to travel in a company of dozens of cars and trailer trucks, and the MAPS.ME showed that there was a road there. As a result, five of us pulled through a 40 km bumpy rural road, after which I was hoping my bike would still be alive. It was shaking pretty well, and road racers are not quite intended for such roads. We were rewarded for our heroics by an incredible landscape and a beautiful aqueduct, that we came across on our way, as well as the views of the railway running through the mountains and a tunnel that is being constructed there.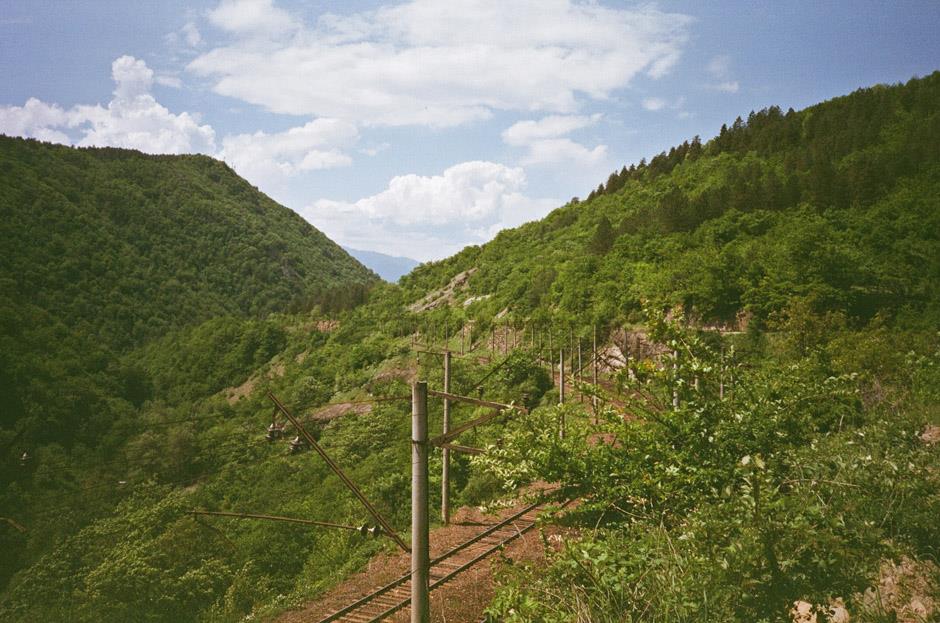 Kumistavi karst cave or Prometheus cave, near Tskhaltubo town, was another important locality that we were going to visit. The total length of the cave makes about 11km, but only 1060m of it are open for visitors. It enjoys great popularity and can even accommodate a wedding party. The cave is a rather interesting place, but it has been a little bit spoiled by the vulgar colored backlights and some weird laser show with sounds. It would be better to leave it just as it is, with minimum rough stuff.
We wanted to stay overnight in the territory of the abandoned Nokalakevi castle, a fortress city, the capital of Egrisi (Colchis), in Senaki municipality, western Georgia. There was a legendary city of Aya on this place, where, according to the legend, the Argonauts arrived. When we reached the place, it turned out that the area was fenced off and there was no chance to put up tents there. We were suggested to come in the morning and see everything around. Being a little bit upset, we rode forward across the bridge and found a nice place for a tent camp right next to some people's houses and yards.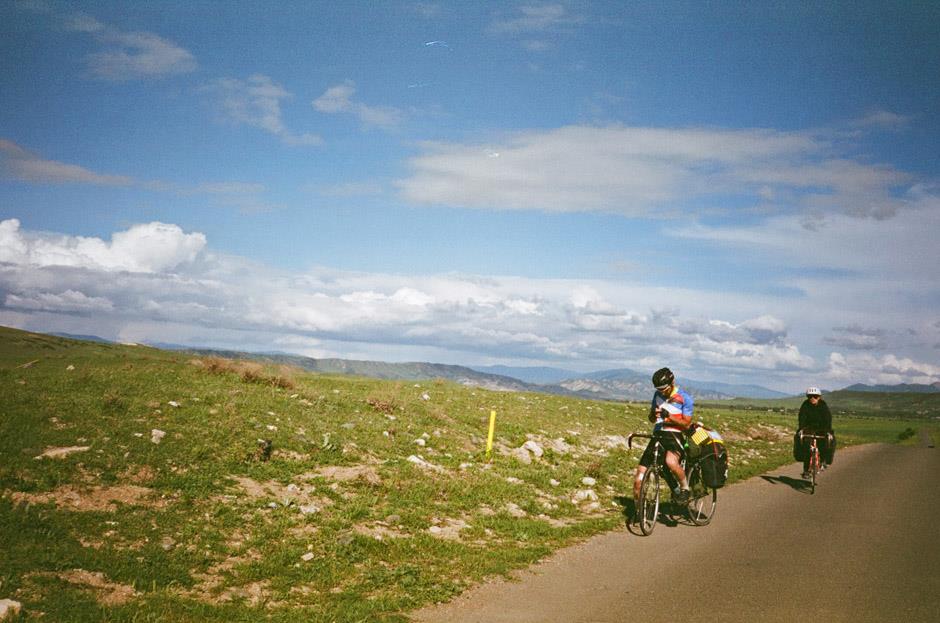 A few hours later, I was woken up by a strange noise, barking dogs and the sounds of the car engines. The noise died down after a while and I fell asleep. In the morning, I was woken up by the noise again. I looked out of the tent and found out that cows and pigs were rattling our pots, trying to extract from them some remains of yesterday's dinner. Some time later, when we started chasing off the cows more actively, so that they would not chew the tent rainfly that was drying there, a man appeared behind the fence. I thought that we would be probably reprimanded for chasing off his cows and also for putting up tents on the pasture.
In the end, things turned out quite the opposite of what we expected. The man said, he has had a birthday party the day before, and that it was his summer house, where he was cultivating grapes. He apologized for the noise the previous day and said that if he had known were here, he would have invited us to the celebration. Then he left and soon came back with a huge bottle of delicious homemade wine and a trayful of food. So, we had breakfast in his company and took the souvenir photos. The man suggested that we should ride to the nearby hot springs that were gushing out right for the underground. That's what we did after taking a walk around Nokalakevi ruins.
Betlemi (Bethlehem) is really worth visiting. Hot water spurs here right from the underground. There are some handy bath rooms, kind of shower baths, arranged there.  
Senaki and Batumi
Then we arrived in Senaki. A random guy, who saw a heap of our bikes near the cafe, where we dined, asked us, who we were and where we were from. And when he saw that there were young ladies among us, who had cycled about 600 kilometers with heavy bags, he was absolutely shock. He asked us to wait for him, left and then returned with two huge packages full of all sorts of pies, saying: "That's for you to take along, guys! Have a nice trip!" Thus, we safely reached a dull port city of Poti, where there was absolutely nothing to do.
The police cars escorted us twice. The first one did it out of sheer idleness, whereas the second one, that was of different color (another type of police, like in Italy-Police and Carabinieri), did it out of undisguised anxiety that could be clearly seen on one of the policemen's puzzled face. The law-enforcers explained that it was unsafe to put up tents in that area, because there had been some bad cases there.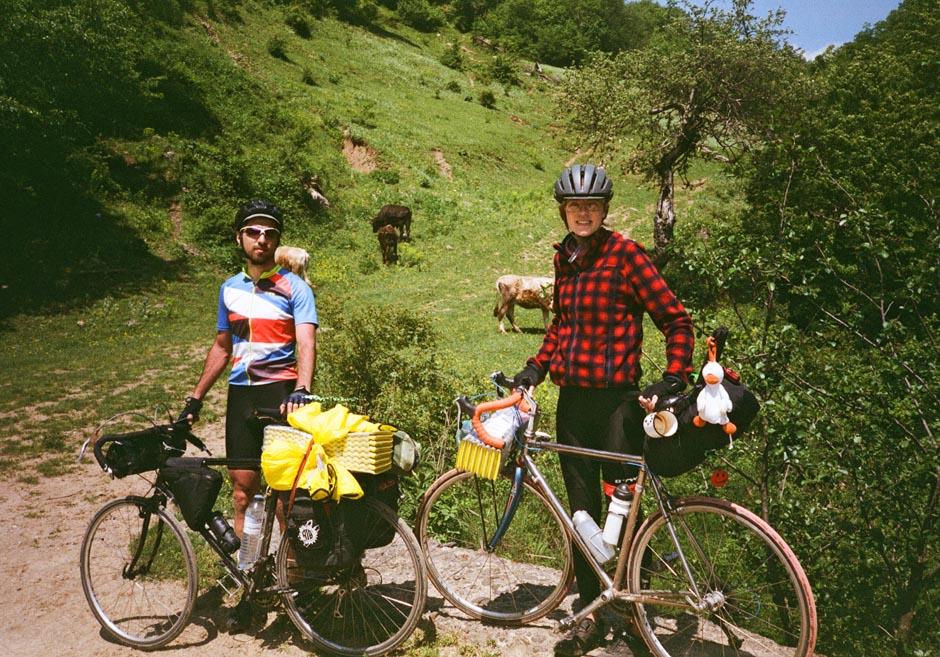 For most of us the final point of this bike trip was Batumi, where we spent a couple of nice days, enjoying the sea and Adjarian khachapuri. It was there that I first saw a huge Adjarian khachapuri called 'Titanic', that was the size of my hand. Even five guys failed to finish it. In Batumi, Adjarian khachapuri should be eaten in the "Retro" café, highly recommended by everyone, be it a punk or a policeman.
We spent great time in Batumi, walking around the city and the sea shore. I would like to particularly highlight the Botanical Garden. Four members of our group travelled further to Turkey, whereas for us this story ended at Batumi airport, where we reluctantly boarded the plane that was to take us back home.
Georgia has left an incredible impression on me, and I can say without exaggeration that this is one of the best countries, I've ever been to. I very much miss this nature, cuisine and amazingly emotional and hospitable people. Georgia is love.
Published on 04.07.2016